CPR Classical says farewell to David Ginder and Marilyn Cooley
The end of this year brings sad news from CPR Classical: we are saying goodbye to hosts David Ginder and Marilyn Cooley. Their voices have brought an informative joy and passion for classical music to listeners across Colorado for the last five years.
Their departure comes after the transitional time of the pandemic and a cross-country move to be closer to aging parents that resulted in staffing changes at Colorado Public Radio.
---
David Ginder
David Ginder (they/them) joined CPR Classical as a host in 2017. For the last five years, they have greeted listeners with Sunrise Serenade at 6 a.m. on weekdays and the choral music program "Sing!" on Sunday mornings. Other highlights include live broadcasts from Boettcher Hall with the Colorado Symphony, audio features for CPR Classical's partnership with the Denver Art Museum for the Claude Monet exhibit, as well as the Beethoven 250th celebration of his birth anniversary in 2020, and advocating for Colorado music each day on Colorado Spotlight. David brought 40 years of radio experience to CPR Classical.
Your last day to hear David Ginder on CPR Classical is Sunday, Nov. 27 during Sing! from 6-10 a.m.
Listen to David Ginder's Goodbye
Fond words from David's colleagues:
"David jumped right into things here at CPR Classical by hosting live concerts of the Colorado Symphony and from the Bravo Vail! music festival," says Karla Walker. "Live concert hosting is so stressful because a half a dozen things could easily go wrong, but David is the best at being prepared and cool under pressure. What a treat it was listening to them host these concerts. And David has interviewed some of the highest profile artists who've come to Denver, including cellist Yo-Yo Ma at Red Rocks!"
Matt Weesner also remembers the Yo-Yo Ma concert fondly. "David, it has been a complete pleasure working with you these past several years. You're such a pro, which I saw first hand when producing some of your live broadcasts from the field. One of my favorites is your live broadcast from Red Rocks the afternoon and evening of Yo-Yo Ma's concert in 2018. Talk about a day filled with moving parts! But you were your usual calm, cool and friendly self. Thank you for every day on the air. My very best wishes to you!"
"David is such an incredible voice, both on the radio and as a colleague," says Jessie Jacobs. "I will truly miss having them on the team."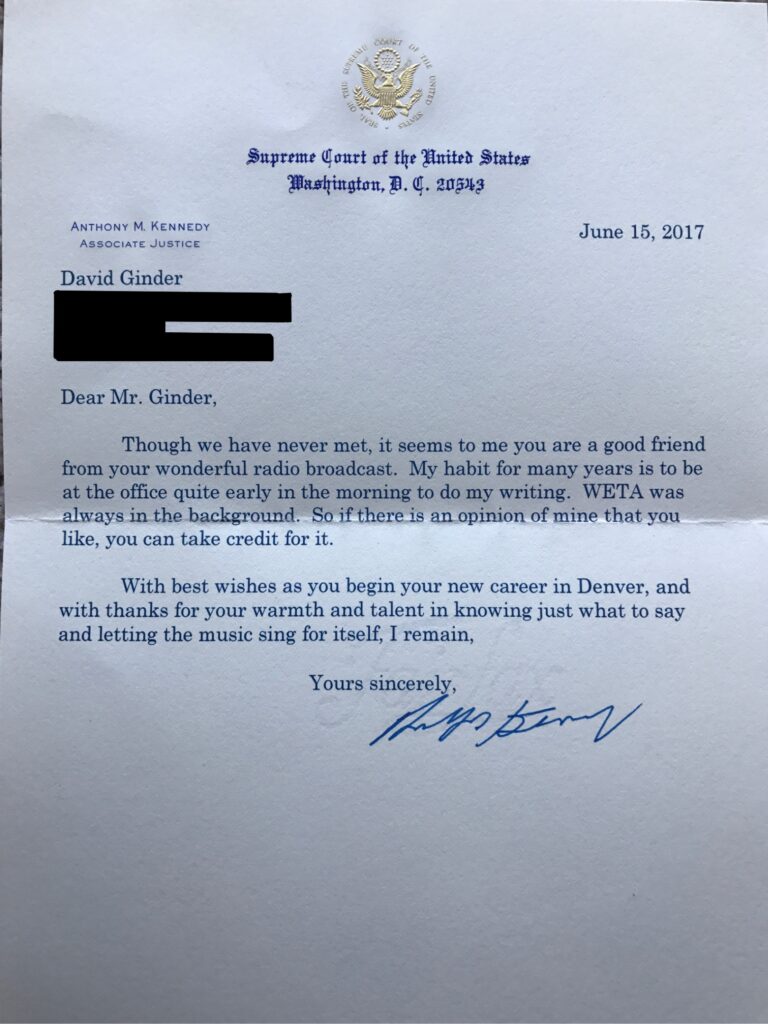 "I always valued and appreciated David's keen insights about everything," Jean Inaba says. "Well spoken individual who was never afraid to speak up if the subject called for it. I admire this courage. On the lighter side, I always looked forward to seeing what outfit David would wear every day. Such a snappy dresser with the shoes to kill!"
"David was the consummate professional, always game to try something new. They immediately became a part of the Colorado music community, welcoming artists to the CPR Performance Studio, interviewing them and helping get a lot of their music to the airwaves," says CPR Classical Program Director Monika Vischer. "Just after David arrived in Denver, they showed me a personal letter from the now-retired U.S. Supreme Court Justice Kennedy on letterhead from the highest court. It detailed how David had been an important companion to him each morning."
CPR Classical Highlights:
Audio: Yo-Yo Ma Talks With David Ginder
---
Marilyn Cooley
Marilyn Cooley joined CPR Classical in 2018, primarily hosting shows on Friday and Sunday evenings. In addition to her regular hosting, she also created special features such as December Solstice, an hour of reflective music for midwinter and A Life of Beethoven to celebrate his birthday in December. Cooley also created features for the Beethoven 250 celebration. She is planning to continue with CPR Classical through the holidays.
Fond words from Marilyn's colleagues:
"Listeners can probably already guess this, but let me confirm: the Mailyn Cooley you hear on the air (knowledgeable, friendly, kind, warm and funny) is the same Marilyn Cooley we've had the good luck to work with behind the scenes at CPR Classical," says Matt Weesner. "Marilyn, it's been a joy. Thank you for bringing your voice, insights and expertise to us. We'll miss hearing you. You have nothing but my very best wishes for the future."
"I have always enjoyed Marilyn's quiet sense of humor and thoughtful nature, plus her calm soothing on-air presence," says Jean Inaba.
"Marilyn quickly won over staff and listeners, invaluable in supporting our work through years of change," says Program Director Monika Vischer. "One of my favorite stories from Marilyn was for our Beethoven 250th anniversary year about 'The Best Fidelio RBG Ever Experienced,' published days before Ruth Bader Ginsberg's passing in September 2020."
"Marilyn really made me feel welcome within my first year," says Jessie Jacobs. "Outside of being an amazing radio professional, I will be forever grateful for her kind words and support in the last year. I feel cheated out of only having a year with Marilyn as a colleague. I will miss her voice, her energy and spirit and her calm, knowledgeable, comforting on-air presence "
"When Marilyn began working at CPR Classical, a colleague we both know at WETA told me what a genuinely thoughtful and caring person Marilyn is," says Karla Walker. "I couldn't agree more! Marilyn is always the first to jump in and help. Two years ago she helped me with a Music Room project where she wrote and told the stories behind some famous Christmas carols. That project turned into a new tradition at CPR Classical, The 12 Days of Carols. It wouldn't have happened without Marilyn's creativity!"
CPR Classical Highlights:
Audio: Marilyn's Father's Day
---
What you may not know is behind the scenes, Marilyn and David share a life together as partners. They met while both were working at WETA in Washington, D.C., and have been married for more than 30 years. They loved vacationing in Colorado and decided to make the move here in 2017, but during the pandemic they moved across the country.
"David and Marilyn, I'm honored CPR Classical was a part of your 48-year radio career. Thank you for enriching Colorado's musical community," says Monika Vischer. "May you take a fraction of the joy with you that you've given to many thousands of classical listeners through the years."
Their departure from CPR Classical is a tremendous loss," says Jean Inaba. "David and Marilyn are hands down the best professionals with whom I've ever had the privilege to work. It's been a real joy!
---
From all of us here at Colorado Public Radio, we wish them the best. We will miss David and Marilyn terribly and encourage you to join us in wishing them well in their ventures by leaving a message on our Facebook page, or leave a message for David or Marilyn by calling 303-871-9191 and press 4 to leave your comment.
Love Classical Music?
Stay in touch with our hosting team at CPR Classical and learn more about the classical events occurring in the community. Sign up here for our monthly newsletter.