Gov. Jared Polis makes housing a top priority in the first State of the State address of his second term
Democratic Gov. Jared Polis delivered his vision for Colorado on Tuesday, highlighting affordability and housing as two of his top policy priorities as he heads into his second term in office.  
Polis connected his aims in the annual State of the State address to the impending 150th anniversary of Colorado statehood, which arrives in 2026.
"Colorado can help shape our country's quest to become a more perfect union by setting the pace of progress, fighting for liberty, and delivering on our promises," Polis said. "So, when Colorado is 150 years old, who do we want to be?"
The legislature met in a joint session in a crowded House chamber to hear the remarks, which also included a few of the governor's trademark pop culture references. He namechecked South Park and Lord of the Rings, and at one point did an impression of Yoda. 
He enters the next four years in a position of strength with Democrats holding a historically large majority in the state legislature. 
On housing: 'We need more housing now. It's simple supply and demand'
Polis made it clear that housing will be a major priority, as he tries to encourage denser, more affordable development. He said too many Coloradans struggle to find an affordable place to live and that leads to more traffic, air pollution and economic challenges.
"Housing policy is economic policy. Housing policy is transportation policy. Housing policy is water policy. Housing policy is public health and equity policy," he emphasized. 
"This means that we need more flexible zoning to allow more housing, streamlined regulations that cut through red tape, expedited approval processes for projects like modular housing, sustainable development, and more building in transit oriented communities." 
However, these policies could put the governor and state legislature on a collision course with cities and counties, which have traditionally set their own land use policies. 
"It's very clear to me and it's very clear to anybody in this room that deals with local control, the state wants to take over," said Colorado Springs mayor John Suthers, who attended the speech and was recognized by Polis for his efforts to increase public safety. "They're putting it in the guise of housing and affordability. But make no mistake about it, they want to control land use from the state capitol and that's a pretty scary prospect for most of us in local government."
Suthers' biggest concern is that more state authority could potentially disenfranchise regular Coloradans, by taking away their power to object to local development decisions.
Republican lawmakers generally echoed the concerns about local control, while saying they were glad to hear Polis talk about housing affordability in general. 
"If he wants to work to streamline how we get houses out of the ground, that would be wonderful. However, that still is stepping on the toes of our municipalities," said House Minority Leader Mike Lynch. "The municipality where I come from in Wellington does things substantially different than Arvada or Aurora or Denver. And the needs are different for those folks, and so there isn't a one-size-fits-all for the rural parts of the state, that's for sure."
However, Polis framed his housing policies as empowering private property owners, by giving them more power over what they can build on their land. And Senate President Steve Fenberg said the state has a role to play in helping make the state more affordable.
"It needs to be the right kind of housing, in the right places. And that's where city zoning and land use issues sometimes can get in the way," said Fenberg, a Democrat. "It doesn't mean they don't want affordable housing. It just means that sometimes a city tackling zoning and land use as a city pushes problems to other communities and doesn't think about it in the long term."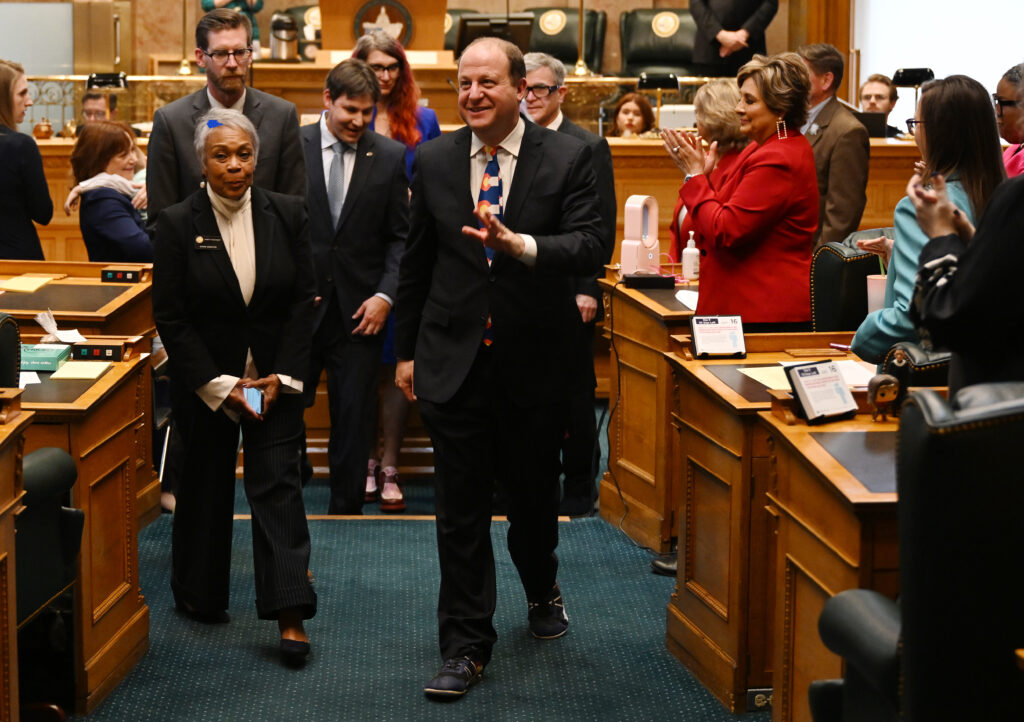 On criminal justice: 'More resources for local law enforcement'
In his address last year, Polis pledged to make Colorado one of the ten safest states in the nation, a theme he returned to in this year's speech.
Polis threw his support behind strengthening penalties for auto theft, broadening Colorado's so-called red flag gun law by expanding who could file Extreme Risk Protection Orders and supporting law enforcement.
"I'm proposing an additional package that will provide even more resources for local law enforcement officers and community organizations doing work on the ground," said Polis. 
Republican state Rep. Matt Soper of Delta gave Polis a standing ovation during this part of his speech, but warned afterward, that "the devil's in the detail."
"The governor gave a lot of broad brushstroke policy ideas, (but) not so much of what's actually gonna happen and what he's actually pushing for behind the scenes."
Across the aisle, some Democratic lawmakers were concerned about what Polis did not say in this section of his speech; the governor did not not highlight criminal justice reform, something that has been a priority for many of his Democratic colleagues in the legislature. 
"If we're going to say that the state needs to be (among the) top 10 safest spaces or places, we need to also be sure that the criminal justice system doesn't create victims," said Democratic state Rep. Jennifer Bacon, the Assistant House Majority Leader.
Her district includes Denver's Montbello neighborhood.
"And we need to be able to talk about how folks are experiencing this — particularly people in my neighborhood," 
Republican state Rep. Gabe Evans, of Fort Lupton, doesn't think any of Polis' proposals will bring down crime because of the "major morale crisis" in law enforcement, which he believes Democrats have caused. 
"Folks don't want to be cops or sheriff's deputies," said Evans, who has a military and law enforcement background. "And so without actually having people out in our communities, out on the streets to interdict these crimes and stop these criminal actions from happening, you can have all the programs in the world, but you're not gonna be able to interrupt the criminal cycle."
 On the environment: 'We simply must end our reliance on costly fossil fuels'
During his first State of the State address in 2019, Polis set a date for Colorado to get to 100 percent renewable energy by 2040. This year, he argued his focus on housing will help the state reach that goal.
"Our work around housing and more sustainable development is a critically important part of this progress," he said. 
He said he remains focused on investing in clean transportation and accelerating the use of renewables, reducing oil and gas emissions, and holding polluters accountable, pledging to distribute $120 million dollars in clean energy tax credits. 
"With this tax relief and incentives, we can improve our air quality, accelerate innovation, and make more rapid progress towards our goals, while saving people money at the pump and on their utility bills, and increasing access to clean, low-cost transportation options."
He also said he would push to make sure Colorado conserves water, and moves forward with water projects. 
Senate Minority Leader Paul Lundeen said he doesn't think the various green housing policies have helped lower costs so far. He points to a law from last year that creates model electric, solar and low-energy building codes, which he argues will raise the cost of new housing.
"There's a priority question, which is more important: making housing more affordable or pursuing a climate agenda through electrification? And so that's part of the challenge," Lundeen said.
And while Polis promised "we will work to make progress towards our statewide climate goals," some environmental groups question his commitment to the issue. 
Ahead of the speech, a 'Frack the State' rally outside the Capitol highlighted the fact that Colorado continues to issue new oil and gas drilling permits. Since Gov. Polis took office in 2018, the coalition behind the rally claims the state has approved more than 5,000 new drilling permits.
"Where is all this oil and gas that is being developed going?" Ed Behan, an advocate with the Larimer Alliance for Health Safety & the Environment, asked the crowd. "I assure you, if it is not being burned here in Colorado, it is being burned somewhere else. And my friends, that ain't carbon neutral."
Polis did not specifically address drilling in his speech, but he did speak about the need to move away from fossil fuels and he talked at length about water; the governor said with drought, wildfires, and growth have put the state at a crossroads when it comes to water resources.
"Hotter, drier conditions have strained our resources in a time when demand continues to grow. Our rivers and streams aren't just life sources for Colorado, but for the entire American West. We must continue to fight for our rights and lead the way to a sustainable future." 
Polis appeared to be alluding to upcoming negotiations over the century-old Colorado River Compact, but did not offer any specifics about how the state will approach the thorny issue.
House Minority Leader Lynch said he was glad Polis made water a focus and hopes lawmakers in both parties can come up with bipartisan solutions. "Water is crucial. And I'm excited that there is a real appetite on both sides of the aisle this session to do something about water."
On health care: 'We are among the top 10 states for hospital cost, price and profit'
Polis has made lowering health care costs at the top of his agenda ever since he first ran for office, going so far as to create the Office of Saving People Money on Health Care. 
The Colorado Health Insurance Option has been a key piece of the governor's drive to lower insurance premiums. He has long said Coloradans are being "ripped off" by the health care industry and that the new insurance option could help cut costs.
"We have worked with the health care industry in good faith to lower costs, but not all of them have held up their end of the bargain," Polis said in Tuesday's speech.
Polis returned to a refrain he's emphasized in recent years, that one big reason American health care costs so much is that hospitals are overcharging patients. 
"Some large hospital systems are making record profits, paying zero taxes, and sitting on enormous reserves while overcharging customers. Meanwhile, they are consolidating providers, which drives up costs and leaves fewer options for Coloradans," said Polis.
"It's time that we hold them accountable." 
However, in its 2022 Colorado Hospital Industry Update, released a week before the speech, the Colorado Hospital Association reports that "a majority of Colorado hospitals operate with unsustainable financial situations."
Polis did not lay out any specific new policies he wants to pursue, but said he wants to push further on initiatives already underway, such as strengthening the state's new Prescription Drug Affordability Board.
On fiscal policy: 'It's no secret that I, and most economists, despise the income tax'
Governor Polis' views on taxes have at times put him at odds with his fellow Democrats, but he didn't shy away from saying he wanted to continue to work to reduce specific taxes. 
He highlighted temporary property tax relief that passed last legislative session that has kept an estimated $700 million in the hands of homeowners and businesses. The policy reduced the state's assessment rates, which help to determine the tax bills for residential, commercial and other property types.
"But residential values grew more than 26% over the last two years," noted Polis, "much more than most people's incomes went up during the same period. If we don't act, property taxes will go up by hundreds, even thousands, of dollars. We need to prevent these steep increases by taking decisive action."
The Governor also talked about his desire to reduce income taxes. 
"I was proud to have supported two successful income tax cuts at the ballot and since I took office our income tax rate has gone from 4.63 percent to 4.44 percent, helping produce strong economic growth and low unemployment. We have worked together to close special interest tax loopholes to pay for the income tax cut and provided even greater tax relief to Colorado families, seniors and small businesses."
While Republican Senate Minority Leader Paul Lundeen supports lower taxes, he said he doesn't think the Governor deserves credit for measures that outside groups — groups that aren't aligned with Democrats — put on the ballot.
"That's Americans for Prosperity. That's the people of Colorado saying, 'Defend the Taxpayer Bill of Rights. We like that. And oh, by the way, would you lower our income taxes as well?' The people of Colorado have done that. Not the Governor." 
Republican state Rep. Soper said he liked what he heard from Polis about taxes, including a proposal to make the Senior Homestead Property Tax Exemption portable. That would allow older homeowners to move and still keep the tax break. 
"The fact that the governor hit on property taxes and wanting to continue to lower property taxes as well … I mean, all those things, as a Republican, I loved."
Democrats however were less enthusiastic. Senate President Fenberg said there wasn't an appetite in the Democratic-controlled legislature to try to reduce income taxes any further. "We want to make sure that we're investing in public education and transit and other programs that the growing population of Colorado deserves and demands." 
Fenberg said that, as far as he knows, Polis is not proposing the legislature pass an income tax cut this year. 
"I think when he talks about income tax cuts, he's talking about a more philosophical, hope and dream for the future," Fenberg said.
You care.
You want to know what is really going on these days, especially in Colorado. We can help you keep up.  The Lookout is a free, daily email newsletter with news and happenings from all over Colorado. Sign up here and we will see you in the morning!