As Colorado lawmakers work to expand abortion protections, pregnancy resource centers' advertising under scrutiny
The Englewood Alternatives Pregnancy Center is in a large office building. Inside, there's an ultrasound room that looks like a doctor's office, a waiting area and a small consultation room painted in a cheery yellow with comfortable chairs. 
"Every person is unique. Unplanned pregnancy is part of our shared humanity," said Linda Pace Saccomano, executive director of Alternatives. There are other options available to people with unplanned pregnancies than abortion, Pace added. And that is the underlying message of Alternatives and other places like it found everywhere in Colorado.
Alternatives opened in 1982. Fifteen years later, the organization started to offer ultrasounds and first-trimester care for pregnant people. According to its website, "the cultural myth of a 'clump of cells is dispelled when a woman sees the heartbeat of her baby." 
Alternatives is one of more than 50 pregnancy resource centers in Colorado. There are more than twice as many pregnancy resource centers in the state than clinics that offer abortions. In general, pregnancy resource centers offer information on adoption and parenting and abortion. They don't refer for, offer or support abortions, but they do offer limited medical services, like first-trimester ultrasounds and STD testing, and oftentimes formula, diapers and clothing for newborns. 
But, Colorado Democratic legislators and abortion rights organizations say places like Alternatives use deceptive advertising practices to attract people to their clinics, causing confusion and delays in care. Legislators point to advertising like billboards or benches with things like: "Pregnant? We Can Help," and a phone number along with: "Free Tests. Private. Medical." 
Legislating abortion care protections

Last year, Democrats passed the Reproductive Health Equity Act, known as RHEA, which codified the right to an abortion and contraceptives in Colorado state law, firmly cementing Colorado as a safe haven state for abortion care. Now, Democratic lawmakers, who have a supermajority, want to take Colorado's reputation as an abortion safe haven a step further.
New legislation introduced at the statehouse would limit the way these clinics can advertise their services. The bill would make it illegal for centers to advertise that they provide abortions, emergency contraception or referrals for those services if they don't. The legislation passed the Senate last week and has moved onto the House. 
Pregnancy centers are pushing back. They say their advertising is not deception and that they provide important resources to pregnant people. 
"There is no deceiving, there is no manipulation," Saccomano said. "There's none of that because it's not what we're about here. We are about serving women in their time of need." 
Advertising and marketing 
At the bottom of the Alternatives website in bold text is a disclaimer: "We do not refer for or perform abortions; therefore, Alternatives receives no financial gain from a pregnancy decision." 
Saccomano said her staff who answer the phones and the clinical and social work staff who interact with patients are all trained to be clear and upfront: Alternatives does not provide abortion services. 
Most pregnancy resource centers are nonprofits associated with either Heartbeat International or Care Net. Both are anti-abortion advocacy groups. 
During Senate debate for bill SB 23-190, sponsor Sen. Janice Marchman pointed out that there are many pregnancy resource centers who are providing for the community in good faith. But there are also "bad actors." 
"Some of these pregnancy medical centers are deceiving pregnant people who live in and seek health care in Colorado," Marchman said. "What's happening is this: Pregnant people are searching for abortion care in Colorado and websites and coupons and flyers are luring them into these clinics with the offer of free ultrasounds and pregnancy tests." 
One woman, who didn't want to use her name, visited the Alpha Center in Fort Collins years ago when she was a high school student. She had a pregnancy scare and didn't want to tell her parents. She saw an ad in her high school newspaper for the center.
As an unemployed 17-year-old, she said she didn't know how to go about getting a pregnancy test, let alone an abortion. 
"We were handling this on our own, and that resource was just presented to us via this advertisement in the school newspaper. And it checked a lot of the boxes. It was free, confidential," she said.  
At the center, she said she was given an over-the-counter pregnancy test, and what she describes as a lecture from an employee about premarital sex. 
"Basically, that I was no longer pure and that this was a sin and that abortion was murder," she said. Her pregnancy test came back negative.
Alpha Center did not respond to CPR's request for comment.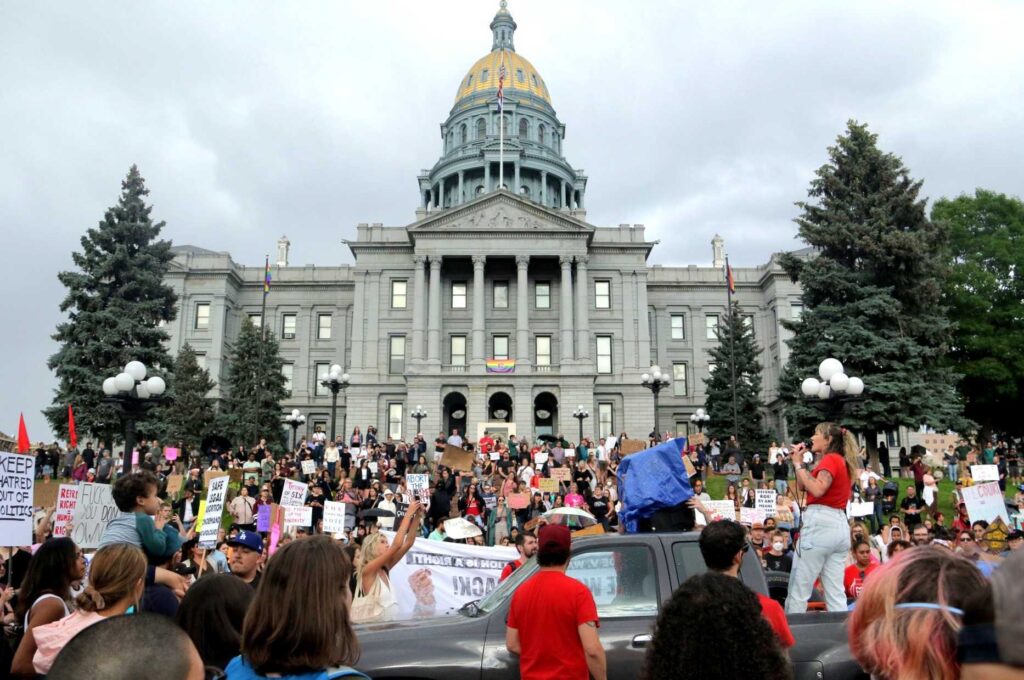 Other women interviewed for this story had positive experiences at pregnancy resource centers. One woman, who did not want to use her name, said Alternatives' post-abortion counseling helped her process an abortion she had when she was 17. 
"I needed to learn how to think about [my abortion]. I needed to learn how to talk about it. I needed to learn how to navigate it, and I needed to learn how to process the grief of loss," she said. "Having a place to go every week and a safe place to be and talk about something really, really, really hard is life-changing. And I think it's life-saving as a community."
While Alternatives and other pregnancy center websites in Colorado have disclaimers and said they are upfront with patients about their services, a 2021 study from the National Institute of Health found that more than 85 percent of participants failed to correctly identify at least one pregnancy resource center, out of the 10 website screenshots they were provided in the survey. 
In the same study, the researchers found that 40 percent of participants failed to correctly identify at least one clinic that provides abortion care. 
"To best serve patients, clinics should prioritize clear communication and presentation of services they provide," the study authors wrote in the conclusion. 
Services vary around the state
About half of the 51 pregnancy resource centers in Colorado are licensed medical facilities that employ physicians, nurses, sonographers and other medical professionals, according to Marchman. 
The centers offer free medical services, including pregnancy tests, often the same ones someone can buy at a drugstore, first-trimester ultrasounds and STD testing. 
Planned Parenthood of the Rocky Mountain clinics offers what the resources centers do and much more, including services like cancer screenings, HIV testing and treatment and gender affirming care. Planned Parenthood also offers adoption referrals and prenatal care.   
"When someone comes into our health centers with an unplanned pregnancy, our health center staff are expertly trained on talking to them about all their options: adoption, different routes for the pregnancy outcomes, abortion," said Claudia Perez, Colorado public affairs manager with PPRM, "and make sure that they are informed and consenting throughout the entire process with our health center team."
Perez said she's seen patients who went to a pregnancy resource center first and then to a PPRM clinic. 
"We know that when an individual has come to the decision that they want to end their pregnancy, they do not need people who are trying to deceive them, delay their care, or dissuade them from a choice that they have already come to," she said. 
In rural communities, pregnancy resource centers may be the only option for people to decide what to do with an unplanned pregnancy. In five Colorado counties —  Custer, Fremont, Las Animas, Otero in southeast Colorado and Rio Blanco on the Western Slope —  there are pregnancy resource centers, but no state or federally-funded birth-control options, according to data from New Era Colorado. 
In Cañon City, the pregnancy resource center serves people from five different counties. It serves more than just people with unplanned pregnancies, said Stacy Swagger, executive director of the Cañon City Pregnancy Center.
"She's living in a domestic violence situation. She might have been raped by an ex-boyfriend, she might have multiple children, and she doesn't know where to go, and she's at risk for homelessness," Swagger said. 
Swagger said she then connects these clients with resources available in the county to address their many needs. 
Debate continues to churn around abortion
SB23-190, Deceptive Trade Practice Pregnancy-related Service, is expected to pass the House, where Democrats have a supermajority. The bill is part of a package that, if passed, will protect patients and providers of abortion and gender-affirming care from out-of-state legal action and increase insurance coverage for abortions and other reproductive care.  
For abortion opponents, Colorado's legislation goes against what they believe to be an absolute truth: that life begins at conception. 
"Women need to find Alternatives before they visit an abortion clinic," according to Alternatives website. "They need to know there is support, education and resources available so they do not have to choose between their career and the life of their unborn!"
---
Related coverage
---
You care.
You want to know what is really going on these days, especially in Colorado. We can help you keep up.  The Lookout is a free, daily email newsletter with news and happenings from all over Colorado. Sign up here and we will see you in the morning!