Colorado Sled Hockey is the latest Centennial State team to skate to a national championship
Denver was unofficially crowned HockeyTown USA in 2022. 
The Colorado Avalanche took home their third Stanley Cup title in the NHL.
The University of Denver Pioneers won the NCAA Ice Hockey National Championship.
Even Denver East High School and the Littleton Pee-Wee hockey team brought home the gold.
Now, the state can add another hockey title to the Mile High list: Colorado Avs Sled Hockey, like their NHL affiliate and namesake, are national champions.
The organization's A-team repeated as national champions at the 2023 U.S National Sled Hockey Championships this past weekend in St. Louis, Mo. It's their sixth national title overall.
"These guys are doing what a standup player would do on skates," Jerry DeVaul, president of the Colorado Sled Hockey, said. "These guys are doing it with their arms, and it's just all core. It's truly amazing."
DeVaul, an army veteran, lost both his legs in 2011 while working in a coal mine. He was drilling when a coworker operating a mining scoop struck DeVaul unconscious. He woke to find his legs amputated. 
"I was just really fortunate to have someone looking out for me, you know, a higher power or whoever was shining down on me that day," DeVaul said. "I talked to a surgeon who said there's no scientific or medical explanation of why I lived."
DeVaul says the coworker was fired after the company found out he was high on oxycontin and oxycodone at the time of the accident. Devaul doesn't hold a grudge toward anyone involved in that experience.
"I try to hold up to all my promises that I made that day and inspire people and help people with disabilities see that, yeah, you have a disability, but it isn't always a disability," DeVaul said. "Sometimes you have some different abilities that you land up learning when you are down this road, when you do have, you know, when adversity is, when you're facing adversity."
After the accident, DeVaul got lost in alcohol and painkillers. His path to recovery began in 1996, when he was invited to a Colorado Sled Hockey practice.
Corey Fairbanks, a former University of Nebraska football player who was paralyzed below the waist after a skiing accident, had brought the sport to Colorado a year prior. He gave DeVaul a welcome he would never forget.
"[Fairbanks] hit me so hard. He lit me up and he told me, 'Keep your head up, youngster,'" DeVaul said. "And I was like, 'Whoa! That was legal!'"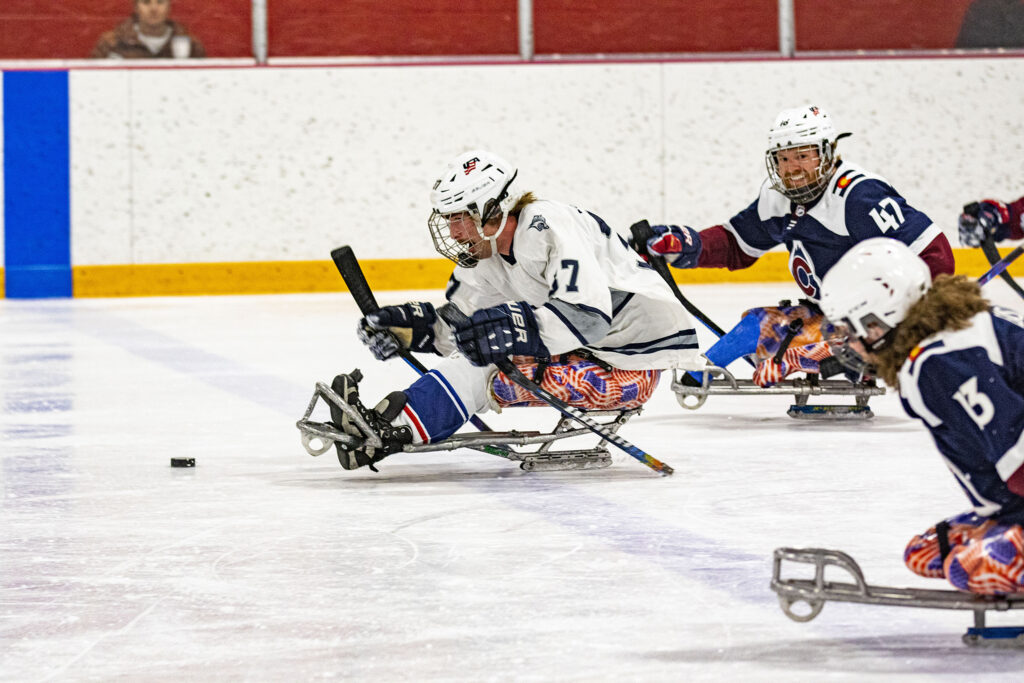 DeVaul knew he found his sport.
"I could just blow people up and not get in trouble," DeVaul said. "So I'm getting to take some of my aggression and anger out. I didn't know how to do it once I lost my legs, and this was my outlet." 
Sled hockey's road to Colorado
The sport, also known as sledge hockey and para ice hockey, was invented at the Stockholm Rehabilitation Center in the early 1960s. It made its Paralympic debut at the 1994 Winter Games in Lillehammer, Norway.
The United States brought home its first gold medal in the event at the 2002 Winter Games in Salt Lake City. 
In 1996, Colorado Sled Hockey partnered with the Colorado Avalanche to become the first team affiliated with an NHL franchise. Kroenke Sports partners with the Colorado Adaptive Sports Foundation to sponsor other adaptive sports, including wheelchair basketball, wheelchair lacrosse, power soccer and wheelchair curling.
Now, DeVaul is pushing to expand the sport and its appeal. He's started by letting anyone willing to lace up the pads — and strap into a sled — play. 
The Rocky Mountain Mayhem Tournament, held annually at Big Bear Ice Arena in Aurora, gave folks an opportunity to do just that. During the three-day event, the organization invited both able-bodied athletes and athletes with disabilities to get on the ice.
One of them was Paul Neama, a below-the-knee amputee. He lost his leg at age nine while jumping on a coal train. He's currently a prosthetic technician at Rise Prosthetics+Orthotics in Colorado Springs, where he builds prosthetic legs. Many of his creations showed up at the tournament, including his own.
Sled hockey is the first adaptive sport Neama ever attempted. He had trouble balancing in the sled and was happy just to hit the puck. 
"It is definitely hard," Neama said. "Those guys got a lot more accuracy and agility than you'd really think. But it's fun."
The organization has even invited the defending Stanley Cup Champion Colorado Avalanche to play.  DeVaul remembers watching Avs captain Gabriel Landeskog climb into a sled. 
"It just took him out of his comfort zone. It humbled him because he really understands hockey better than anybody," DeVaul said. "But when you take him out of his comfort zone and bring new barriers, which he has to learn and overcome, it makes the sport way different."
Inspiring youth through adaptive sports
Colorado Sled Hockey currently has five teams. Three teams are ranked A, B and C based on skillset. One squad dubbed the Wariors is for veterans, and a youth team, the Little Avs, is dedicated to helping kids access adaptive sports. The A-team was who took home this year's championship.
The Rocky Mountain Mayhem tournament also featured a youth division. Nine-year-old Mitchell Wennberg was only seven months old when he was diagnosed with acute flaccid myelitis (AFM). It's a neurological condition that can cause weakness in extremities, and Mitchell's case paralyzed his right leg. 
"The first few years, you might think it's horrible and stuff because you're eliminated from doing stuff," Mitchell said. "But, then after a few years, you would think of what the good things are about your disability.
His parents, Alex and Kristy Wennberg, reached out to the Children's Hospital and discovered the sport. Mitchell started playing at age three. He admits he didn't like it at first.
"Because I was smaller and because I was getting pushed instead of skating myself," Mitchell said.
Alex, who coaches multiple sled hockey teams, including the Little Avs, says he can't get Mitchell off the ice now. 
"The main difference is the sleds," Wennberg said. "[The adults] have been in them a lot longer. They know how the sleds are supposed to be, how they turn. That's what I'm trying to pass down to the youth."
If Mitchell sticks with the sport, he could become the Front Range's next sled hockey star. Ten Colorado Avs Sled Hockey players represented Team USA at the 2022 Winter Paralympics in Beijing, including standout Malik Jones of Aurora. 
Jones was born without tibias, and, at 10 months old, both his legs were amputated. He was also born with three fingers on each hand. He credits his grandmother with getting him involved in hockey when he was seven. 
"It was hard. I kept falling and kept messing up. All I wanted to do was just hit people when I first started," Jones said. "I didn't really understand the game. But, over time I understood."
Jones battled his way through the youth ranks and finally earned a tryout with Team USA for the 2022 Paralympics. At 19 years old, Jones became only the second Black athlete to represent Team USA in the event. The first was Tim Jones, no relation, who won a bronze medal at the 2006 Games in Torino and a gold medal at the 2010 Games in Vancouver. 
The younger Jones says he takes pride in representing his country and his personal background.
"It feels good to inspire the young generation of my color, to be that voice for them, to have that impact on them, and to know that anybody like me can do whatever they put their mind to," Jones said. "They play football, professional football, professional basketball, be an accountant, you know, all those things. They can do it. They just work hard at it and dedicate themselves to it."
Jones says Beijing was an eye-opening experience for him. But, he held on and found the net, scoring five goals and helping Team USA win its fourth straight Paralympic sled hockey gold medal. It was the country's fifth overall. 
Expanding the game means expanding access
Wennberg and Jones have stories DeVaul wants to promote and repeat in Colorado. He would like to start a program that provides recreational therapy to people with disabilities through sports. He hopes that goal would allow him to expand access by offering financial aid, too.
"Ninety-five percent of schools in America don't have disabled sports because it's just way too expensive when you only have one kid in your school that's disabled," DeVaul said. "[But if] you have all these little schools that are feeding into our organization, that gives us the kids that we have in our club and that are feeding into our system."
From there, DeVaul would like to create a professional league in Colorado where the best players, disabled or able-bodied, can compete at a high level and fulfill their dreams of being professional athletes.
"We need a pro league because these athletes, they're the best athletes in the world," DeVaul said. "If anyone says any different, I would challenge them to bring their best athlete and let them get in the sled for two weeks to a month and train as hard as they can.
"Then just come and play a game with us — see where you're at."
The critical need for fact-centered reporting and thoughtful conversation has never been greater. If you can support us, we need you. Every gift of any amount sustains the in-depth reporting you depend on. We can't do it with you. Thank you.
Give Now