Western Slope senior sports sash at graduation ceremony, despite school policy
After more than a month of dispute, and a court decision that went against her, Naomi Peña Villasano crossed the stage at her high school graduation ceremony on Saturday with a fist-bump from the principal, applause from her family and a controversial sash honoring her Mexican-American heritage around her neck. 
"I was nervous. I'm not gonna lie, I was super nervous about, what everyone's reaction would be, but just like my senior quote, 'Always stand up for what you believe in,' I feel like that just overpowers everything," Peña Villasano said after the Grand Valley High School graduation ceremony.
Garfield County School District 16 staff made no attempt to halt the proceedings, even though the sash violated a policy that's been front of mind for more than a month now. 
The controversy over cultural regalia at graduation ceremonies quickly made its way out of Parachute and into headlines around the state and into a federal courtroom. Peña Villasano had asked district officials if she could wear a sash, formally known as a stole, during the ceremony. A gift from one of her brothers, it featured a Mexican flag on one side and a U.S. flag on the other. Peña Villasano was born in Colorado, but her parents immigrated from Mexico. 
District officials rebuffed her request, citing district policy around graduation. Peña Villasano took her case first to the school board and then to the U.S. District Court for the District of Colorado earlier this week, which rejected a request for an emergency restraining order to block the district's graduation policy. 
Still, Peña Villasano said she would wear the sash. 
"I think I have to remember just initially, what my thought process is and then weigh out the pros and the cons and just realize that, you know, I'm not doing anything wrong," she said. 
Peña Villasano entered the graduation ceremony without the sash. However, during a point in the program when graduates deliver roses to family members, Peña Villasano went to her mom, who draped it over her shoulders, before Peña Villasano returned to her seat. She said she was briefly reminded of the rules by a teacher while waiting for the ceremony to continue.
"Honestly, he's like, 'No, you can't wear it, but at this point, who's gonna stop you?'" she said.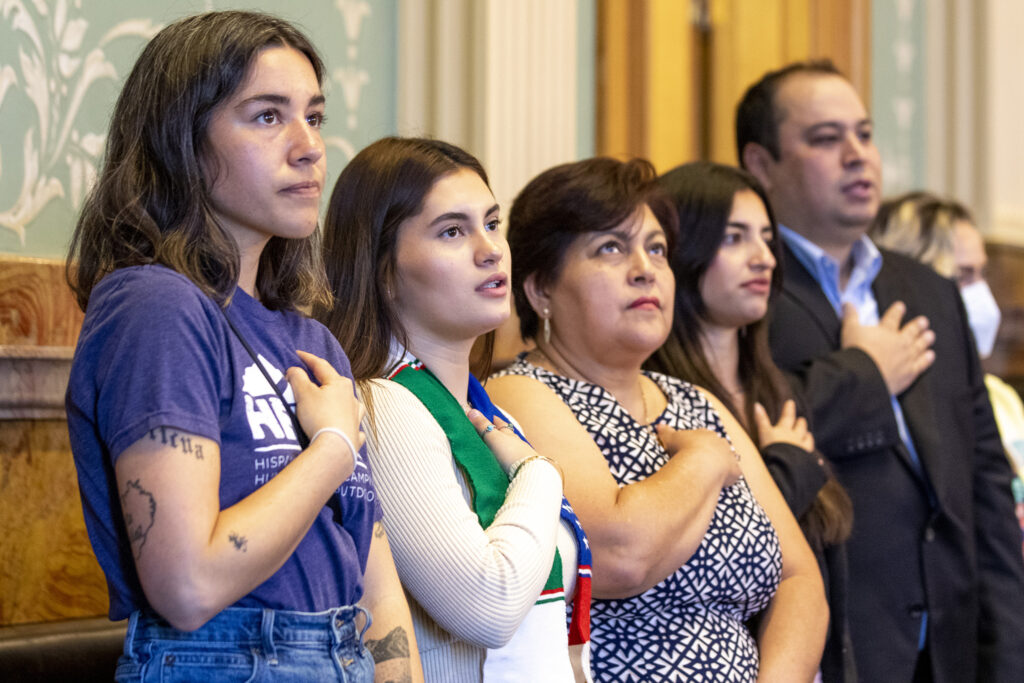 Garfield County School District 16 has been relatively quiet on the issue. The board said they would review the policy for next year. After a federal judge on Friday denied the emergency injunction against the dress code, the district said in a press release that they were pleased with the decision. 
"This is not an issue about a student's ability to express her pride in her culture and heritage. She, and all her classmates, have an avenue for this expression by decorating their mortar boards on their graduation caps, including appropriate nationalistic endorsements," Superintendent Jennifer Baugh said in the press release. 
The statement added that "throughout this process Garfield 16 has celebrated Naomi's advocacy and encouraged her to take the necessary steps to affect a change in policy." 
While Peña Villasano said she would be advocating for changes to future policy, she is also hoping that something can be done at the Colorado Legislature to expand rights for students to wear cultural regalia at graduation ceremonies. Earlier in May, Gov. Jared Polis signed into law a bill guaranteeing that right for Indigenous students. 
Democratic state Rep. Elizabeth Velasco, whose district includes Parachute, was a cosigner of that bill and said she will work to expand it during next year's session. 
Alex Sánchez is the president and CEO of Voces Unidas de las Montañas — an organization founded in nearby Glenwood Springs to advocate for the Central Mountain's Latino and Latina population. He has been working with Peña Villasano and said state legislation would afford symmetry for all students to wear what they want, regardless of what district they're in. 
"We believe that there's already a precedent in Colorado with this new bill that was just signed into law this year," Sánchez said. "We hope to take the same bill and just add culture and other symbols of faith. It is 2023. We are the most diverse country in the world."
Sánchez, a member of the Colorado Mesa University Board of Trustees, is also hoping to sway Peña Villasano into choosing CMU for her higher education. For now, Peña Villasano said she is focused on celebrating her accomplishments with her family. 
"It's unfortunate that I had to focus on fighting for my rights instead of celebrating my last, you know, year or my last month as a senior and focusing on the celebration and my ceremony," Peña Villasano said "But, I think it's an experience and it's definitely a life lesson that a lot of people tend to face."
You care.
You want to know what is really going on these days, especially in Colorado. We can help you keep up.  The Lookout is a free, daily email newsletter with news and happenings from all over Colorado. Sign up here and we will see you in the morning!