Sumac, chickpeas and olive oil: How one food truck brings the taste of Lebanon to Colorado
As a child in Lebanon, food prep was a chance for Siham Halime to deepen the bonds with her mother and grandmother.
"Like I'm talking about okra, I'm talking about the lima beans with really big meats, chunk meats, tomato sauce," recalled Halime, 57, a Lebanese transplant who now has a food truck. "We cook zucchini, we stuff zucchini, we stuff green pepper. We stuff eggplant. We do a lot of things. We pretty much cook every day." 
But it wasn't until she came to Colorado that it became an occupation.
Halime, who lives in Aurora, now owns and operates the Laziz Ya Lebanese food truck that makes regular appearances around the Denver metro area.
The journey from a foreign country to food-related entrepreneurship in Metro Denver is familiar to many of the state's immigrants. Food trucks can be both an economic engine that helps fuel the transition to a new home, and a cultural keepsake that keeps their homelands alive in their everyday lives.
For Halime, a vivacious woman with wide eyes who likes to call people "dear," her origin story that led her to the food truck began with boarding school in Lebanon. 
"I was in private school all my life, you know, where you live, you eat, you sleep and you study." Her English is salted with a slight Arabic accent and peppered with sassy observations, this time of the tedium of being away from her family for her education: "Oh, boarding school until I graduate. Yeah. Boarding school until I graduated from college."
Along the way, she fell in love with the art of the preparation of vegetarian Lebanese cuisine – hummus, babaganoush, falafel, stuffed grape leaves, tzatziki dressing, some of them served with a garnish popular in Lebanon: pickled turnip pieces that add a vinegar kick to each bite.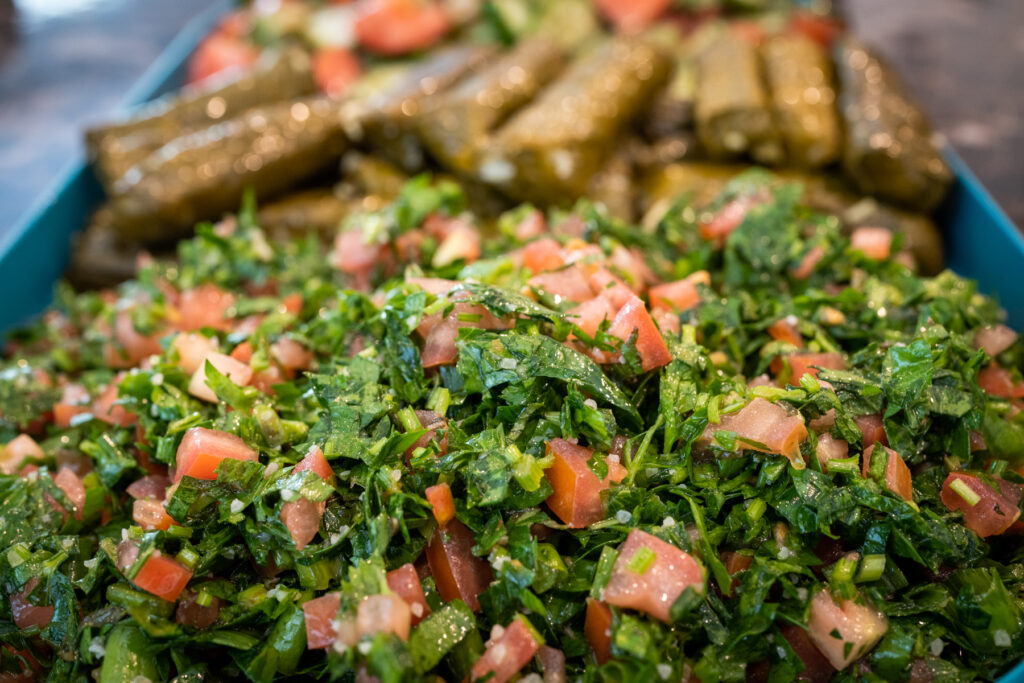 She also fell in love with a Lebanese man who had relocated to Colorado. He was back at home visiting in 1990, and stopped in her village of Abey, about 15 miles from Beirut, where Halime was working in an accounting firm. He made a donation to charity and she gave him a receipt. As he was leaving, he spoke with a woman outside her office.

"(I) receive this amount of money from him, then I ignore him," Halime recalled. "But he turned around and he asked the lady outside the office, 'Who is she? She's married? She's engaged?'"
A 15-day courtship followed, then marriage, and a move to Colorado.
Telling her story at her daughter's modern townhome in Aurora, the mother of five shared some food she'd prepared, describing a spread of mainly meat-free foods eaten for lunch or dinner.
"This is a babaganoush," she said, referring to a creamy beige spread the consistency of bean soup. "We made it with roasted eggplant, real roasted eggplant. We roast the eggplant and then we peel it, and then we mix it with tahini, lemon juice, garlic and salt."
She started the truck, with a name that means "Delicious Lebanese Food" in 2018, using no shortcuts in preparing everything either in her home or her daughter's, and then finishing up orders on demand wherever they are parked.
Among the most popular entrees is hummus.
"We don't use cans, so I bring the chickpeas, put 'em in water the night before," Halime said. "Next day I boil them and then I make 'em on my food processor."
She gestured to other dishes: "And other ones you're seeing? There is the fattoush salad on the right, and the tabouli salad on the left, and in the middle, this is the grape leaves, which is vegetarian, too." 
She adds a few twists to her meals, sprinkling sumac, a red powdery spice that comes from berries that has a sour, floral tang not quite as astringent as a lemon or lime, on top of the hummus for a decorative and flavorful punch.
The inspiration that became the food truck came to life in 2018, after she was laid off from her job at a local bank. She'd always had a goal of opening her own business, and the longing for the foods she grew up eating as well as the lay-off, sparked an idea. She decided to switch from banking … to baking. She returned to Lebanon for a crash course in the art of Lebanese pastry making, and began baking and selling baklava and other goodies around Colorado.
She was getting lots of orders, but she wanted to add in her traditional savory meals as well, the ones she'd learned from her mother and grandmother in Lebanon. When she found out that some acquaintances of hers had ventured into food trucking – a move that had not been successful for them – she offered to buy the truck, and her offer was accepted. 
Food-trucking appealed to her because it was much lower overhead than a traditional restaurant, and she wouldn't have to focus on it 24 hours a day. She got the truck wrapped in signage that read Laziz Ya Lebanese and recruited one son to help cook, and one daughter to serve as receptionist. 
"So I thought, okay, well I wanna teach people in Colorado, really show them how really ethnic Lebanese food can be." 
It didn't seem Colorado cared to know. After getting a permit, finding a parking spot and prepping her best foods, she recalled: "I make seven dollar, fifty cents!"
"I said, 'What, what happened to me?' Of course I'm going to have a heart attack," Halima said. "I was panicking. I said, 'This is it. Maybe I'm not going to make money.' I mean, I'm sure about the food I'm making . . ."
As she got better at marketing online, her business slowly improved. And the pandemic created a greater need than ever for food that could be bought and consumed outdoors. 
She continued happily running the food truck with her son and daughter. Then, last September, her husband died. That left her responsible for her family, and since then, she's been, through her grief, working on a plan to grow from a food truck owner to a meal kit delivery proprietor as well. 
Recently, she has been packaging individual portions of some of her popular dishes and then selling them to customers who can buy a week's worth, freeze it and reheat it from home. It's been working: the two ventures combined have been so busy that she had to cancel scheduled interviews for this story three times due to demand for her food.
Whether she's preparing food to serve on the truck, or food for people to buy prepackaged, she said she's always thinking the same thing while getting her meals ready: the moment when people taste her food. 
"People come in, and eating it, and put smile on their face and say, 'I love it.'"
---
Editor's note: This is the first in an occasional series called ENTREE, which will feature stories exploring Colorado's diverse immigrant community through the restaurants and other food-related businesses they operate.
You care.
You want to know what is really going on these days, especially in Colorado. We can help you keep up.  The Lookout is a free, daily email newsletter with news and happenings from all over Colorado. Sign up here and we will see you in the morning!