Base running and bipartisanship: Rookie Rep. Brittany Pettersen makes her debut on the Congressional Women's Softball Team
It's already hot and humid at 7:40 a.m. in D.C., as Democratic Rep. Brittany Pettersen rounds second base and runs towards third. It's the last practice of the Members Team for the Congressional Women's Softball Game, which takes place tonight.
She gets a "nice job" from one of the volunteer coaches, as she heads on towards home plate.
Pettersen said she grew up playing soccer — not softball — much to the chagrin of one of the team's coaches, Ed Perlmutter, the man she replaced in office. Perlmutter was a die-hard member of the congressional baseball team before his retirement last year.
"He said he did a bad job asking me if I played softball before I was the candidate," she said with a laugh. "But I told him I would absolutely play on the team and I would figure it out."
Unlike the Congressional Baseball Game which pits Democrats against Republicans, the softball game lets a bipartisan group of politicians face off against the women of the Washington press corps (the Bad News Babes, a pithier team name than Members of Congress Team — and in the interest of full disclosure, while I do not play on the press team, I've been known to root for it).
"I'm really here because it's about building those bipartisan relationships with women from both chambers," Pettersen said. "Those are the critical relationships that you have moving forward to actually get things done for your community."
Those relationship-building chances have come in unexpected ways during the last three months of practices, like when New York Sen. Kirsten Gillibrand gave her batting advice.
"A surreal moment was when I was learning how to hit the ball and her coaching me and telling me what I needed to be doing, where I need to put my weight. And then I knocked it out of the park," Pettersen recalled.
But Pettersen was quick to bat down any expectations of a repeat during the actual game Wednesday night; as a rookie to the team she will not be a starter. Still, she was excited to get her official jersey with the number seven on the back, an homage to her congressional district, CO-07, as well as her own "baseball" card, which highlights a Colorado cancer survivor, Pettersen's friend Karen Wick.
The game raises money for the Young Survivors Coalition, a group that helps women under 40 diagnosed with breast cancer. Since the annual competition began in 2009, it has raised more than $3 million dollars for the group.
For many of the women playing, there are personal connections to that fight.
"I have a dear friend of mine who was in that situation, so this has been a great opportunity to highlight my folks and friends back home," said Rep. Stephanie Bice of Oklahoma, who's in her third year playing on the team. 
Democratic Rep. Debbie Wasserman Schultz of Florida, one of the team's captains, is a breast cancer survivor herself. Her fight against the disease is what kicked off this fundraising competition.  
Fifteen years later, she's proud of what they've accomplished and that the game has become an institution in the nation's capital. 
"It's really incredible what women are able to do when we come together around a common cause," she said.
She was also confident that her team could beat the press team for the second year in a row.
"We've been practicing. We have seven new rookie players, who … have a lot of great skill and are also just great women. So we're excited," she said.
However, the Bad News Babes have won the majority of the games and were on a five game win streak before the congressional team pulled off their upset last year. The press team also tends to be a bit younger, on the whole, than the players in the congressional dugout.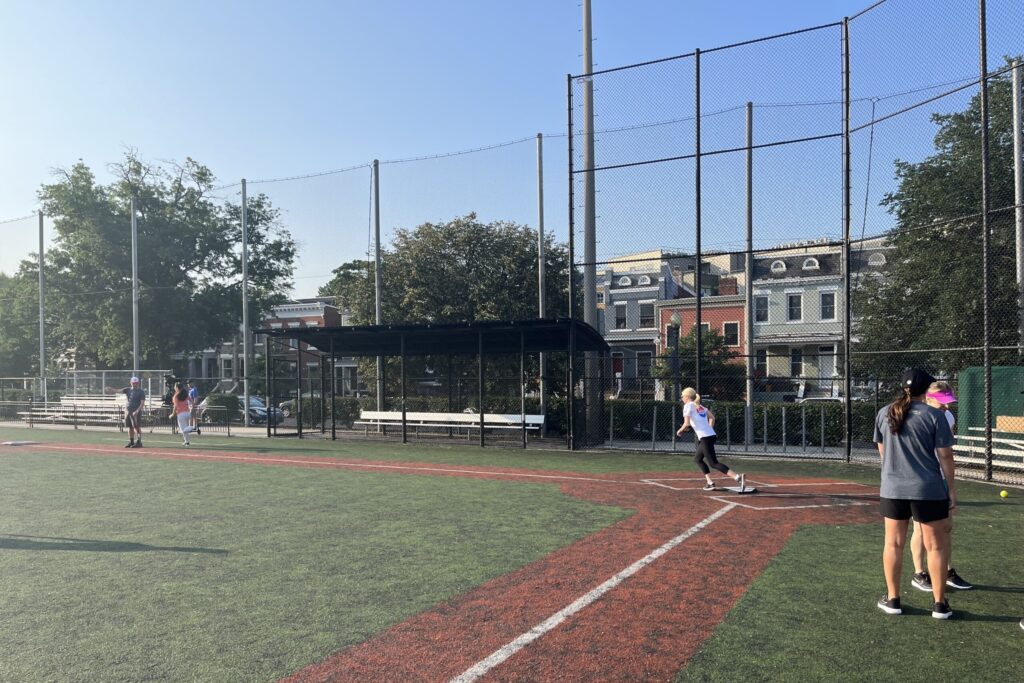 But the lawmakers are undaunted.
"As my fine friends in law enforcement reminded me, there's also wisdom involved with that age, so I feel like we're in pretty good shape," said Bice.
The women ended their practice Wednesday morning with a cheer that summed up their hopes for the game.
Standing in a circle, their hands piled on top of one another in the center, they yelled, "Go Congress! Beat the press! Beat cancer!" to a loud cheer before heading back to the U.S. Capitol.The Congressional Women's Softball Game begins at 5 p.m. Mountain Time and will be streamed by the PBS Newshour.
You care.
You want to know what is really going on these days, especially in Colorado. We can help you keep up.  The Lookout is a free, daily email newsletter with news and happenings from all over Colorado. Sign up here and we will see you in the morning!