Family of pregnant woman killed by Arvada police in 2021 seeks accountability, transparency with lawsuit
Destinee Thompson was on her way to meet her stepmother — they had lunch together often — when she was mistaken for a suspected shoplifter and shot and killed by an Arvada police officer. 
Now, two years later, Thompson's stepmother, Carmela Delgado, wants some clear answers. 
Thompson's family filed a complaint in District Court in Denver this week. Court documents named Officers Anthony Beallo, Chris Dennehy, Ian Gohlke, and Sgt. C.J. Bickmore as defendants.  
"There were a lot of questions surrounding the circumstances, and we were only told that it was an attempted armed robbery and that she was the suspect. It was very confusing, and of course, devastating," Delgado said.
Attorney Siddartha Rathod says this case is about more than transparency. 
"It's about trying to get some semblance of justice for this family. It's about making sure that another family is not in this position again," Rathod said. "And the only way that happens is if Arvada is held accountable." 
According to the complaint filed in court, Arvada police went to the American Motel looking for a suspected shoplifter from a nearby Target store in August 2021. The suspect, a woman, allegedly had a knife. She was described as wearing a white tank top and blue jeans and had a chest tattoo. 
Thomspon, a mother of three, had moved around metro Denver and was pregnant at the time. Delgado said Thompson would often use Delgado's address as her mailing address. The two usually have lunch with each other. Thompson, who was not wearing blue jeans and didn't have a chest tattoo, was leaving the motel when she was stopped by plainclothes officers. Thompon attempted to leave in her minivan, but a police vehicle blocked her in. Other officers began yelling at her from both sides of the minivan, according to the lawsuit.
Officer Dennehy shattered the passenger window with a police baton. When Thompson tried to pull out, Officer Benallo fired eight shots into the van killing Thompson and her fetus. The lawsuit says Thompson had already pulled her minivan into the road and driven 25 yards away when she was struck by the fatal shot. 
The Arvada Police Department and the First Judicial District Attorney's office did not respond to calls Friday. 
Rathod said the officers profiled Thompson, who was of Hispanic and Native American descent, in the incident.
"It is clear that Destinee had committed no crime and had not been the individual who was shoplifting," Rathod said. "The only similarity between Destinee and the shoplifter was the color of her skin." She was also wearing a white tank top like the suspect.

According to District Attorney Alexis King's investigation, Thompson struggled with substance abuse in the past. Blood samples from the autopsy tested positive for methamphetamine, morphine, amphetamine, caffeine and fentanyl. Thompson also had two active warrants for her arrest.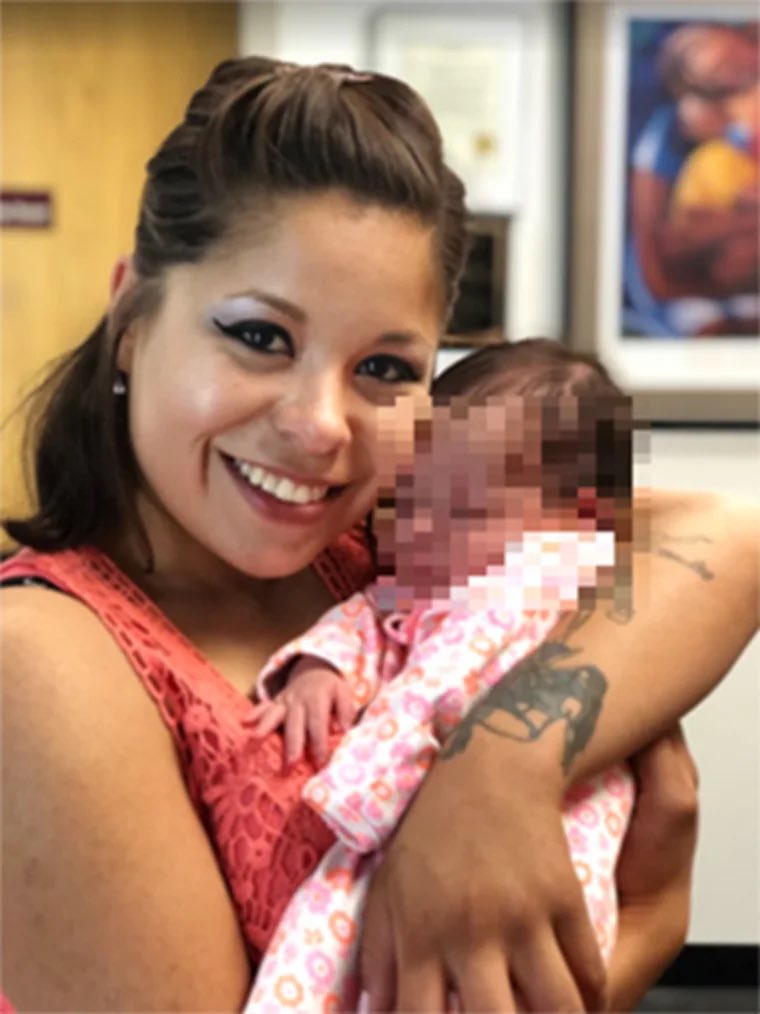 Delgado said she was shocked and in disbelief when she found out that Thompson was killed.
"It was not in character for her. She's not a violent person." Officers eventually arrested the suspect Shawna Colby, who was charged with robbery. A spokesperson with the Arvada Police Department said the officers were justified in their shooting.  
"Thompson, unfortunately, chose to engage in conduct that the officer reasonably believed posed an imminent threat to the life of another officer," Arvada police spokesperson David Snelling said in a statement. "She chose to use deadly force to stop that threat."
Rathod wants the lawsuit to lead to use-of-force reform at the Arvada Police Department. He also wants officers to be held accountable, pointing to the death of Johnny Hurley, an Arvada man shot and killed by officers in pursuit of a suspected shooter in Olde Town in 2021. 
"This officer in the Johnny Hurley case hid, wouldn't leave, and then sees Johnny Hurley and shoots him in the back. He shoots who? The person who the mayor of Arvada, the chief of police of Arvada, all say was a hero and there was no discipline," Rathod said.
The Arvada District Attorney's Office said it wouldn't press the officers with criminal charges. 
Delgado said she has been disgusted by the whole ordeal. 
"I really have a hard time justifying or understanding the force that was used. And not only that, the crime and the punishment do not fit, and for them to pardon and justify that and say he was within his rights and doing what he, just doing his job, that is very, very concerning to me," she said.
You care.
You want to know what is really going on these days, especially in Colorado. We can help you keep up.  The Lookout is a free, daily email newsletter with news and happenings from all over Colorado. Sign up here and we will see you in the morning!