Want to learn about composting, gardening and life? Head to the spiral garden
Ron Taylor marvels, sitting on a tree stump near the center of a giant earthen spiral garden as the sun slowly sets.
Marvels at his neighbors harvesting herbs and potatoes near him. Marvels at the children picking giant sunflowers. Marvels at the rich mounds of soil that he helped form and nurture.  Marvels at how this neighborhood garden could teach him so much at the age of 73.
"Where do I begin?" he laughs. Taylor is a regular at the Montbello Spiral Garden's Monday evening gatherings, which draw dozens of neighbors and northeast Denver school children to water, harvest,  learn about composting and so much more.
The community garden– which may soon be moving —  is a massive spiral made of the neighborhood residents' compost and grounds from Prodigy Coffee mixed into soil, covered in mulch and woodchips. The garden is sponsored by the Consumption Literacy Project. The group supports students, community and educators to change waste and consumption patterns.
Just for starters, Taylor eats healthier foods now, stuff he'd never try before.
"I promise you, ma'am, when you get my age, you want to be healthy. I done messed up my body all these years. I assure you, everything's been in this body. But now is the time to cleanse this body, and you do it organically."
He tried mangoes the other day and he satisfies his sweet tooth with raspberries and strawberries from the garden. After the weeding, watering and planting, he spends more time observing nature.
"The beauty of it all is watching it grow. I mean, a couple of weeks ago, none of these sunflowers were out here. Just to see them…. the tomatoes that are out here and start seeing bright, vibrant colors."
Taylor is full of wonder when he talks about how a Vietnamese gardener taught him what he thought was a weed could be harvested and eaten. But there's more, an energy at the garden that's distinct and that becomes apparent as the evening moves forward.
"It literally could fit into my coffee cup"
The idea for the spiral garden sprouted in 2020. Many school programs send food waste away to be composted. But at a local school, Academy 360, students actually captured the food waste and composted it to create soil on site. Working with the Consumption Literacy Project, the students got the food waste from the cafeteria down to 0.2 pounds that year. (They couldn't figure out a use for string cheese wrappers.)
"It literally could fit in my coffee cup," said Austine Luce, executive director of the project. CLP created the "Nearly Zero Project" that operates in ECE through fifth grade classrooms where children design a system that involves worms, which helps their schools produce almost no waste.
From her experiences with building gardens at schools like Martin Luther King Jr. Early College, Luce wondered, what if there were a place neighbors and coffee shops could bring their compost and build a garden?
They heard about a weedy, sandy, trash-filled vacant lot at a nearby church. That would be their garden. It took more than a year to build. On Monday nights, two adults and eight students began mounding compost, mulch, soil and woodchips using an ancient self-watering underground irrigation technique using terra-cotta pots called oyas.
Three years later, Luce holds a handful of light sandy soil (the area was an ocean millions of years ago) in one hand. In the other, dark compost-rich soil brimming with worms and other nutrient-rich organisms.
 "When you smell it, you just can tell the sweetness of it and the dark richness of it."
"Let's go harvest!"
With her ever-present smile, Luce calls out to a circle of people gathered in front of her on a warm Monday night.
"Tonight we have potatoes, and we have lots of cut sunflowers so please bring home a beautiful bouquet," she said.
Children, teens and older folks wander between makeshift stations where they can learn and do. How do bees make honey? How does a compost work? What are those mushrooms in your front yard you've wondered about? What can I harvest tonight? New additions to the gatherings are painting lessons among the sunflowers. Students also learned videography and created a video about the garden.
Manuel Galvan, 13, and the garden's agricultural specialist Justin Twist push back the dirt and find an abundance of potatoes.
"You get more potatoes than me!" said Galvan, quietly teasing Twist.
"It's a team effort, right?" said Twist. "I think this plant produced a lot of good potatoes. Yeah, it did. Look at all these!"
What they've learned in the garden has inspired many local families to start their own composts and gardens. Galvan's family has even planted a fruit tree at home.
Throughout the spring and summer, Twist taught composting. That takes two things. Browns and greens. Browns — sticks, leaves, twigs, paper, mulch – are carbon-rich. Greens – food scraps, coffee grounds, and tea bags – are nitrogen rich. Add water and air, and you've got compost.
 "There is a ratio we have to follow, OK, so a bucket full of greens, we need at least two to three buckets full of browns," he tells a group of kids and adults one evening this spring.
He quizzes some of the kids about what happens when there's too many greens.
"It gets stinky," one says, reciting what should and should not go in a compost.
Twist explains that the carbon helps absorb some of that stink. It also helps the microorganisms get everything they need in order to feed and break things down.
But others, like Pamela Young, are still learning about composting.
"You're with a group and you have knowledge," Pamela Young tells Twist. "What about when I'm trying to do it at home?"
Twist explains that first she needs a compost bucket. Anyone's free to take home a bucket. And many have.  And they've started their own gardens at home. By August, Young is a convert.  She brings her compost from home to the garden.
"To think that all these scraps, all these tree branches and the air and the wind and the microorganisms, that makes real dirt and it's black and it's rich and it's beautiful and it's amazing."
She said from last year's tomato harvest, she made 16 jars of tomato sauce. The extra harvest goes to assisted living residences, food banks and neighbors.
"That makes this garden invaluable," said her friend, Tawny Taylor. She said she's not a planter, doesn't like having her hands in the dirt. But she's a harvester, loves to cook from the garden's prodigious bounty: cucumbers, tomatoes, habanero peppers, corn, pumpkins, parsley, green beans, lemon balm, zucchini, and more.
 "The herbs that we get from here, I don't have to buy 'em. And they taste so much better. The garlic is awesome! The tomatoes were so sweet!"
Music plays out the hatchback of a car as people stop for a snack.
Young has brought homemade fried chicken tonight. There are vegetarian tacos and other goodies. What organizers quickly realized is that the spiral garden is more than teaching composting and watering skills. It's providing community. And relationships between people who otherwise wouldn't meet.
"What we have developed is we really care about each other," said Luce.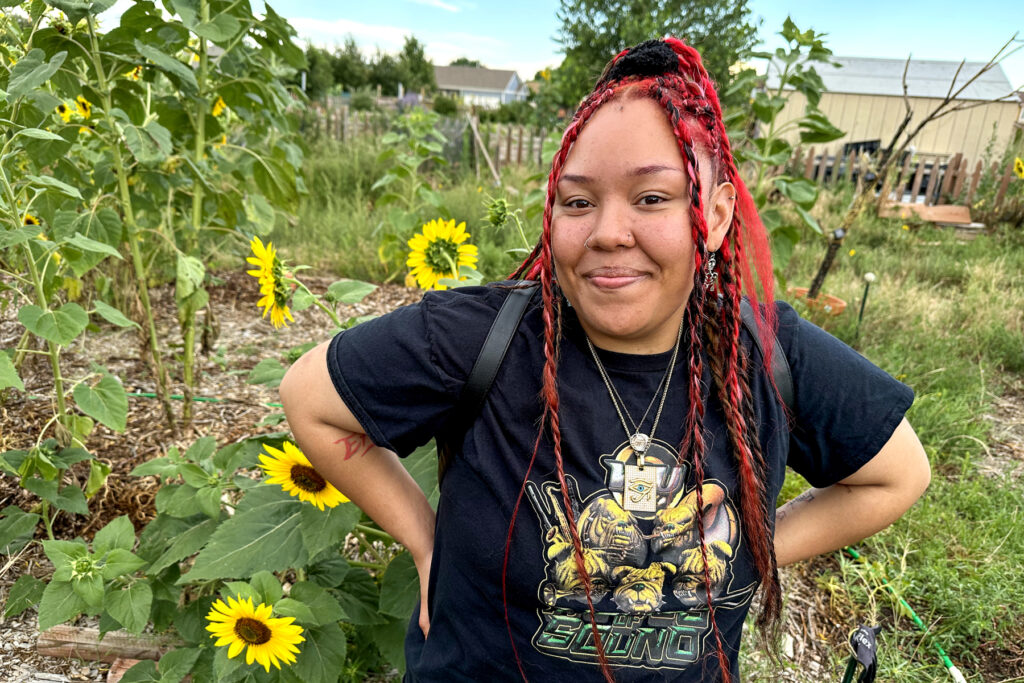 As Young puts it: "This feels like my folks, this feels like my family."
Same with 19-year-old Ace Hill, who lives nearby.
"I was like, I have a place I can kind of be peaceful, draw, paint, do everything I love in one space," said Hill, who began coming to the garden as a high school sophomore.
She and some other teens and children are painting at a table in the middle of giant sunflowers. They're calm. And happy. Several teens say the garden, and the gardens they've started at their own homes, has changed how they feel about themselves.
"I felt like my self-esteem boosted, my confidence boosted," said Hill. "I found out I could do a lot more than just what I'm used to. It's a second home. And if anything, I would say it's my first home. I love it here."
"It just gives me happiness," said Camila Plazola, 16. "It just brings the community together and it's just a place where you relax and put your mind to the thing you're doing. You can just come here if you're feeling something and just forget about it."
Dasan Manning, 15, said he likes the energy in the garden.
 "When I come here. It's just a breath of fresh air, to be honest."
Younger children haul shovelfuls of leaves and dirt over to a compost pile.
"It smells nice and fresh out here," observes garden regular Haily Olvera, 8. Olvera started a compost project in her classroom and has big plans to get her entire school composting this year.
Many of the kids say they like making friends, watching the garden evolve, and working with their hands.
"I like doing something good for the planet," said Marya Gabryela Angarita, 12. She said young people are very conscious of climate change and garden surveys show students want to create change in their schools and communities.
As the sun sets and everyone packs up, it feels peaceful and calm.
What Ron Taylor, who is African American, likes best is the feeling of harmony from everyone working in the garden together.
"I'm an old guy, but when Blacks, whites and Spanish and Africans and Vietnamese people can get together, that's what God is looking for - the unity of the body. We all got food in common. Every one of us eats ... So it isn't just the vegetables, it's us growing."
But, just like a seed to a vegetable, everything changes.
After months of back and forth with the property owners, the possible construction of a Verizon cell phone tower on the land and other groups vying for their spot, the Montbello Spiral Garden community has decided to move. They've already secured another spot.
Luce said one community member put it perfectly, saying "We are the spiral garden. It's not just here, it's us and it'll come wherever we go." 
You care.
You want to know what is really going on these days, especially in Colorado. We can help you keep up.  The Lookout is a free, daily email newsletter with news and happenings from all over Colorado. Sign up here and we will see you in the morning!