Grand Junction 101: What To Know, Things To Do, Where To Eat
Grand Junction, a blossoming city at the intersection of two rivers, is hitting its stride. Once nicknamed "Junktown," the Western Slope anchor is increasingly attracting businesses and visitors from the Front Range — sometimes permanently. Last year, there were a million visits to lodging facilities in Grand Junction.
GJ 101
History
Pioneers planted the stakes for Grand Junction 127 years ago. They started Grand Junction at a time when Denver was already teeming with 50,000 people. They evidently had misplaced dreams for their new town: they initially wanted to call it West Denver. The city has always been a laid back kind of place, except when oil shale turned it into a boom town in the late 1970s.
The Political Scene
Grand Junction is still one of the more politically conservative places in the state, and you might see a few coal-rolling, flag-flapping pickup trucks. But progressive millennial transplants are trickling in and making their mark with new businesses, amenities, and a more inclusive vibe.
What's In The Great Outdoors
The geography of the arcing Grand Valley is the first thing to marvel about as you make your way around this growing city of 65,000. The world's largest flat-top mesa rises to the east. The Colorado National Monument pokes red rock spires into the horizon close to downtown. The flowing Book Cliff Mountains — the backdrop to the north — catch beautiful light at different times of day.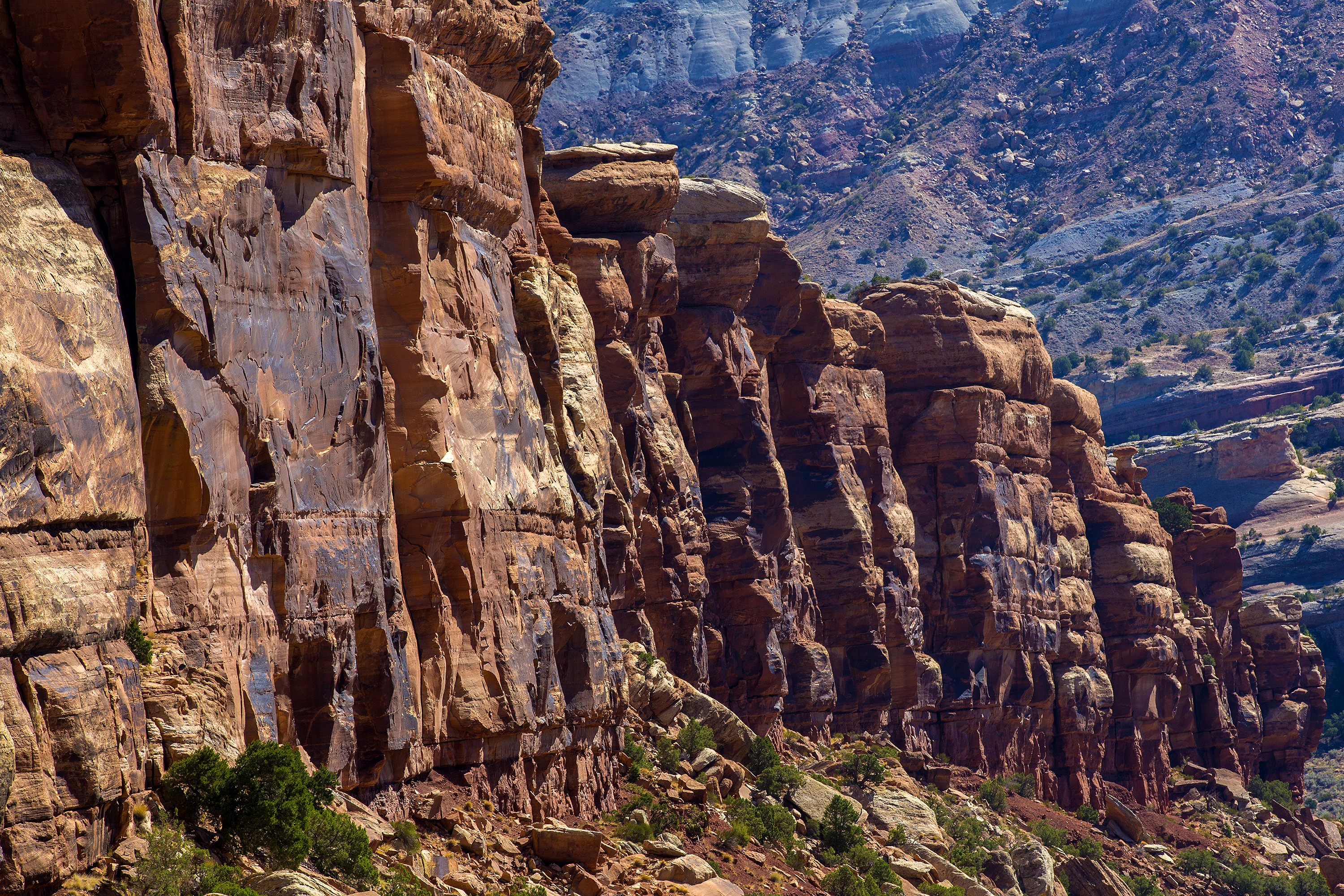 City Slicking
In the middle of all those natural wonders there is a flower- and art-filled downtown that oozes a quaint charm. Nearby at Las Colonias, the once trashed riverfront is being transformed into a lively community gathering spot with a butterfly-shaped lake and an amphitheater already in place. 
Getting Active
Just minutes from downtown, there is some heart-pounding mountain biking at the Lunch Loops. Also close is a paved riverfront trail for biking or hiking that now stretches from Loma to near Palisade.
5 Things To Do In 26 Hours In Grand Junction
Hike The Serpents Trail
Start from a trailhead located just beyond the east entrance gate at the Colorado National Monument. It's iconic. It's historic. It has been called the crookedest trail in the world with 16 switchbacks in 1.7 miles. This hike is best done in the early morning hours during summer, before broiling temperatures set in.
The 3.9-mile round trip is listed on the National Register of Historic Places because it was built by the visionary monument founder John Otto, who hoped it would be the start of a road to Moab.
Have Breakfast At A Hospice
HopeWest Hospice and Palliative Care took the unusual step 11 years ago of creating a restaurant called Spoons Bistro & Bakery on the patio level of its in-house hospice care center. Diners can enjoy giant breakfast burritos or an asparagus frittata for breakfast or, for lunch, a pear, goat cheese and pecan salad or a rosemary chicken and avocado panini.
The upstairs hospice center, a beautiful art deco facility, has been cited as a model of care for the dying. Spoons is warm, inviting and often bustling. Eat on the patio and enjoy the gardens. The historic house in the front of the gardens was once a pioneer homestead. It has been turned into a separate coffee and gift shop called the Artful Cup, and has a display outlining the history of the location.
Tour Downtown Art On The Corner
It's like wandering through an al fresco art museum — but one where you are invited to touch instead of being warned by stern docents to keep your distance. After Grand Junction had gone bust from oil shale 35 years ago and needed a lifeline, civic leaders dreamed up rejuvenating downtown Grand Junction with outdoor art.
There are now more than 100 sculptures in the downtown. Some — like the iconic chrome bumper buffalo and the comely bronze bicycle rider — are permanent. Others are on loan and are changed out every year.
If looking at art makes you crave a glass of vino, visit the Carlson Vineyard tasting room at 545 Main. Or, Mesa Park Vineyards has a tasting area inside the Main Street Gallery at 412 Main. One block down at 449 Colorado Ave., The Zesty Moose offers a rotating selection of local wines.
Visit The Fruit And Wine Country
No visit to the Grand Valley is complete without some stops on the Fruit and Wine Byway. It is cherry season, and there is a bounty this year. A bumper crop of peaches will be making its 2019 debut soon. For those who like their fruit fermented, there are now 25 wineries and two cideries. Rent a limo, a carriage or a bike in Palisade for the tour.
No need to go on a liquid diet. Carlsons has appetizers from the deliciously local Cafe Sol in Grand Junction. Maison de La Belle Vie has charcuterie boards, along with full-on meals at specially advertised times. Food trucks are also making more appearances outside wineries. Restoration Vineyards is a buzzy new winery with quality to match.The Talbott family opened a Hard Cider Tap Room at its packing shed just up the road a few miles. The patio and outdoor game area give visitors a place to enjoy a rotating selection of ciders. Keep an eye out for the tiny Palisade Pies and Sweet Kiwi shop on the byway. It's a must stop for sweet-tooths.
Take A Spin — A Whole Lot Of Spins — Around A Cable-Driven Wakeboard Park
The Imondi Wake Zone at 1583 Cipolla Road just west of Fruita has six towers to pull boarders around a lake dotted with jumps. The wakeboarding park is the only one of its kind between Kansas City and the California coast. Two towers are included for beginners. If you're not ready to fly across the water, watching the dramatic tricks (and fails) from the sidelines is welcomed too.
Imondi also has a sectioned-off part of the lake for stand-up paddle boarders, as well as a floating playground with inflatable runways, pillows, ramps, ladders and slides that seems to attract as many adults as kids. All equipment can be rented at Imondi and lessons are available for beginners.
Food Destinations
End the day with a stromboli or a slice of pie at the famous Hot Tomato Pizzeria in Fruita. (Their newest tasty pizza invention is called the Sproutacus.) Try paella at the Palisade Cafe on evenings when the giant Spanish pans come out and bubble over open fires. Taco Party in downtown Grand Junction offers inventive spins on street tacos. Slip back into Spoons during the evening, when the white tablecloths and candles come out for romantic dinners featuring prime rib or macadamia-crusted halibut meals.