Broadmoor Bluffs Takes Part in Evacuation Drill
Andrea Chalfin / 91.5 KRCC
A sign alerts drivers to the pending evacuation drill.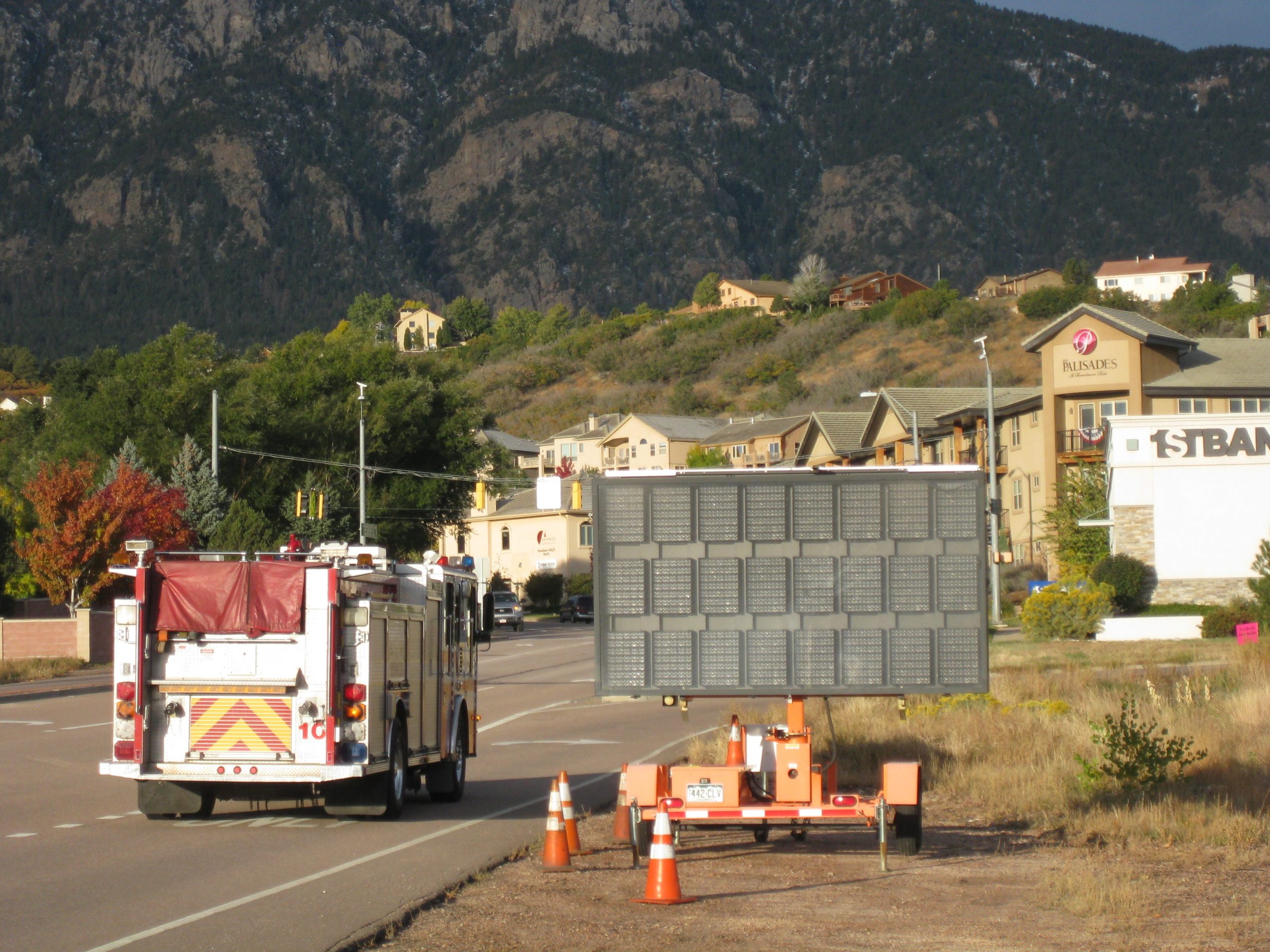 Andrea Chalfin
A fire truck on its way to the staging area.
Andrea Chalfin
Trucks wait in preparation for the evacuation drill.
Andrea Chalfin
Firefighters convene in preparation for the evacuation drill.
Colorado Springs officials held a neighborhood evacuation drill for residents of Broadmoor Bluffs over the weekend.  Fire officials say that neighborhood has stepped up mitigation efforts in the past year and a half, but because of topography, the amount of fuels, and housing density, Broadmoor Bluffs is one of the highest risk neighborhoods in the city's wildland urban interface.  KRCC News embedded with first responders and a family that chose to participate in the drill.  We start with reporter Kate Dunn.
Residential
The Bevans were one of the families that chose to participate in Saturday's emergency evacuation drill. Their home is tucked beneath Cheyenne Mountain, and although the Bevans say they have long been prepared for a possible fire, they wanted to participate in the neighborhood drill. Ashley Bevan calls it a double-edged sword to live where they do.
"You live in a beautiful area," Bevan said.  "It's developed. You want to be near the mountains and Colorado Springs and the wildlife here is fantastic but the flip side is you got to be careful and do your fire mitigation and all of those other things and be prepared."
The drill began with a phone call at 8 AM. Ten minutes later there was a knock on the door, and two policemen reiterated the phone call, urging the family to clear out of the house.
The family of four loaded into the car and proceeded past the collections of police and firemen toward the designated meet-up point. Ashley and his wife Nikki said they thought the process seemed to go smoothly.
"If there was a fire up there, it feels to me like we were out of harms way," Ashley said. "Somewhere between 5 and 10 minutes, for sure, off the mountain."
Nikki Bevan said though, there's another aspect to think about.  "It would be more the emotional toll right now if we were sitting in traffic and looking behind us and seeing the fire on the mountain just like our friends you know who went through the Waldo Canyon."
The entire exercise took no more than 2 hours out of the Bevan's Saturday morning. Both Ashley and Nikki said it was worth their time and even their kids seemed to understand the gravity of the drill.
Police
Colorado Spring police officers spent the morning going door to door in the Broadmoor Bluffs neighborhood. Officer Jackson Andrews says Saturday's wildfire evacuation drill served as a way for officials to uncover kinks.
"A lot of it is learning for us as well," Andrews said. "But also it's huge for the community because it's a partnership we're trying to do. We want that criticism back to say, you know, 'we need…this should've happened or I felt the officer should've done this.'"
First responders have previously held evacuation drills in this area. For this one, Andrews says they were specifically focusing on traffic issues.
"Asking these participants to leave exactly at 8:30, with that influx of vehicles going into the small residential streets and into the main thouroughway, we wanted to create a traffic jam to see how we can actually handle, handle that and what way we can work, make it more effective."
Officer Andrews says that due to the chaos of an unexpected wildfire and the number of houses that could be affected, practicing evacuation drills and having procedures could save homes, and the people who live in them. 
Fire
Firefighter Paramedic Michael Badger was in charge of Task Force 9. After Code Red was activated, seven teams of fire first responders sped up to Bancroft Heights to begin the live drill, including Badger and his Brush 9 truck.
Badger pulled into a six-home cul-de-sac that backs onto tall thick oak brush. He says flame lengths can reach two to three times as tall as the actual fuel, putting the fire way above the homes it touches.
"Will we be able to put brush trucks, or, this would be a type 6, type 6, type 3, and type 1 engines in here to be able to protect this? We don't know, and that's part of it."
Badger says if there really had been a fire there, he would have called for more resources, and expanded the situation to several other divisions to maintain what he called a "span of control."
The goal isn't necessarily to put the fire out, says Badger. Rather, when the flames are raging in a place like the Broadmoor Bluffs, with tall, dry grasses open to heavy winds  , firefighters look to act as a shield.
"Basically it's like passing off a football," Badger said. "The fire comes up, we mitigate it around a group of houses, if we can get it around a cul-de-sac, around a street, wonderful. And once that threat has passed, we quickly get our hoses wrapped up, and then we call it bumpin' up. We bump up to the next set of houses."
Badger said this process can go on as long as it's safe to do so.
After the drill, the firemen gathered on the side of the road looking out onto the area of brush where the false fire was located. They talk about the drill- what worked, what didn't, and the inherent dangers of fire control.
After the exercise, residents and officials gathered at Pikes Peak Community College to talk about what worked and what might need improvement.  Even though emergency drills like this happen from time to time, officials say it's important for residents to make their own readiness plans and not wait for a formal exercise.
You care!
Southern Colorado is changing a lot these days. We can help you keep up. Sign up for the KRCC Weekly Digest here and get the stories that matter to Southern Colorado, delivered straight to your inbox.