Denver Broncos headed to the Super Bowl
(Photo: Courtesy of Michael Kebles)
u0026lt;pu0026gt;Maria Norales, Raquel Norales, and Sheylise Garcia celebrate the Broncos victory over the Patriots.u0026nbsp;u0026lt;/pu0026gt;rn
(Photo: Courtesy of Michael Kebles)
u0026lt;pu0026gt;Kevin Faragher and Justine Pemau0026nbsp;u0026lt;span style=u0026quot;line-height: 1.66667em;u0026quot;u0026gt;celebrate the Broncou0026#039;s win outside of Sports Authority field in Denver, Colo.u0026nbsp;u0026lt;/spanu0026gt;u0026lt;/pu0026gt;rn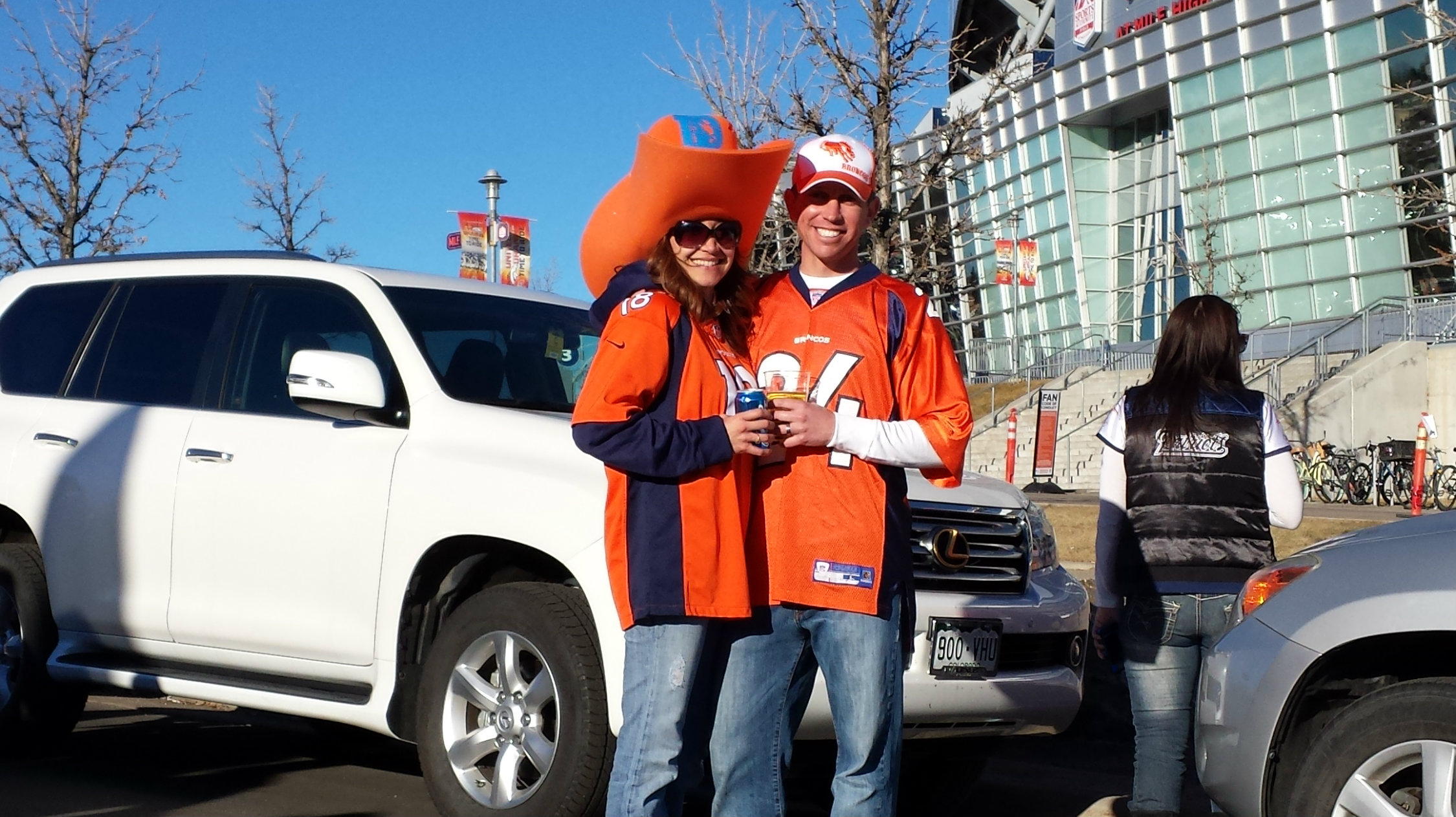 (Photo: Courtesy of Michael Kebles)
u0026lt;pu0026gt;Melissa and Jeremiah Johnsonu0026nbsp;u0026lt;span style=u0026quot;line-height: 1.66667em;u0026quot;u0026gt;celebrate the Broncou0026#039;s win outside of Sports Authority field in Denver, Colo.u0026nbsp;u0026lt;/spanu0026gt;u0026lt;/pu0026gt;rn
(Photo: Courtesy of Michael Kebles)
u0026lt;pu0026gt;Sergio and Alicia Hernandezu0026nbsp;u0026lt;span style=u0026quot;line-height: 1.66667em;u0026quot;u0026gt;celebrate the Broncou0026#039;s win outside of Sports Authority field in Denver, Colo.u0026nbsp;u0026lt;/spanu0026gt;u0026lt;/pu0026gt;rn
(Photo: Courtesy of Michael Kebles)
u0026lt;pu0026gt;Zachery Shell and Jacquelyn Burgu0026nbsp;u0026lt;span style=u0026quot;line-height: 1.66667em;u0026quot;u0026gt;celebrate the Broncou0026#039;s win outside of Sports Authority field in Denver, Colo.u0026nbsp;u0026lt;/spanu0026gt;u0026lt;/pu0026gt;rn
(Photo: Courtesy of Michael Kebles)
(Photo: Courtesy of Michael Kebles)
u0026lt;pu0026gt;Broncou0026#039;s fansu0026nbsp;u0026lt;span style=u0026quot;line-height: 1.66667em;u0026quot;u0026gt;celebrate the teamu0026#039;s AFC championship win outside of Sports Authority field in Denver, Colo.u0026nbsp;u0026lt;/spanu0026gt;u0026lt;/pu0026gt;rn
The Broncos, led by star quarterback Peyton Manning, dominated the Patriots under sunny skies in the mile high city and never trailed during any point in the game.
The last time the Broncos played in the AFC Championship was in 2006 against the Pittsburgh Steelers and the team hasn't vied for a Super Bowl championship since John Elway won two in a row as the team's quarterback in the late 1990s.
The Broncos' quarterback Peyton Manning shined against his rival, the Patriots' Tom Brady. 
This Super Bowl will be Manning's thrid when the Broncos face the Seattle Seahawks at MetLife Stadium in New Jersey on Feb. 2 at 4:25 MT. 
You care.
You want to know what is really going on these days, especially in Colorado. We can help you keep up.  The Lookout is a free, daily email newsletter with news and happenings from all over Colorado. Sign up here and we will see you in the morning!