Sphere Ensemble kicks off new season with Nina Simone, Mendelssohn and more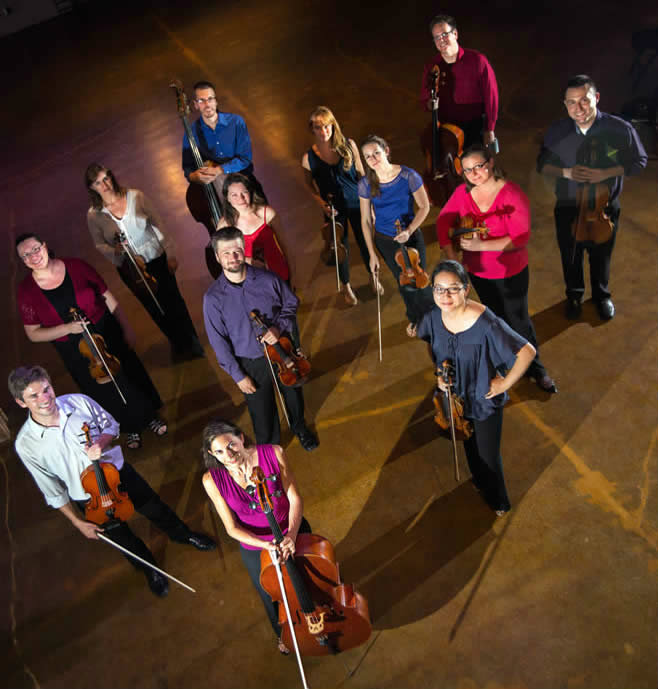 (Photo: Danielle Lirette)Sphere Ensemble, a 13-member string group that plays frequently in Denver and Boulder, performs the first shows of its new season this weekend. The ensemble is preparing new arrangements that play up the group's versatility.
New pieces include string arrangments of "Love Song" by Minnie T. Wright and "To Mission San Francisco" by Lily Strickland, founder and cellist Beth Rosbach told CPR Classical's Charley Samson. 
There's also Nina Simone's "Feeling Good" mixed with music from Clara Schumann's Piano Trio, and a version of singer-songwriter Regina Spektor's "All the Rowboats" that incorporates quotations of several classical pieces into the song.
The musicians are also rehearsing several movements of Felix Mendelssohn's Sinfonia No. 7, Rosbach said.
Details on this weekend's concerts:
Friday at 7:30 p.m. at eTown Hall, 1535 Spruce St. in Boulder.

Sunday at 3 p.m. at  Overland Crossing, 2201 S. Delaware St., Denver.
Click the audio above to hear more about the group from Charley. 
Watch Sphere Ensemble play a musical flash mob version of Pachelbel's Canon in D at the University of Colorado:
Love Classical Music?
Stay in touch with our hosting team at CPR Classical and learn more about the classical events occurring in the community. Sign up here for our monthly newsletter.