As worries grow over man-made quakes, 50-year-old Colorado temblors reverberate
Oklahoma's been making headlines recently over a spike in earthquake activity there that geologists say is due to injection wells; energy companies use them to pump wastewater deep underground from the oil and gas extraction process.
But the earthquakes have happened in Colorado, too. 
It's been about a year since a magnitude 3.2 earthquake stunned residents along a dusty dirt road north of Greeley. Scientists believe that incident is connected to a nearby wastewater injection well.
And the whole idea of this so-called induced seismicity isn't new to Colorado, either. One of the first-known incidents studied by researchers came after chemical waste was injected deep underground at the Rocky Mountain Arsenal in the 1960s.
Chemical weapons
The Arsenal was a large chemical weapons-manufacturing facility run by the U.S. Army in Commerce City, outside of Denver. More than 1,300 earthquakes were recorded in the area from 1962-67. The Arsenal stopped pumping wastewater in 1966.
The magnitude 5.3 tremor caused the most serious damage at Northglenn, where concrete pillar supports to a church roof were weakened, and 20 windows were broken. An acoustical ceiling and light fixtures fell at one school. Many homeowners reported wall, ceiling, floor, patio, sidewalk, and foundation cracks. Several reported basement floors separated from walls. Extremely loud, explosive-like earth noises were heard. Damage on a lesser scale occurred throughout the area.
Because the temblors happened so close to a major metropolitan area, they were closely studied by scientists. In 1969, an article in the journal Science connected the earthquakes to fluid injection at the Arsenal.
Changing science
The Arsenal closed in the 1992 and large sections of it are now part of a National Wildlife Refuge. But the U.S. Geological Survey is closely watching seismically active areas across the U.S., including the Arsenal site. For this first time in its history, the agency is mapping the hazards associated with man-made earthquakes in 17 zones -- five of which are in Colorado. 
(Courtesy U.S. Geological Survey)
"It's a continually changing situation. We're learning as we go," said Art McGarr, a geophysicist with the USGS.
Scientists are still figuring out what the contributing factors are when it comes to earthquakes and injection wells. Nowhere is the need for these maps greater than Oklahoma. Between 1975 and 2008, the state had between one and three quakes per year that were magnitude 3 or greater. Last year, it had nearly 600.
"The model will be changing as we learn more and in particular it will change because we'll be acquiring new and better data," said McGarr.
McGarr said Colorado isn't as much of a concern as Oklahoma. He said active regulation in the state has helped to limit problems. 
'Managing risk'
Weeks after the May 31, 2014 Greeley earthquake, scientists measured a second 2.5 magnitude temblor. That's when the Colorado Oil and Gas Conservation Commission, the state's regulatory body, temporarily shut down a nearby injection well. 
The state uses a traffic light system policy to guide decision making when it comes to regulating wastewater injection, said Stuart Ellsworth, a COGCC engineering manager. If an earthquake registers at a magnitude 4.5 within miles of the site, a "red light" is triggered and operations stop. "Yellow" and "green" have their own thresholds. 
"The whole process of engineering something is managing risk," said Ellsworth.
In addition to Rocky Mountain Arsenal, there's another man-made earthquake event that helps to informs COGCC practices today: The Paradox Valley. A series of quakes eventually led to a 4.2 event in western Colorado. Ellsworth said the cause -- an attempt by the Bureau of Reclamation to inject salty water deep underground -- informs the timing of how wastewater wells are injected.
"They've done a real intensive study and it's used a lot of times as a go-forward model in this concept of underground injection," said Ellsworth.
The COGCC is working with researchers at the University of Colorado at Boulder, Colorado State University and the Colorado School of Mines to further study induced seismicity.
At CU-Boulder, scientists deployed temporary seismometer machines near the epicenter of Greeley's 2014 earthquake. Ph.D. candidate Jenny Nakai said the data is publicly available now. In the near future, researchers plan to compare seismicity data gathered in Greeley with COGCC data on the activity of nearby injection wells.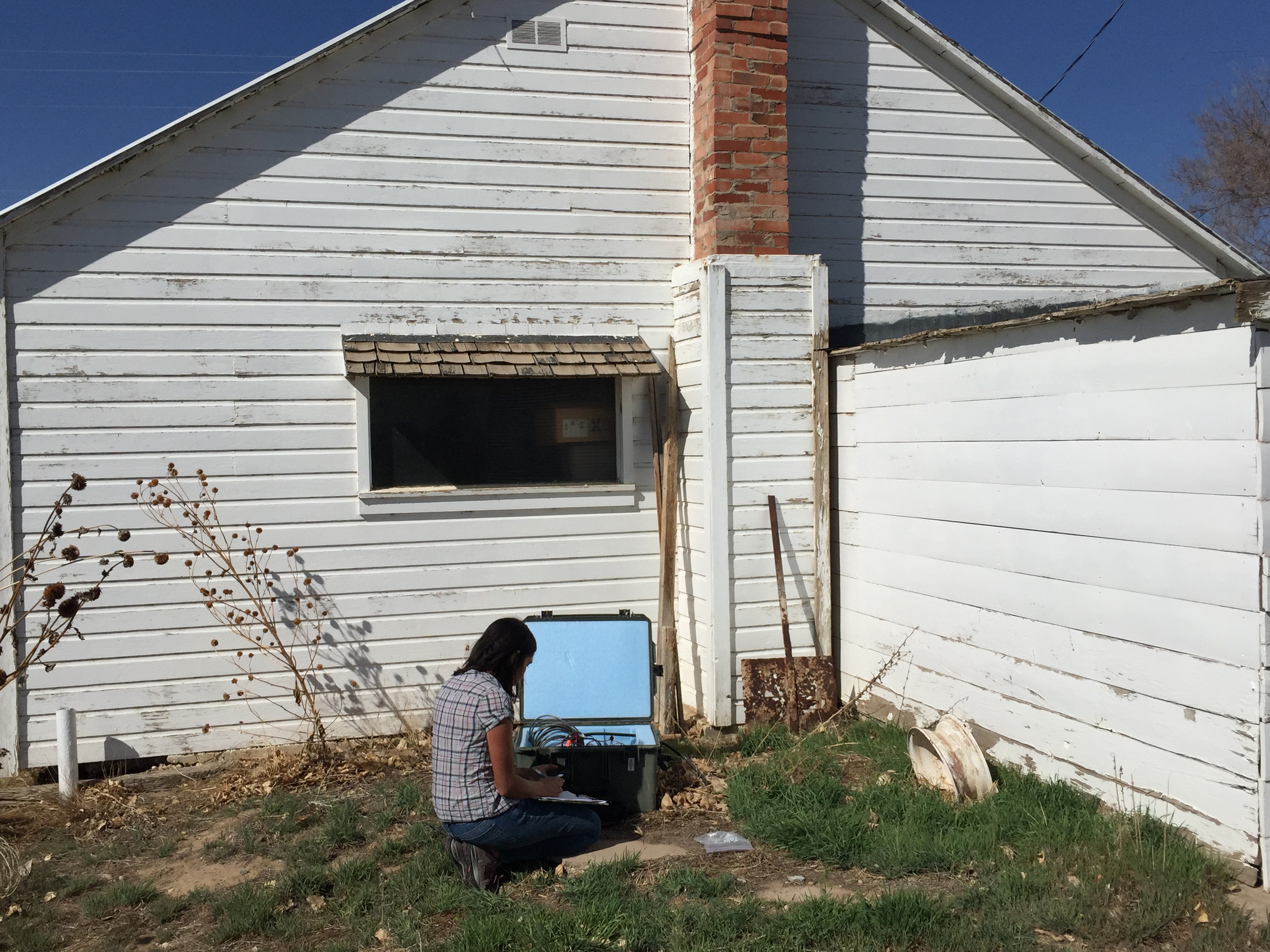 (Grace Hood/CPR News)
"Induced seismicity isn't a new concern, we have known about it since the 1960s from Rocky Mountain Arsenal," said Nakai. "The interest has increased because of the Oklahoma activity, because of the Kansas activity, because of this [Greeley] earthquake. It wasn't a concern for a long time."
Nakai said CU-Boulder scientists expect to publish their findings in the next year.
You care.
You want to know what is really going on these days, especially in Colorado. We can help you keep up.  The Lookout is a free, daily email newsletter with news and happenings from all over Colorado. Sign up here and we will see you in the morning!