Colorado's Delegation Weighs In On Pope Francis' Speech To Congress
Published Sept. 24 | Updated Sept. 25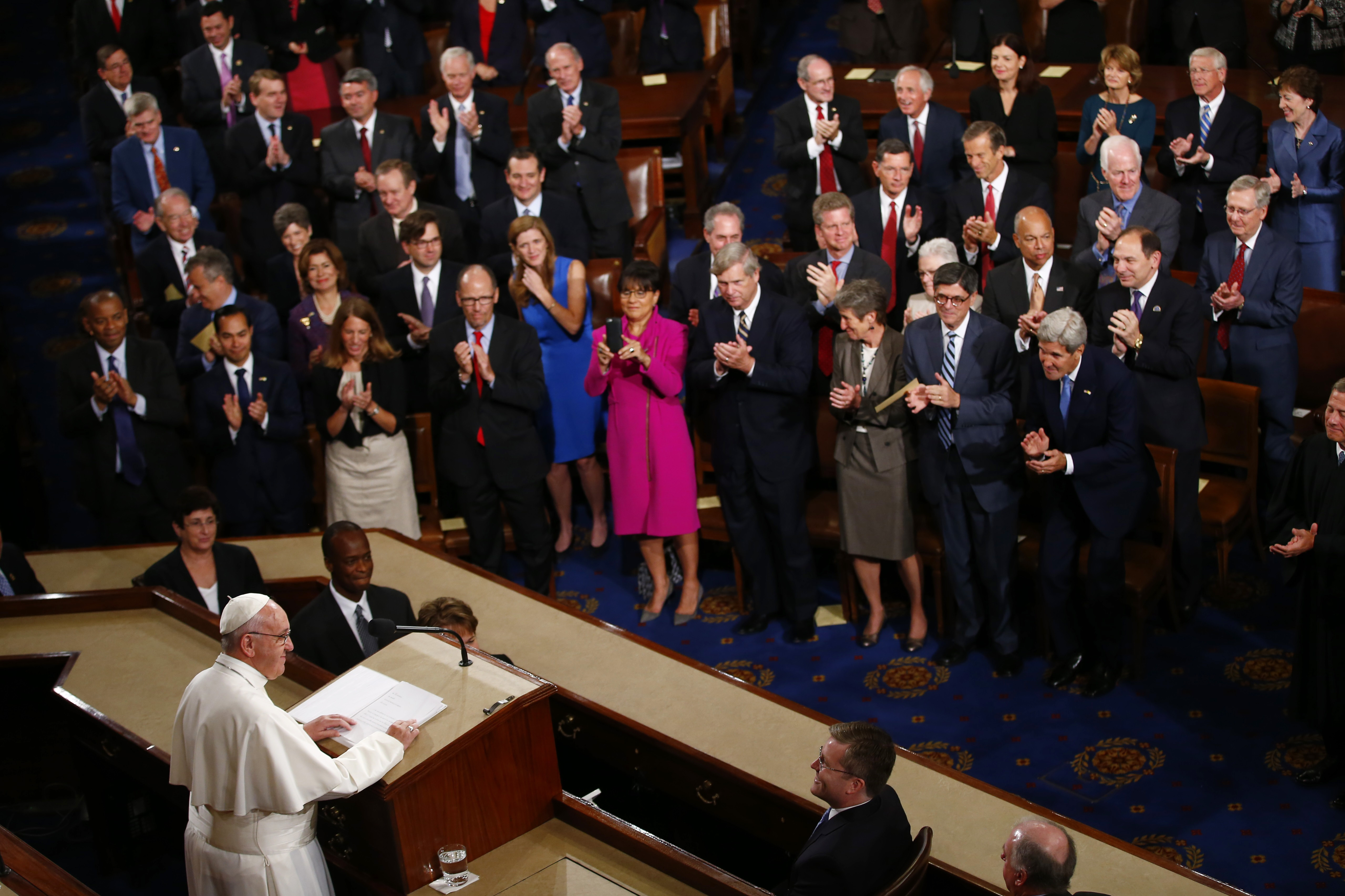 Here's what they've said so far. 
Rep. Diana DeGette (D)
DeGette, of Denver, has been an outspoken advocate for more aggressive climate action and against the death penalty. She was glad to see those views reflected in the speech. 
"I hope that all members from Congress from both parties really take what he's saying about finding common ground, about working on environmental economic justice -- I hope they take that to heart," she told CPR News.
Rep. Jared Polis (D)
Polis, who represents Boulder, echoed the Pope's call for congressional action on climate change and the refugee crisis 
in an essay on Medium: 
"Do we put the looming threat of global climate change comfortably out of our minds, leaving the problem to our kids and grandkids to deal with? Or do we confront the challenge now, acting on our moral obligation to leave the world a better place than when we found it?"
Rep. Scott Tipton (R)
Tipton's office says the representative doesn't doubt the science behind the direct call for action on climate change, but said the U.S. shouldn't be its focus. 
"The United States is doing its part, but it does not exist in a vacuum," wrote Tipton's spokesman Josh Green. "There are many nations around the globe including China that do very little to reduce the detrimental impact they have on the environment, and that is where the focus really needs to be."
Rep. Ken Buck (R)
Rep. Ken Buck missed the speech due to a back injury. In a press statement, he said that he had been looking forward to the Pope's address and hopes to be back at work as soon as possible. 
Still, he did respond to the Pope's point on climate change in previous 
remarks to 9News
.
"Most of the plans to address climate change hurt poor people the most and businesses, especially agricultural businesses," Buck said. "Why should the poorest people in the world pay the highest price to solve a problem that, if it exists in 100 years, might be easily solved or mitigated with new technologies by people whose standards of living are much higher than ours today?  Would you have asked struggling 19th-century families to forgo light in their homes to save the whales? Edison took care of that on his own."
Rep. Doug Lamborn (R)
Appreciated @Pontifex call "to protect and defend human life at every stage of its development." What did you think? pic.twitter.com/cdfYKthUCk

— Rep. Doug Lamborn (@RepDLamborn) September 24, 2015
The Pope's call "to protect and defend human life at every stage" sounded like a defense of Lamborn's opposition of legalized abortion. The Pontiff then followed that remark by questioning the death penalty. 
Still, Lamborn's office did use the visit to clarify his stance on climate change. 
"Congressman Lamborn and Pope Francis have different views on the impact and potential causes of climate change," spokesman Jarred Rego told 
9News
.
"Instead of disproportionately punishing the poor for traveling to visit their families, warming their homes, or turning on their lights, we should utilize the vast resources that we have been blessed with to strengthen our economy and provide for the security of our nation."
Rep. Mike Coffman (R)
As he had in the past, the Pope critiqued capitalism in his address before Congress. He applauded the ability of commerce to provide jobs and wealth, but said it should play an equal role in protecting the poor and the environment. 
Coffman said he could understand the critique, but said he didn't think it was directed at the U.S. version of commerce. 
"He comes from Argentina and Argentina is crony capitalism, incredibly corrupt. I would have a view a lot more strident than his if that was my frame of reference," Coffman told CPR News.
Rep. Ed Perlmutter (D)
Perlmutter remarked on the Pope's points on immigration and the current refuge crisis.
As @Pontifex talks about the refugee crisis, he urges us to respond in "a way that is always humane" & remember the Golden Rule #PopeInDC

— Rep Ed Perlmutter (@RepPerlmutter) September 24, 2015
Sen. Michael Bennet (D) 
Bennet didn't wade into the more political issues the Pope raised in his address. Instead, he praised the Pontiff in his press statement. 
"Pope Francis is an inspirational world leader whose message of inclusiveness and serving others is one that our country has always sought to achieve. We are grateful he is here to share this message with Congress and all Americans."
Sen. Cory Gardner (R) 
Gardner took a similar tack in his written remarks. 
"Pope Francis has dedicated his life to serving the Lord, the Catholic Church, and the poor – inspiring people all around the globe to join him in caring for the less fortunate," said Gardner. "I welcome Pope Francis to the Capitol today and I look forward to his historic address to Congress."
Editor's Note: A previous version of this article stated Rep. Perlmutter was the
only
member of Colorado's delegation to comment on immigration following the Pope's address. Rep. Polis  also commented on the Pope's points on immigration and refugees in a blog post. The current version reflects the representatives' multiple views. 
You care.
You want to know what is really going on these days, especially in Colorado. We can help you keep up.  The Lookout is a free, daily email newsletter with news and happenings from all over Colorado. Sign up here and we will see you in the morning!