From Recalls To Weed, Seven Ballot Measures To Watch On Election Day
Election Day this year maybe won't grab headlines with the same gusto as next year's presidential and congressional votes, but there's still plenty of reason to turn in your ballot by Tuesday. Here's seven issues going before voters:
School board races are typically ho-hum for most voters. But the race in Colorado's second-largest district is saturating social media, lighting up talk radio, and sending hundreds of volunteers on door-knocking campaigns. Voters will be casting their ballots not just for the two open races; all five seats are up for grabs because of a high-profile recall campaign targeting the three conservative members that make up the board majority. Full story here.
Consider this figure: $66 million. That's the amount in taxes Colorado collected last year on recreational marijuana sales. But because of a quirk in the state constitution, all of that revenue must be given back to pot stores and state taxpayers. That is, unless voters elect not to keep the money. If you vote "yes" on Proposition BB, the state will get to keep the tax money. If voters say "no," the $66 million in pot tax money will be sent back to citizens, to the tune of about $8 a taxpayer. Full story here.
There's a simmering debate in Boulder about growth and development, and that debate is now playing out in two ballot measures. One would allow neighborhoods to vote on zoning changes, such as density and building height. The other would require developers to pay for city services tied to new projects. Supporters of the measures say they're necessary to maintain Boulder's quality of life. Opponents say they will effectively freeze growth and turn the city into an island of affluence.  Listen for more on this story.
Residents in Colorado Springs are being asked to approve a sales tax increase to pay for road repairs. A recent study showed government spending there is about a fifth of the average of other major cities, about $560 per citizen each year. City officials say they need more money for road repairs. The proposed tax increase would amount to just over $.06 on a $10 purchase, and raise an estimated $50 million a year for five years. If the measure fails, "it would be the same old same old trying to put Band-Aids on the roads," Colorado Springs Gazette reporter Billie Stanton Anleu says.  Full interview here.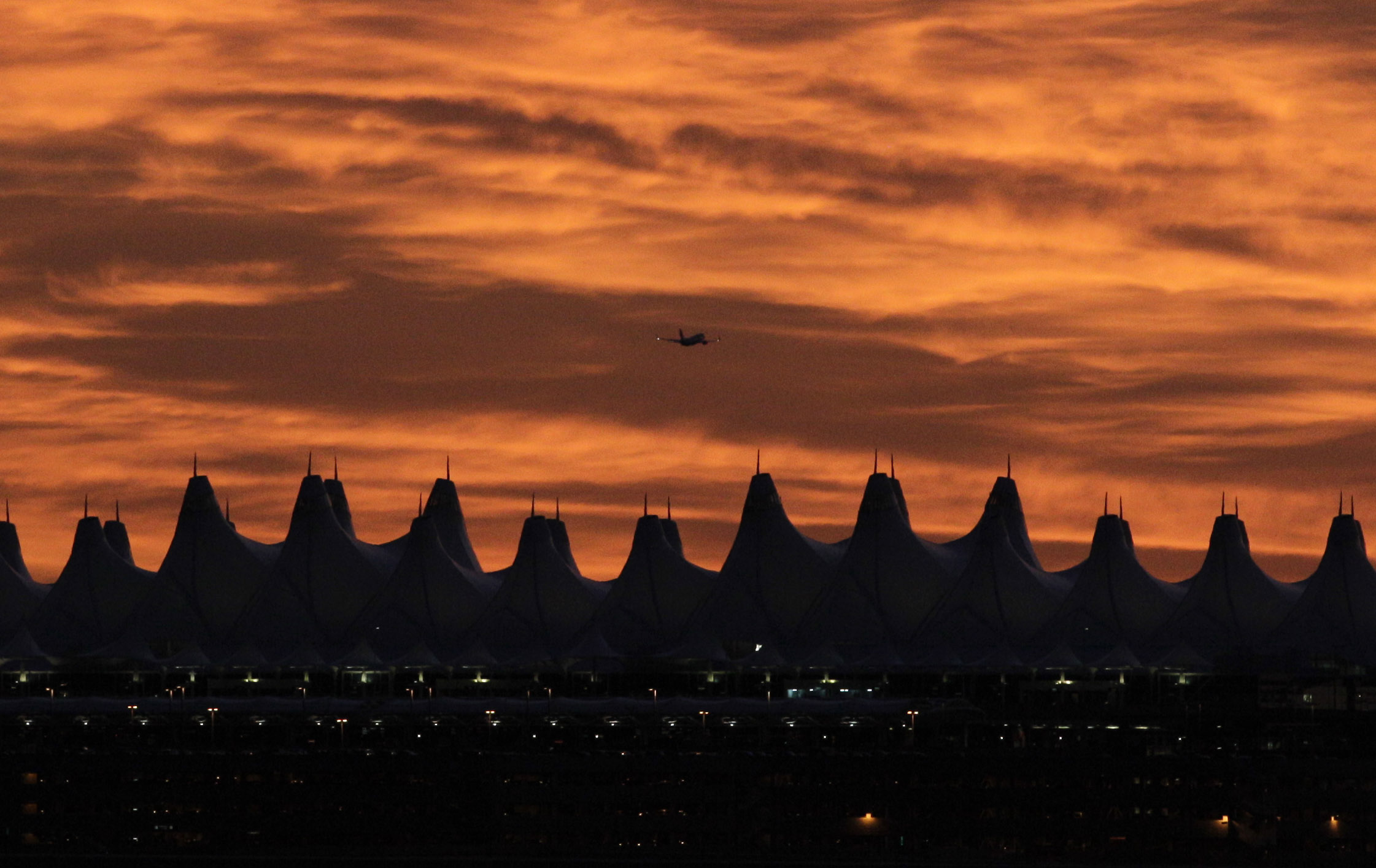 A longstanding agreement between Denver and Adams counties prohibits businesses not related to airport operation, but ballot measure 1-A would would change that, with the two counties splitting tax revenues. Under the plan, Denver would pay Adams County $10 million up front. Hancock says 1-A will lead to 12,000 new jobs. Critics say economic development at DIA should be driven by the private sector, not public officials. Others worry about increased traffic on Peña Boulevard. Listen to more here.
The National Western Stock Show draws hundreds of thousands of people from around the state -- and beyond -- to Denver. But the Stock Show's facilities are run down, and city and state officials see an opportunity for a bigger, more modern complex that attracts more national-caliber events. To do that, they want Denver residents' help paying for the nearly $1 billion price tag, so voters will decide this fall whether to permanently extend a tax on hotels and rental cars that's currently set to expire in 2023. It's measure 2C on Denver ballots. But the state has raised concerns about the project's financial viability. Full story here.
Measure 2A asks Denver residents whether they will tax themselves to pay for a city-funded scholarship program. Supporters say the measure will give low- and middle-income Denver students who work hard a fair shot at college. If the measure passes, $.08 of every $100 spent will help local students pay for college. Supporters say it's critical for economic development in a city where less than half of high school graduates end up finishing college. Critics say city government should focus on fixing sidewalks and fighting crime. Full story here.
You care.
You want to know what is really going on these days, especially in Colorado. We can help you keep up.  The Lookout is a free, daily email newsletter with news and happenings from all over Colorado. Sign up here and we will see you in the morning!