The Classical Fan's 2016 Guide To Colorado Summer Music Festivals
Summertime in Colorado means a chance to hear some of the best classical performers in the world. Listeners flock to performances at historic venues like the Central City Opera House and outdoor stages with sweeping views, like those at the Ford Amphitheater in Vail.
This year, in-demand soloists like soprano Renee Fleming and violinist Leila Josefowicz will perform at the state's biggest festivals in Aspen and Vail.
Meanwhile, the next generation of classical musicians hone their skills and give performances at summer schools in Aspen, Breckenridge and other small festivals.
Here's a look at who's performing and where to hear it. Find more concert details on CPR Classical's events calendar and use our classical summer festival map to help plan your road trip to the mountains:
Each summer, the festival presents more than 300 musical performances, including orchestra concerts, chamber music and operas. Founded in 1949, it's regularly mentioned as one of the top summer classical festivals in the country. And the nearby school lets hundreds of aspiring professional musicians -- like the Denver violinist we interviewed in 2015 -- study under some of the best players anywhere.
Highlights: Too many to list. For starters, the 2016 schedule includes performances by soprano Renee Fleming, the Emerson String Quartet and violinist Sarah Chang.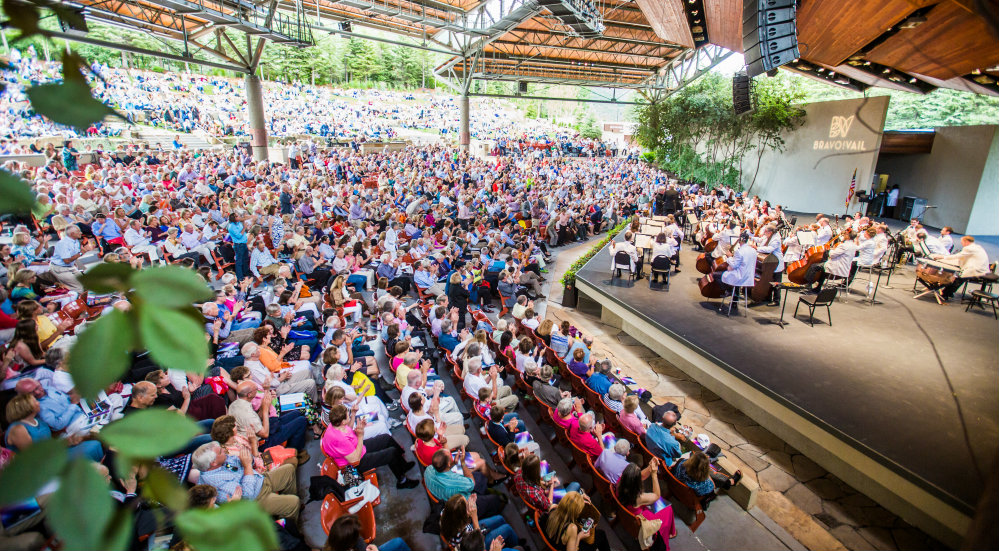 Three of the best orchestras in the U.S. -- the New York Philharmonic, Philadelphia Orchestra and Dallas Symphony -- head to the Vail Valley each summer for open-air residencies at the Gerald Ford Amphitheater. This year, an exciting U.K. ensemble joins the mix, when the Academy of St. Martin in the Fields chamber orchestra, one of the world's most recorded orchestras, opens the festival. The 2016 lineup also includes chamber music performances by pianists Ida Kavafian, Jeremy Denk and Bravo Vail's Anne-Marie McDermott.
Highlights: The New York Philharmonic performs Sergei Prokofiev's Violin Concerto with violinist Leila Josefowicz; the Academy of St. Martin in the Fields plays Felix Mendelssohn's Double Concerto with pianist Jeremy Denk and the Academy's music director, Joshua Bell, on violin.
Central City Opera brings top-notch singers and stage productions to a historic mining town about an hour from Denver. This season marks a special anniversary: Douglas Moore's opera "The Ballad of Baby Doe" debuted at the Central City Opera House 60 years ago and has become a key part of the opera company's story. It's one of four productions scheduled for this summer.
Other highlights: Productions of Giacomo Puccini's "Tosca," Wolfgang Amadeus Mozart's "The Impresario" and John Musto's "Later the Same Evening."
The Boulder festival began in 1976 and continues to present six weeks of orchestral and chamber performances each summer at Chautauqua Auditorium and other nearby venues. This year's schedule sees the festival orchestra performing all four of Johannes Brahms' symphonies over two nights as well a concert featuring Mozart's last three symphonies.
Other highlights: Violinist Jennifer Koh plays Esa-Pekka Salonen's Violin Concerto on June 30; So Percussion performs on July 1; and pianist Olga Kern, a CMF favorite, plays Ludwig van Beethoven's "Emperor" Concerto on Aug. 7.
The Colorado Springs festival pairs about 56 students with music teachers, who guide the young musicians through three intense weeks of performances. Music Director Susan Grace and conductor Scott Yoo present orchestra and chamber concerts at Colorado College.
Highlights: Performances of Antonin Dvorak's Symphony No. 6 and "Carnival Overture," and Jean Sibelius' Symphony No. 5.
The five-week festival at the Breckenridge Riverwalk Center presents orchestral and chamber concerts each summer. Founded in 1980, it also hosts concerts by folk acts like the Indigo Girls and other non-classical fare.
Highlights: An "Evening in Vienna" concert featuring music by Brahms and Beethoven; an unusual evening of pieces for harp and voice featuring soprano Kathrin Danzmayr and harpist Elizabeth Hainen; and an outdoor performance of John Luther Adams' "Sila: The Breath of the World" on Aug. 13.
The NRO and its music director, Carl Topilow, immerse younger musicians in a wide selection of orchestral music for eight weeks each summer. The festival, founded in 1960, shares the Riverwalk Center along the Blue River with the Breckenridge Music Festival each summer.
Highlights: The Colorado Symphony's Andrew Litton conducts Samuel Barber's Violin Concerto on June 18 with violinist Hye Jin Koh; music by Mendelssohn, Mozart and J.S. Bach on June 28; Michael Stern conducts Gustav Mahler's Sixth Symphony on July 20.
The annual Fort Collins festival broadens its focus this year. In addition to its core chamber music concerts by pianist Bruce Adolphe and other musicians, the schedule offers a greater emphasis on community events and music education programs for children. As always, these extra programs tend to focus on the intersection of music education and children's brain development.
Highlights: A June 16 screening of the documentary "Einstein's Light," which includes a score by the festival's co-artistic director and composer Bruce Adolphe; and performances by the Miami String Quartet and guitarist Eliot Fisk.
Colorado's biggest professional orchestra maintains a busy and eclectic summer schedule. (It's not a festival, but we thought you'd want to hear about it.) The lineup includes a Fourth of July performance at Fiddler's Green, plus several rock concerts that find the musicians accompanying bands like The Flaming Lips, Styx and DeVotchKa at Red Rocks Amphitheatre.
(Photo: Colorado Symphony)
Highlights: Jazz trumpeter Chris Botti and violinist Joshua Bell play with the symphony at Red Rocks July 24; The Arvada Center hosts a "Mozart Under Moonlight" concert July 29.
Director Charles Wetherbee, who serves as concertmaster of the Boulder Philharmonic and teaches violin at the University of Colorado, oversees this summer chamber music festival in Dillon and Keystone. The programs include  music by classical composers as well as jazz and new pieces by living composers.
Highlights: Performances by Wetherbee's Carpe Diem String Quartet; and pianists Andrew Cooperstock and David Korevaar, who also teach at CU.
Located about three hours southwest of Denver along the Arkansas River, the festival presents concerts by musicians who also play at the Aspen Music Festival and School. Performances take place at Salida High School's auditorium.
Highlights: Pianist Joyce Yang on July 9; pianist Simone Dinnerstein plays Bach's "Goldberg" Variations July 16; violinist Jennifer Koh on Aug. 6.
Strings Music Festival in Steamboat Springs presents classical music as well as jazz, country and other performers.
Highlights: Pianist Joyce Yang, the Anderson & Roe piano duo and the Enso String Quartet.
The Durango-based festival offers classical concerts and instruction for younger musicians in southwestern Colorado.
Highlights: Pianist Fei-Fei Dong, the Cezanne Quartet and pianist Stephen Prutsman.
Founded in 1995, the festival presents concerts and other events with Mt. Crested Butte as a backdrop. The focus is on chamber music and opera, with a handful of jazz, world and folk concerts on the schedule.
Highlights: The American String Quartet, conductor Michael Stern leading the festival orchestra, and a production of Puccini's "La Boheme."
Based in Steamboat Springs, ECO presents concerts featuring favorite opera arias as well as fully staged productions. The festival also offers training for up-and-coming opera singers.
Highlights: Productions of "Dido and Aeneas" by Henry Purcell, "Florencia en el Amazonas" by Daniel Catan and "Fantastic Mr. Fox" by Tobias Picker.
Founded in 1973, the 11-day festival brings small-ensemble classical performances to this Western Colorado ski town.
Highlights: Chamber music programs include music by Maurice Ravel, Camille Saint-Saens, Samuel Barber and Mozart.
Founded in 1942, Rocky Ridge Music Center offers music instruction to students in Estes Park. There are also faculty performances featuring solo and chamber music.
Highlights: Classical chamber performances include pieces by Brahms, Ravel, Dvorak, Barber and Mendelssohn.
Did we miss your favorite classical festival in Colorado? Let us know in the comments section below.
Bravo!
You've read another CPR classical story to the end. We have got just the thing for classical music lovers like you: a weekly email newsletter! Sign up here to stay up-to-date on CPR Classical programming, events and stories from the world of classical music.