After Victory In Crowded Senate Primary, Republican Glenn Narrows Focus To Bennet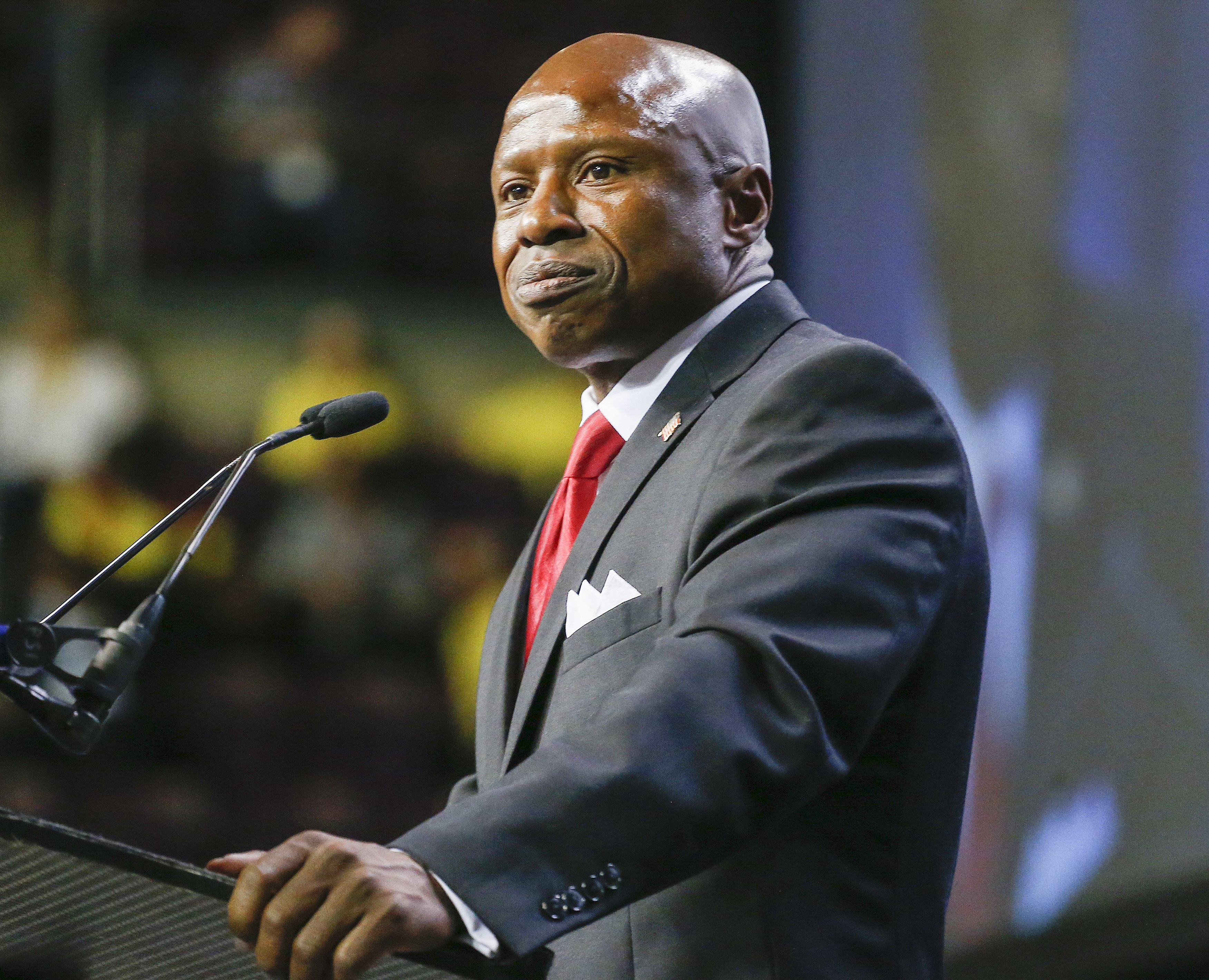 Listen to Colorado Matters at 10 a.m. for an interview with Darryl Glenn.
Eighteen months ago, El Paso County Commissioner Darryl Glenn was the first Republican to register for the U.S. Senate primary.
And last night, he was the last one standing.
Glenn beat a crowded field to clinch the party's nomination. He now faces incumbent Democrat Michael Bennet in November.
"The reason why we started early is the fact that we wanted to take the time to go out across the state, county by county, and talk to people,"  Glenn said at his victory party at the Broadmoor hotel  in Colorado Springs. "That's what this is all about. It's about you. It's about we the people."
That one-man ground game may be one reason Glenn did so well against better-funded, higher profile opponents. He bested former Colorado State University athletic director Jack Graham, businessman Robert Blaha, former Aurora City Councilman Ryan Frazier, and former state Rep. Jon Keyser.
And last night Glenn was quick to turn his attention to the general election.
"It's time for Colorado to lead," Glenn said. "And that's what we're going to do."
National Republican strategists have been watching Colorado's GOP Senate primary closely, hoping a strong candidate would emerge to take on Michael Bennet. Bennet is seen as the only potentially vulnerable Senate Democrat up for re-election this year.
Glenn says he believes voters are ready for a change.
"What I heard across this state, whether you're Republican, Democrat, or unaffiliated, they're frustrated in the fact that they don't feel like their elected representatives are listening to them. And that's the one quality I bring to this race," he said.
(AP Photo/David Zalubowski)
Glenn brings a number of other experiences too -- he's a retired Air Force officer and has held local elected office in Colorado Springs for the past 13 years. But until he entered the Senate race, he didn't have much of a statewide profile.
But to Rick Foster, who cast his ballot in Arvada on Tuesday, Glenn's "very conservative nature" was enough to get his vote.
Glenn calls himself a Christian constitutional conservative and his positions have won him some major tea party support -- $50,000 worth of ads from the Senate Conservatives Action PAC --  and endorsements from Sarah Palin and Sen. Ted Cruz. .
That last one is what got him Arvada resident Nick Green's vote.
"That kind of made up my mind," Green said.
Green said after Cruz left the presidential race, he transferred some of his enthusiasm to Glenn. And seeing lots of ads for other Senate candidates didn't tempt Green away from his choice. In fact, it had the opposite effect.
"Big money is a turnoff for me," Green said. "I'd rather kind of look toward the person who's doing it from a social media perspective ... [and] a grassroots perspective."
Glenn was outspent by a wide margin in this race. He raised less than $160,000. Second-place finisher Jack Graham had a war chest of nearly $2 million, the bulk of it his own money. Graham gave his concession speech last night to a crowd of family and supporters at his campaign headquarters.
"We were running against a great opponent," Graham said. "Darryl Glenn has run a great race. Darryl Glenn is a fantastic human being."
And Graham said he will definitely be voting for him. Former Colorado GOP chair Dick Wadhams, a long-time veteran of state politics and Graham's campaign manager, praised Glenn's campaigning so far. But he warned that winning a general election in Colorado is a very different challenge.
"Darryl's got to create a strong contrast with Bennet, but that contrast has got to appeal to more than Republicans," Wadhams said. "He's got to find that way, or he won't be in the game."
University of Denver political science professor Seth Masket has been following this year's elections closely. He said another challenge Glenn faces is how to manage his relationship with the Republicans' highly polarizing presumptive presidential nominee, Donald Trump.
"Trump puts almost any Republican candidate running further down the ballot somewhat at risk, in that they're just going to be asked throughout the summer and the fall, 'do you support or do you oppose what Trump just said?' And Trump says a lot of things," Masket said. 
Glenn may have his first in-person brush with the party's presidential nominee this Friday. Both men are set to speak at the Western Conservative Summit in Denver.
You care.
You want to know what is really going on these days, especially in Colorado. We can help you keep up.  The Lookout is a free, daily email newsletter with news and happenings from all over Colorado. Sign up here and we will see you in the morning!