Winter Park To Start Construction On New Train Platform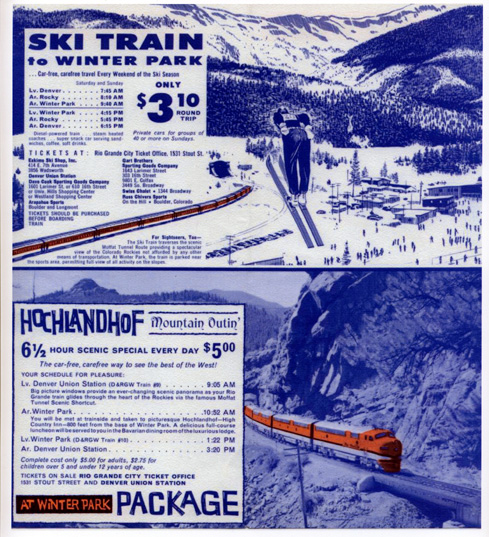 (Courtesy of Colorado Railroad Museum)The Denver to Winter Park Ski Train is one step closer to coming back this ski season.
The resort says it will start construction this week on a new ADA-compliant train platform. It will have built-in heaters to melt snow.
"Before, we'd offload and upload people to and from the snow that was packed down there," said Winter Park spokesman Steve Hurlbert. "In order to have a viable, sort of regular train service, you have to have a platform that is compliant. It's a huge, huge first step."
The Winter Park ski train ran for decades. It was shut down in 2009 after its owners said it lost money. A short revival in 2015 proved hugely popular.
Its resurrection isn't a sure thing yet. But Hurlbert said he hopes to be able to make an  announcement soon.
Union Pacific, which owns the track from Denver to Winter Park, and Amtrak, which would operate the train, both said they were committed to bringing the train back as well.
Union Pacific said it was "close" to finalizing a deal with Amtrak that would allow the train to run on UP tracks. Such a deal would be necessary to the Ski Train's revival.
You care.
You want to know what is really going on these days, especially in Colorado. We can help you keep up.  The Lookout is a free, daily email newsletter with news and happenings from all over Colorado. Sign up here and we will see you in the morning!