Home Opener: After Six Losing Seasons, Hope Still Springs Eternal For Rockies Fans
Updated 5:30 p.m. -- The Colorado Rockies beat the Los Angeles Dodgers 2-1 in their home opener Friday in Denver. Colorado native Kyle Freeland allowed just a single run in his six-inning pitching debut.
Original story continues below:
Rockies fans haven't had a lot to cheer about in a long time. The squad is coming off of six straight losing seasons and hasn't made it into the postseason since 2009.
But hope springs eternal. Today is the home opener at Coors Field. Now, with a young crop of talented returning players and a bolstered pitching staff, the team may be giving its fans cause for optimism.
What do those fans want to know? We asked them, and posed some of their questions -- along with our own -- to Denver Post Rockies beat reporter Patrick Saunders, who is also president of the Baseball Writers Association of America. 
OK, so is there reason to be excited, or should fans curb their enthusiasm?
 (AP Photo/Chris Carlson)For the first time in a long time, the Rockies have designs on being a winning team, and possibly a playoff team.
The farm system continues to produce good positional talent. Now, the Rockies pitching staff shows a lot of promise.
The pitching staff did suffer a blow last month when it was revealed that veteran starter Chad Bettis would require chemotherapy for an ongoing battle with testicular cancer. He hopes to be back later in the year. For now, the Rockies feel good about their staff, led by hard-throwing right hander Jon Gray, who enters his second full season in the majors. The staff also includes young talent, like rookie Kyle Freeland, who is a graduate of Denver's Thomas Jefferson High School.
"On paper, this is the best starting rotation they've had in a long long time," Saunders says.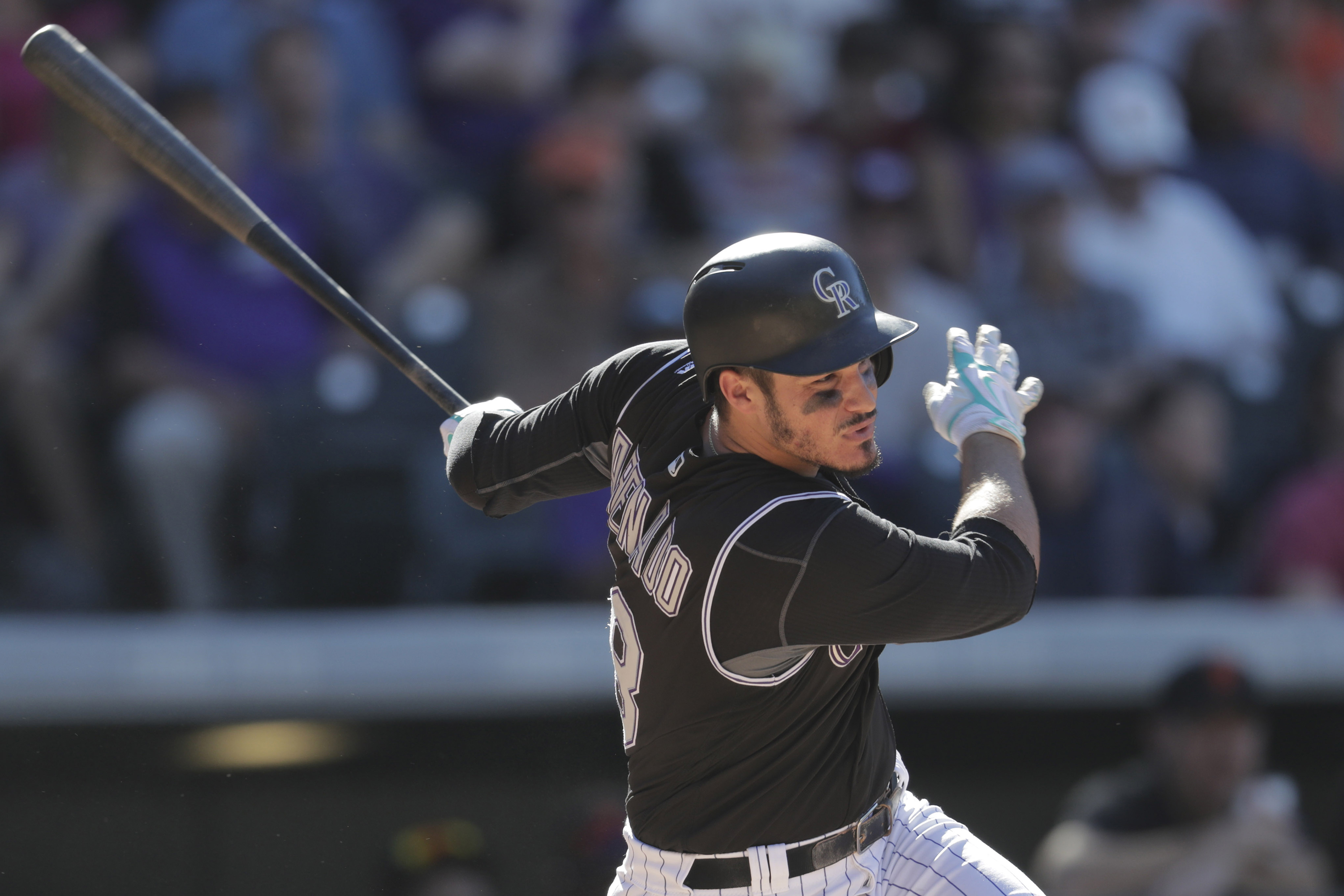 (AP Photo/David Zalubowski)Then there's Colorado's explosive offense. It's led by reigning National League batting title champion D.J. LeMahieu; third baseman Nolan Arenado - who Saunders calls a legitimate Most Valuable Player candidate - veteran outfielder Carlos Gonzalez; powerful leadoff hitter Charlie Blackmon; and shortstop Trevor Story, who hit 27 home runs in just 97 games last year before suffering a season-ending thumb injury.
"Opposing pitchers are not going to get much of a breather against this lineup," Saunders says. "If it stays healthy, I think it definitely can be one of the most impressive and potent lineups in the National league."
How are players taking to new Rockies manager Bud Black?
(AP Photo/Chris Carlson)Black takes over the team after Walt Weiss stepped down following four losing seasons in Colorado. Black managed in San Diego, where he was fired after posting a losing record over eight seasons.
Saunders says Rockies players are responding well to Black's management style.
"(He's) always been known as one of the more likeable and charismatic managers in the game"
Black mixed fun with hard work during spring training. He put on archery contests and a ping-pong tournament for players. He even brought in a large steer and had pitchers describe where the cuts of meat are located.
But Black is also a very hands-on manager. He's a former major league pitcher and he spends a lot of time with his young hurlers. Saunders says Black is "a task master… who will demand a lot from players."
Brett Clymens of Denver: "What's the team's biggest need for improvement?"
That's easy: The bullpen.
Rockies' relief pitching gave a lot of games away in late innings last season. The bullpen blew 28 saves last year and had the worst earned run average in baseball.
But the Rockies spent a lot of money in the offseason beefing up their relief staff. Their additions include Greg Holland, a former all-star closer for Kansas City.
"I hope the Rockies' bullpen gives them a chance to stay in the game all the way to the end," Saunders says.
Adam Yost of Colorado Springs: Who are some of the team's top prospects?
Brendan Rodgers is a versatile infielder, who was the Rockies top pick in the 2015 draft. He's close to being major-league ready.
Jeff Hoffman, a young right-handed pitcher, will start the season in Triple-A Albuquerque, but is expected to pitch for the Rockies this year.
German Marquez is another hard-throwing pitcher, who will start the season as a long-relief pitcher. But he could eventually join the starting rotation.
Reed Romney of Colorado Springs: Will the Rockies be playoff contenders?
Saunders says the team will be improved, but he doesn't see the team making the playoffs this year.
"I do think the Rockies can post a winning record this year," he says. "I think they might be able to battle for a wild card (playoff spot), but I don't see a division (title). I don't think they're mature enough on the mound to do that.
"Eighty-four to 85 wins, but no playoffs this year. 2018 is the year."
You care.
You want to know what is really going on these days, especially in Colorado. We can help you keep up.  The Lookout is a free, daily email newsletter with news and happenings from all over Colorado. Sign up here and we will see you in the morning!