Small-Town Strasburg, Growing On The Edge Of The City, Is Wary Of What That Means
Colfax Avenue runs roughly 50 miles in a straight line east from the foothills. Most of the way it's in one city or another: Golden, Lakewood, Denver, Aurora. But it ends in the town of Strasburg, far out on the Plains, surrounded by farm fields and grain elevators.
The local newspaper is the I-70 Scout. In his office there, the paper's owner, Doug Claussen, points to the latest front page. The lead story is about Strasburg Station, a 220-unit, 29-acre housing project going in just off Colfax.
"'Burg Station is a big development to go right out here on the west edge of town," Claussen says. "It's quite a huge development."
When asked what's the top issue in this community as elections draw closer, Claussen does not hesitate.
"The growth is always there, but it's more than ever now," and the growing cities of the Front Range are redefining this town. "The new folks, if they don't already outnumber the old folks, they will soon enough."
---
---
Strasburg, population roughly 2,800, is in transition.
Once a farm town, each year it moves closer in feel and spirit to the growing communities near Denver International Airport. Claussen, who lives on a 5-acre lot in nearby Bennett, says that growth brings worry. The region's been in a stubborn drought and Claussen says Front Range cities have spoken for a lot of local water rights. So to build here, first you need a water source.
"Water is the big one, water is huge. I have a 550-feet deep well and my neighbor's went dry or appears to be going dry," Claussen says. "Well, it's no cheap thing to drill a new well."
On a trip through town in Claussen's car, he passes streets lined by small homes with American flags out front. Farther out there's construction equipment building a new road. "So this on my right is what I was talking about, modern development, small lots, a lot of these are fairly good size homes," Claussen says.
Strasburg is in unincorporated Adams County, so county officials are responsible for approving dozens of building permits each year, and that leaves some old-timers in town uneasy. A block off the main drag is Uhrich Locomotive Works, which builds and restores narrow gauge locomotives, including those in Tiny Town. The company houses a serious workshop, filled with milling machines and lathes.
"None of our equipment is computer operated like a modern machine shop," says Mike Kumnick, a machinist for the company. He's worked here for years and takes pride in upholding the old American craftsman ideal "where we do everything very carefully and we do it right."
What's the biggest issue is for his community?
Kumnick's response sounds similar to Claussen's: "With me, it's too many darned people moving in and too many new subdivisions being built in this little quiet, sleepy country town," Kumnick says of the population, which has roughly doubled since 2000. "It's just getting too crowded. I'm a country boy and I just hate to lose the country."
​Kumnick's boss is Marlin Uhrich, whose family has run this company for decades. "It was started in 1948, and my father built it up and built his first steam locomotive," Uhrich says.
Uhrich grew up in town. He attended Strasburg High, Class of 1959. He wonders how long Colorado's good times, and the real estate boom, will last — everywhere.
"The economy is good for the most part. But pretty soon — and it's always been a boom and bust state — it's gonna continue that way," Uhrich says. "You're gonna have a bust here pretty soon again."
For as long as the growth lasts, it creates challenges, he says.
"With enough more people coming in here, the more problems there's going to be. Crime increases. You end up with more traffic problems," Uhrich says. "You end up with more school problems. You end up with more fire protection problems. People is the problem."
Uhrich describes himself as an unaffiliated voter, a true independent. He has a clear idea of what state government should do.
"You need better regulations on where people can go and build," Uhrich believes. "You gotta have more regulations that you can control the amount of growth that takes place in those areas. Simple as that."
Not all of Uhrich's views are shared by some of the younger people in the community. He has a group of young apprentices including Joe Dunn, who is learning the ropes. He lives 7 miles north of the machine shop and he's noticed the changes.
"There's like so many more cars at the stop sign you know, a lot more houses, a lot more houses going up," Dunn says. "It's cool, man. It's cool."
More people means there's more to do. "Not such a small selection of stores to go to or anywhere," Dunn says. "It's more people and more business and all that, you know."
Much of the town comes out to the weekly Strasburg High football game. The annual showdown in early October against Eastern Plains rival Limon starts as a spectacular sunset takes shape over the distant Rockies. Strasburg's school band strikes up, as cheerleaders leap into the air on the track next to the field:
"Bum, bum, bum, ba buhb! Go Big Red!" It's "Friday Night Lights," Colorado-style.
At a table near the entrance, a pair of women sell black and red Strasburg High gear. One is Cori Tiffany, a mother of two. Her family moved here last November from Englewood, to get away from the crowded city.
"I just wanted out of the city. Too much city. I was done with the city. Born and raised in the city and done with it," Tiffany says. When asked what she liked least about the city, she replied with a laugh, "funny enough, congestion and traffic — and I still drive in there every day."
Tiffany and her husband commute back to the metro area for work. She says their decision to move was in part based on wanting to escape the heavy presence of marijuana. "Just the constant smell," Tiffany said. "It changed the dynamics of the neighborhood quite a bit."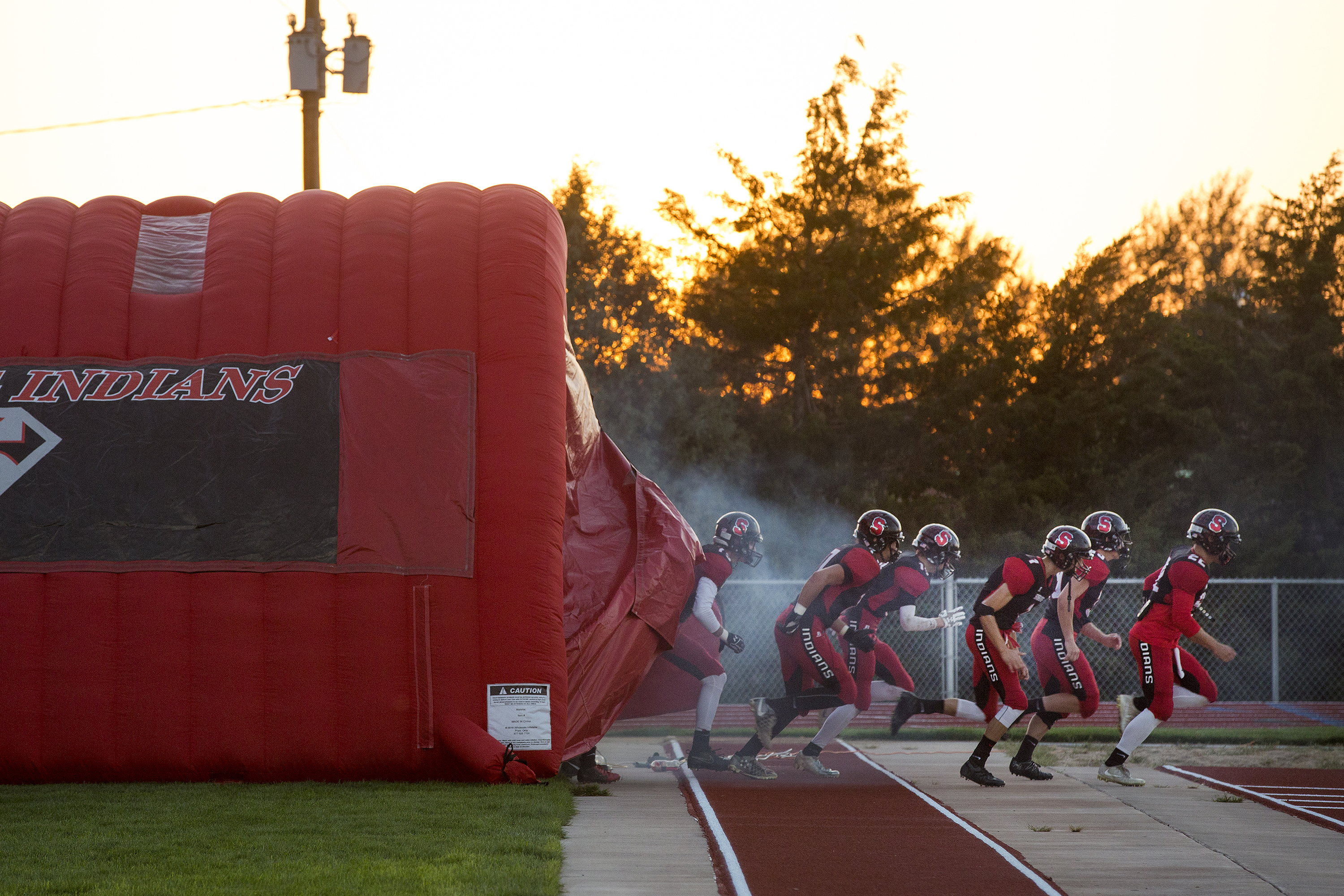 Tiffany says her family was looking to live life in the slower lane, in a smaller community, "quality of life for the kids," Tiffany says.
Back in his newspaper office, Doug Claussen ponders the evolving quality of life here, and the future for commuter towns on the eastern Plains. He says folks here don't want to lose what they have: quiet nights, knowing your neighbors, a connection to the countryside.
"People want to maintain the rural character of the towns, because it's different," Claussen says. "It's different than Aurora or Lakewood or Northglenn, any of those Denver suburbs."
But Claussen says folks here are pretty realistic as they see the city edge ever closer.
You care.
You want to know what is really going on these days, especially in Colorado. We can help you keep up.  The Lookout is a free, daily email newsletter with news and happenings from all over Colorado. Sign up here and we will see you in the morning!