Surprise, Colorado! The Snow Got Here Early And A Lot More Will Still Fall Through Wednesday
Wednesday, Oct. 30 Update: Most of the snow has fallen, now we have to deal with the cold. You can find the latest here, our original story continues below.
--
Remember Monday's morning commute? The one where the best advice from the Colorado Department of Transporation was "this is a good morning to work from home?"
That advice still holds for Tuesday afternoon and especially Wednesday morning. Just look at the forecast map.
Snowstorms rarely care for forecasts, and a band of snow unexpectedly dropped in on Denver this morning, snarling the commute.
"We were forecasting forward to get cranking more midday, into the afternoon, but it did turn into more of a morning event," said Greg Hanson with the National Weather Service in Boulder. "We've had a cold front move through the region and that generated more snowfall than we had forecast earlier."
Conditions may have slackened where you are, but don't be fooled. The National Weather Service still thinks the snow will pick up for a "solid 8 inches or so here in the Denver metro area."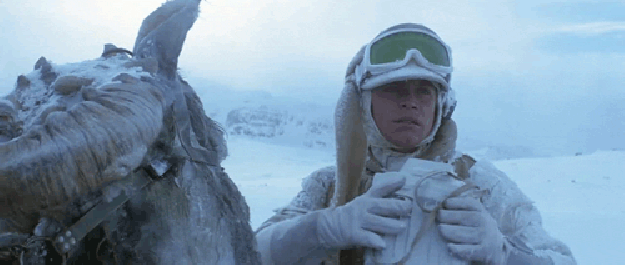 Make sure your tauntaun is ready. Heavier snow will still develop later and disrupt the afternoon commute for the Front Range. Here's when you really don't want to be on the roads:
Metro Denver: Tuesday afternoon into rush hour, overnight
The Foothills: Tuesday evening and through the night
I-70 Mountain Corridor: Late Tuesday afternoon through the night
"Heading into the evening commute, we'll see some moderate pockets of heavy snowfall — just kind of like what we saw for the morning commute," Hanson said.
Snow will continue Tuesday night and taper off the next day, but "roads will still be pretty sloppy for the morning drive even though the snowfall itself is lessening," he said.
Bottom line advice: If you braved the snow for the morning commute, leave early to beat the brunt of the storm later today — and start to think about what you'll do for Wednesday morning. You're stocked up on hot cocoa at home, right?
CDOT plows are on 12-hour snow shifts with day and night crews. In Denver, they are focused on clearing and treating the interstates. In the mountains, conditions are dependant on how quickly the storm dumps snow. Motorists and truckers on I-70 should be ready for the traction law and have chains or snow tires.
Seriously, be ready if you absolutely have to head into the mountains. Eight to 12 inches of snow could blanket the road between Golden and the Eisenhower Tunnel. Vail Pass could get 7 to 11 inches.
Monday's storm already closed Independence Pass outside of Aspen. It's the road's earliest closing since 2011 when the gates closed on Nov. 2. The Colorado Department of Transportation said the road usually closes in early to mid-November.
Because the snow got a relatively late start in the morning, the Front Range's largest school districts started their days on time, over the complaints of some parents.
"I was watching the news this morning and all these other schools were cancelled," Katy Warren said after dropping off her child at Brown International Academy in Denver. "I mean, if Denver plowed its streets, it would be fine. But Denver doesn't make it safe for people to be out."
However, for parents who lived close enough to the school to brave the commute on foot, the October snow was a chance to teach their children about the sometimes extreme reality of growing up at elevation.
"I'm a good ol' Colorado girl, so I'm used to the snow," said Cara Garule on her way out of Brown. "We roll with the punches here in Colorado. I'm not too upset (that classes weren't delayed or cancelled)."
Parent Tom Buchanan appreciated that Denver Public Schools stuck with its decision to open on time.
"I'm more concerned with the last minute closures that sort of happen at the 8:30 time frame, rather than knowing early enough to plan ahead for the day," he said. "If we can get here safely and the kids are safe, I'm fine with it."
However, as the snow kept coming down through the morning, many parents in the metro region started getting new warnings: early closures. DPS let students out on a staggered release, with middle and high schools letting out at noon and elementary schools ending classes at 2 p.m. to help parents of smaller children make it to their bus stops to pick them up.
Cherry Creek, Aurora, Cherry Creek, and Douglas County school districts also let out early.
School districts will decide overnight whether to delay or cancel classes on Wednesday.
Helpful Snow Links
Denver Area
You care.
You want to know what is really going on these days, especially in Colorado. We can help you keep up.  The Lookout is a free, daily email newsletter with news and happenings from all over Colorado. Sign up here and we will see you in the morning!