Polis Makes His 2020 Budget Pitch: More Cash For Preschool, Road Needs And Colorado Parks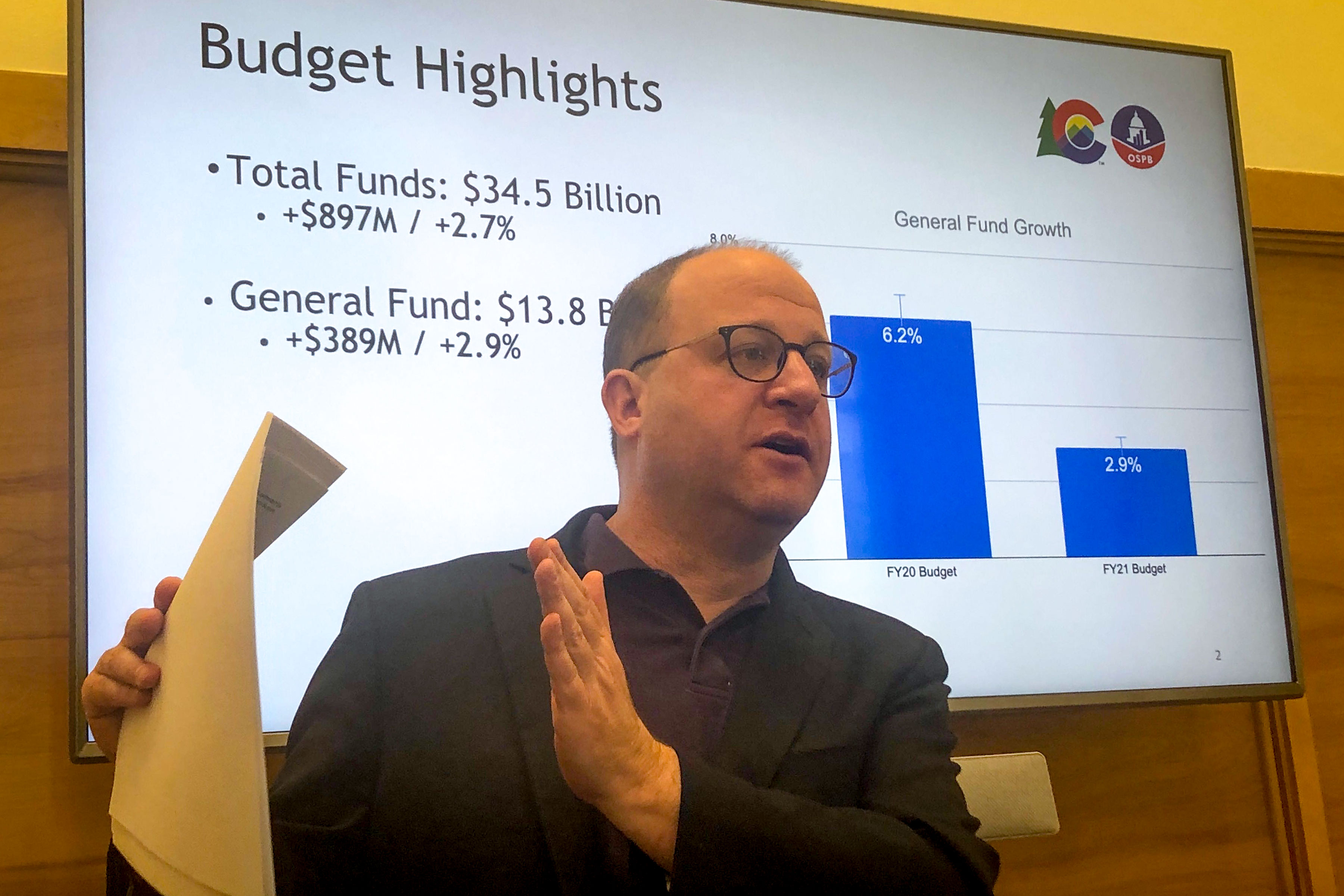 On Friday, Gov. Jared Polis unveiled his first state budget since taking office and continued his push from the last legislative session to expand early childhood education. 
His request asks state lawmakers to add more money to the budget reserves, transportation and education. Polis also wants to give state employees two months of paid family leave to take care of a child or family member.
The state's general fund would increase 2.9 percent under the proposal to $13.8 billion.
"It includes a lot of different items," Polis said. "Some might be considered aggressive, some modest. It depends. Everything's in the eye of the beholder. But you know, I think it's clear with these, the budget reflects our priorities as an administration." 
A lot of items weren't a surprise. The Democratic governor has long talked about wanting to get more children who qualify for state-subsidized preschool into the program. His budget proposes covering 6,000 additional students who are currently on waitlists, that's half of all eligible children. 
The longer-term goal is to make preschool available to all 4-year-olds who qualify.
"The studies show the importance of quality preschool in really bridging the learning divide that persists along economic lines and racial lines and making sure that every kid is prepared for success," Polis said. 
One of the most exciting parts of the budget for Polis is a $10 million push to make it easier for Coloradans to access the outdoors. The money would cover Colorado's newest state park in Trinidad and increase parking, campsites and bike lanes at existing state parks. 
"People love living here and part of that is enjoying our wonderful state parks system, but if you can't get into the state parks all summer long or during the peak holiday periods and take your kid there or didn't book it months in advance, you're not able to really participate in that exciting part of what it means to be in Colorado." 
Polis will formally present his budget to the bipartisan joint budget committee on Nov. 13. It will serve as the start for negotiations, but ultimately the legislature crafts the final budget. So far it is receiving a warm reception.
"Gov. Polis worked hard to find millions of dollars in savings and the JBC plans to build on this solid foundation," said budget committee vice-chair Sen. Dominic Moreno, a Democrat from Commerce City. "For example, internal savings in the Department of Transportation will allow us to spend an additional $25 million directly on roads and bridges."
Republican Senate Minority Leader Chris Holbert said he was especially glad Polis was dedicating significant sums for transportation funding. 
"We are pleased that our voice has been heard and that a $550 million baseline investment is included in this budget," said Holbert, who also thanked the governor and his staff for sitting down with the GOP to discuss overall budget ideas. "While we obviously have some disagreements over budget priorities, we, more importantly, see many places in this proposal where we can work together."
It's a contrast from last session when Polis unveiled his budget ideas and initially received some pushback from both parties, and questions about how he was going to fund full-day kindergarten. 
Passing a balanced budget is the only thing state lawmakers are constitutionally required to do during their annual legislative session. Even though Democrats control both chambers, budgets are not solely passed along party lines in Colorado. A last-minute bipartisan deal last session in the state Senate to put more money into transportation — a top priority for Republicans — helped the Colorado budget pass quickly with wide support and no delay tactics or long debates.
The next legislative session kicks off Jan. 8, 2020.
Highlights from Polis' Proposal 
3% Tuition increase for colleges and universities
2% Pay Increase for state employees
$550 million new dollars for transportation, Polis said it's for roads, bridges, maintenance and the backlog
$31 million increase in state reserves
$2.3 million for new employees at the state's Air Pollution Control Division
$40 million to backfill previous reductions to K-12 funding
You care.
You want to know what is really going on these days, especially in Colorado. We can help you keep up.  The Lookout is a free, daily email newsletter with news and happenings from all over Colorado. Sign up here and we will see you in the morning!