Colorado Coronavirus Updates For April 9: Closures, Testing, Cases And More
This post collects all of our updates and reporting on the coronavirus in Colorado for Thursday, April 9, 2030. You can find Friday's latest right here. Our original play-by-play of reporting continues below.
---
6:13 p.m. — Clear Creek is closed to recreationists
The Jefferson County Sheriff's Office and the Golden Police Department are temporarily banning all water activities on Clear Creek starting Thursday amid the coronavirus outbreak.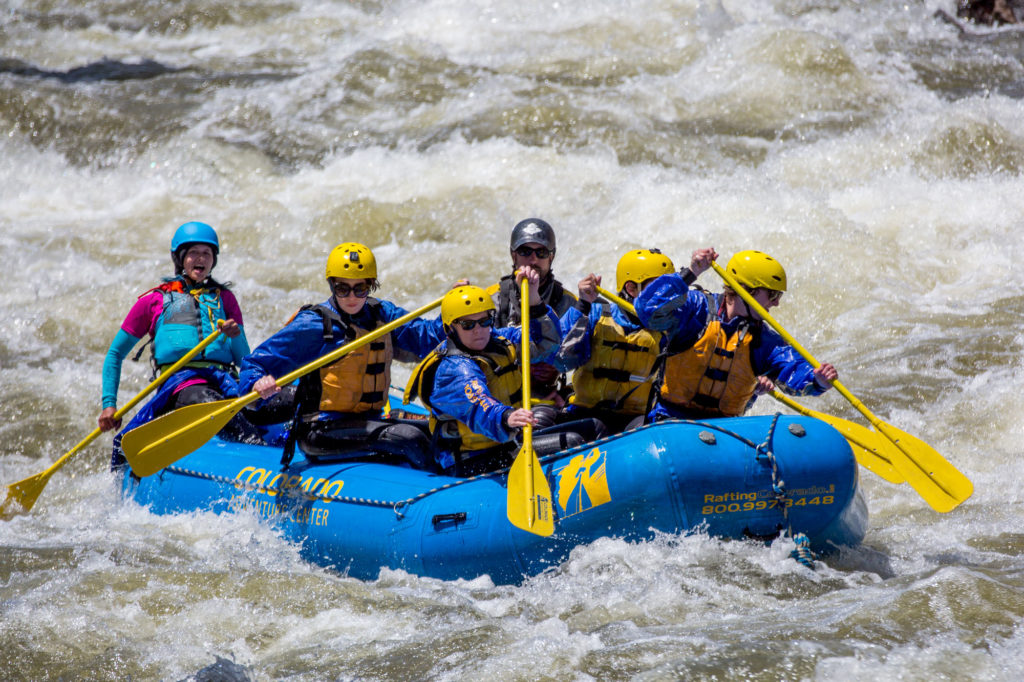 The waterway is a popular spot for kayaking, whitewater canoeing, paddle boarding, tubing and swimming and can draw large crowds.
"This temporary restriction was made in response to the Stay at Home Order that makes it difficult for recreational users of the creek to adhere to the six-foot social distancing guideline," a release from the sheriff's office read. "In addition, if a rescue were necessary, it would require law enforcement and fire departments to expend resources that are already facing challenges due to COVID-19."
The ban extends to Vanover Park in Golden and other areas with portions of Clear Creek.
Violators could face fines of $100.
— Alex Scoville
5:41 p.m. — This RTD board member is sewing some of the masks needed for the agency's nearly 2,000 drivers
RTD hasn't had much luck buying protective masks for its drivers. A shipment of 25,000 is supposed to come in April 20, but Chief Safety Officer Mike Meader wasn't convinced earlier this week that it would definitely arrive.
"We're continually looking at every lead we have, under every proverbial rock, to find these masks," he said Tuesday.
So in the meantime, one of RTD's 15 board members, Natalie Menten of Lakewood, is sewing some herself for RTD's nearly 2,000 bus drivers and train operators.
"Each one of these masks takes about 15 minutes to make," Menten says in the video.
If you're willing to help, you can find instructions and contact info here.
— Nathaniel Minor
4:54 p.m. — After coronavirus smacks Gunnison County, locals step up
When residents began falling ill in Gunnison County, home to outdoorsy tourist towns like Gunnison and Crested Butte, more than 500 locals volunteered to help. 
They translate for people who don't speak English, deliver prescription medicine, and donate meals. The community has also raised $130,000 to help with everything from purchasing masks for healthcare workers to buying groceries for out-of-work residents.
"We help each other out," said Lauren Kugler with the Community Foundation of the Gunnison Valley. "People really want to give back to their friends and neighbors, to the community and its people,"
The county now has one of the highest rates of infection in the country, with 99 positive cases in a population of about 17,000.
In a different sort of disaster, like a wildfire, Gunnison County could rely on more outside help.
"But when everybody is in the same boat of having to deal with the pandemic, nobody has extra resources they can send in," explained Arden Anderson, the retired public lands manager who heads the volunteer effort. "We realized early on that it was going to be necessary to make do with the resources that we had."
He said he's thankful his neighbors have stepped up in the community's time of need.
— Nancy Lofholm and Avery Lill
4:08 p.m. — The latest coronavirus numbers
There are now 6,202 confirmed cases of COVID-19 in Colorado as of April 8, according to the latest information from state health officials.
That an increase of 547 cases over the day before.
Thirty-three people have died due to COVID-19, bringing the state's total from 193 to 226.
The large jumps in the numbers released today compared to previous reports is not a day-to-day spike, but rather a consequence of Colorado health officials collecting previously unreported cases and deaths from days or even weeks back.
More than 1,200 cases are hospitalized.
An additional 10 outbreaks in residential and non-hospital health care facilities have been reported, upping Colorado's total to 54.
The state has tested more than 31,000 people.
— Alex Scoville
2:52 p.m. — After a JBS employee dies due to COVID-19 and many more fall sick, union plans to file OSHA complaint
Multiple JBS meatpacking plant employees are now hospitalized with the coronavirus and one has died, workers say.
According to the union that represents these workers, 40 union members have tested positive for COVID-19. Families of hospitalized people say the company isn't doing enough to protect workers like Saul Sanchez, who died Tuesday.
JBS officials say the plant is following health guidelines and offering help for sick employees. The company decided to close a meatpacking plant in Pennsylvania for two weeks after management there showed flu-like symptoms, according to spokesperson Cameron Bruett.
United Food and Commercial Workers Local 7 President Kim Cordova said the union plans to file an OSHA complaint in response to the death.
Cordova said JBS has jeopardized workers' safety by: not advising workers on what to do if they were sick, not notifying workers who may have come into contact with sick employees and breaking their own virus mitigation plans. The company had started staggering break times to allow for social distancing but released all employees to break at once Wednesday, Cordova said.
Around 800 JBS workers per day have called out sick from work over the last two weeks. According to Cordova, that's about a third of the workforce. The union is demanding more changes to protocol to allow for social distancing and hourly hazard pay. As it stands, people work shoulder-to-shoulder.
"They are risking their lives working in a dangerous situation," Cordova said.
JBS issued the following statement in regards to Sanchez's death:
"We are deeply saddened by the loss of our team member. We are offering support to the family and our team members during this time. Our sympathies are with our fallen friend, the family and all those impacted by COVID-19.

The U.S. government has identified the food supply as a critical infrastructure industry and has stated we have a special responsibility to maintain normal work schedules on behalf of the nation. We take this responsibility seriously.

The health and safety of our team members providing food for us all during this unprecedented time remains our top priority. We will continue working hard to support our team members and our resilient community through these uncertain times."
Weld County health officials also issued a statement about the JBS plant:
"Dr. Mark Wallace, MD, MPH, Executive Director of the Weld County Department of Public Health and Environment, and the health department staff have been in numerous conversations with the JBS leadership team in Greeley, as well as the Colorado Department of Public Health and Environment and the Department of Agriculture. The health department continues to investigate the working conditions at JBS as well as provide health guidance on preventative measures the company should apply at their facility. The health department is aware of over 30 JBS employees who have tested positive for COVID-19. This number will change as the investigation continues. It is within Dr. Wallace's authority as the Health Officer for the county to close any business that does not comply with his public health order and that does include JBS. Concerns at the JBS facility include the proximity of workers to each other and employees working while sick. Conversations continue with JBS leadership to promote quick compliance. And while closure of the facility is an option, compliance is a preferred solution. Discussions and investigations continue."
— Natalia Navarro
2:09 p.m. — Gov. Jared Polis extends the state's emergency order
The governor signed an executive order Thursday that extended Colorado's emergency declaration for another 30 days.
Gov. Jared Polis originally declared a state of emergency on March 10, when there were just 15 confirmed cases of COVID-19 in the state. It was due to expire today.
As of April 7, there are now 5,655 confirmed cases in Colorado.
An emergency declaration allowed the governor to take extraordinary powers to deal with disasters, but rarely has a disaster declaration been used for a pandemic. More often, disaster declarations are called for wildfires, floods and even snow.
— Alex Scoville and Ben Markus
1:43 p.m. — State's coronavirus bill is $50 million — and rising
Colorado has allocated more than $50 million so far to combat coronavirus, but there's still limited testing because of a lack of supplies, according to the state health department.
"The real challenge here continues to be the availability of specimen collection kits," said Scott Bookman, incident commander for the Colorado Department of Public Health and Environment. "While there is now an enormous amount of lab testing capacity … there is still a great deal of challenge due to a lack of PPE and a lack of viral transport media and a lack of sterile swabs to actually collect the specimens for testing."
The limited nature of testing has obscured the true extent of COVID-19 in Colorado, which is why statewide social distancing measures must remain in place.
"We have underrepresented the number of cases by somewhere between four and 10 times based on a lack of ability to collect specimens and test them," Bookman said.
As for the $50 million — much of that will be reimbursed by the federal government.
— Ben Markus
12:12 p.m. — Telluride Bluegrass Festival is officially canceled
"There is nothing I hate more than canceling shows."
With that quote from folk singer John Prine, who died days ago from coronavirus, Planet Bluegrass officially announced Thursday what had already started to leak online: The Telluride Bluegrass Festival has been canceled. 
President Craig Ferguson called this "the easiest and most difficult" decision the company has ever made. He said the event, which draws more than 10,000 people a day, would be unsafe.
It was slated to run June 18-21 and feature such famous acts as Dierks Bentley, Alison Krause, Del McCoury and Béla Fleck. Ferguson said Planet Bluegrass will contact all ticket holders directly in the coming week and offer refunds.
In late March, the Telluride Daily Planet reported that the city council declined to pass an ordinance that would have moved the event to late August, citing the uncertainty of the future.
Since 1973, people have been making the trek to the small mountain town for what's become one of the most famous bluegrass festivals in the world.
Ferguson called it a "devastating realization" that the Telluride Bluegrass Festival could not move forward.
"And far more devastating for the artists to feel the very purpose of their soul should not be expressed, at a time it's needed most," he said.
He also insisted that "we will meet again," but called that journey a mysterious one.
— Stina Sieg
11:32 a.m. — Breaking down coronavirus infections in Denver by neighborhood
Denver Health data obtained by Denverite offers a glimpse at COVID-19 infection rates for neighborhoods in the city, which has more than 750 positive cases for the illness caused by the novel coronavirus.
An analysis by the Washington Post this week suggested that black Americans are infected and dying of the novel coronavirus at disproportionately higher rates than other races.
Read the full Denverite report here.
9:52 a.m. — Forest Service temporarily closes 'developed' recreation sites
Forest Service officials say developed recreation sites like campgrounds, picnic areas, and any other constructed amenities are closed until the end of May. Trailheads and dispersed camping sites are still open but the department advises social distancing. The order, signed by acting Regional Forester Jennifer Eberlien, includes Colorado, Nebraska, Kansas, and most of South Dakota and Wyoming.
"While we know that going outside provides forest and grassland visitors needed space, exercise and satisfaction, we are taking the risks presented by COVID-19 seriously," Eberlien said in a released statement. "We are providing some recreation opportunities where we can while protecting and keeping employees, the public and our communities safe from the virus, as well as protecting and keeping communities and natural and cultural resources safe from unwanted human-caused wildfires."
— Natalia Navarro
9:38 a.m. — What is Pandemic Unemployment Assistance?
9:09 a.m. — Take a look inside the new temp homeless shelter at the National Western
Six-hundred olive green cots stretch for hundreds of feet inside the Expo Hall at the National Western Complex in north Denver. Starting today, Denver will relocate people from shelters that are otherwise too small to accommodate social distancing requirements.
The men who are moved here will get a bed, 50 square feet and access to meals and showers.
"This is a call to all of us to take care of our neighbors," said Britta Fisher, executive director of Denver's Department of Housing Stability. "There are more people experiencing homelessness than are represented by the cots here, right? This is a small part of that."
Denverite got a tour of the temp shelter yesterday.
— Kevin J. Beaty
7:04 a.m. — Colorado weekly unemployment insurance claims fell from the previous week's record high
The United States has reached a grim landmark: Roughly one in 10 workers have lost their jobs in just the past three weeks.
Nationwide, a record 16.8 million have sought temporary unemployment assistance since the pandemic has started. Last week alone, 6.6 million people filed for jobless benefits. The figures collectively constitute the largest and fastest string of job losses in records dating to 1948. They paint a picture of a job market that is quickly unraveling as businesses have shut down across the country because of the coronavirus outbreak.
The number of applications submitted in Colorado during the week that ended on April 4 fell to 45,494, a decrease of 26.4 percent from the number of applications submitted the previous week (61,838) and an increase of 2290.6 percent from the number of applications submitted the same week last year.
— Associated Press
6:31 a.m. — Inmate at the Buena Vista Correctional Complex tests positive for COVID-19
The Department of Corrections says the inmate was transferred from the Denver City Jail on March 26 and has been in quarantine. They say the inmate did not enter the general population but was quarantined with a cellmate, who is now being monitored for symptoms.
It was the first time that a prison inmate in the state has tested positive for the new coronavirus.
— Alison Borden
6:14 a.m. — If a surge occurs, these 2 locations will fill in as field treatment shelters
The Denver Convention Center and the Larimer County Fairgrounds will be used to treat patients who don't need critical care and are being transferred from a hospital. These facilities aren't for people seeking medical care or a diagnosis. They're meant for patients who are recovering.
Colorado currently has 5,655 known positive cases of COVID-19. Nearly 30,000 have been tested and 1,162 have been hospitalized. The state has started to see deaths in people under 40, there are 193 deaths in total so far.
To prepare for a surge, the state said construction on these medical shelters will begin tomorrow and is expected to be complete by the end of the month. Plans for three more shelters should be finalized by the end of this week.
— Hayley Sanchez, Jim Hill
You care.
You want to know what is really going on these days, especially in Colorado. We can help you keep up.  The Lookout is a free, daily email newsletter with news and happenings from all over Colorado. Sign up here and we will see you in the morning!