Colorado Coronavirus Updates For April 8: Closures, Testing, Cases And More
This post collects all of our updates and reporting on the coronavirus in Colorado for Wednesday, April 8, 2020. You can find Thursday's updates and news here. Our original play-by-play of reporting continues below.
---
5:23 p.m. — This is where cases of coronavirus are in Colorado
5:05 p.m. — It's Wednesday, have some live local music
The Underground Music Showcase is presenting a stream from electronic musician Fred Fancy. Enjoy!
4:29 p.m. — A Colorado inmate has tested positive for COVID-19
The state Department of Corrections confirmed Wednesday that an inmate in the Buena Vista Correctional Complex tested positive for COVID-19.
The inmate was transferred to Buena Vista from the Denver City Jail on March 26, and has been in quarantine with one cellmate who is also being monitored since arrival. They did not have contact with the general population or the main facility.
"This situation is exactly why we implemented thorough medical evaluations and quarantine systems for any incoming inmates," said Colorado Department of Corrections executive director Dean Williams in a statement. "In this case, the quarantine process prevented this inmate from engaging with the general inmate population and has substantially reduced the risk of this virus being spread in the facility. The inmate is receiving the appropriate medical care and we will continue to take every possible precaution to protect our staff and inmate population."
— Alex Scoville
4:08 p.m. — These are the latest coronavirus case numbers in Colorado
There are now 5,655 confirmed cases of the new coronavirus in Colorado, according to the latest numbers from state health officials.
That is an increase of 226 cases from yesterday.
Fourteen more people have died due to COVID-19, bringing the statewide total to 193.
There are 1,162 hospitalized cases in the state.
No new outbreaks at residential and non-hospital health care facilities were reported. The total still stands at 44.
Colorado has tested more than 29,000 people.
— Alex Scoville
4:03 p.m. — Restaurants and other small businesses are struggling to access the loans offered by the federal stimulus package
Colorado's small business owners are turning to community lenders as the country's biggest banks fail to meet the overwhelming demand for loans under the federal government's stimulus package.
Josh Wolkon, the owner of four restaurants in Denver, had to lay off 180 people when Gov. Jared Polis ordered restaurants and bars to close last month in an effort to stop the spread of the novel coronavirus.
"I've never experienced anything as soul-crushing as that," Wolkon said in an interview.
Wolkon, whose portfolio includes Steuben's and Vesta, is attempting to borrow $1.7 million through the $350 billion program intended to help businesses with less than 500 employees weather the economic fallout from the COVID-19 epidemic.
Wolkon reached out to Wells Fargo, one of the largest small-business lenders in the U.S., and InBank, a community lender serving Colorado and New Mexico. He has worked with both previously.
Over the weekend, Wells Fargo stopped accepting loan applications. Wolkon said the banking giant didn't notify him when applications were halted, and that he learned about the move on the internet when it was reported that Wells Fargo might struggle to process most loans because of restrictions imposed following a consumer banking scandal several years ago.
"I don't understand why they didn't tell their customer base early," Wolkon said. "I'm grateful I was already in conversations with the community bank."
The central bank has since eased restrictions on Wells Fargo to make it easier to meet the demand for loans, but that won't change Wolkon's plans. He anticipates closing on his loan with InBank next Tuesday.
"We are committed to helping as many business owners as we can navigate the available loan programs," Tom Francis, a senior vice president at InBank, said in an emailed statement. "We are telling our customers and other business owners to really know your options, have your financials in order and be ready to present those to your banker."
The process has been challenging, beset by technological glitches and general confusion among bankers and borrowers. For instance, it can take up to an hour to upload documents to start the application process, Wolkon said.
— Sarah Muholland
3:59 p.m. — This is how the state will be organizing patients when the "expected surge" comes
Colorado health and emergency officials are getting ready for when the peak of coronavirus cases arrives in the state.
The Colorado state Unified Command Center is partnering with the Colorado Hospital Association, local communities and the U.S. Army Corps of Engineers to prepare sites across the state to treat various tiers of cases.
Those do include hospitals and other medical care facilities, but also what the state is calling "alternative care sites," which will include the Colorado Convention Center in Denver and the Larimer County Fairgrounds and Events Complex in Loveland. Alternative case sites will only accept patients transferred from hospitals or other facilities, so people can't go to one seeking a diagnosis or care.
The Colorado Convention Center will have 2,000 beds. Construction began yesterday and will finish April 27. The Larimer County Fairgrounds will have 1,060 beds. Construction will begin tomorrow and finish April 29.
There are three more locations expected to become alternative care sites: St. Anthony North in Westminster, St. Mary-Corwin Medical Center in Pueblo and Western Slope Memory Care in Grand Junction. The state has signed letters of intent with all of them.
Health officials will be organizing patients into four tiers depending on what level of care they require. What tier a person belongs in will reflect what facility they will go to. The tiers are:
Tier 1: "Patients with critical needs are admitted into a critical care setting (ICU or medical nursing unit)."
Tier 2: "As patients within a hospital recover, they may be transferred by a fleet of state-managed ambulances to an ambulatory surgical center, free-standing emergency department, or critical access hospital — all which can provide acute care to COVID-19 patients whose needs fall below critical care."
Tier 3: "As further recovery ensues, healing patients may be transferred by the state-managed ambulance fleet to alternative care sites that have been created by the state, by hospitals and/or by state/local partnerships with public health and emergency management."
Tier 4: "Patients who are ready to return home but who can't because of extenuating circumstances or because they need to quarantine in order to protect others, may be transferred by non-EMS to a hotel that has been converted to a medical shelter."
— Alex Scoville
3:21 p.m. — Howling at the super pink moon in Denver
The howling began at 8 p.m. sharp, like every night. But Tuesday was different.
"This is the night to howl," a man said as he hoofed it up 11th Avenue toward Cheesman Park.
An enormous full moon rose over the horizon as dusk set in.
See more photos and read the full story on Denverite.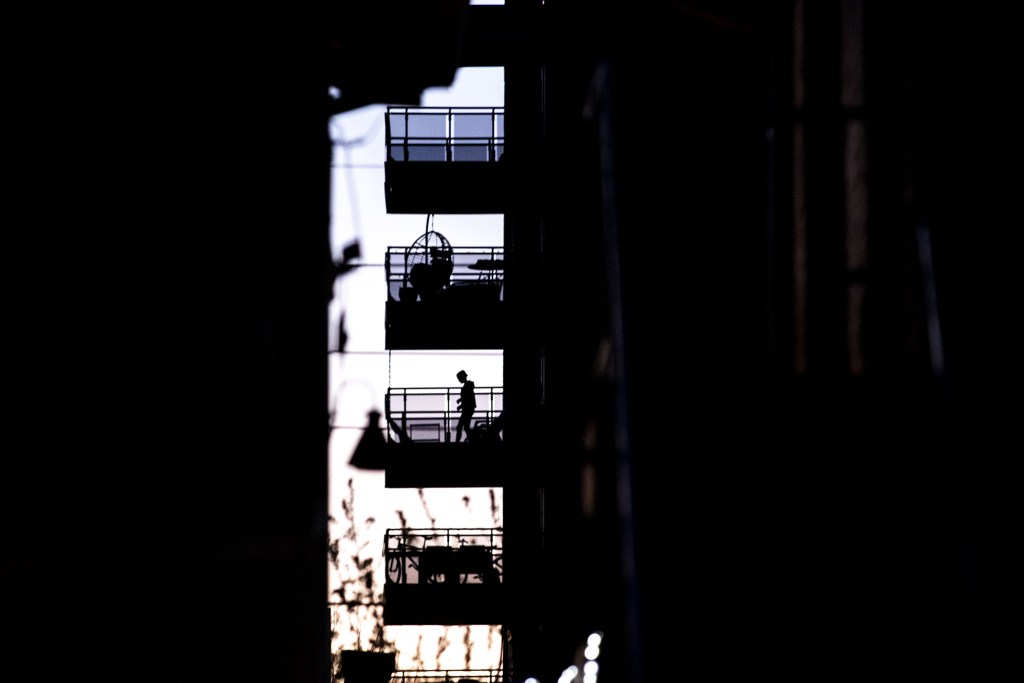 — Kevin J. Beaty
2:28 p.m. — More people under 40 are dying due to COVID-19 in Colorado
Colorado has now seen COVID-19-related deaths of two people under the age of 40, according to data provided by Gov. Jared Polis on Wednesday.
The state's numbers, however, don't include the death of a 21-year-old that was confirmed by Colorado Mesa University on the Western Slope. An email was sent to the student body about the death due to complications related to the virus. The Grand Junction Daily Sentinal reports that the student, Cody Lyster, was in pursuit of a criminal justice degree.
Lyster had tweeted about his struggles with the disease.
There have now been 190 deaths across the state and 1,154 hospitalized cases.
"There are more victims ahead of us than behind us," Polis said.
More on the governor's updates today here.
1:41 p.m. — Staying sober in the time of social distancing
Alone. In your head. During a stressful time.
A potentially dangerous mix for Coloradans who struggle with addiction — especially newly sober people, says Vic Vela, a CPR reporter and host of the recovery podcast Back From Broken. The latest episode features Vic's own recovery story, and it's riveting.
Vic joined Colorado Matters today (hey, we're a podcast, too!) to discuss sobriety in the face of COVID-19.
"Let's remember for me, and for a lot of people, isolation meant getting high. Isolation meant closing the blinds and doing cocaine all night by myself. And so now if you're in recovery, all of a sudden the world is shut down around you, right? And that can be a really scary place," he said. "It's just a lot of time to be in your head and that's the last place you want to be if you're an addict. And also, how do you deal with the unexpected when you're alone? What happens if you lose your job?"
With large in-person gatherings banned, recovery meetings have moved online. Meditation is another great option, Vela says. And picking up the phone — particularly if you lack the ability to connect online.
"Calling as many people as I possibly can every single day," Vela said. "Helping others helps my sobriety."
— Ryan Warner
12:30 p.m. — LIVE: Gov. Polis gives updates on Colorado's pandemic response
Gov. Jared Polis is scheduled to speak live from the governor's residence at 12:45 p.m. with updates on the state's response to the COVID-19 pandemic.
CPR News will broadcast the update live; click Listen Live above to access the stream, find other ways to listen, or watch live below.
— Colorado Public Radio Staff
12:15 p.m. — People filing for unemployment are having trouble getting their PINs
Colorado's unemployment insurance database failed to generate PINs for a number of applicants since mid-March, according to a report from the Colorado Springs Gazette.
The numbers, which are required for claimants to request benefits or check on their status, are generated by a separate database from the one which is generated by online applications.
"We do have a backlog of PINs to issue but have been working on that since last week," Colorado Department of Labor and Employment spokesperson Cher Haavind told CPR News. "We sent out a total of more than 15,000 PINs since Saturday and more than 20,000 were able to make payment requests on Sunday."
The PIN is supposed to be mailed to claimants within seven days according to the CDLE website, but when some applicants hadn't gotten theirs for two weeks or more they began to call. Applicants were able to get their PINs after calling, although CDLE told the Gazette that it was working on the problem already.
"We are addressing the backlog daily and should be caught up this week," Haavind said. "All payments will be made and no one will lose their benefits they are due. I am going to address this on tomorrow's press call as well."
The number of people applying for unemployment benefits has skyrocketed as the coronavirus pandemic has closed schools and businesses.
The difficulty of applying, and who's eligible, have been among other questions we're answering. The federal stimulus package also has both expanded eligibility and provided additional benefits for claimants.
— Daniel J. Schneider
11:50 a.m. — Denver Public Schools distributing lunches, laptops
With schools closed during the coronavirus pandemic, there were no students at Bruce Randolph School in Denver this morning. Nevertheless, cafeteria workers were busy making grab-and-go lunches to be delivered in area neighborhoods by bus drivers and laptops were being distributed to families to help kids learn at home.
DPS offers the weekday meal delivery service to neighborhood schools and other locations all over the district using yellow school buses that stop at each site for about a half hour. The breakfast and lunch program will be in place for the rest of the semester.
The computer pickup took place for K-12 students on a first-come, first-served basis at 12 DPS schools. Families needed only to present the student's name and ID number. The district says it plans to offer more computer distribution opportunities later in April.
— Hart Van Denburg
10:00 a.m. — Gov. Polis will speak today
The governor will provide an update on the state's coronavirus response from the Boettcher Mansion at 12:45 p.m. MDT today. CPR News will carry his remarks live. Find a signal near you or ask your smart speaker to "Play CPR News."
9:20 a.m. — So ... are we still on for this Zoom Passover Seder or what?
Passover — the Jewish holiday that retells the story of the Jewish peoples' journey out of Egypt and liberation from slavery — begins tonight.
But the thing is, Passover is an inherently social holiday. "I actually think of Passover as sort of the Jewish Thanksgiving," said Matt Cohen, president of Temple Micah in Denver.
Seder tables will certainly be looking a lot different this year. For one, most of them will probably be captured on Zoom. I'm looking forward to seeing how my Zoom Seder works out... it would be great if the rest of my family would just confirm the time already.
— Francie Swidler, Hayley Sanchez
8:17 a.m. — The girl who lent her name to Charlotte's Web and changed an industry has died
*updated April 9, 2020 @ 6:02 a.m.
Charlotte Figi suffered from Dravet syndrome, a debilitating genetic disease that left the little girl unable to walk, talk or eat. Her parents used CBD oil to treat her condition and dramatically reduce the seizures she suffered from.
The Figis' story has was well-known among parents of children with Dravet syndrome and other seizure disorders. Laws were changed, hearings held and opinions were shifted on early marijuana-based treatments for ailments. It also gave rise to Boulder-based Charlottes Web, a CBD company and an entire industry.
Her mother says she died after being hospitalized and treated as a likely coronavirus patient. Paige Figi said her daughter suffered a seizure Tuesday that resulted in cardiac arrest and respiratory failure. She tested negative for the coronavirus on her first hospital stay but was still treated as a likely COVID-19 case when she returned after the seizure because her whole family had been sick for a month with suspected coronavirus symptoms.
Charlotte Figi was 13.
Read more at The Colorado Sun.
— Jim Hill, Associated Press
7:59 a.m. — Despite the outbreak, there were elections yesterday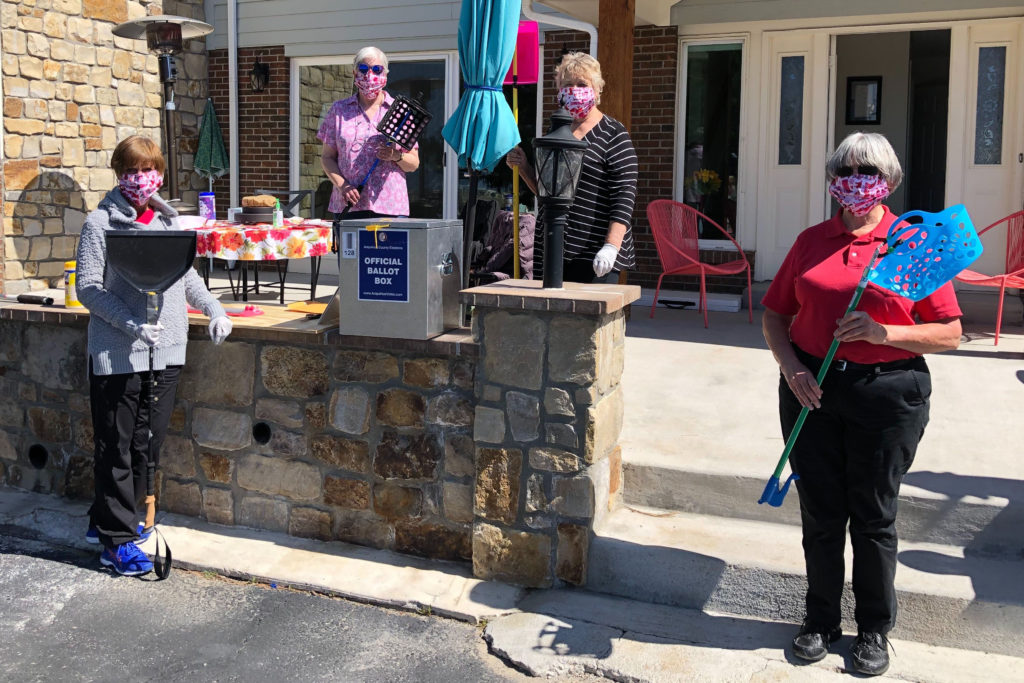 Ninety-nine towns and cities across Colorado held local elections yesterday and they had to improvise a bit to get it done.
The small town of Foxfield, in suburban Denver, usually polls at their fire station, but that's closed to the public right now. Instead, the town of 800 created a drive-through vote center in a resident's driveway.
"We created what we call reachers — baskets on polls that we hand the paperwork out to and they hand it back in, so we can maintain our social distancing," said town clerk Randi Gallivan.
She would have rather delayed the election, but that would have required a law change by the state legislature, which is also on a break because of the pandemic. Here's a quick round-up of some of the municipal elections across the state:
— Andrew Kenney, Andrew Villegas
Editor's Note: A previous version of this story misspelled Randi Gallivan's last name.
7:37 a.m. — Whoooooooooooooooooooa
Take a break. Press play. Watch approximately 375 times. Repeat.
7:25 a.m. — Colorado gets fed dollars for National Guard
President Donald Trump has approved Gov. Polis' request for additional funding to support the Colorado National Guard as it works across the state to help with the coronavirus response. 
Colorado's request was approved with a dozen other states, including Arizona and Montana. They join more than a dozen more that already have so-called Title 32 authority. It means the federal government will pick up the entire tab for the mobilization, but command and control of the guard will be with the state. 
More than 250 guard members in the state have mobilized since the public health crisis began. They've helped coordinate activities, shelter homeless people and assist with COVID-19 testing.
Most members of the Colorado delegation supported the move by Polis. Republican Sen. Cory Gardner led a delegation letter to Trump urging him to approve the request. Gardner is "pleased" by the decision."I will continue to work with my colleagues and the Governor to ensure Colorado is prepared to contain and combat this deadly virus," he said in a statement.
— Caitlyn Kim
6:48 a.m. — Denver to open a larger homeless shelter at the National Western Complex during the outbreak
The City and County of Denver will open a large, temporary homeless shelter and making about 300 hotel rooms available to homeless people who need to be isolated because of the coronavirus.
Mayor Michael Hancock said Tuesday the moves are essential to protecting the community. About 250 members of the National Guard are taking over staffing at the city's existing homeless shelters. Hancock said that will allow the city to open an additional shelter for 600 men at the National Western Complex, with about 50 square feet for every person staying there. It will also make it easier for people who stay at other shelters to practice social distancing.
— Associated Press
6:22 a.m. — Where cases stand as we wonder when we'll get back to normal
In yesterday's statewide broadcast town hall, Gov. Jared Polis took questions from Coloradans on the state's response to COVID-19. An Arvada resident asked how we might return to normal.
For Polis, to get back to stadiums full of people, there needs to be a cure or a vaccine.
"What's gonna happen first is an opening of everything of the economy, but we will still have to be very worried about those large gatherings, how we do them," he said. "People will see masks. We'll have to jump on any infection with mass testing, isolation."
Colorado currently has 5,429 known positive cases with 1,079 Coloradans hospitalized. There have been 179 deaths to date due to COVID-19.
Polis said people will go back to work, but it won't mean that bars and restaurants will open fully. Polis says the state is working on guidelines for how things will work, to avoid a second surge of COVID-19 cases.
— Michael Sakas
You care.
You want to know what is really going on these days, especially in Colorado. We can help you keep up.  The Lookout is a free, daily email newsletter with news and happenings from all over Colorado. Sign up here and we will see you in the morning!