Colorado Coronavirus Updates For April 16: Closures, Testing, Cases And More
This post collects all of our reporting and updates on the coronavirus in Colorado for Thursday, April 16, 2020. Friday's updates can be found here. Our original play-by-play of reporting continues below.
---
6:02 p.m. — If Colorado is going to reopen, testing is only a part of it. Tracking will be a challenge, too
CPR spoke with a half-dozen public health departments across the state about the current status of their contact tracing, testing and plans to ramp both up. Many of those contacted cited limited supplies and personnel, as well as budget constraints worsened by the COVID-19 crisis.
Tri-County Health, which serves Adams, Arapahoe and Douglas counties, already conducts contact tracing, but medical epidemiologist Bernadette Albanese said it's limited because of the large caseload. They've focused on educating household members who live with a COVID-19 patient, since "they're really kind of ground zero, so to speak, in terms of the amount of exposure."
They've had "very little" capacity to do contact tracing beyond that.
"That's hopefully what we can get back to in the next phase," she said. But they don't have what they need.
"Yet. That's what we're working on," she said.
Other Colorado public health departments conducting some form of contact tracing include Eagle, El Paso, Weld and San Miguel counties. Others aren't doing any contact tracing, including Denver, where 1,468 people have been diagnosed with the disease as of Wednesday's report and 61 people have died of the disease.
Local public health departments need more resources to be able to respond to cases quickly, like "strike teams," Albanese said. "To be able to say, 'We have a new case, let's draw an investigation around that."
— John Daley, Michael Elizabeth Sakas & Sam Brasch
5:21 p.m. — Thunderbirds will fly for health care workers
The U.S. Air Force Thunderbirds squadron will fly over a number of Colorado cities Saturday to show appreciation for the state's health care workers.
The fighter jets' itinerary will take them along the Front Range, from Pueblo to Greeley. The precision team did a similar flyover above its home city of Las Vegas last weekend.
The Thunderbirds are in Colorado as part of the Air Force Academy's commencement ceremony Saturday morning.
Vice President Mike Pence will also be there to address the cadets, who are graduating weeks ahead of schedule, in a ceremony closed to their family and friends.
— Megan Verlee
4:41 p.m. — Jury trials will be on pause through the summer
Jury trials in Colorado have been suspended through June 1.
Colorado Supreme Court Chief Justice Nathan Coats extended the suspension of jury trials on Thursday. The suspension started on March 16 and was set to expire on May 15.
The order applies to all 22 judicial districts and all 64 counties in the state.
— Alex Scoville
4:23 p.m. — Von Miller has tested positive for COVID-19
Denver Broncos linebacker Von Miller has tested positive for COVID-19, becoming one the nation's highest-profile athletes to contract the disease.
Miller's agent, Joby Branion, confirmed the news to the NFL Network's Ian Rapoport.
The linebaker was said to be resting at home, "in good spirits" and planning to speak about his illness tomorrow.
He was recently named to the NFL's all-decade team after being selected to eight pro bowls during the 2010s along with being named to the NFL's All-Pro first-team three times.
Miller, named the nation's top linebacker while at Texas A&M, was selected by the Broncos with the second pick in the 2011 draft.
— Chuck Murphy
4:15 p.m. — The latest coronavirus numbers
There are 8,675 confirmed cases in Colorado as of April 15, according to the latest information from state health officials.
That's an increase of 395 from the day prior.
Seventeen more people have reportedly died due to COVID-19, bringing the statewide total to 374.
1,693 cases have been hospitalized.
There are at least 93 outbreaks in long-term care facilities and other places, 10 more than previously reported.
Colorado has tested nearly 42,000 people.
— Alex Scoville
4 p.m. — Social distancing measures are ramping up in Colorado prisons
State prison officials will increase social distancing in Colorado's prisons by separating people based on living areas and reducing large group gatherings inside.
Corrections officials said Thursday they will also suspend religious services and make efforts to space seating out in the chow halls to make it easier for inmates to keep space between each other.
So far, eight staffers and three offenders in multiple facilities have tested positive for COVID-19.
Corrections officials are also requiring staff to wear masks and inmates are also getting face masks. They continue to allow offenders to recreate but are requiring the groups to be smaller, they said.
Officials said a couple of weeks ago it was halting most admissions into state prisons from county jails — which have had more coronavirus outbreaks so far. When jails get too crowded, offenders are coming in after a two-week quarantine at another facility.
— Allison Sherry
3:49 p.m. — Pitkin County is starting an antibody test trial
Pitkin County is launching a pilot program for antibody testing tomorrow, health officials announced Thursday.
The trial will take place with 16 people at the Aspen Village Fire Station and is not open to the public. The pre-selected participants have previously been tested for COVID-19 using other tests.
The program will measure how effective and efficient the antibody tests are. Depending on the results, health officials may select more Pitkin County residents to be tested.
— Alex Scoville
3:24 p.m. — The Great Sand Dunes will close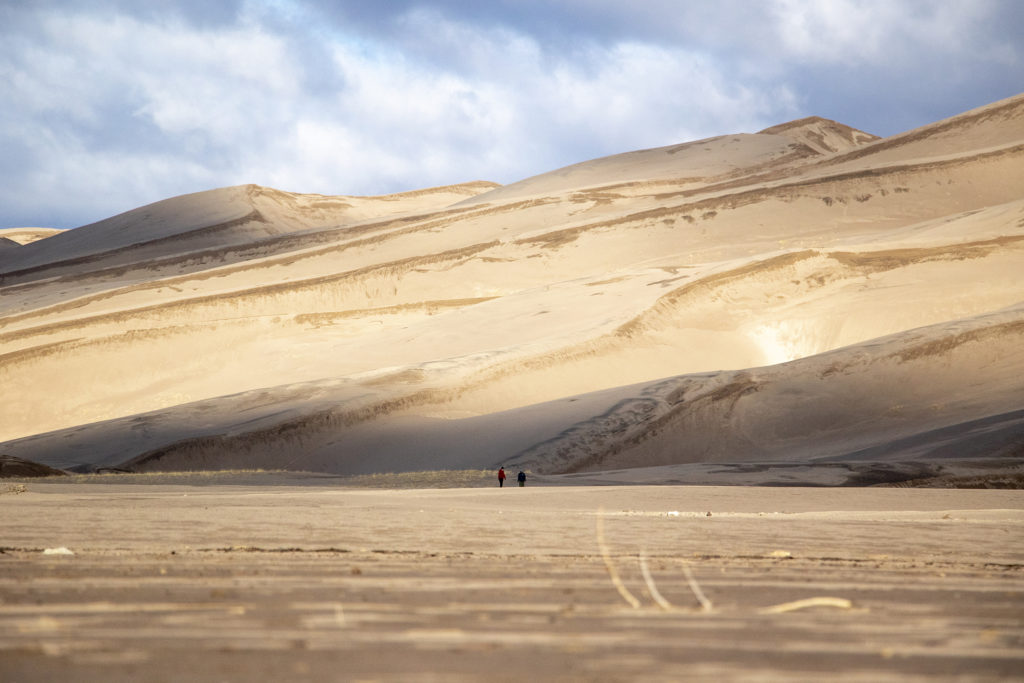 Another national park is closing its gates to help stop the spread of the new coronavirus.
The Great Sand Dunes National Park and Preserve announced Thursday that it will close to all visitors effective Friday, April 17, at midnight.
Park officials say the dunes were still seeing an increased number of visitors, including some from out of state, after stay-at-home orders in Colorado and other states went into effect.
"We have been monitoring conditions at the park and working closely with the local public health officials," park superintendent Pamela Rice said in a statement. "Due to increasing visitation, we can no longer mitigate the risk of exposure to the novel coronavirus and agree that it is in the public's best interest to close at this time."
— Alex Scoville
2:58 p.m. — Sen. Michael Bennet says the next stimulus package should help more than small businesses
Lawmakers must continue to combat the global health and economic crisis, even though Congress extended its recess to May 4.
What further assistance can people hope for from the federal government? That's what we asked Sen. Michael Bennet on Colorado Matters today.
He said he would support additional cash assistance for individuals.
"It's taking us so long to set up the unemployment system across the country because we've got 50 different unemployment systems with 50 different systems of software, many of which are 50 years old. So it's critical for us to be able to keep people on their feet until we get the unemployment stuff set up," Bennet said.
Republicans and Democrats in the Senate are at loggerheads over a GOP proposal for the next economic stimulus package. In general, Republicans want to pass a package with $250 billion for small businesses. Bennet, along with most Democrats, wants that package to also include additional money for state and local governments as well as hospitals. 
Bennet said he believes the Senate will reach an agreement on the next stimulus measure "sooner, much better than later."
Republicans say that assistance for small businesses must be the top priority because the Paycheck Protection Program could run out of funding for small business loans this week.
You can hear the full interview with Michael Bennet here.
— Avery Lill
1:04 p.m. — Like an emissions test ... for your nose
What will Colorado look like in a slowly-reopening post-COVID world? Think automobile emissions testing — with much cleaner garages.
Scott Bookman, incident commander for the state's public health response to the coronavirus, said Thursday that Colorado will need to have mass testing facilities available in all 64 counties, along with multiple centers in the most populous places.
"Our goal is to have a minimum of one testing site in each county," Bookman said during a press briefing. "We'll also need to have all of the equipment — that is, swabs, and viral transport media and personal protective equipment — to safely open these sites for everyone."
Gov. Jared Polis said Wednesday that he hopes to see data within a few days that gives him an indication of whether social distancing has done enough to drive down the infection and hospitalization rates to help him decide whether to start gradually re-opening the state's economy.
But Bookman said the state would not begin to get back to normal until there was also enough testing capacity in place to be able to identify hotspots where the virus was growing in the population in time to take action and shut an outbreak down before it grows.
Most of the nation is still straining under a shortage of test kit materials, like cotton swabs on long sticks, and personal protective equipment like masks and shields. With individual states and much of the world competing for supplies that will not likely be fully available until the summer, it's uncertain when Colorado's mass testing scheme could be implemented.
— Chuck Murphy
12:04 p.m. — Protests planned against Colorado's stay-at-home order
A group that believes the governor has gone too far in his actions to contain the spread of the coronavirus pandemic says it will protest at the Colorado state Capitol at 1 p.m. on Sunday.
Demonstration organizers are asking that participants remain in their cars and practice social distancing as they drive around the building. The group, "ReOpen Colorado," says COVID-19 is a public health "concern," but that "the stay-at-home order is strangling businesses, draining savings, and creating a series of unintended consequences that are worse than the virus."
Instead, the group wants to see what it calls "targeted" actions to contain the disease. Those include:
Quarantines for older people and those with health conditions that put them at risk.
Everyone to wear a mask when they leave their home.
Businesses and government offices that reopen to take the temperature of everyone that enters.
Increased efforts to test people for antibodies, to know who has already had the disease and might be immune in the future.
Organizer Steven Peck describes the list as "a starting point for a broader conversation," and notes that a government order requiring temperature taking and mandatory masks could face logistical and constitutional challenges.
"We don't need new state orders, mandates, or encroachments on Constitutional rights," Peck said. "Coloradans will do the right thing when they are equipped with balanced guidelines. We need to move away from blanket mandates to creative, naucanced solutions that match the threat."
On Saturday, a different group will host a "Rally to ReOpen Colorado — Cruisin' Style" at noon on North Avenue in Grand Junction. The main organizer, JJ Fletcher, is a candidate for Mesa County Commissioner. His opponent, incumbent Rose Pugliese, recently tweeted that, based the low number of hospitalizations in Mesa County and the lack of deaths so far, "it's time for our community to think about how we balance public health and re-opening businesses."
— Megan Verlee
11:11 a.m. — What Colorado's new normal might look like in a best-case coronavirus scenario
Four weeks into a stay-home order, Coloradans have begun to wonder when they might get to go out again — and what the world will look like when they do. 
While public health experts say there is much that is still unknown, here's one possible future, what they say is a best-case scenario: The state has widespread testing, ideally both testing for COVID-19 via a swab and blood testing. An army of public health workers or temporary volunteers identify the sick, of which there could be many more, experts warn, and track down everyone they've come in contact with, a process called contact tracing. Those people could then be isolated. Or maybe the state deploys an app that tracks who has been near whom or a form to fill out. 
Some businesses, and maybe schools, are open again, but only if people are still kept 6 feet apart and everything is regularly disinfected. Until the virus is totally controlled, high-risk people are isolated or monitored and the state is focused on stable supply chains.
And eventually, there are proven treatments and a vaccine. The virus is brought under control.
CPR News spoke with a number of people with a deep understanding of the key factors that would go into decisions about Phase 2 of dealing with the pandemic after the state exits what Gov. Jared Polis has referred to as the "urgent" stage. They paint a picture of uncertainty, tradeoffs and the need for massive scaling of a health system that has so far struggled to keep up with the pandemic.
— John Daley, Michael Elizabeth Sakas and Sam Brasch
10:57 a.m. — Does it feel like day 9,002,485 of the stay-at-home order to you?
Indie 102.3 music director and host Alisha Sweeney has a poll for Coloradans feeling the stress of being stuck indoors for who-knows-show-many days.
10:49 a.m. — Older folks are sharing their senior pictures in solidarity — including Gov. Polis
A wave of old senior pictures has been crashing ashore on the beaches of social media around America. Older generations have been sharing their (now potentially embarrassing) old senior pictures in support of current high school seniors who've been robbed of the pomp and circumstance of graduation by the coronavirus pandemic.
This morning, Gov. Jared Polis tossed his in the ring — Clinton campaign buttons and all:
— Daniel J. Schneider
10:21 a.m. — Amazon hires 3,600 Coloradans — and wants 1,000 more
Amazon has hired more than 3,600 new employees in Colorado in the last four weeks, and already has plans to add another 1,000.
On March 16, Amazon pledged to hire 100,000 people nationwide. Th company announced this week that it had met that goal. Those hired in Colorado so far are included in that number.
As the coronavirus pandemic has kept more Americans at home and out of stores, online retailers — including Amazon — have seen greatly increased demand.
This demand, according to a press release, means Amazon needs to hire another 75,000 workers, including the 1,000 the company is seeking in Colorado.
— Daniel J. Schneider
9:49 a.m. — What happens to a co-op in a food desert during a pandemic?
Denver's Westwood neighborhood is first in the city in a lot of things. It has the largest concentration of renters in Denver, the largest population of children and has a relatively high rate of COVID-19 infections.
Food insecurity is a problem for this neighborhood and the Westwood Food Cooperative fills an important need. But for now, the campus is mostly closed.
By mid-March, Westwood — a working-class, heavily Mexican neighborhood — was poised to face very different food access problems.
On March 20, Westwood closed its doors and hung up a sign in a window explaining the decision.
Read the rest of Ann Marie Awad's look at how the co-op is shifting gears in the COVID-19 era on Denverite.com.
8:51 a.m. — 2 inmates in Sterling test positive
Two inmates at a state prison in northeast Colorado have tested positive for COVID-19. Officials say they are now in quarantine and receiving medical care.
The state's Department of Corrections is working with the Sterling Correctional Facility to identify staffers and inmates who had contact with the patients. Those staffers will be put on leave and any identified inmates will be quarantined and screened twice a day for symptoms. The facility also plans to distribute cloth masks to inmates.
— Corey H. Jones
7:56 a.m. — Reminder, RTD service cuts start this weekend
The pandemic has squeezed RTD and in late March the board approved a change in service levels. The new full-time weekend-level service kicks in on Sunday, April 19.
Check your preferred bus or train schedule here.
— Jim Hill
7:37 a.m. — Coronavirus-related meatpacking deaths rise
The number of deaths from COVID-19 among Colorado meatpacking plant workers has climbed to five. The state health department says four JBS employees in Greeley and one Cargill employee in Fort Morgan have died.
Over 100 JBS workers have now tested positive for the new coronavirus, according to the Colorado Department of Public Health and Environment. The plant is in the middle of a two-week closure ordered by state and local health officials. At least 15 Cargill workers have also tested positive.
CDPHE began releasing data on the outbreaks in factories, prisons, rehab centers and nursing homes Wednesday.
— Natalia Navarro
7:17 a.m. — Aurora furloughs temp & seasonal employees
The city of Aurora says it will furlough more than 550 temporary and seasonal employees to help it recover financially from the COVID-19 pandemic.
Officials say they've made the move because they expect a tax shortfall of up to $25 million dollars this year, about 6 percent of the city's budget. The furloughs will begin on April 25 and officials have set no date to end them.
Aurora employs nearly 4,000 people.
— Andrew Villegas
7:04 a.m. — Colorado jobless claims jump, part of 5.2M nationally who sought unemployment
The wave of layoffs that has engulfed the U.S. economy since the coronavirus struck caused 5.2 million more people to seek unemployment benefits last week.
Roughly 22 million have sought jobless benefits in the past month — easily the worst stretch of U.S. job losses on record.
All told, roughly nearly 12 million people are now receiving unemployment checks, roughly matching the peak reached in January 2010, shortly after the Great Recession officially ended.
Applications for assistance in Colorado jumped from the previous week and leaped past the previous high. The number of claims submitted for the week that ended on April 11 was 105,073 — a 126.8 percent increase from the last week.
At the start of the pandemic, the second week of claims peaked at 61,838 before what has been found to be a temporary drop in the claims.
— Associated Press, Jim Hill
6:37 a.m. — Where testing and cases stand today
Testing is a key element of COVID-19 response. Yet, it has lagged badly behind demand. Now it may be on the verge of a state ramp up.
Dr. Michael Wilson, who directs lab services at Denver Health Medical Center, one of the state's key COVID-19 test labs, said he was on call last week with the White House coronavirus response coordinator and other lab directors around the country. The message was more testing capacity is in the works.
"We need to essentially double what we're doing now."
Colorado has tested 40,533 people so far, just a sliver of the state's population. There have been 8,280 known positive cases across 56 of the state's counties. Health officials and the governor have warned there are possibly thousands more who are positive.
There have been 357 deaths.
Wilson said manufacturers are scaling as quickly as they can. More testing supplies, like kits and swabs, and more rapid tests are in the pipeline. Those should be available in the next few weeks.
— John Daley, Jim Hill
You care.
You want to know what is really going on these days, especially in Colorado. We can help you keep up.  The Lookout is a free, daily email newsletter with news and happenings from all over Colorado. Sign up here and we will see you in the morning!