Colorado Coronavirus Updates For April 21: Closures, Testing, Cases And More
This post collects all of our reporting and updates on the coronavirus in Colorado for Tuesday, April 21, 2020. You can find the latest on Wednesday, here. Our original play-by-play of reporting continues below.
---
6:23 p.m. — As stay-at-home orders start to wind down, assisted living facilities prepare more precautionary measures
Colorado will require all nursing homes and assisted living facilities to submit plans by May 1 on how they'll keep residents safe.
More than 100 centers in the state have reported outbreaks, and many of the state's death are linked to facilities for caring for older Coloradans. In total, 372 Coloradans over 70, not all in long-term care facilities, have died of COVID-19.
Facilities are already required to limit visitors and staff and residents have to wear masks while in public. Staff must wear masks even while in the facility.
The state offers a template for the plans, available at covid19.colorado.gov/ltcf.
5:57 p.m. — This is where coronavirus cases are in Colorado
5:51 p.m. — Most of the children without internet access are Hispanic and have a parent who is an essential worker
Two-thirds of Colorado children without internet access at home are Hispanic, and the majority have at least one parent who is an essential worker, according to a new report from an economic think tank at Colorado State University.
Essential industries include the 12 critical businesses as defined in Gov.  Jared Polis' COVID-19 order, such as construction, sanitation, child care and safety workers.
"At least one of the parents is having to juggle working during this very difficult time with also having a young child who is at home trying to distance learn in an environment where there is not internet access in the house," says economist Phyllis Resnick, executive director of the Colorado Futures Center.
The report analyzed the characteristics of the 54,000 school-age children in Colorado living in households reporting no internet access — that's 1 child of 20. Students without internet service are at risk of returning to school next year having had little or no formal access to schooling for six months.
"That gap is likely to open up a lot wider if we don't rally around these children and provide them the support they need," Resnick said.
The report found more than half of children without internet access live in households earning less than $50,000, with a quarter in households earning less than $25,000. One in four are headed by a single parent. The children live in all regions of the state but are in higher numbers in southwest Colorado and in the metro Denver region. The majority are elementary school students.
The researchers posed questions in the report such as whether state officials and philanthropists can work quickly to develop programs that use the summer months to provide education support to vulnerable children. In addition, they ask if schooling can be provided to children of essential workers who may be receiving child care from the state.
— Jenny Brundin
5:25 p.m. — FEMA is building a testing site in Pueblo
A FEMA-sponsored testing site will open Wednesday, April 22, at the Colorado State Fairgrounds in Pueblo.
The drive-through test site will operate from 9 a.m. - 3 p.m. on Tuesdays, Wednesday and Thursdays through the end of May. The site will provide up to 250 tests each day to health care workers, first responders, individuals who are over 65 years and the workforce of critical businesses.
Those getting tested need only to bring picture and organization IDs, if possible. The tests come at no cost and will be done regardless of insurance status.
This is the second FEMA-sponsored test site in Colorado after one in El Paso County at UCHealth Radiology Printers Park in Colorado Springs. That site also focuses on health care workers, first responders and individuals over the age of 65.
More details about the Pueblo test site are available here.
— Alex Scoville
5:06 p.m. — STEM School donates sterilization cabinets for PPE to first responders
STEM School Highlands Ranch has donated two UV sterilization cabinets to the South Metro Fire District.
These UV cabinets are used to help sterilize personal protective equipment like goggles and safety glasses for reuse.
"With our school being closed, it only made sense to find a use for these cabinets," science teacher Neely Clapp said in a statement. "We're in a unique position to help with a much-needed resource and we are so happy to be able to help those who helped us when we really needed it."
Clapp and another teacher, engineering instructor Mike Shallenberger, are working together to look for more PPE at the school to donate.
South Metro Fire District first responders were on the scene of the STEM School Highlands Ranch shooting in 2019.
— Alex Scoville
4:14 p.m. — The latest coronavirus numbers
There are 10,447 confirmed cases of COVID-19 in Colorado as of Monday, April 20, according to the latest data from state health officials.
That marks 341 new cases since the last data release.
The state now has a total of 486 deaths after 37 more people died due to the disease.
2,003 cases have been hospitalized.
Six new outbreaks in factories, long-term care facilities and other places have been reported, bringing the statewide total to 119.
Colorado has tested nearly 49,000 people.
— Alex Scoville
3:53 p.m. — The latest coronavirus relief package just passed the Senate
The Senate passed a $484 billion interim relief package by a voice vote Tuesday afternoon. 
The bill replenishes the Paycheck Protection Program with $320 billion. The popular program, which aims to keep workers on the payroll, ran out of money last week, going through $349 billion in 13 days.
It was the center of negotiations between Republicans and Democrats. Republicans only wanted to replenish PPP while Democrats sought funding for hospitals, state and local governments, and testing.
The compromise included $75 million for hospitals, $25 billion for testing and $10 billion for the SBA's Economic Injury Disaster Loan (EIDL) program.
Additional funding for state and local governments is expected to be part of the next coronavirus relief package.
The interim measure now heads to the House. Unlike the Senate, where it passed with a handful of senators yelling "aye," all members who are able to travel back to Washington, D.C. are expected to be on hand Thursday for a possible recorded vote.
— Caitlyn Kim
2:20 p.m. — Major cuts are coming to the Olympics and Paralympics
The Associated Press has learned the U.S. Olympic and Paralympic Committee is bracing for cuts of 10 percent to 20 percent because of the coronavirus pandemic that has pushed the Olympics back one year and triggered losses across the nation's sports organizations.
The AP received a copy of a letter CEO Sarah Hirshland sent to leaders across the U.S. Olympic world in which she said the exact nature of the cuts would be determined by the end of May.
She says rather than doing across-the-board reductions, the USOPC will try to target the cuts to spare what she called mission-critical programs.
Hirshland has already taken a 20 percent pay cut, with other members of the executive team taking 10 percent reductions through the end of the year.
— Associated Press
11:52 a.m. — More than 10,000 have signed up for health coverage during special enrollment
More than 10,000 people have so far signed up for health coverage through the state's health exchange, Connect for Health Colorado, since the beginning of the emergency special enrollment period.
The special enrollment period, which began on March 20, originally was set to end on April 3. Now extended through April 30 in response to the ongoing COVID-19 pandemic, the exchange allows Coloradans to secure coverage that begins on May 1.
"We created this enrollment opportunity to relieve some stress for thousands of families who are trying to figure out their health coverage needs during this time," Connect for Health Colorado Chief Executive Officer Kevin Patterson said in a release. "I encourage residents who are uninsured to sign up before the April 30 deadline."
Coloradans who have a change in employment, income of living situation can contact the health exchange to explore health coverage and financial help options. The exchange only sells insurance plans with the mandated package of benefits, known as Qualified Health Plans.
Coloradans can look for coverage at connectforhealthco.com.
— Daniel J. Schneider
9:56 a.m. — Testing, economy are factors in Denver's plan to reopen
Denver's stay-at-home order is still set to expire on April 30. The city says the need for more testing capacity remains part of what they need to open back up.
Denver is short on tests, just like the rest of the country.
Mayor Michael Hancock plans to announce an extension to the order later this week that currently bans large gatherings and dine-in services at restaurants through May 11. City officials are working with other metro area municipalities to determine what a phased re-opening will look like.
— Corey H. Jones
9:30 a.m. — Mesa County has a plan to reopen
The Mesa County Board of Commissioners sent Gov. Polis a letter and a draft plan for re-opening its businesses during the coronavirus pandemic. County Commissioner Rose Pugliese said the proposal has several stages and it still requires many safety measures, like social distancing and the encouragement of work telecommuting.
"This isn't a full-out, 'we're going back to where we were before.' But kind of easing into some restrictions, but still allowing businesses to operate," she said.
For her, it's in the best interest of the community to get people back to work.
"We're seeing increased homelessness, realtors can't do their job," she said. "People are — their leases are up, and they have no place to go. We don't want to see that for families."
If approved, the plan's first phase will start after the statewide stay-at-home order expires Sunday, Pugliese said. Mesa County has reported 35 confirmed cases of COVID-19, but no deaths.
— Stina Sieg
8:59 a.m. — Some gig workers see more delays with unemployment help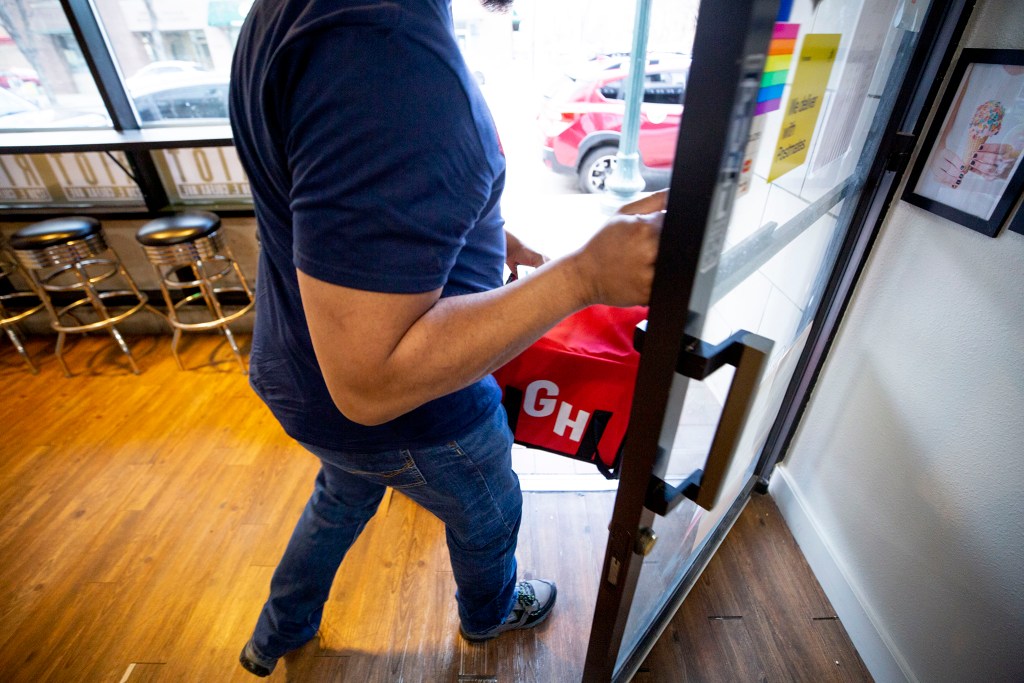 After the state opened up its unemployment program yesterday to independent contractors, gig workers and the self-employed some of those first-time applicants have seen further delays.
Carly Sargent-Knudson was able to file a claim easily but said their spouse Ky was one of many workers who got vague rejection messages. Knudson said the confusion is frustrating.
"It's also scary. We have a baby, we have a 10-month-old baby and our primary lines of income are stopped for the foreseeable future."
The state labor department said the system will soon offer more specifics online at ColoradoUI.gov. Applicants who qualify for unemployment should receive notice and payment within a week of filing.
— Andrew Kenney
8:00 a.m. — The Denver Coliseum now hosts a 24-hour shelter for women experiencing homelessness
The City of Denver opened a 300-bed women's auxiliary shelter on Monday to provide services during the outbreak. Anyone seeking shelter there will be screened for coronavirus symptoms before entering. Once inside they'll have access to cots, portable showers, medical triage and other amenities.
A similar facility has sheltered at least 600 men every night since opening April 9 in the nearby National Western Complex in Elyria-Swansea. Staffing issues had delayed opening the women's site.
— Donna Bryson, Hart Van Denburg
7:43 a.m. — That's it for the school year
K-12 schools, colleges and universities in Colorado will stay closed to in-person classes through the end of the school year. Gov. Jared Polis made the announcement Monday. He said schools will remain closed even though a stay-at-home order statewide will likely be lifted.
New modeling data shows the state will probably not need to extend that order that is set to end on Sunday, Polis said, but vulnerable populations and seniors must also continue staying home except when absolutely necessary.
— Natalia Navarro
7:30 a.m. — Shameless and adorable plug to sign-up for The Lookout
You can sign up for our *free* daily newsletter and mainline the news straight to your email inbox. There's a form above or you can sign up here.
7:05 a.m. — Businesses ready to get back to business
Many Colorado companies feel prepared to re-open slowly once the statewide stay-at-home order ends.
Business leaders say they're ready to loosen the strictest requirements enacted last month to control the spread of COVID-19. They'll still have to adhere to some social distancing rules. Jay Seaton, the publisher of The Daily Sentinel in Grand Junction, said his newspaper's ad sales are down more than 60 percent.
"You know I think that everyone can agree that we've got to find a path out of this. Staying under these restrictions is intolerable."
Seaton said it's possible for many businesses to re-open and still keep the public safe. Gov. Polis will start to lift the stay-at-home order in phases on Monday. And he hopes bars, restaurants and clubs can re-open in some capacity around mid-May.
— Sarah Mulholland
6:38 a.m. — States work to keep meat plants open despite outbreaks
Midwestern governors are working to keep large meatpacking plants operating despite coronavirus outbreaks that have sickened hundreds of workers and threaten to disrupt the nation's supply of pork and beef.
In Kansas, Gov. Laura Kelly has sent personal protective equipment and testing supplies to counties with meat processing plants. Gov. Kristi Noem said she doesn't think it will be difficult to fulfill federal requirements to reopen a shuttered facility in South Dakota. And Iowa Gov. Kim Reynolds has warned of the dire cost of closing plants, even while acknowledging the certainty of more infection clusters at the facilities. 
In Colorado, JBS' Greeley meatpacking plant plans to reopen on Friday after it was closed by state and local health officials due to a COVID-19 outbreak at the facility. Weld County has agreed with federal officials and the company to open the plant back up after JBS made changes to screen employees and to limit the spread of the coronavirus inside.
Nearly 200 employees or their dependents had — or were suspected to have — COVID-19. Four employees died.
— Andrew Villegas, Associated Press
6:12 a.m. — Colorado to slowly reopen
Gov. Jared Polis will let the statewide stay-at-home order expire Sunday and allow a gradual reopening of businesses that were shut down to combat the spread of the coronavirus.
Polis said Monday non-elective hospital procedures and other suspended activity can start to resume as long as residents abide by strict social distancing and other protective measures.
By May 1, stores that take health precautions will be allowed to open their doors to customers. During the next phase, companies will be asked to have no more than half of their employees in the office at one time.
Colorado has seen 10,106 known positive cases of the novel coronavirus, but health officials suspect the number of people that have been infected to be much higher. There have been 449 deaths during the pandemic.
The governor credited widespread compliance with social distancing and shelter-in-place orders for an apparent leveling off of coronavirus hospitalizations. He urged residents who can work at home to keep doing so, to stay at home as much as possible, avoid large gatherings and wear masks and other protective gear.
— Megan Verlee, Jim Hill, Associated Press
You care.
You want to know what is really going on these days, especially in Colorado. We can help you keep up.  The Lookout is a free, daily email newsletter with news and happenings from all over Colorado. Sign up here and we will see you in the morning!