Pikes Peak Is Getting A New Visitor Center … 14,000 Feet Up
If all goes well, Pikes Peak will have a new visitor center atop its summit at the beginning of next year.
A new Summit House Visitor Center at the top of Pikes Peak is scheduled for a spring 2021 opening. The city of Colorado Springs is claiming the structure will be the most sustainable high-altitude structure in the country, if not the world.
On Monday, a pronounced layer of hoar frost covered the ground and temperatures at the peak hovered around the single digits as Colorado Springs Mayor John Suthers toured the site with a group of reporters. 
"This is one of the projects you'll look back and tell your grandkids about," construction superintendent Robert Clough told the Mayor.
Crews broke ground at the site in June 2018. The new center is a long time coming: It has been seriously talked about and planned since 2015. The old visitor center had stood since 1963.
Delays — partially because of high snowfall at the site — have pushed the opening of the new center from an expected fall 2020 opening to early next year.
In April, because of the COVID-19 outbreak, construction continued at the site, but slowed because of new safety guidelines that were put in place. 
The old visitor center hosted 750,000 visitors annually.
The $66 million, 38,000-square-foot building is replacing the mountain's old visitor center, in place since 1963.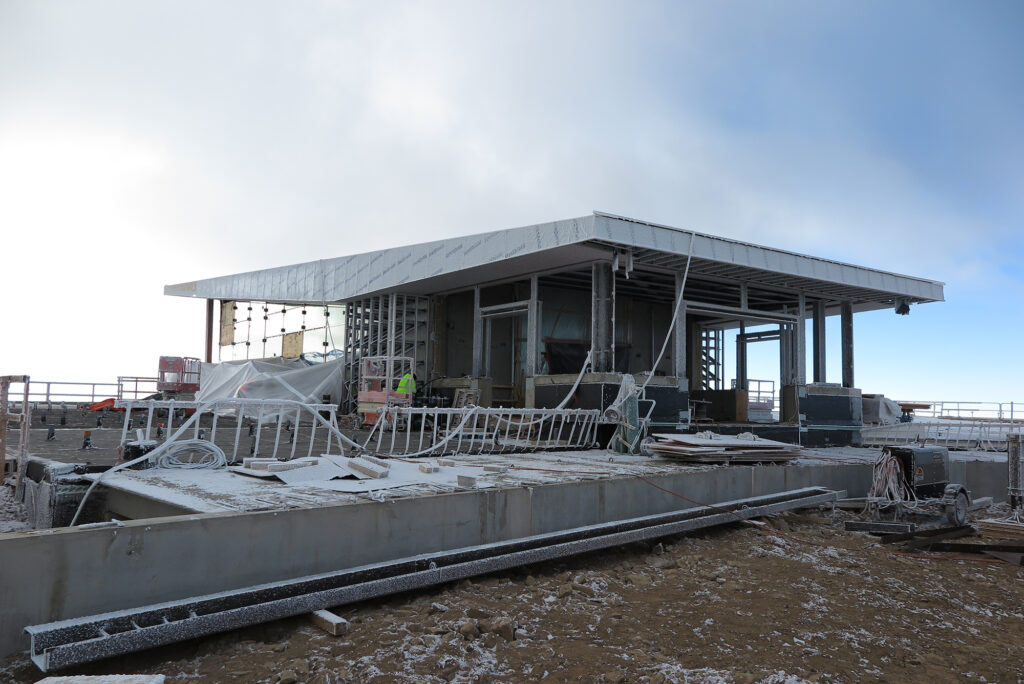 The city expects it to receive at least a LEED silver rating and to pass another international benchmark known as the Living Building Challenge, the only high-altitude structure to do so. 
In order to meet the criteria of those designations, crews are using sustainable building materials and constructing elevated walkways to allow for the recovery of the site's tundra ecosystem. The center will also boast its own wastewater treatment plant, with processed waste to be transported to composting facilities in nearby communities.
Suthers said no taxpayer dollars are being used for the project. The majority of funding is coming from toll fees charged to use the Pikes Peak Highway, with the remainder coming from private donors.
Suthers admitted Monday that private donations are still about $2 million short of the city's goal.
You care.
You want to know what is really going on these days, especially in Colorado. We can help you keep up.  The Lookout is a free, daily email newsletter with news and happenings from all over Colorado. Sign up here and we will see you in the morning!