Not every Colorado family teaches their children about Santa. For some, the holiday is a chance for something different
Editor's note: This story is about how some families celebrate Christmas differently than others and is not for some young readers. 
Rhema and Matt Zlaten's Palisade home is warm and festive, with a big Christmas tree in their living room and a little one solely dedicated to "Star Wars." The family of five has their stockings hung up, waiting to be filled, and parents and kids alike each have their own advent calendar. 
There's just one big thing missing from this welcoming scene.
Santa. 
The Zlatens decided to not welcome Santa into their home. And anyway, what's the heart of the holiday, according to their 8-year-old, Elleanna? 
"Being together with family and celebrating baby Jesus," she said, smiling.
Santa does not make the cut. 
"It's definitely been something that we embrace in play and imagination," her mom, Rhema, explained. "You know, I'll hear my kids playing Santa Claus, playing reindeer."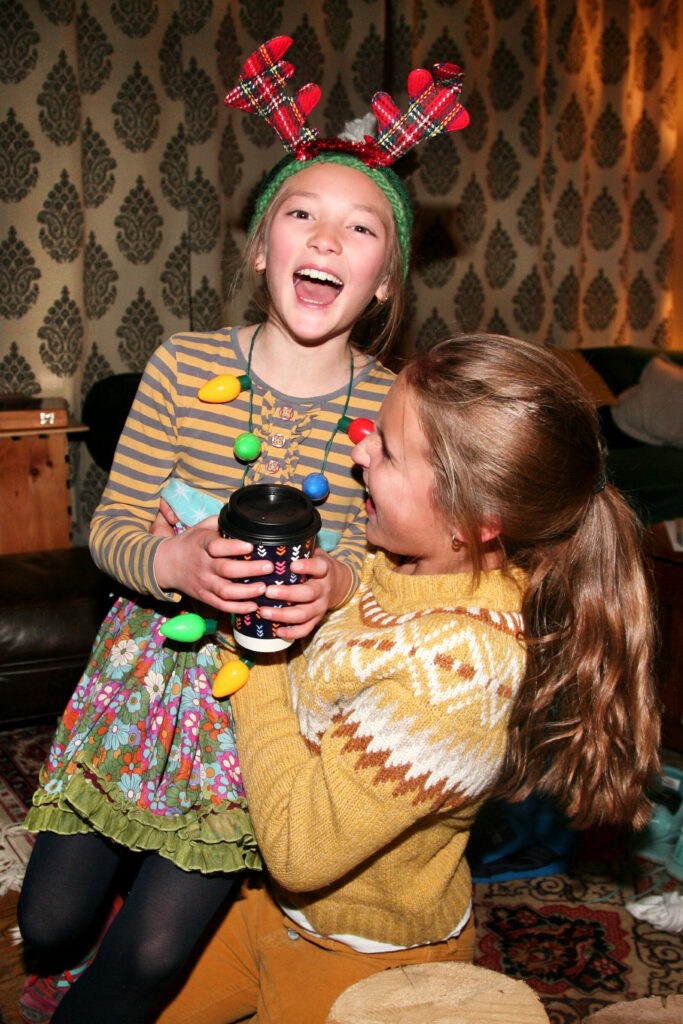 But when the youngsters open their gifts on Christmas morning, they know the presents came from mom and dad, extended family and friends. This just feels natural to their parents. Neither was raised with Santa, either. 
"I don't feel like I missed out," Matt said. "It wasn't like we were afraid of Santa or he was banned." 
The couple say they do know some Christian families where Santa very much is banned, however. Some even consider Santa to be evil. Instead, Matt was just raised by a mom who had a very specific vision for what honesty looked like. So did Rhema's mom, Paula Muncy. Her insistence on raising her daughter without Santa stemmed from her own Santa awakening when she was about 6 years old. 
"It took me forever to get over it," Paula said. "And I thought later, 'Maybe that's not the best thing to do.'" 
So growing up, her daughter always knew where her presents came from. And the approach seems to be gaining traction with a certain type of parent, often Christian. 
For Allison Reschke, who lives in Grand Junction, going Santa-less is part of a larger approach to raising her four children. 
"There's so many things in life that you don't have to do it just because that's how most people do it," she said. "So Santa is like one little way that that happens to show up for us."
Alison has made a lot of decisions some parents wouldn't, like homeschooling her four kids (she was speaking over Zoom from their "classroom" in her house). However, she does let them watch movies featuring Santa, and doesn't mind that he's omnipresent this time of year. For her, Santa — like so many things — can be a spectrum.
"And you can decide where you fall on it and how you wanna do it," she said. "So I think that's super cool." 
For some parents, it's also a real comfort. Lafe and Lauren Wood, of Palisade, have raised their five kids without Santa, and as their youngest daughter has grown, they've come to realize she doesn't really do nuance. At 8, she sees things as black or white, true or not true. Abstract concepts can be tough — even painful.
"I feel like for Anna, just shooting really straight has been important," said Lafe, recounting a time when a teacher told his daughter that fairies lived in the walls of her classroom. When Anna asked her parents if it was true, she couldn't get over that a teacher would lie to her. 
While the couple initially chose not to do the Santa myth as a way to keep the holiday focused on giving and Jesus, Lauren describes it as an "unintentional gift" for their daughter. 
It helps Anna that "we're not weaving stories for the sake of a story," Lauren said, "but we can have fun and have great Christmas traditions, while being honest with her."
And they're always open to new traditions. A few years ago, they started giving and receiving books and eating chocolate on Christmas Eve, as people do in Iceland. They've also started caroling with friends — some whose children believe in Santa, some who don't. 
In keeping with the season, all are welcome.
You care.
You want to know what is really going on these days, especially in Colorado. We can help you keep up.  The Lookout is a free, daily email newsletter with news and happenings from all over Colorado. Sign up here and we will see you in the morning!