Crime, COVID aid and cost of living: What Colorado lawmakers will focus on in the 2022 legislative session
Colorado lawmakers return to the state capitol Wednesday for the start of the annual four-month legislative session. Members of both parties say they want to address the same issues, but see very different solutions and will be working under unusual political pressures.
In a press conference laying out Democrats' agenda for the session, Gov. Jared Polis said they are laser-focused on improving public safety, making housing more affordable and saving people money.
"Though we're seeing our economy grow stronger, many Coloradans are hurting and need help with costs going up faster than their income," said Polis, announcing that Democrats — who hold the majority in both chambers — will introduce legislation to cut state fees, reduce health care costs and try to make child care and education more affordable.
Republican lawmakers have outlined similar priorities for their own agenda. But while both political parties appear to agree on the major concerns facing the state, they're already pointing fingers about who came up with various proposals first. And Republicans argue that Democrats have exacerbated some of the problems they're now pledging to solve.
"Coloradans are at a breaking point with how they live their lives," House Minority Leader Hugh McKean told CPR's Colorado Matters. "What we can do is try to get government out of the places it inserted itself in the last couple of years." 
Lawmakers will be doing their work in the shadow of the upcoming election. That means the session could be even more theatrical — and less substantive — than usual, as lawmakers try to avoid, or in some cases court, controversy ahead of November. All 65 House seats are up for election, as well as half of the state Senate. Polis and the rest of Colorado's statewide officeholders are also on the ballot. 
Adding to the normal election year tensions, Colorado just completed its once-in-a-decade redistricting process, which drew new political lines for every state legislative district. The result is that some safe seats have become competitive, and many lawmakers are shuffling districts, leaving office early or seeking higher office. 
"It'll be interesting to see how the dynamic changes the state legislature; that always has a huge impact on what legislation is brought forward and how they vote," said Jesse Mallory, a senior advisor to the conservative group AFP Action. He previously served as the chief of staff to the Senate President when Republicans held the majority. 
A half dozen members of the legislature have announced they're running for Congress — with more likely to join them. That too is likely to affect the dynamics of the session, as their attention is turned toward fundraising and campaign events.
"Even though the races are federal, the impact will be local in the policies, it's definitely going to have an impact at the state Capitol," Mallory said. 
This also marks the third year lawmakers have had to do their work under the challenges of the pandemic. 
Some of the COVID safety protocols instituted at the Capitol last year will still be in place. Masks are required in committee rooms and for staff and media on the chamber floors, but not enforced for lawmakers. If they choose, lawmakers and staff will be provided two COVID tests per week.
Legislators will also be able to work remotely as needed.
"We have full confidence in members of the legislature to be responsible role models, take the precautions that are necessary to protect themselves, their constituents (and) those who work here at the capitol," Polis said. 
---
Four things to pay attention to this session
Lawmakers have a lot of money to spend (and a few caveats)
The pandemic has been a three-year roller-coaster ride for Colorado's budget. When it first hit, lawmakers struggled to make extreme cuts as a little-understood virus shut down huge portions of the economy.
"That first budget process (in 2020) was crisis mode, and we were very focused on protecting. We were in a defensive posture," said state Rep. Julie McCluskie, the new Democratic chair of the Joint Budget Committee.
Nearly two years later, it's a much different situation. 
The state has about $3.6 billion in federal COVID relief money to spend this year. But those funds come with caveats. The federal money is mostly "one time" — so if lawmakers use it to start ongoing programs, those may quickly become the responsibility of Colorado taxpayers. Instead, lawmakers say they hope to put most of the funding toward kickstarting "transformative change" in a few areas.
The state is also collecting a lot more money from its usual sources, such as property and income taxes, due to the hot economy. That adds up to about $3.2 billion of "new" money in the regular state budget that lawmakers could spend. The governor has proposed his own ideas for how to spend that money, including more funding for education and new public safety programs, as well as putting some aside as insurance against future downturns.
But there are caveats: factors like inflation will eat up some of the state's money, and the Taxpayer's Bill of Rights will likely limit revenues over the next few years while sending billions back to Coloradans.
"It's a bit of a dance, the budget-making process — as you learn more and understand the revenues and expenditures side of the equation, you've also got to understand needs and priorities," McCluskie said.
For now, Democratic leaders are asking their members to watch the bottom line.
"If you have a new idea, can we implement that in a way that is already a part of the program we have instead of developing a whole new program?" said House Majority Leader Daneya Esgar.
What's going to happen to the state's economy, and people's pocketbooks?
Meanwhile, the economy is recovering in unpredictable ways. Employees are winning higher wages and better jobs. Companies are struggling to hire for low-wage positions. Inflation is affecting everyone, and will likely prompt federal actions that could trickle down to Colorado.
To help, Democrats say they plan to lower certain fees and taxes for businesses. Perhaps the biggest measure would save businesses collectively hundreds of millions of dollars in impending unemployment taxes. Employers face a sharp increase in their Unemployment Insurance premiums because of the pandemic, but Polis has proposed using about $600 million of state and federal money to lessen the impact.
Democrats are also talking about delaying a fee on workers and employers that would pay for Colorado's new paid family leave program.
Beginning in 2023, the state is supposed to start collecting around one percent of employee paychecks. Polis has proposed the state reduce the new fee by a tenth over the first six months and backfill with state money.
Other fees Democrats have their sights on include those for driver licenses and professional licenses for teachers, health care workers and others.
"Our work will make sure that if you work hard and you do your fair share, you will have a fair shot at the American dream and the amazing Colorado way of life," said Speaker of the House Alec Garnett.
Republicans, however, have pounced on this agenda, accusing Democrats of creating many of the new costs they now want to save people from. (While many Democratic lawmakers spent years trying to pass a paid family leave program, it was ultimately approved by voters.)
"We found out that all of these other fees and things that have been piled on to the families of Colorado have been mistakes, but I didn't hear that two years ago," House Minority Leader McKean told reporters after watching Democrats unveil their agenda Monday. "Two years ago, I heard that this is the way the government is going to help you. And now we find out, long after the fact, that really we need to pull this stuff back."
Rising crime prompts debate about the proper response
In recent years, Democrats have focused on criminal justice reform with the goal of keeping people out of the justice system. But with crime rates on the rise, Polis and other Democratic leaders say they want to work on preventing crime, through policies that steer people away from trouble and more funding for local departments to hire, retrain and retain law enforcement officers.
"We have to look at making investments in good policing and public safety measures. I know it's not only a priority of the governor, it's a priority of the General Assembly and it's a priority of our members and it's a priority for communities," said Senate President Leroy Garcia.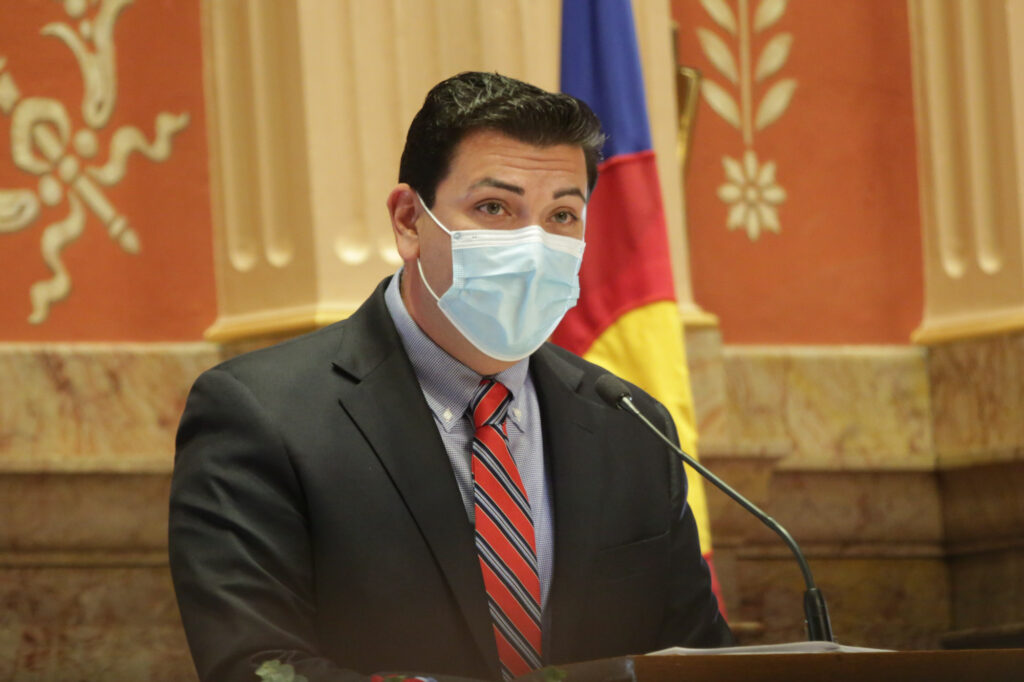 Republicans also say they are hearing a lot of concerns from people who don't feel safe in their own neighborhoods or in places like downtown Denver, and that while training officers is part of the solution, the state also needs to get tougher on enforcement. 
Republican state Sen. Paul Lundeen said he's heard of people calling to report a theft or other property crime and being told police don't have the resources to address it.
"That's a tragedy and people need to feel safe in their communities," he said. 
While Polis said he sees a great opportunity for bipartisan collaboration on public safety this session, some other Democrats fear losing the momentum of their reform efforts from recent years. 
"My community is concerned that we will be targeted and blamed for the rise in crime," said state Rep. Jennifer Bacon, a member of the Black Democratic Legislative Caucus. "So I think for me personally, I can't just be a progressive when it's easy and I can't just wait for the pendulum to swing so far that it takes another tragedy  to be able to do this work." 
Bacon plans to work on legislation that would prevent people from being jailed for low-level crimes, and ways to further expunge some criminal records to give people a better chance to enter the workforce and reduce recidivism after a conviction. 
Lots of dollars for behavioral health, but are they enough?
One other area where lawmakers see an opportunity to use federal COVID dollars to make big changes is behavioral health.
Democratic state Sen. Brittany Pettersen chaired the Behavioral Health Task Force which worked during the legislative offseason to develop a slate of proposals to spend $450 million in one-time funds.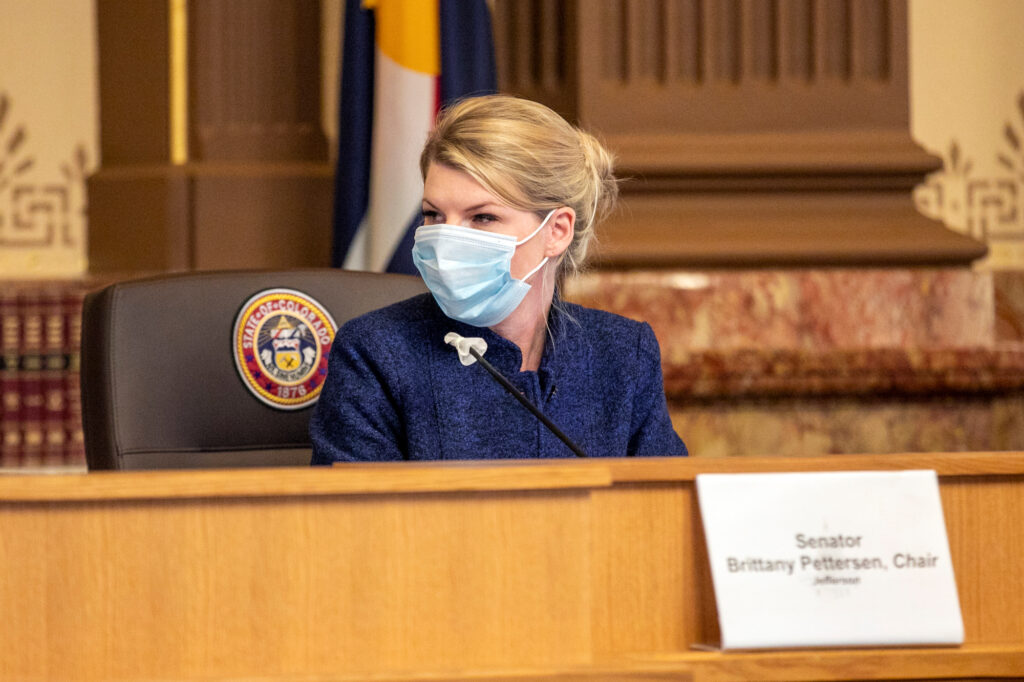 "I couldn't be more excited that we had unanimous support from the committee for these policies," said Pettersen. 
Among their goals are better coordination between mental and physical health care providers and improved tracking of people in crisis to ensure they get the help they need, instead of just cycling through hospitals.
Democratic state Rep. Judy Amabile has been actively working on ideas to improve how the state addresses mental health issues throughout her first term. Her adult son has schizophrenia and the challenges her family has faced are part of what led her to seek office. 
"$450 million sounds like so much money, but when you really start to dig into what is needed, it isn't a lot," said Amabile. "But we can still make some important improvements to the system with this money. It's not going to solve everything, but it will make a difference in the lives of a lot of people. So I'm optimistic that we're going to accomplish that."
You care.
You want to know what is really going on these days, especially in Colorado. We can help you keep up.  The Lookout is a free, daily email newsletter with news and happenings from all over Colorado. Sign up here and we will see you in the morning!