More than a year after the East Troublesome fire, some Grand Lake residents still don't have housing
This story is published in collaboration with Grist.
The fire had started its rush toward Grand Lake, Colorado, when Johanna Robinson sat down to a bowl of soup, a meal she now remembers as the last time she felt anywhere like home.
For two and a half years, Robinson and her husband, a painting contractor, had rented a tiny cabin near the western edge of Rocky Mountain National Park. Outfitted with a wood stove and no indoor plumbing, it was their attempt at a simpler life as empty nesters. They made daily trips to a well for water. Her husband had painted the outside of the home a robin's egg blue to match the bright alpine skies.
"It was awesome," Robinson, 61, said. "It was 'Little House on the Prairie.'"
On their last day at the cabin, October 21, 2020, those skies darkened with wildfire smoke from the East Troublesome fire. Twenty miles to the west, high winds shifted from a jog to a sprint. What followed was an unprecedented blow-up well past the end of Colorado's traditional fire season.
As the wind roared, her husband, Steve, stepped outside to watch pieces of wood and ash rain down onto his roof. A mandatory evacuation order soon followed. In less than 10 minutes, Steve and Johanna gathered their bare essentials — jackets, shoes, and documents — and drove off. The Robinsons joined a rush of neighbors clogging the only major highway out of town.
The community avoided a large death toll. The East Troublesome blaze skirted the town center and the traffic jam of evacuees, only killing one couple that refused to evacuate. But despite that stroke of luck, the fire destroyed 366 homes in Colorado's Grand County. The Robinsons' cabin was among the losses. When they returned, only the concrete foundation and a charred iron stove remained. Even Steve Robinson's aluminum ladders melted, leaving silver streams atop the black soil.
Many residents now worry the lost housing stock could forever change the community's demographics. Grand County centers around Middle Park, a mountain basin with hot springs and freshwater lakes less than an hour and a half drive from Denver. Railroads made it a tourist hotspot in the 19th century. In the many decades since, it's grown into a cheaper mountain destination than posh haunts like Aspen and Vail, drawing ski bums, raft guides, and people like the Robinsons, who wanted a high-elevation lifestyle without sky-high prices.
Before the East Troublesome fire, a rush of investment after the 2008 housing crisis had already started to change the equation. City dwellers snapped up property for second homes and vacation rental units, leaving fewer options for local full-time residents. By the time the Robinsons lost their home in the fire, they couldn't find an affordable place to rent or buy in Grand Lake. A return of Johanna's breast cancer added to their financial problems.
It's been well over a year since the last embers died out. The family, unable to find permanent housing, is currently living in a church basement. Johanna has a hard time talking about their situation without her voice cracking.
"We don't own a place and we don't have a place to rent that has a lease with our name on it," she said. "It is 'homeless,' which is a hard word to say."
***
Similar situations have become more common as climate change has increased the size and severity of wildfires across the U.S. California's 2018 Camp fire stands as the most remarkable example. The disaster not only killed 86 people but displaced almost 50,000 in what was once an oasis of somewhat affordable housing in northern California.
Housing prices spiked in response to the surge in demand and loss of supply. A study prepared for a local nonprofit organization found rents climbed 10 to 20 percent in communities around the burn scar in the first few months after the fire. Median home prices also went up in Paradise and surrounding communities.
Further research has shown those sudden fluctuations don't hit all residents equally, even though flames can burn a mansion just as easily as a trailer park. A 2018 study led by scientists at the University of Washington found 29 million Americans live in areas vulnerable to extreme wildfires. Of these, about 12 million lack the basic resources needed to recover from a disaster. Those protections include insurance, savings, and a place to live during the rebuilding process — resources that are even more crucial in the wake of a wildfire as costs increase and housing supplies dry up.
After a fire, unequal distribution of those resources can lead to rapid demographic changes. Peter Hansen, a researcher at Chico State University, studied where some former Paradise residents settled after the Camp fire. He found older and less wealthy residents were more likely to find new homes more than 30 miles away.
Early evidence suggests similar patterns could be playing out in Grand County. Many year-round locals, like the Robinsons, have struggled to rebuild or find new housing in the wake of the East Troublesome fire. Others have opted to leave the community. 
Colorado's recent Marshall fire will test whether similar dynamics apply in a suburban community. The climate change-driven grassfire ignited on Dec. 30, 2021, and destroyed more than 1,000 homes in Louisville and Superior, two relatively affordable suburbs northeast of Denver, in a conflagration that has become the most destructive ever recorded in Colorado.
Tim Howard, a town trustee for Superior, worries many fire victims could lack sufficient insurance coverage to rebuild. Those difficulties could push long-time residents to move elsewhere. 
"I've had multiple residents reach out to me expressing this concern," Howard said. "We need to work hard to find solutions to that."
One way to understand the changes could be "climate gentrification." Jesse Keenan, an associate professor of real estate at Tulane University who coined the term, said the phenomenon occurs when a climate-driven disaster — or the threat of one — changes housing demand. That's different from what he describes as "classical gentrification," where a rush of investment attracts new residents to the area by increasing the housing supply.
"Climate gentrification is a shift in consumer preferences. It's the recognition that there are risks in investing and living in certain places," he said.
In coastal communities, the pattern could occur due to rising seas, as people seek out homes away from coastlines. After wildfires, housing prices could overwhelm some residents, leaving the area to people who can handle the financial weight of climate change.
***
After the East Troublesome fire, Grand County faces both types of gentrification. A construction boom continues to increase the overall housing supply. In Winter Park, the town closest to the county's largest ski resort, there's a constant choir of construction crews erecting new homes and condos.
Builders can't keep up with a pandemic buying frenzy in Colorado mountain towns. A recent real estate survey found the average price for a Grand County home climbed to more than $650,000 in 2020, a 34 percent increase over the previous year. Local residents only purchased a third of those homes, the survey found.
Those numbers confirmed a trend many locals had long suspected: Wealthy newcomers who could afford higher costs had pushed up housing prices for everyone. Once purchased, many of these homes stayed empty in anticipation of Airbnb guests or owners' short-term stays. According to the 2020 U.S. Census, almost 60 percent of Grand County's housing sits vacant most of the year, suggesting it belongs to second-home owners.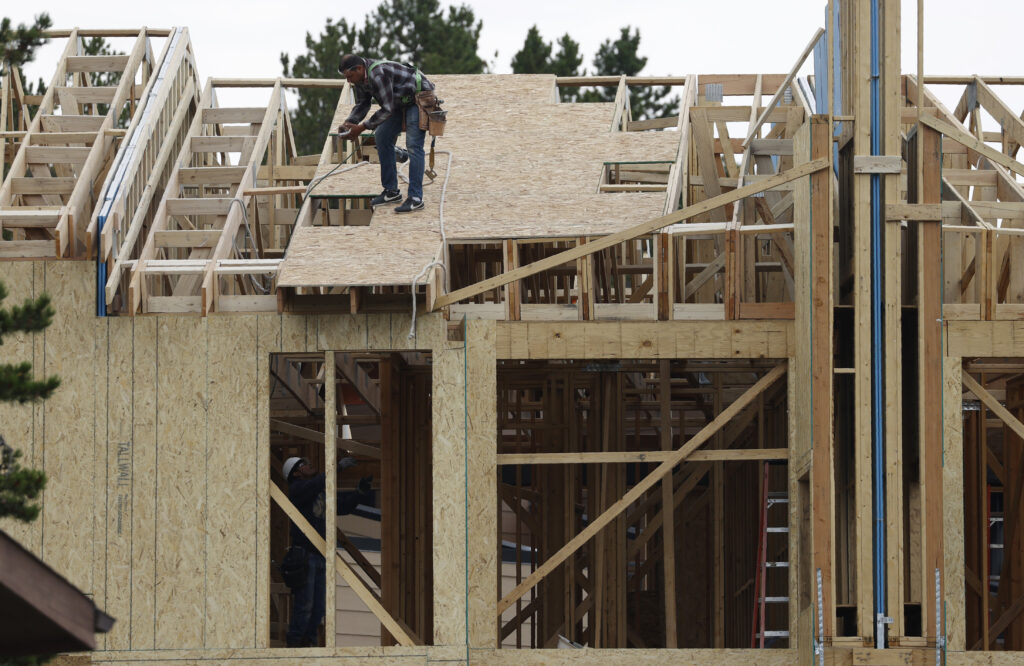 For years, local leaders have worried that a major wildfire could further constrict the community's housing supply. Megan Ledin, director of the Grand Foundation, a nonprofit organization trying to protect local affordable housing, created an emergency assistance fund in 2020 to collect and distribute donations in the event of a fire. "Just in case something happened, knock on wood," she said.
Two months later, county officials leaned on the nonprofit to help displaced residents after the East Troublesome fire. As millions of dollars in donations poured into the disaster fund, so did phone calls from fire victims looking for assistance with temporary housing. The organization tracked each family's situation to best distribute the money.
Ledin began to see how a housing boom can hinder a wildfire recovery. By December 2021, more than a year after the disaster, the county building department received only 89 applications for permits to rebuild properties lost to the East Troublesome fire — a small portion of the 366 homes lost in the blaze.
There's a simple explanation for the gap, Ledin said. With so much construction already underway across Grand County, many fire victims can't book a company to rebuild their homes. Others have found their insurance claims aren't enough to cover the cost of construction in the rapidly gentrifying community.
According to the Grand Foundation survey, about 10 percent of the fire victims have no plans to rehabilitate their property. Ledin says it's unclear how many families have left the county for good, but she knows some families have opted to restart their lives elsewhere. 
"They've moved," she said. "It's too expensive to rebuild."
***
Even if fire victims have the resources, rebuilding a home isn't easy in Grand County. Jodie Kern, a 911 dispatcher, lost her two-story house in the East Troublesome fire. She assumed her homeowner's insurance policy would pay to rebuild the property and cover the cost of a temporary residence.
Her policy included money for a rental through a "loss of use" provision. She found that it capped the payout to $65,000, an amount the family burned through in about a year as they bounced between rentals. "Then the panic set in like we've mismanaged this money a little bit," she said.
The family is paying rent out-of-pocket until construction crews finish their new home, which is expected to be completed in April. Many of the surrounding homes were untouched by the fire, a sign of how the East Troublesome blaze showered the neighborhood with embers sparking random spot fires.
On a recent afternoon, Kern and her husband, Donnie, proudly stood in the future kitchen of their home, then a wood skeleton awaiting drywall. The room is outfitted with a vast opening for a window that faces a low rise of fire-scarred mountains dusted with snow.
The Kern's finances worked out this time, but they fear climate change could fuel another fire in Grand County. Pine beetles have left a wake of dead, brown trees. The couple has also noticed an uptick of hotter days, higher winds, and lower snow totals.
"We wouldn't do this again," Donnie Kern said. "Once was enough for anyone."
Other fire victims navigated the Grand County housing market without the benefit of insurance protection. Steve and Johanna Robinson, the couple now living in a church basement, rented their cabin from a real estate investor, who they said promised to sell them the property after three years. Given the nature of the arrangement, the couple didn't see a reason to buy renter's insurance. 
Meanwhile, their landlord, a Nebraska businessman, held the homeowners' insurance on the property. After it burned down, emails show the couple helped the property owner file a claim, assuming he'd use it to rebuild the home. Months later, they saw it for sale in the local paper. "He sold it out from under us," Steve Robinson said.
The former landlord did not respond to multiple requests for comment.
Since then, the Robinson's have failed to find a home to buy or rent in their price range. After living in a friend's cottage immediately after the fire, they moved into Stillwater Church in Grand Lake. Their stay runs out in April, after which the couple hopes to find a more permanent home. The Robinsons considered moving somewhere cheaper, but they decided it would be too difficult to re-establish Steve's painting business in a new community.
The Grand Foundation has identified four other uninsured or underinsured families still on the hunt for an affordable place to live, said Ledin, the nonprofit's director. Since the fire, the families have been forced to couch surf and camp on public land. At the onset of winter, she helped them move into nightly hotels to keep out of the cold. 
Ledin said she's now almost secured a more permanent fix: a set of condo units in Grand Lake. The foundation plans to purchase the properties on behalf of the local housing authority in the next few months. If the deal works out, it will shelter the remaining fire victims and other low-income workers. Rents will be capped at a portion of each resident's income.
Johanna Robinson said she and her husband hope to be among the first residents. "We will see what happens with the purchase," she said by text message. "Hopeful!" 
Without more projects like it, Ledin fears Grand County risks becoming a tourist economy unable to house its own workforce. Resorts and restaurants have struggled to hire people for the ski season. While the East Troublesome fire has worsened the problem, she hopes it also revealed to the community its own inequalities.
"You still have fire families that don't have a permanent place to live, but as a result of taking care of them, you could solve a bigger problem in the future for your community," Ledin said.
You care.
You want to know what is really going on these days, especially in Colorado. We can help you keep up.  The Lookout is a free, daily email newsletter with news and happenings from all over Colorado. Sign up here and we will see you in the morning!