The Local 303: Colorado artists we're featuring for April 2023
April's Local 303 welcomes Colorado rock mainstays The Savage Blush and White Rose Motor Oil to the lineup this month; catch new songs from these two longtime bands that have new albums out this spring. The band known for their energetic street performances in downtown Denver, Brothers of Brass, join us with a new single that can be considered a love letter to the Mile High City recorded in their classic New Orleans brass stylings. If your familiar with jam band legends Lotus, Luke Miller from the group has an electro pop act called Sugar Nova and we will spinning new singles from the duo, including a cover of a My Morning Jacket song! Tune in for indie rock from Denver band The Mssng and pop punk from The Losers Club who will also be performing at our meetup.

If you live in Northern Colorado, music lovers look forward to the yearly festival FoCoMX at the end of April, a two day festival in Old Town that features 350+ bands across 30 stages and we have added six to our lineup. For DIY indie rock check out hospital socks from Fort Collins that started up during the COVID lockdown as well as local favorites Spliff Tank who started five years ago and blend indie rock with garage and psych. Mystee is also newer to Northern Colorado having lived overseas now resides in Fort Collins and has gone from a solo project to a band over the last year as frontwoman Ilana Held establishes herself across the city. Singer-songwriter Katya Grasso who is also known as a solo artist now plays with a full band and she has a devoted following across the Front Range. For hip-hop discovery check out Sauce.K from Greeley and Americana artist Taylor Shae will debut a new single on-air this month too.

Join us at the end of the month here in Denver for our Local 303 Meetup. The event gives space to celebrate Colorado musicians and music fans from our community with our Music Meeting that previews new local music you can vote on, giveaways, and there will be a very special performance from The Losers Club. The Local 303 Meetup is at Mercury Café, on Monday April 24th from 6:30-9 p.m. and it is open to the public. Mercury Café is located at 2199 California Street in Denver.

Are you a Colorado musician who wants to be featured in the Local 303? Send us your music.
Meet April's Picks:
Brothers of Brass
Colorado Home: Denver

Formed: 2015

Latest Release: "Mile High" released on March 3, 2023 via Color Red

Pronouns: He/They (for group)

About: Music is a universal language, and the Brothers of Brass truly exemplify this fact. Although based in Denver, the members of this eight piece brass band come from different backgrounds and have roots in states all across the country, including Louisiana, California, Kansas, and Florida. Both paying homage to the past and looking toward the future, The Brothers of Brass take the traditional brass band sound of New Orleans and infuse it with a mix of funk, pop, and hip-hop influences.

How Has Your Project Eased Back Into The Music Scene Post-Pandemic: Brothers of Brass continue their track record as Denver's premiere "let out band" and stayed united during the pandemic performing at rallies and protests throughout the city. Recently, the group played a special Mardi Gras performance at Denver's Meow Wolf, a release show at Ophelia's, and performed during Frozen Dead Guy Days festival in its new location in Estes Park. In addition to their brand new modern day Denver anthem "Mile High" released via Color Red, they have will be diversifying their portfolio with a pop x hip-hop crossover release entitled 'Trapedelics,' coming out in late spring/early summer 2023.

Website: brothersofbrass.band

Get Social: Facebook, Instagram, YouTube
---
hospital socks
Colorado Home: Fort Collins

Formed: 2021

Latest Release: "One, Five, and Four" (Single)

Pronouns: April Crews: They/Them, Miles Stevenson: He/Him, Aaron Plusa: He/Him, Gabe Brady: He/Him

About: Founded in Fort Collins, Colorado, hospital socks is comprised of four members: Miles Stevenson on guitar and backing vocals, April Crews on guitar and lead vocals, Aaron Plusa on drums and Gabe Brady on bass. They started writing and recording together in the summer of 2021, played their first show together that fall, and have amassed crowds for their shows ever since.

How Has Your Project Eased Back Into The Music Scene Post-Pandemic: hospital socks became a band on the tail end of the pandemic. Fortunately for us, we were not as affected as other artists.

Website: https://hospital-socks.com/

Get Social: Facebook, Instagram, TikTok, YouTube
---
Katya Grasso
Colorado Home: Fort Collins

Formed: I've been writing and performing as a singer-songwriter since 2015. The Katya Grasso Band formed in 2022 and we've just begun working on an album together. It's been a dream. I feel very fortunate to have found such a great group of musicians that share my passion for playing music. 

Latest Release: My last release was a single called "In Time". This song is about finding solace in the face of uncertainty. I wrote it at the beginning of the pandemic when the world was changing at an unprecedented pace and time seemed to pass in slow motion. I found myself unexpectedly drawn to the clarity that isolation provided. This song has now become one of my favorite songs to perform with my band. 

Pronouns: she/her

About: Like a Desert Paintbrush, Katya Grasso's artistry has sprouted with the power to instill color into arid landscapes. Katya has a unique ability to pull nectar directly from her soul into the ears of her listeners, softly and sweetly coaxing them into the delicate power of her music.

Beauty, love, and soul are the key components woven into the spells of her singer-songwriter magic. From the ocean to the mountains, Katya draws energy from natural scenes to create her enchanting songs. The world was formally introduced to Katya's music when she recorded her own studio album in 2019, To Keep What I Love. Still, it is undeniable that her musical incantations are most potent in the presence of her person, something to be seen and heard to be believed.

Katya lives in Fort Collins, CO and performs with her band across Northern Colorado.

How Has Your Project Eased Back Into The Music Scene Post-Pandemic:  It was definitely a slow process. During the pandemic, I turned to online platforms to share live performances of my music. I was living in Las Vegas at the time so I started a series of music videos where I'd bring my guitar and microphone to my favorite spots in the desert and play stripped-down performances of original songs and covers. It was a way to connect with others and it helped keep me motivated to keep writing and practicing new songs. I am fortunate to have found a community of musicians when I moved to Fort Collins in 2021 and the videos helped me book my first few gigs after I was settled. The music scene here is thriving and there are so many opportunities to perform and collaborate with other musicians. 

Website: https://www.katyagrasso.com/

Get Social: Instagram, Facebook, YouTube
---
The Losers Club
Colorado Home: Denver

Formed: 2021

Latest Release: "Going Nowhere" (Single), Feb. 24, 2023, Self-Released and "Kevin?" (Single), Mar. 15, 2023, Self-Released  

Pronouns: He/Him

About: Hailing from Denver, CO The Losers Club has garnered a grassroots fanbase from fun, high energy shows blanketed with catchy melodies and charming, tongue in cheek stage presence. Their sound blends a mix of classic 2000's pop punk with heavy, darker rock flavors to create a style all their own. 

How Has Your Project Eased Back Into The Music Scene Post-Pandemic: We were fortunate enough to use the covid days of live music to really grind out a lot of practice and writing. Being a brand new band when venues weren't back to full capacity allowed us to get shows at places we had no business playing at yet, but it really helped develop a comfortability with playing live and working full capacity rooms.

Website: https://thelosersclubband.com

Get Social: Instagram, Facebook, Linktree
---
The Mssng
Colorado Home: Denver

Formed: 2019

Latest Release: "44 Hours" (Single), Apr. 1, 2022, self-released (Recorded and Engineered by Lofty Ideals Productions, Mastered by Brad Smalling at Evergroove Studios)

Pronouns: he/him (all band members)

About: The Mssng's affinity for new wave, underground synth and post punk provides the cornerstone of their sound, while societal concerns and storytelling fuels their pensive lyrics. With a driving rhythm section, lively guitar and moody keys, audiences have compared The Mssng to David Bowie, The Cure, Sisters of Mercy and Interpol.  

After moving away from previous projects, frontman and songwriter, Scott and bassist, Elliot, invited longtime friends and former members of Denver's All Capitals, Tony (drums) and Paul (guitar) to participate in their new project, The Mssng. Later joined by Matt (keys and background vocals), The Mssng found its final form and began composing and perfecting their multi-genre mix. 

Named to 303 Magazine's February 2022 "Artists You Should Know," The Mssng has recorded, produced and published two singles ("Wandering I") and ("44 Hours") and have appeared on favorite local stages such as Larimer Lounge, Lost Lake and Black Buzzard with upcoming shows at The Skylark and Hi Dive in April and May respectively. They are currently preparing to record a full album in Fall of 2023.

How Has Your Project Eased Back Into The Music Scene Post-Pandemic: Like many, we were itching to play live shows again, but were determined to do so safely. The first show we played when Colorado began to open was at Larimer Lounge where tickets were limited to 24 individuals, seated at tables, at least six feet apart and 20 feet from the stage. We remember seeing our fans sneak in a few dances next to their tables (attendees were supposed to stay seated). During warmer weather, we played various outdoor shows - backyard celebrations and block parties. Throughout, we've been immensely respectful of each other's health and safety, staying home from rehearsal when needed or dawning masks in our practice space for extra precaution. As we've returned to a somewhat normal existence, we've been excited to branch out and play more and more venues, and we love attending local shows to support our fellow Denver musicians. 

Website: themssng.com 

Get Social: Facebook, Instagram, Twitter, Bandcamp, Soundcloud
---
Mystee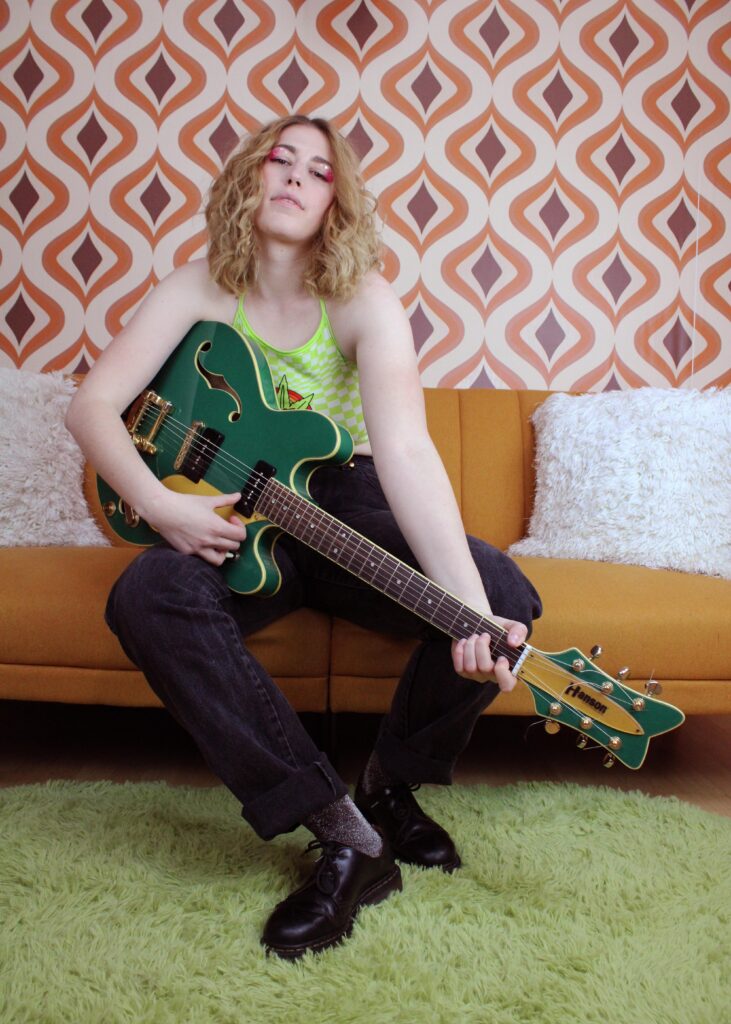 Colorado Home: Fort Collins

Formed: mystee began as a solo project in 2021, but it became the lineup it is today in 2022.

Latest Release: "hard candy" (Single), Feb. 24, 2023, self-released

Pronouns: She/Her (me) and He/Him (the rest of the band)

About: Boston-born and Cardiff-bred, Mystee started as the solo project of singer-songwriter and seasoned front woman Ilana Held. Drawing inspiration from love and loss in the face of a long spree of bad luck, Held weaves an American folk mentality into her hook-laden indie pop music. With years of performing across the UK, several thousand streams on Spotify, and a lifetime's worth of misfortune under her belt, Held stepped out on her own for the first time in 2021. She saw Mystee as an opportunity to take control of her music, independent from the visas, lockdowns, and long-distance relationships that had plagued her over the past few years. Held has fought through fire to make it here, but every misstep is fuel for her music. In late 2022, Held found bandmates Keaton, Josh, and Ryan, by a series of unlikely chance, and turned Mystee into a four-piece. As a band, they draw inspiration from artists like Phoebe Bridgers and Soccer Mommy, but also dabble in the heavier side of indie rock.

How Has Your Project Eased Back Into The Music Scene Post-Pandemic: Before the pandemic, I was living in the UK, playing in a rock band called Glass Jackets. Then, when lockdown struck, I started a duo with my songwriting partner for the duration of the time we were trapped in his house. It wasn't until I finally gave up and moved back to Boston, that Mystee was born. I released two songs in Boston and then moved my fledgling project to Colorado. It took several months to find the right bandmates, but I'm glad I held out. Finally, in February, we released our first single together as a band. 

Website: https://mysteemusic.com

Get Social: Instagram
---
Sauce.K 
Colorado Home: Greeley

Formed: 2020 

Latest Release: "Ease the pain," Nov. 5, 2022 

Pronouns: He/Him 

About: Sauce.K, Born D'Angelo Garza is a 22 year old Hip Hop Artist from Greeley Colorado. Before Garza became an MC he was previously a producer during his years in high school which took place from 2017-2019. Garza's music journey began back in Elementary when he would write down lyrics in his notebook from time to time aspiring to become a major artist one day. That dream soon became a reality in the summer of 2020 when he released his first song titled "You want" Featuring Izzybelabid, An artist/Producer from the Netherlands. The rest is history. 

How Has Your Project Eased Back Into The Music Scene Post-Pandemic: It actually has been pretty great honestly. During the pandemic I had a spike in online engagements due to everything being shut down. And with everyone staying home and being online more often I was able to get the momentum going for myself as an artist. In a way the pandemic kinda helped me. But once everything started opening back up, I've been performing more live shows and giving the fans/crowd a show worth remembering with my projects! 

Website: https://beacons.ai/sauce.k?fbclid=PAAaZ9-AgbHHnkPlxlgI7OHtInzVpakVZZgPmLaoVYzBU4udJesfwwKv9D35s

Get Social: Instagram, Facebook
---
The Savage Blush
Colorado Home: Denver

Formed: 2014

Latest Release: Ether Dome, Mar. 30, 2023, Wolf bunny Records

Pronouns: Rebecca She/Her, Joshua He/Him

About: Denver based The Savage Blush is a psychedelic rock band, projecting reverb-washed atmospheres of phaser modulated melodies, punchy rock rhythms, and vocals that soar and echo throughout. The band creates a sound that blends the familiar textures and dynamic structures of bands such as The Animals, The Doors, and Jefferson Airplane, with the ethereal spaces and darker fuzzed out psych rock of the present age.

How Has Your Project Eased Back Into The Music Scene Post-Pandemic: It's been an interesting post pandemic ride. During the pandemic we continued writing and working on our album to release into the wild. When it was allowed again we had new music to share and try out so we were eager to start performing in front of people again. We feel our priorities have shifted for the better, possibly partly as a resuly of not being able to be active outside of just writing. It was difficult and saddening as some of our favorite venues closed their doors. Playing live has always been important to us and having it back has been amazing. We sort of picked up where we left off in a way. We just want to make good music and want to share it in any way possible.

Website: https://www.thesavageblush.com/

Get Social: Instagram, TikTok, Spotify     
---
Spliff Tank
Colorado Home: Fort Collins

Formed: 2018

Latest Release: "Lie," May 30, 2022, self-released and two new singles this month!

Pronouns: he/him - they/them

About: Spliff Tank formed in the summer of 2018 with Brian (guitar/vocals), Mikey (guitar), Jack (drums), & Ryan (bass). Creating a unique blend of new wave melodies, sonic psych-punk, & ghastly garage rock, Spliff Tank has been touring up and down the front range of Colorado relentlessly.

How Has Your Project Eased Back Into The Music Scene Post-Pandemic: The pandemic was a tough time for all artists. Lots of bands, including ourselves took to live-streaming and working from home. Constantly having to put out content can be a bit overwhelming at times. Personally, we've always been a fan of music that's loud, fast & exciting, and sometimes that can be hard to portray through live-streaming. Now all of us are working different jobs and have different schedules which has been an obstacle in itself. We're working on lots of new music and we're excited for everyone to hear what we've been up to!

Website: http://linktr.ee/splifftank

Get Social: Instagram, Facebook, Bandcamp
---
Sugar Nova
Colorado Home: Denver

Formed: We were throwing some song ideas around back in 2019, but Sugar Nova really started to take shape as its own project in 2021.

Latest Release: We self-released our 5th single "Touch Me I'm Going to Scream, Pt. 2" (a My Morning Jacket cover) on Mar 17, 2023.

Pronouns: Rachel - she/her, Luke - he/him

About: Sugar Nova is a dreamy Indie-Electronic Dance Pop collaboration between producer/multi-instrumentalist Luke Miller (from Lotus) and singer/songwriter Rachel Eisenstat (from Raven Jane). The Denver-based duo offers soulful vocals and pop-oriented beats, with arrangements that nod to Indie-Dance, Electro-Pop, Dance/Electronica, Dream Pop, and Chillwave. Sugar Nova doesn't shy away from mining deep lyrical themes while keeping your body moving to the beat. 

Luke and Rachel's musical collaborations began when Rachel was a guest vocalist on Lotus's 2016 album Eat the Light, and they collaborated again on Luke's debut solo album Disco Nap in 2021. The songs paired Rachel's rich, euphoric vocals with Luke's solid electronic production. These efforts inspired them to work together on a bigger long-term project and in a more pop-oriented realm. With influences such as Little Dragon, ODESZA, and Sylvan Esso, Sugar Nova was born.

Halogen is Sugar Nova's forthcoming album, scheduled for release on May 12, 2023 just ahead of their debut live show with jackLNDN on May 20 at the Roxy on Broadway. The collection includes "Send Me Higher" a sexy disco-tinged dancer, "Gospel Hour" a tropical percussion-heavy track, "Tiny Helicopters" a euphoric anthem and "Touch Me I'm Going to Scream, Pt.II" a smokey downtempo-electronic cover of My Morning Jacket. 

The sound of the album combines soulful vocals on catchy pop melodies with tasteful electronic production and touches of funky bass, vintage keyboards, and live guitar. Hints of Dua Lipa, Kaytranada, Rufus du Sol, and Little Dragon course through the tracks.

How Has Your Project Eased Back Into The Music Scene Post-Pandemic: The forced break in live performances with our other projects over the pandemic is what allowed Sugar Nova to begin, actually. We're introducing our new songs in a music ecosystem that has evolved extremely rapidly in response to the pandemic. It's been a motivating and energizing challenge to adapt to new ways of releasing and promoting music in a crowded field of new artists. I think our intention is to stay focused on writing and developing our sound, trusting that our music will continue to make its way to the people who connect with it.

Website: https://sugarnovamusic.com/

Get Social: Instagram, Facebook, Soundcloud, Spotify, YouTube
---
Taylor Shae
Colorado Home: Fort Collins

Formed: 2016

Latest Release: "Small Town America" (Single), Mar. 31, 2023, self-released.

Pronouns: she/her

About: Dusty-altcountry-americana is at the heart of Colorado born and raised singer-songwriter, Taylor Shae's sound. Having rocked stages at festivals and venues across Colorado since 2016, Taylor brings stories of outlaws & dreamers to life in her songs, with velvety-toned, powerhouse vocals.

At 22, the songwriter has independently released 4 albums, a handful of singles, and has earned awards for her craft such as Sustain's Backyard Songscape Competition in 2020, eTown's Handmade Songs in 2017, and more. Currently calling Fort Collins, CO home, you'll catch Taylor performing as a duo or recently with a full band, amplifying the alt-country/rock energy that many of her songs lean into. 

Taylor's latest single release, "Small Town America," is a gritty, alt-country rock track inspired by an endless dirt road & too much time to burn. The backroad harmonies & angsty-americana guitars mix in for an anthemic, badass journey that's sure to make you drive 90 in a 45.

"Built for the dust, made for the grit, every face every name never forget, making up the lungs that keep on breathing"

"And we keep on breathing through every haze, we pick up the slack, we heighten the blaze, we create we remake we shoulder what we take, and I see it in you my friend"

How Has Your Project Eased Back Into The Music Scene Post-Pandemic: I've enjoyed lots of time to write new material over the pandemic, & it's been awesome to get to play live shows and get a full band together post-pandemic. I'm super excited for some sweet shows in April including FoCoMX on 4/28, opening for The Patti Fiasco at Gryphon Theatre 4/7, and supporting AJ Lee & Blue Summit w/ Jake Leg at the Aggie Theatre 4/6. The excitement of summer shows and festivals is greater than ever, and I can't wait to rock some faces! I've also seen the already strong scene in NoCo become even more supportive & encouraging of each other over the past few years, which is really cool to be a part of.

Website: taylorshaemusic.com

Get Social: Instagram, Facebook, Twitter, YouTube, Spotify
---
White Rose Motor Oil
Colorado Home: Wheat Ridge

Formed: 2018

Latest Release: "The Gift Of Poison, Pt. 1: Trouble or Nothing / Mountain State" - March 3, 2023 - WRMO Records (Self-released); "The Gift Of Poison, Pt. 2: Meet Me at the Bottom / Hateland" - March 31, 2023 - WRMO Records (Self-released); "The Gift Of Poison" - April 14, 2023 - WRMO Records (Self-released).

Pronouns: Eryn (she/they), Keith (he/him)

About: "[White Rose Motor Oil's] new album...recalls Van Lear Rose, Loretta Lynn's gritty collaboration with former White Stripes frontman Jack White...[with] vocals [that] evoke The Virginian-era Neko Case." - Westword

White Rose Motor Oil, a two-piece woman fronted Alt-Country / Garage Country / Cow-Punk band from Denver, CO features married couple Eryn DeSomer (guitars and vocals) and Keith Hoerig-DeSomer (drums). 2023 will see them releasing a new full length album, "The Gift Of Poison", their most ambitious recording to date. Response to the songs from this release in a live setting have been extremely enthusiastic.  Confirmed 2023 festival dates include lineups with Meat Puppets, Sunny War, Murder By Death, Vandoliers, Joshua Ray Walker, The Reverend Peyton's Big Damn Band and more!

Eryn and Keith have been active in the Denver music scene for over 15 years, previously as members of The Hollyfelds and The Jekylls. In 2018, they formed White Rose Motor Oil and released their first EP, "Suburban Horses," followed by the release of their second EP, "One For The Ages," in 2019. The full length album "You Can't Kill Ghosts" was released in 2020, as was the EP "Broken Heart Holiday". "Country Pop", their album of cover songs originally recorded in the 60s and 70s, was released in 2021, which was followed up by the EP "Oh Lucretia" in fall of 2022.

Together Eryn and Keith have:
- Had music featured on many TV shows, including NBC's "The Voice" and The History Channel's "American Pickers".

- Performed hundreds of shows in numerous states. Club dates and festival bills have included: William Clark Green, The Bones Of J.R. Jones, Volk, Old 97's, Vandoliers, Jaime Wyatt, Nikki Lane, Houndmouth, The Cactus Blossoms, Whitney Rose, Turnpike Troubadours, Mike and The Moonpies, Shane Smith and The Saints, Jenny Don't and The Spurs, The Hooten Hallers, Shannon Shaw and many others.

- Eryn has performed with the Colorado Symphony Orchestra on a project that included Nathaniel Rateliff.

- Won five Westword Music Showcase awards in the country category, as well as winning a "Best Of Denver" award from that same publication for "Best Band Playing Country The Way It Was Meant To Be Played".

- Released over five full length albums worth of original recorded material, kept four cacti alive for over three years, and have given a good home to two of the number one dogs of all time.

How Has Your Project Eased Back Into The Music Scene Post-Pandemic: As a married couple, we were still able to do things like practice and write new material in person, even during the peak of the pandemic, something not all bands were able to do. Getting and staying fully vaccinated was obviously a huge part of getting back to playing shows. Now, with regards to COVID, things are feeling pretty much back to some form of "normal" for us. We are busy playing shows, both locally and out of state, and are very grateful to be able to do so!

We have our full length album "The Gift Of Poison" coming out in April, and we have an album release party planned on April 13 at Skylark Lounge in Denver with Casey James Prestwood and Chella and the Charm.

Our summer schedule is looking very exciting with shows in New Mexico, Wyoming, Nevada, Utah, Kansas, Nebraska and Illinois.
Website: http://whiterosemotoroil.com/

Get Social: Instagram, Facebook, Bandcamp, YouTube, Spotify
You made it!
You love learning about new music and the Denver music scene. We have a weekly newsletter for you -- Inside Track. Sign up here to stay in the know about the hottest Colorado concerts and how you can score tickets!