Colorado election bill would bring county clerks financial relief, but wouldn't change the rules for recounts
For the first time in more than a decade, Colorado counties could get more money from the state to help cover the cost of elections. Election officials from both political parties requested the change and say it's especially important to help counties meet new demands. 
Democratic Boulder County Clerk Molly Fitzpatrick said election administrators have continued to make improvements to the election system, despite huge challenges, like running the 2020 general election in the middle of a pandemic.  
"And since then, facing massive amounts of mis- and disinformation and threats to our staff and to clerks themselves," said Fitzpatrick. "If the last few years have proven anything, it's that we have continued to do more with less and it's not sustainable."
Senate Bill 276 would nearly double the funding counties receive from the state. Colorado currently chips in $0.80 for each active voter in large counties. Smaller counties get $0.90. Clerks say that covers only about a fifth of what it actually costs to run their elections. Under this new measure, the state would pick up closer to half or 45 percent of the total cost.
Chaffee County Clerk and Recorder Lori Mitchell, a Democrat, called the proposal a really big deal.
"Clerks have been frustrated and disappointed over the past decade, as previous attempts at modernizing the funding of our elections haven't materialized," she said.
While the bill cleared the state Senate on Thursday with only a handful of no votes, Colorado's top election official still isn't on board yet. 
Democratic Secretary of State Jena Griswold's office was asking for key changes. One concern is where the additional money will come from. Griswold supports the idea of counties receiving more financial help for elections but isn't happy that the bill would take that money from her office's funds. 
The secretary of state's office is primarily funded through business licensing fees. The as-introduced bill would force it to come up with an additional $5 million the first year it takes effect. 
"The way the office does that is by raising fees. 5 million would result in about a 150 percent increase in the annual renewal fee that businesses pay every year," said Deputy Secretary of State Christopher Beall. 
That would mean the fee, which is currently $10, could possibly rise to $20 to $25 a year. Other business fees would remain the same. 
"There is a policy question about whether the cost of county election support should be on the general fund that is paid by taxpayers or should it be on businesses who pay business fees," Beall said.
During the final Senate vote, the chamber agreed to commit $2.5 million from the general fund to help reimburse counties for the 2024 general election.
"This provides some guidance and some breathing room for the Department of State cash fund," said Democratic Senate President Steve Fenberg, the bill's main sponsor. 
The measure now heads to the House.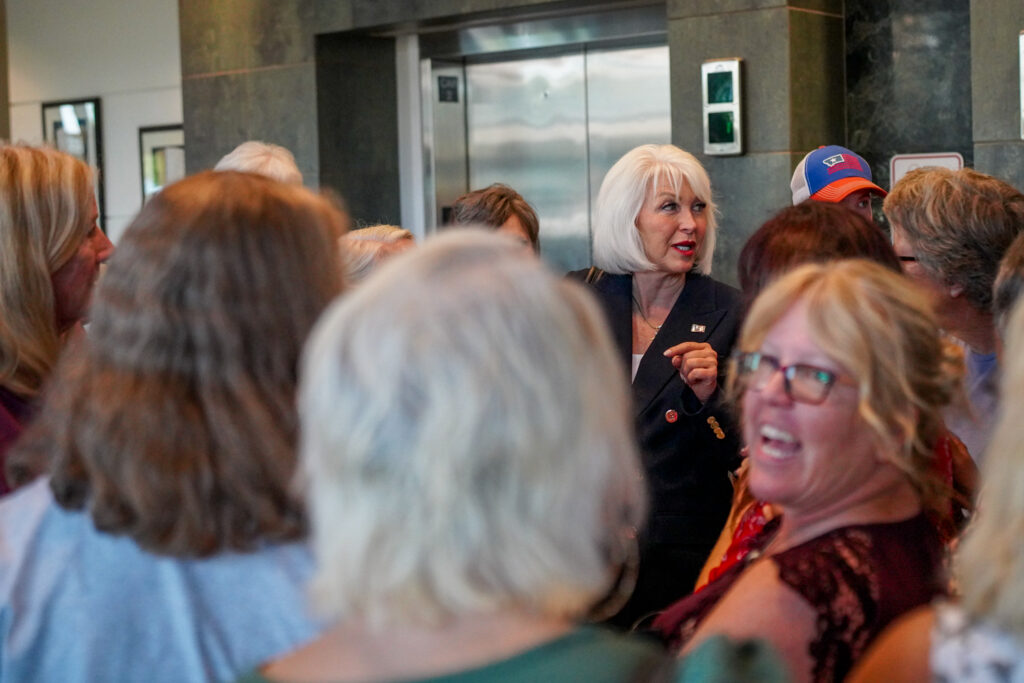 Changes to the state's rules on discretionary recounts don't look like they'll make it into the bill.
Before the bill was introduced at the Capitol, Secretary Griswold said she wanted it to include a provision to make it more difficult for candidates who lose by a wide margin to request a discretionary recount.
That stemmed in part from former Mesa County Clerk Tina Peters, who last year paid for a statewide recount in the Republican primary for secretary of state, which she lost by 88,579 votes, or around 14 points. The recount found 13 additional votes for both Peters and the primary's winner, Pamela Anderson.
"Democracy should not be exploited by candidates who lost by massive margins to spread disinformation," said Griswold. 
The county clerks association was also on board with the concept, and specifically worried about voters being pushed to contribute to recount efforts that have no chance of succeeding. The organization's president, Fremont County Clerk Justin Grantham, a Republican, said discretionary recounts also eat up a lot of staff time for clerks and election workers. 
"If it's clear you lost by a hundred thousand votes (and) you're asking for a recount, all you're doing is draining resources and people's time and money for that," he said.
However, the bill's main sponsor, Fenberg, said he doesn't think it's the right time to address that issue. He worries limiting the ability to pursue a recount could end up feeding into conspiracy theories
"We want to increase confidence in our elections and not remove options for people, especially if someone is an election denier." 
The clerks said they understood Fenberg's reasoning.  
In terms of election processes, the measure would require counties with more than 10,000 active registered voters to start processing ballots four days or more prior to an election, in order to get results out faster on election night. It would also increase efforts to register voters on tribal lands, and allow tribal leaders to request two-to-four days of in-person voting at polling centers. 
And for political candidates, it would require them to file electronic financial disclosure statements — which the bill says must be "accurate and complete." Those documents will be posted publicly on the Secretary of State's website. Failure to file and to do so accurately would be treated the same as a campaign finance violation. 
Finally, the bill prohibits election officials from using any state money to run ads or PSAs that feature the name or likeness of any current candidate for office. 
Last year, Republicans criticized Griswold for appearing in PSAs about election security at the same time that she was running for reelection.
The bill "doesn't prohibit PSAs or it doesn't even prohibit advertising of any sort," Fenberg said. "What it prohibits is spending taxpayer dollars on those advertisements if the advertisement features a candidate."
That's another thing Griswold's office pushed back on; it notes this will make the secretary of state the only statewide elected official singled out this way, and it could prevent top election officials from combating disinformation. (other state officials have also come under fire in the past for how they've used official communications while running for office)
Deputy Secretary of State Beall asked for the provision to be removed, or expanded to cover other statewide elected officials as well. 
"We believe that this still targets the Department of State and that the Secretary of State is the most trusted voice in Colorado. We actually have surveys that say this, the most trusted voice with respect to elections."
You care.
You want to know what is really going on these days, especially in Colorado. We can help you keep up.  The Lookout is a free, daily email newsletter with news and happenings from all over Colorado. Sign up here and we will see you in the morning!