Whether honorary or official, dozens of foreign governments have a diplomatic presence in Colorado
When it comes to diplomatic capitals of the world, cities like Washington D.C. or London are usually top of mind.
But Yaell Urrunaga wondered about Colorado's place in the world of international diplomacy — specifically, how many consulates are based in the state and what ties do they have to Colorado?
The number is probably more robust than many Coloradans realize.
The state is host to six consulates, one consular agency and 31 honorary consuls as of March, according to a State Department spokesperson.
"The work that you do in a consulate is very similar to the kind of work you would do in an embassy, except you do it for a sub-region of a country," explained Sylvain Fabi, consul general of Canada in Denver. His office serves Colorado and four other Mountain West states.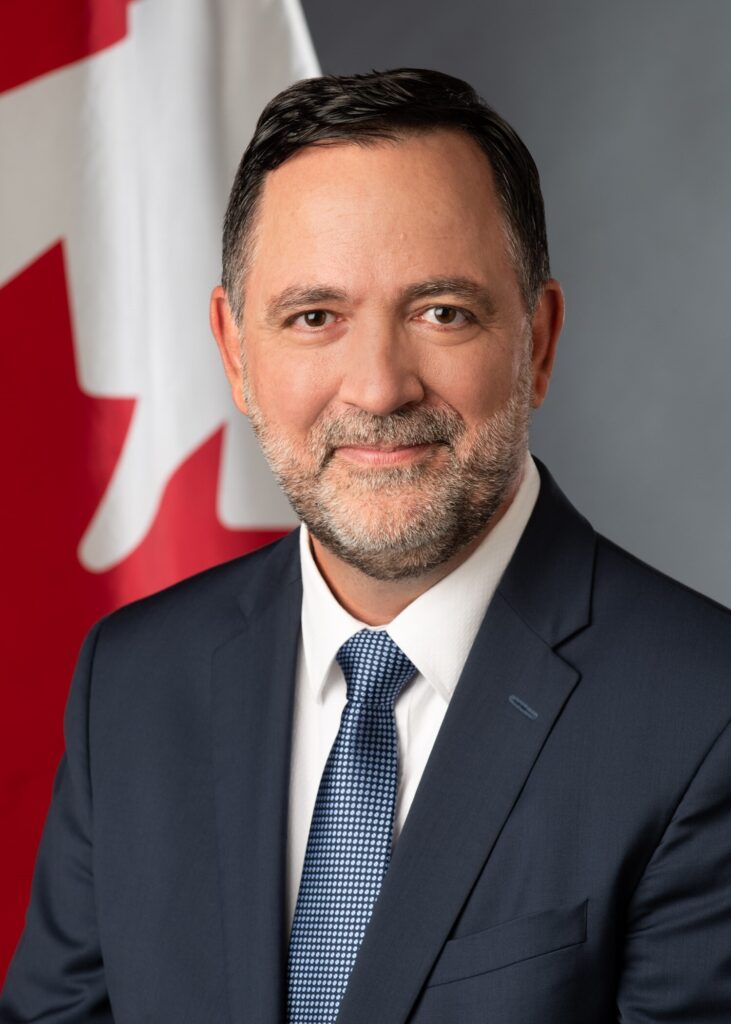 There is the political work, said Fabi, who noted he was meeting with Colorado officials the next day. "We will, both in the capitol and in the regions, meet with political interlocutors, which could be elected officials either at state level, city level or federal level to advocate for Canada's interest."
There is also economic and trade work. Colorado is Canada's biggest trading partner in the region, according to Fabi. In 2022 trade in goods and services was over $8 billion and included agriculture, energy and even precision optical and medical instruments.
And of course, consulates also help promote cultural relations.
The Mexican Consulate helped bring a giant traveling doll known as Lele to Colorado last month for the Cities Summit of the Americas meeting. The doll is symbolic of Mexican culture and roots. 
But consulates aren't just focused on building ties between countries; one of their main purposes is to better stay in touch with their own citizens.
Having consulates in cities besides Washington, D.C. allows foreign governments to better serve their nationals traveling, studying, working or living in the United States. Those are what's known as consular services and include everything from helping with lost passports and certifying legal documents to checking on citizens who end up in U.S jails.
"We believe that having a presence in the city and having relationships with authorities like Congressman [Jason] Crow is fundamental to protecting our citizen's rights, but also to providing essential services for our population," said Pável Meléndez Cruz, Consul General of Mexico in Denver.
He and Crow met last month to discuss a number of issues, from immigration to fentanyl.
Crow, who serves on the House Foreign Affairs Committee, sees the value that foreign consulates in Colorado have for his metro area constituents. "Having the Mexican consulate so close to the district, and having the Salvadoran district in Aurora, really helps provide that direct service to folks who travel back and forth frequently, who have family back home," he said.
Not all consuls are diplomats, or even citizens of the countries they serve
Cissie Busch of Denver is an Honorary Consul of Hungary. It's a volunteer position that has her fielding calls and questions a few times a week to help Hungarians with a variety of issues.
"I like the part that I am able to help others and help them wade through some of the bureaucracy and, I like to stay connected to Hungary too," she said. The Hungarian American has a fulltime job — not in the diplomatic sector — and is a mom of two, but she enjoys getting those calls.
In Colorado there are Honorary Consuls from all over, including the Philippines, Austria and Mongolia. 
Compared to official diplomats, there are limits to what an honorary consul can do. For example, Busch can't issue passports or naturalization papers, but she can help people get started. The consulate in Los Angeles actually comes to Denver to validate and process the applications.
Busch learned about being an honorary consul from her father, who immigrated from Hungary and who had the volunteer position before her.
"He was very excited. He still helps me because there are some times where I'm like, 'Oh my God, Dad, listen to this crazy story.' And so, it's nice that we can kind of still work together on some things. I think he was very happy to keep it in the family," she explained.
And while Denver might lack the diplomatic soirées of Washington, D.C., Busch did get to attend Governor Jared Polis' inauguration.
Ultimately, for many foreign governments, having a consulate or an honorary consul in Denver is about having a presence in an area of the United States where they feel they can help their nationals, share their culture and do the most good.
You care.
You want to know what is really going on these days, especially in Colorado. We can help you keep up.  The Lookout is a free, daily email newsletter with news and happenings from all over Colorado. Sign up here and we will see you in the morning!