On Colorado Day, 4 state historians share their favorite bits of Centennial State history
To honor Colorado's 147th birthday today, four of the state's historians shared one of their favorite anecdotes — a partially headless chicken in Fruita, one of the nation's highest cities, the first Chinese person to be documented living in Colorado and a long-running film festival.
Derek Everett: An unusual chicken
Derek Everett, a professor of history at MSU Denver who is also the state's informal historian about the Capitol, said the first story that came to mind was about a fowl, about to find itself on a family's Sunday dinner plate. 
"In 1945, there were a farming couple in Fruita out in Western Colorado, not far from Grand Junction who were getting ready for a Sunday dinner and took a whack at their rooster, Mike," Everett said.
That whack was not substantial enough, Everett said. And, as the legend goes, "and didn't take off apparently enough of his head!" 
The rooster stayed alive.
"Because there was enough of everything still attached that he stayed alive and continued to carry his head around with him under his wing for the next year and a half," he marveled. "As he kept going on and on, they fed him with an eye-dropper and with food and water down his gullet."
Laughing, he continued: "I'm not entirely sure how hygienic they were able to keep Mike going, but, as you can imagine, Mike turned into a sideshow attraction."
"And so the couple who owned him traveled all over the United States showing off Mike the headless chicken who grew to be a rather large bird, and was just this bizarre sort of freak show – an attraction for people all over the United States!" Everett said.
The legend of Mike still lives on — there's an annual Mike the Headless Chicken Celebration held every year in Fruita in June.
Tom Noel: A sky-high city
Many towns and cities in the state hold stories of historical note. Leadville is one, according to Tom Noel, professor of History emeritus at the University of Colorado Denver.
He has focused on Colorado history for most of his career and said one fun fact many people don't know about Colorado, the 38th state, is that the mountains serve like tentpoles, keeping the land mass from being bigger than it would be if it were flat.
"If it were not for all of the mountains, it would be the largest state — if it were ironed out flat," Noel said.
Leadville, a city of about 2,600 in Lake County, on the other hand, stands alone in height: 10,158 feet.
"Leadville is the highest city in the United States, over two miles high," Noel said. "It [got] started in 1876 as the greatest silver mining city for a while in the world. And it brings a lot of attention, a lot of press as well as a lot of people to Colorado. Gold originally brought people to Colorado with a gold rush of 1859. But as of the 1870s, silver [became] more important and particularly important up in Leadville, which is the mother city of many millionaires, including the Guggenheims and Mays of the May company department stores."
It was a place that made lots of folks rich, he said.
"This would be in the 1870s, with the silver mining boom and the Guggenheims got started up there. It was silver and smelting of silver and some called Leadville the mother city of millionaires," Noel said.
William Wei: The first Chinese person living in Colorado
While the Guggenheims and Mays were making names for themselves, Chinese people weren't so well-represented in the state back when it first started, according to William Wei.
Wei, a professor of Chinese History at CU Boulder, has also spent a lot of his scholarship focusing on Colorado's history and served as state historian from 2019 until 2020.
One of the pieces of information he came across was the first Chinese person in Colorado.
"He was reported by the Colorado Tribune as being in Denver on June 29, 1869," Wei said.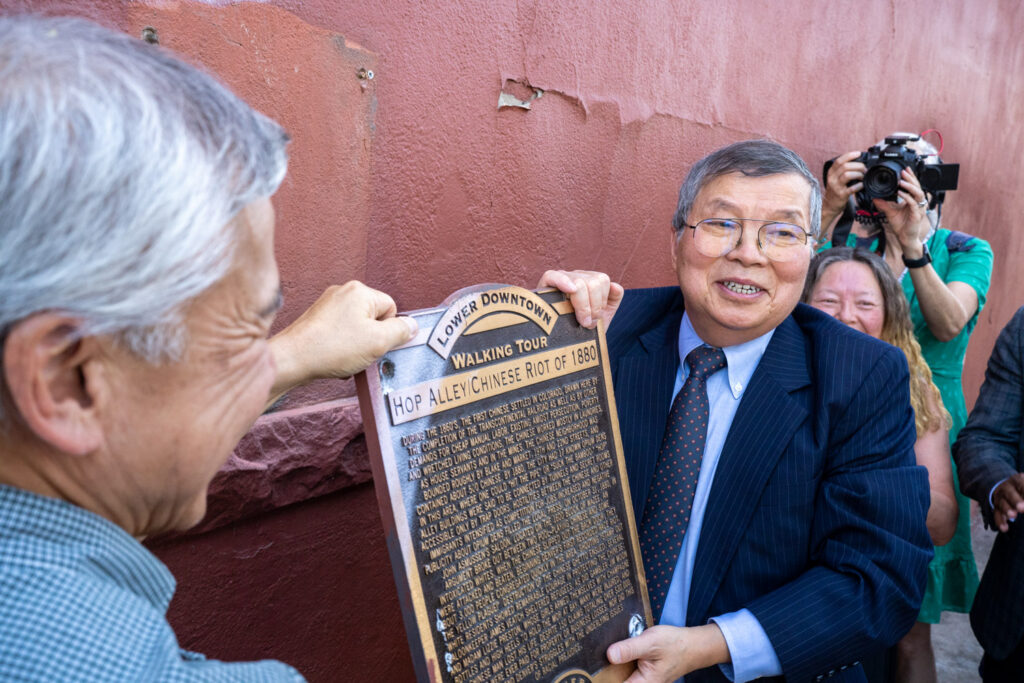 Although he was not completely sure, Wei presumes this person was a "former Chinese railroad worker who had helped to complete the very famous Central Pacific, which was the western half of the Transcontinental Railroad." 
According to Wei, he soon found company: "He was probably later joined by other Chinese railroad workers who after completing the railroad, was looking for work in the West, and I assume that he and some of his fellow railroad workers were the ones who established Chinatown. 
"And when they came, they looked for work."
Just like the folks up in Leadville, they were likely miners.
"They worked, of course, in the various mines during this time," Wei said. "And they created a Chinatown to provide, if you will, a place for the Chinese workers in the state to find supplies and a place where they could rest, you know — a place where they could eat Chinese food." 
Claire Oberon Garcia: A monument in women's film
Wei's tenure as state historian ended three years before that of current state historian Claire Oberon Garcia's began.
A professor of English specializing in lesser-known African American women's literature at Colorado College for the past three decades, Garcia becomes state historian today. She will serve for one year in the volunteer role, supporting initiatives of History Colorado.
She pointed out a historical factoid a bit more contemporary and closer to her home.
"One cool historical fact is that Colorado Springs is home to the longest-running women's film festival in North America, and the second longest-running. women's film festival in the world," she said. 
The Rocky Mountain Women's Film Festival, she said, has been running continuously for over thirty years. Its 35th festival begins in October.
The Centennial state will be honored today with daylong celebrations at History Colorado and the Capitol.
You care.
You want to know what is really going on these days, especially in Colorado. We can help you keep up.  The Lookout is a free, daily email newsletter with news and happenings from all over Colorado. Sign up here and we will see you in the morning!