House GOP has a new Speaker nominee, and a potential new Colorado holdout
Ohio Rep. Jim Jordan, a founder of the House Freedom Caucus, emerged as the next Republican nominee for House Speaker after the conference spent hours behind closed doors Friday. But like the nominee before him, Jordan currently lacks the votes to win the gavel on the floor. And his possible opposition includes one Colorado Republican.
Rep. Ken Buck left the meeting telling reporters he voted for Georgia Rep. Austin Scott, who launched a last minute bid against Jordan. Scott got 81 votes, compared to Jordan's 124 in the race for the nomination. Both are far short of the 217 needed among Republicans to win the gavel.
Buck said he had some "big concerns" about Jordan.
After voting to remove Speaker Kevin McCarthy, Buck voted present in the first Republican speaker nomination earlier this week, between Jordan and Rep. Steve Scalise. He was concerned that neither man would answer his question about whether the 2020 election was legitimate. Jordan voted not to certify the election results, while Buck did. The two men also differ on other issues, including Ukraine funding and Big Tech antitrust legislation.
Jordan, a hard right lawmaker who currently leads the House Judiciary Committee, has a large hill to climb to win the Speakership. Another internal vote showed that 55 Republicans would not support him on the floor. With all Democrats lining up behind a candidate from their own party, the Republican nominee can only lose 4 votes.
Still, Colorado Rep. Lauren Boebert remains a staunch Jordan supporter. Boebert was confident that Jordan would be able to unify the fractured Republican conference.
"We just had a conversation and I'm confident that Jim Jordan will be our Speaker come Monday," Boebert said leaving the meeting.
Even when the majority of the caucus picked Scalise as its nominee, Boebert said she would vote for Jordan on the floor.
Rep. Doug Lamborn also plans to support Jordan, said his spokesperson.
The House went home for the weekend, after a second week of paralysis on the floor, to give Jordan time to see if he could flip some of the holdouts.
Meanwhile, as Republicans were departing, Democrats staged a show of unity on the East Steps and their support for their nominee, Minority Leader Hakeem Jeffries.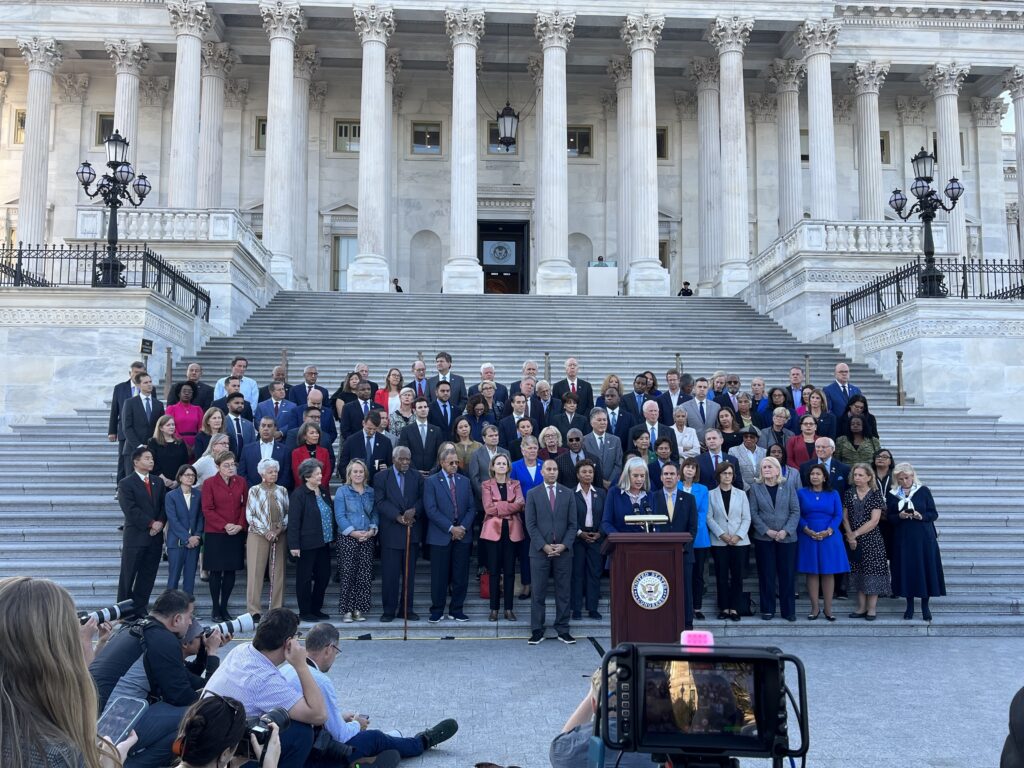 Many Democrats were frustrated by what they called the Republican "chaos" that has ground work to a halt in the chamber.
"I came here to work," said Democratic Rep. Yadira Caraveo at the gathering, "and the fact that we've been here for 10 days now without a Speaker, without [Republicans] being able to come to a consensus because they are in absolute chaos is incredibly frustrating."
However, some Republicans argue Democrats should bear a portion of responsibility for the stalemate; if members of the minority party had been willing to cross the aisle and support McCarthy, the chamber would not be in this position.
But Democratic Rep. Joe Neguse dismissed that argument as an "excuse." He pointed out that Republicans are in the majority and they are responsible for electing a speaker.
"The dysfunction that is happening is within the House Republican caucus. House Democrats have been unified from the start," he said. "If Republicans are willing to work with us, we believe that we could ultimately find a resolution, but House Republicans refuse to do so. They refuse to work with us in that regard and they refuse to elect their own speaker."
The earliest the House could vote on the speaker would be when the chamber returns on Monday night.
You care.
You want to know what is really going on these days, especially in Colorado. We can help you keep up.  The Lookout is a free, daily email newsletter with news and happenings from all over Colorado. Sign up here and we will see you in the morning!