Colorado Election Wrap-Up: What Passed, What Failed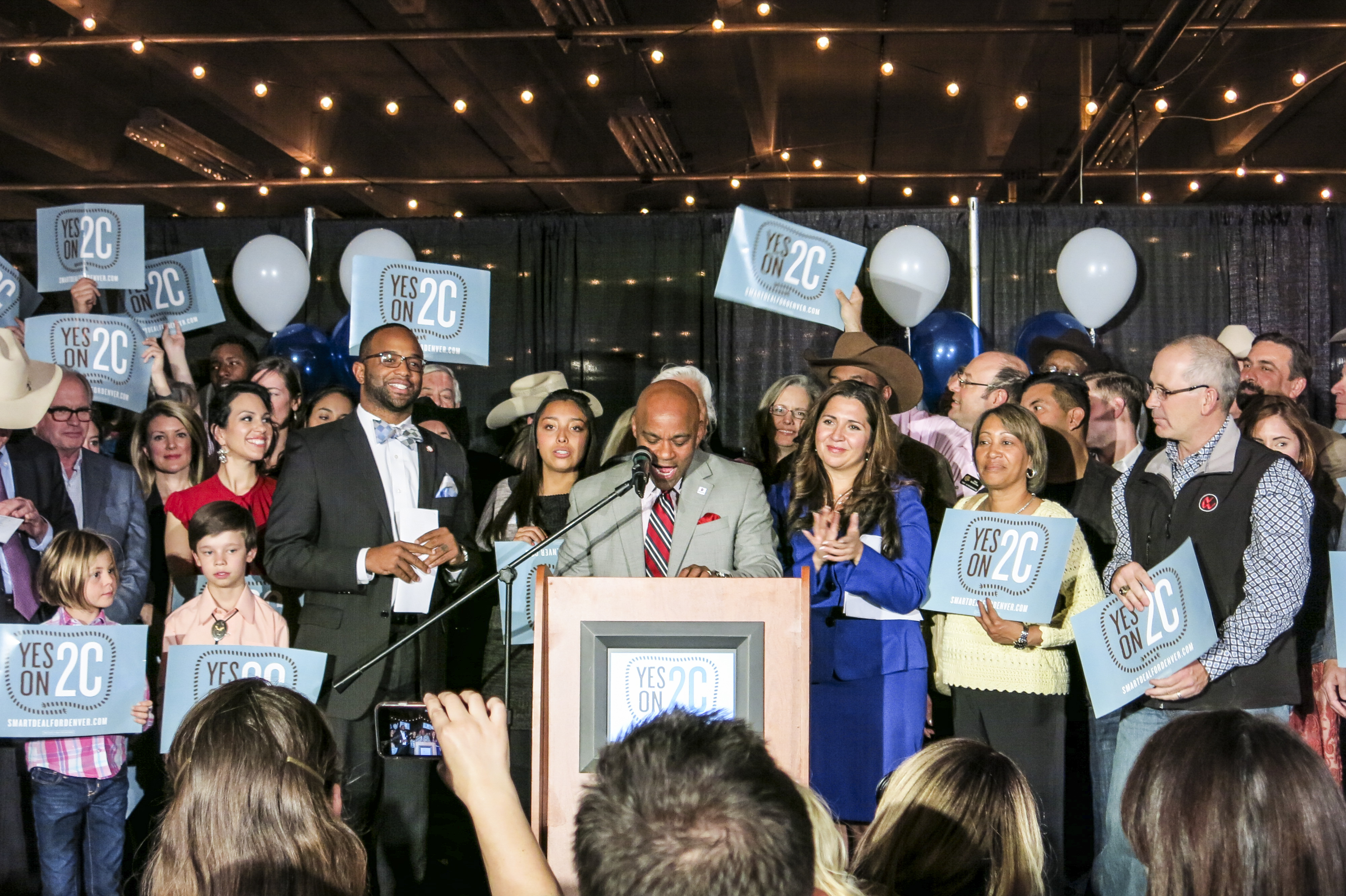 (Megan Verlee/CPR News)With a heated school board election in Jefferson County and a slate of tax-related ballot issues in major cities, Tuesday's vote wasn't your typical sleepy off-year election. Here's how it shook out:
JeffCo Conservatives Recalled
Three conservatives elected to the Jefferson County School Board in 2013 -- John Newkirk, Julie Williams and Ken Witt -- have been recalled by voters. The discord in the state's second largest school district garnered national attention last year when the conservative-dominated board considered revising a new Advanced Placement U.S. history curriculum to emphasize patriotism.
Recall supporters also were upset at a decision to tie teacher pay increases to performance, rather than seniority. They also accused the trio of meeting privately before regular meetings to agree on policy — an allegation they denied. Students protested by walking out of school, and the race drew national news media attention, as well as hundreds of thousands of dollars in campaign donations.
No Pot Tax Refund
Colorado voters have approved Proposition BB, which asked whether the state can keep $66 million in marijuana taxes instead of refunding the money to taxpayers. 
"This is a huge sigh of relief," said state Sen. Pat Steadman, who ran the Yes on Prop BB campaign. "This has been a problem I've been working on for about a year and a half now."
As soon as the election is certified, $40 million goes directly to school construction. The rest is earmarked for treatment programs and enforcement. Denver voters passed a nearly identical measure allowing the city to keep its pot taxes.
The taxes were approved by a 2-to-1 margin in 2013, but the voters were given an inaccurate projection of overall state revenues, which came to about $66 million -- more than anyone anticipated. That's when a little-known provision of Colorado's Taxpayer Bill of Rights kicked in. It says that if a new tax's revenue, or all state tax revenue minus the new tax revenue, exceed estimates, all of the new tax revenue must be given back to voters. 
Aerotropolis Cleared For Take Off 
Voters in Denver and Adams counties approved ballot measure 1A, which will allow Denver International Airport to become an "airport city" by doing away with a longstanding agreement between the counties that prohibited businesses at DIA not related to airport operation.
"New businesses will want to come to our region to be on airport and outside of our airport, in Adams County and in Denver to grow as the airport grows," said Kim Day, the airport's CEO.
The agreement forged by the vote will take effect on Jan. 1. Adams County and Denver will begin equally sharing tax revenue once there is new business development at DIA that is generating revenue. Denver will pay Adams County $10 million up front.
National Western Tax
By some 30 percentage points, Denver voters approved the permanent extension of a tax on hotels and rental cars to expand the National Western complex and redevelop surrounding neighborhoods.  
"The people of Globeville-Elyria-Swansea have waited for a long time, a long time, to see the reinvestment into these neighborhoods," said councilman Albus Brooks, who represents the area.
Mayor Michael Hancock, who pushed for the ballot measure, said Denver stands to gain from turning the site into a "cutting edge, year-round campus."
"Historic neighborhoods will be reconnected. New parks and open space will be created. The South Platte River will be restored," Hancock said in a statement.
Critics of the measure say its financing is too vague and that it funds unrelated projects, like an expansion of the downtown convention center.
Denver Scholarship Tax
A Denver ballot measure that asked taxpayers to support college scholarships was defeated.
Measure 2A would have raised sales taxes about $.08 per $100, with the money going to scholarship programs for Denver high school students.
Hancock supported the proposal, but wasn't surprised that it failed to pass.
"I think people have a difficulty making a connection between college affordability and the local municipal government's role in that," he said.
Supporters of Denver's college scholarship tax say they may try to bring the idea back in future years.
Pueblo voters did pass a local scholarship program. It will be funded by a new marijuana excise tax.
Tax Increase In Colorado Springs
Voters in a city known for its disdain of taxes have approved a sales tax increase for road repairs, amounting to about 6 cents on a $10 purchase, that's expected to raise an estimated $250 million over five years. 
A recent report rated 60 percent of the roads in Colorado Springs in poor condition, and Mayor John Suthers told the Colorado Springs Gazette he was delighted by the outcome, calling it "a huge step forward in continuing to build a city that matches our scenery."
Boulder Growth Measures Rejected
Two contentious ballot measures, questions 300 and 301, were soundly defeated in Boulder Tuesday night. The Daily Camera reported that "proponents and opponents both cast the fight over the ballot measures as one that will determine Boulder's future."
The first would have allowed Boulder to divide itself into 66 neighborhoods and allow each of those neighborhoods to vote on zoning changes, such as density and building height. The other would have established basic levels of city services and then required developers to pay for those services tied to new projects.
Breckenridge Lift Tax
Breckenridge voters have approved Colorado's first local tax on ski lift tickets, a 4.5 percent sales tax on single-day and multiday Breckenridge Ski Resort tickets. It's expected to generate $3.5 million a year for transit and parking improvements in the resort town.
The tax will be collected by Vail Resorts, which operates the Breckenridge resort. Vail Resorts originally opposed the tax but relented when season passes, multi-resort lift-tickets and summer activities were excluded.