Thanksgiving Dinner "alla Rossini"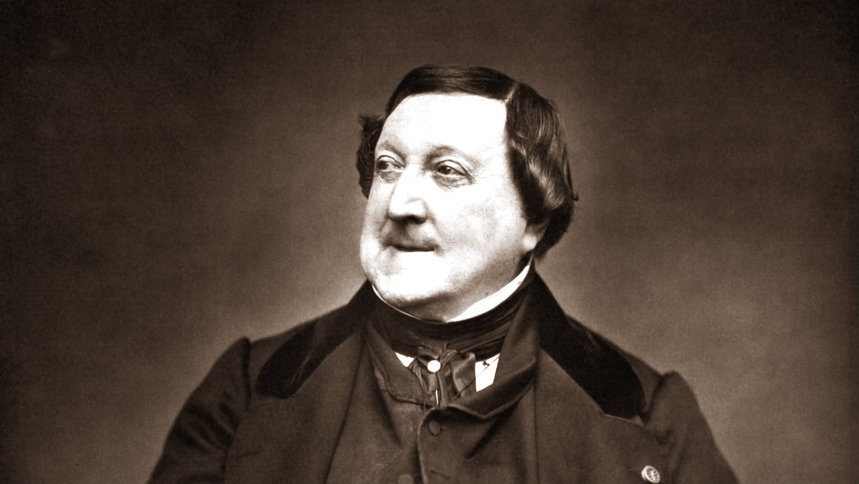 "I know of no more admirable occupation than eating, that is really eating. Appetite is for the stomach what love is for the heart…Eating, loving, singing and digesting are, in truth, the four acts of the comic opera known as life, and they pass like the bubbles of a bottle of champagne. Whoever lets them break without having enjoyed them is a complete fool." — Gioacchino Rossini
When Rossini retired at the ripe old age of 37, he moved to the culinary capital of Paris, where he became fast friends with the pioneer of French "grande cuisine" – Marie-Antonin Carême – who said Rossini was one of the only people who truly understood him.  Rossini wrote several pieces of music for Carême including The Four Hors D'oeuvres. In return, Carême created a number of dishes for his number one patron including Stuffed Turkey alla Rossini and most notably Tournedos a la Rossini.  So on this Thanksgiving, sing along to the "Largo al factotum" from The Barber of Seville or "Di tanti palpiti" from Tancredi while you serve up Thanksgiving dinner "alla Rossini!"
---
ROSSINI BELLINI
Combine ¼ cup sugar and 2 tablespoons water in a small saucepan, stirring until sugar dissolves. Bring mixture to a boil over medium-high heat. Remove from heat.  Place sugar mixture, 3 cups of hulled strawberries, and 2 tablespoons lemon juice in a blender and process until smooth. Pour pureed strawberry mixture through a sieve over a medium bowl, reserving liquid. Discard solids.  Place 3 tablespoons of strawberry liquid mixture into each of 8 Champagne flutes. Pour 1/3 cup of Prosecco or other sparkling wine (chilled) into each flute. Enjoy!
STUFFED TURKEY A LA ROSSINI
Prepare the turkey and insert 1 ¾ ounces of thinly sliced black truffles under the skin, taking care not to tear it. Prepare the stuffing using a further 1 ¾ ounces of black truffles and a similar quantity of bacon, salt, pepper, and a spoon of Madeira. Put the turkey aside for 12 hours. Stuff the turkey just before cooking it. Truss the turkey, remembering to bard lard strips across the breasts. Place the turkey in an oven at 300°F for three hours. Just before serving, take out the turkey, remove the lard bands, and put the turkey back into the oven for 15 minutes to brown the breasts. Remove the turkey from the oven and serve on a dish with extra virgin olive oil, salt, and pepper. Complete the recipe with a seperate side dish of Neapolitan round potatoes, peeled and roasted whole. (Recipe by Pierluigi Stiaccini, owner of "La Torre di Castellina" in Chianti)
TOURNEDOS A LA ROSSINI
Rossini was so picky about how his food was prepared the he often would plant himself in the kitchen of the restaurant he was dining at so he could oversee the chefs.  Or, he would demand that his food be prepared tableside.  An exasperated Carême finally complained (according to Rossini): "Well, if you don't like it, turn your back."  This well-loved dish of filet mignon and truffles is still served in some of the finest restaurants. Try your hand at it with this recipe.
COUPE ROSSINI
And for dessert – a dish that Rossini actually never had because it was created for the Food Network's "Behind the Bash" series.  It combines ladyfingers, mascarpone cream, and fruit.  Rossini would have loved it!  Full recipe here.
Love Classical Music?
Stay in touch with our hosting team at CPR Classical and learn more about the classical events occurring in the community. Sign up here for our monthly newsletter.