DeVotchKa, Ozomatli and CU-Denver stage real-life immigration stories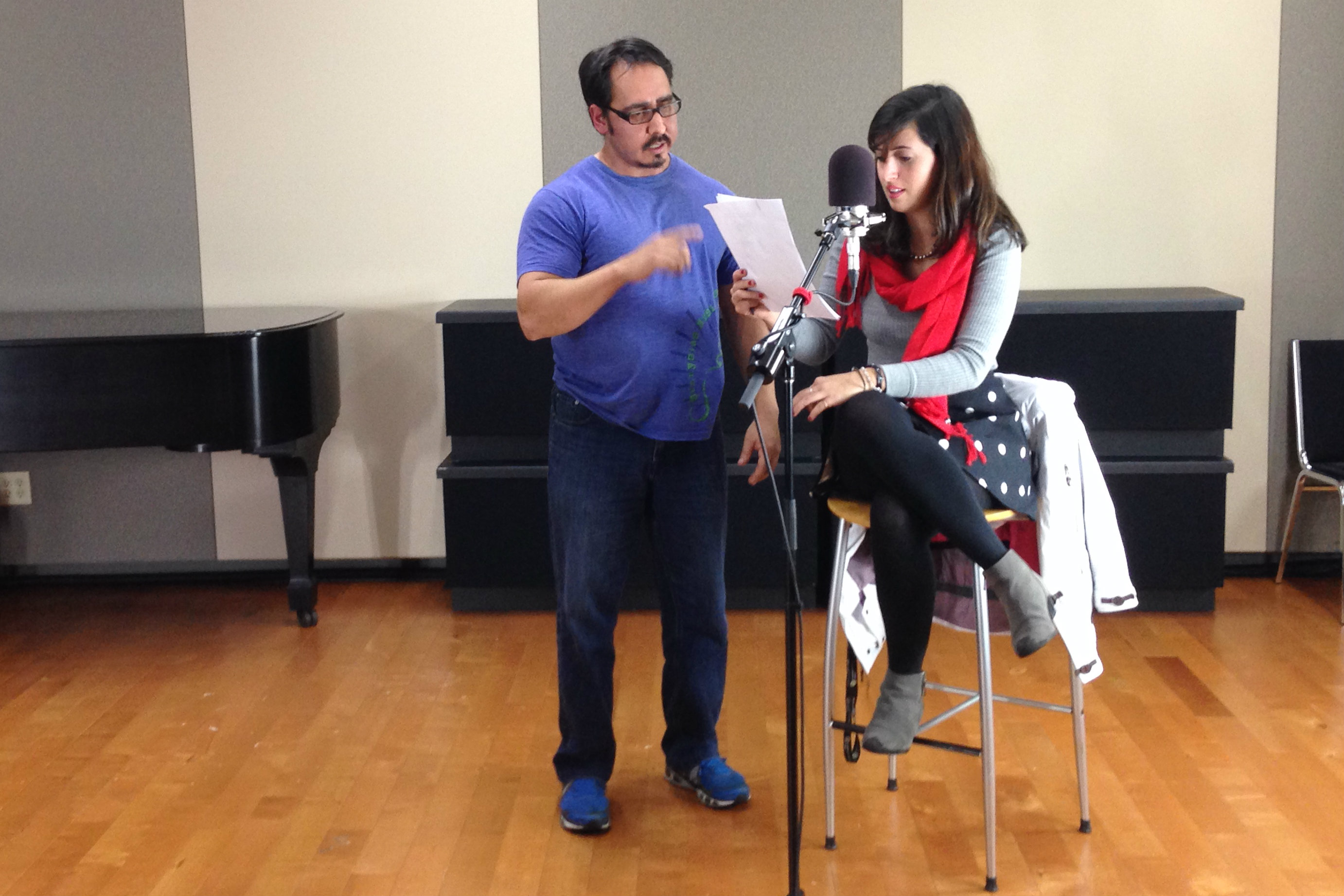 (Photo: CPR/Corey H. Jones)Aspiring actors and world-class musicians share the stage this weekend for the premiere of a stage production that explores immigration and American identity.
"Dreaming Sin Fronteras" opens at the North High School auditorium on Friday, March 21, and runs through Saturday, March 22. The show, created in a collaboration between students and faculty from the University of Colorado at Denver (UCD) and members of the rock bands DeVotchKa and Ozomatli, features 12 stories about immigrants brought illegally to the United States as children – also known as "dreamers."
Director Jose Antonio Mercado adapted the stories based on real-life experiences from interviews he conducted and in testimonies he found with the help of immigration experts across the country.
Aurora resident Alejandra Cardona Lamas' story is depicted in the production. The 20-year-old Aurora theater shooting victim "came out" as an undocumented immigrant as a result of the 2012 tragedy after receiving temporary legal status via a U visa, granted to victims of certain crimes who help law enforcement with their criminal investigations.
The cast of "Dreaming Sin Fronteras" is made up of UCD students, including Ana Dorta, who will portray Lamas' story. The two young women recently visited CPR along with Mercado, also a UCD assistant professor, in anticipation of the production. Also in attendance was Shawn King of Colorado band DeVotchKa.
The director reached out to King to compose music inspired by the stories. King worked with Raul Pacheco of the Los Angeles-based, Grammy-winning band Ozomatli to coordinate a group of musicians who collaborated on an original score.
Listen to a brand new track below.
Here is a preview of arts show host Chloe Veltman's conversation with Mercado and three of his collaborators. For the full interview, tune in to CPR's arts show Friday, March 21, at 10.30 a.m. and 7.30 p.m.
CPR: The cast is made up of some of your students. Tell us about the process of working with them.
Jose Antonio Mercado: I think it's one of the most important issues in the United States right now, so the process has been incredible and I think it's given the students something they can really sink their teeth into. This is not just theater  – it's not just about theatricality and about arts. It's really about how art changes lives, and the issues are just heightening the importance of what the students will do on stage.
CPR: What do you hope this production will accomplish?
Jose Antonio Mercado: It's going to mean the world for these UCD students to share the stage with Grammy-winning musicians like Raul Pacheco and Ceci Bastida, who was a part of the first Mexican punk band. So it's world-class music meeting academia meeting community because we're going back to my roots and doing the whole thing at North High School. I think on a personal level, that's the impact it'll have. Then I think it'll have a national impact as well. We have ambitions to take the show on to Washington, D.C., and to Los Angeles, but always with great pride that it was born in Denver. 
Tune in to CPR's arts show on Friday at 10:30 a.m. and again at 7:30 p.m. to hear Chloe Veltman's exclusive interview with four of the people behind the production of "Dreaming Sin Fronteras."
You care.
You want to know what is really going on these days, especially in Colorado. We can help you keep up.  The Lookout is a free, daily email newsletter with news and happenings from all over Colorado. Sign up here and we will see you in the morning!