OJO CALIENTE MAKES THE WORLD GO AWAY
PHOTOS: Rick DuVal
The hotel at Ojo Caliente reflects the architectural style of New Mexico
PHOTOS: Rick DuVal
Hot springs pool at Ojo Caliente, NM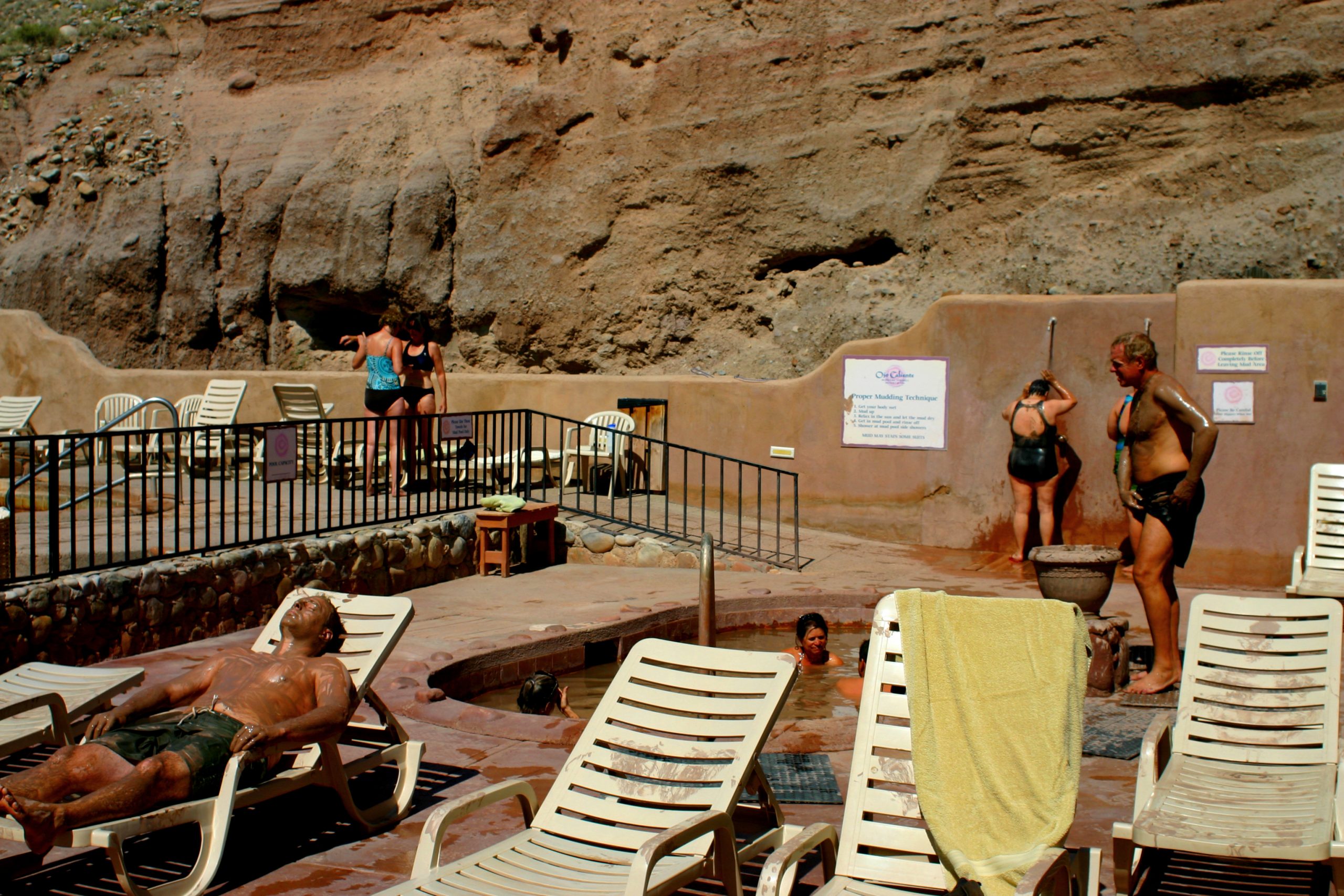 PHOTOS: Rick DuVal
PHOTOS: Rick DuVal
The soda springs pool at Ojo is buoyant and covered by a greenhouse-style roof.
In the arid, cactus-strewn hills of northern New Mexico lies Ojo Caliente, an isolated hot springs resort where the rest of the world fades away.
From Colorado Springs, head south on I-25 to Walsenburg, then take U.S. Highway 160 west to Alamosa. From here, catch Highway 285 south through Antonito into New Mexico. At the "town" of Ojo Caliente, follow the sign (turn right to get to the resort). The sign's easy to miss, so watch for it!  Allow about five hours for the drive, depending on traffic.
The best time to go is in the fall and spring, when days are sunny and nights are cool and there are few pesky insects.
For years, it was a rustic retreat where pools were carved out of rock and people walked around in their ratty bathrobes and flimsy flip-flops from home.
A few years back, when I heard new ownership had renovated it, I was apprehensive. Would it retain its rough-hewn appeal? Would TVs and cell phones now get actual reception? Would I have to buy a big white fluffy spa robe and matching slippers?
Long story short, the new owners made every effort to improve the place while retaining its beloved character.
They revamped the resort's crumbling infrastructure. Added Southwestern-style stucco cottages with private tubs, for those who like to soak alone. Steam rooms and a sauna also were added.
All their work paid off when Ojo was named one of the nation's top 10 mineral springs by SpaFinders magazine.
But it's still not pretentious.
I mean, how pretentious can you be, slathered with mud and baking in the sun? (At the mud baths, which area popular attraction.)
Don't be surprised to find a number of Europeans and Asians enjoying the pools – this place is actually more famous overseas than in the states.
After all, this probably is the most diverse hot springs resort in the Americas.
There are two arsenic pools, at about 103 degrees; one iron springs pool, at about 109 degrees; and a soda springs pool, slightly cooler than the others. 
Soaking in the arsenic pool is said to be beneficial to those suffering from skin problems, arthritis and ulcers; iron is said to benefit those who are anemic; and the soda springs supposedly help digestive problems. Visitors also can drink from the lithium spring, said to promote mental well-being and digestion.
There's also a pool of mixed waters separate from this enclave where families with children can swim. Children are not allowed in the mineral pools.
Try the resort's signature Milagro Wrap: First, you soak in warm mineral water; then an attendant takes you to a quiet, darkened room with rows of tables. She helps you onto one and wraps you like a mummy in soft cotton blankets, topped with a wool one. Faint music helps you relax – occasionally, you may hear soft snoring from a nearby table.
After the wrap, you feel peaceful, cleansed and ready for an afternoon nap (if you haven't already taken one).
There's a small restaurant in the hotel that serves good, moderately priced meals ranging from healthful to decadent. If you crave some dining variety, Taos or Santa Fe are just an hour away, in different directions. Or hop down to Rancho de Chimayo for an excellent meal of Mexican food, famous in these parts. Also, Espanola's stores are a half-hour's drive, if you forgot something essential, like Margarita mix.
Some things at Ojo have changed for the better; some remain refreshingly the same. The atmosphere remains decidedly casual.
Yes, the lodging's gone upscale, with kiva fireplaces and lush bed linens, but the rustic rock-walled pools remain. You still can meditate in the buoyant soda springs pool undisturbed or drift under the star-studded New Mexico night sky.
Though they provide complimentary robes for spa-goers, you still can wear your old bathrobe and flip-flops from home and nobody bats an eye. They have WiFi and satellite TV now, too – but there are no phones in the rooms and your cell phone might not even work.
Now, how cool is that?
WEB EXTRA
IF YOU GO
SERVICES: Besides soaking in the pools, massages, facials, herbal wraps and other spa treatments, plus yoga classes, are available.
LODGING: There's the historic hotel, remodeled and new cottages and a house that can be rented by groups. Lodging rates vary widely by type and season, but high-season rates (double occupancy) generally start lower in the hotel and run higher in the Cliffside Suites (with a semi-private pool for overnight guests only). Rates include use of all pools, steam room, sauna and mud baths. If you're not staying on property, day rates are available.
INFORMATION: 800-222-9162 or http://ojospa.com.  
 Linda DuVal is the former travel editor for The Gazette, a freelance travel writer and winner of several Lowell Thomas awards. She is the co-author of Insider's Guide to Colorado Springs and writes a local Web site, Pikes Peak on the Cheap (www.pikespeakonthecheap.com).
Colorado Traveler airs Sundays before the Splendid Table and Wednesdays at 11:55 am. 
You care!
Southern Colorado is changing a lot these days. We can help you keep up. Sign up for the KRCC Weekly Digest here and get the stories that matter to Southern Colorado, delivered straight to your inbox.