Why Some Colorado Ski Resorts Want Your Attention On Climate Change
Colorado depends heavily on the ski industry, and the state's mountain resorts depend heavily on the weather, and both will feel the pinch as Earth's climate warms. The question is, what can be done about it?
It's an important economic question.
According to Colorado Ski Country USA, the state's 21 member resorts account for by far the most skier visits of any state in the country, about 20 percent, or 11.4 million out of 56 million last year. The organization says those skiers spend as much as $3 billion a year in Colorado -- a figure that represents a sizeable chunk of what the state's economic development office says is a $13.2 billion outdoor recreation industry.
Changing western temperatures: "Under this scenario, by 2050, temperature regimes migrate northward in Winter by about half the state and upslope from the Kansas border to the Front Range in Summer. Desert Southwest temperatures will move up the Western Slope valleys, and mountain temperatures will migrate upward in elevation," says the National Oceanic and Atmospheric Administration. 
So when climate scientists start predicting a loss of snow for Colorado's high country, the ski resorts take notice. A Colorado Water Conservation Board report projects a "precipitous decline" in snowpack at elevations below 8,200 feet in the West by the middle of this century, and declines of about 10-20 percent at higher elevations. (The base of Arapahoe Basin is 10,780 feet. In Aspen, it's about 7,800 feet.)
A different report by the National Resources Defense Council, a conservation advocacy group, paints one scenario in which the snowpack on Aspen Mountain, at 10,700 feet,  will be confined to the top quarter of the peak.
Some Colorado ski resorts have long lobbied for climate change action. With the Paris Climate Talks kicking off at the end of the month, an alliance of snowsports businesses sounded the alarm to President Barack Obama:
2014 was the warmest year in the temperature record, and 2015 is on track to surpass it. Failure to act now on climate is unacceptable, and will result in damage to the environment, tourism and the economy. This is the greatest opportunity of our Jme. We need meaningful action from all, and it is time to act. The snowsports industry is doing our part as well to address climate change. We not only advocate for a stronger climate policy, but we've broadly implemented clean energy and energy efficiency measures throughout our businesses.   
On one level, Colorado's mountain resorts are trying to do their part to reduce waste and emissions that contribute to greenhouse gasses by adopting renewable energy systems like solar panels, changing snowmaking equipment to be more energy efficient, or  introducing composting programs aimed at guests and workers alike to cut back on garbage sent to landfills. That's what's going on at Arapahoe Basin, as it tries to influence the ways in which its visitors think about climate change.
"We really just want people to have it in their mind, think about how their individual actions and day-to-day lifestyle choices really can have a big impact in a good or a bad way," said Mike Nathan, A-Basin's assistant manager of sustainability.
The Aspen Skiing Company is going one step further. On opening day this Thanksgiving, Vice President of Sustainability Auden Schendler says skiers will see signs on the mountain and on lifts that map out carbon dioxide emissions and rising temperatures. People will be encouraged to contact Congress and ask for action.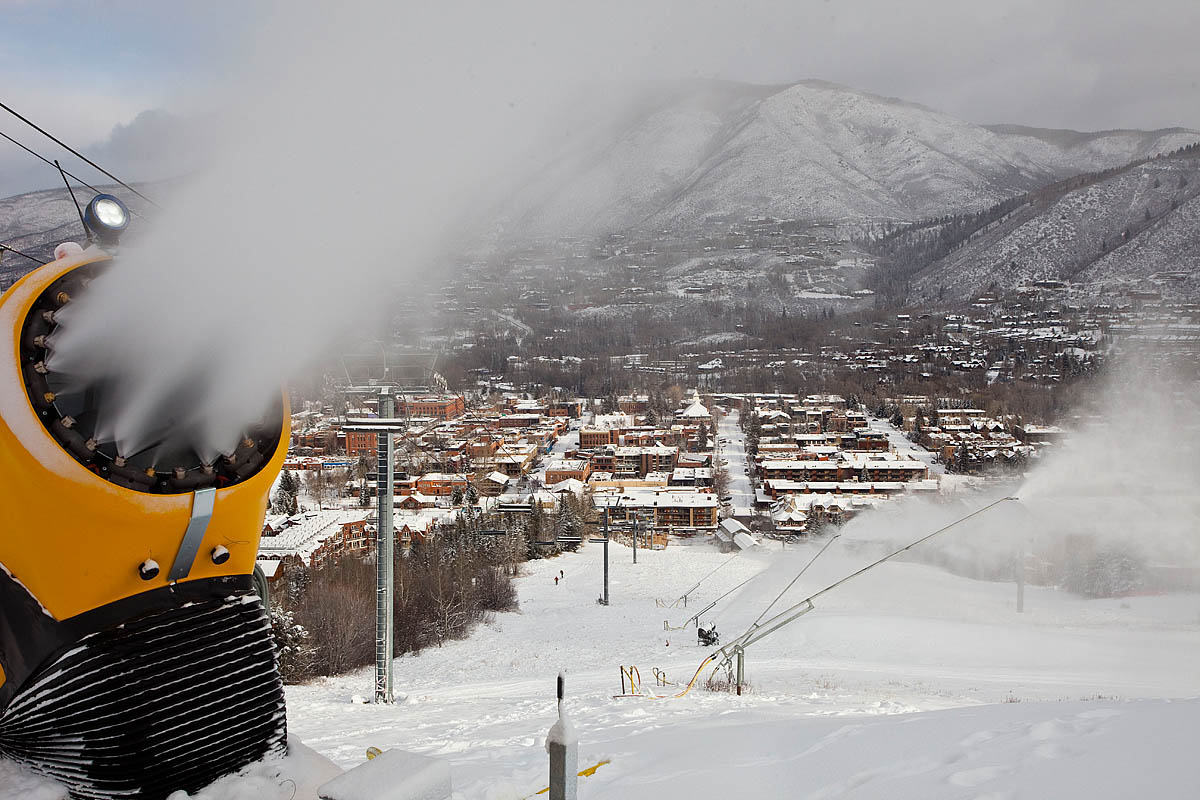 "It's going to force a conversation about climate change, and it's going to be a friendly conversation and an easy one. But it will be in your face," said Schendler.
What if customers get into contentious discussions with employees?
Schendler says Aspen employees are getting trained on how to handle conversations about climate change.
"We're training them to say, 'Look, as a business all we can do is listen to the scientists. And that's what we're doing. And we're seeing these impacts on the ground. And we're responding to them,'" he said.
A High Country Silver Lining
Temperatures and snow can vary from year to year. Over time, averages will shift. One main shift will be increasingly longer and warmer shoulder seasons in Colorado that will shorten the ski season.
That could be a big blow to resorts like A-Basin that can remain open into May--sometimes even June."As we move toward the future there's good reason to expect that those shoulder seasons will get warmer, which will mean sometimes potentially sometimes less snow. But also potentially slushier conditions, or less ideal conditions," said Eric Gordon, who works with the Western Water Assessment based at the University of Colorado Boulder.
Here's one silver lining: Colorado's ski resorts are at much higher elevations compared to those in California and the Pacific Northwest. Gordon says that means Colorado's cooler conditions could be an advantage in the coming decades.
"In the depths, the coldest parts of the snow season, there's actually an increase in what could be snow during what could be the core of the season...up to about mid century," he said.
What happens over the next 100 years is more of a question.
The one thing Gordon's almost sure of is the ski industry's ability to adapt to the changing climate. That happened with snow making after dry winters curbed growth in the 1970s. With nearly 38,000 workers now employed across the winter tourism industry--jobs, revenue, even the state's image will hang in the balance.
You care.
You want to know what is really going on these days, especially in Colorado. We can help you keep up.  The Lookout is a free, daily email newsletter with news and happenings from all over Colorado. Sign up here and we will see you in the morning!