What Was Denver Like When The Broncos Last Won The Super Bowl? Let's Take A Look
The Broncos are in the Super Bowl! Denver hasn't been this excited over our football team since the last time they ... well, let's not talk about that right now. Instead, let's look back at the Mile High City as it was the last time the Broncos won the big game in 1999.
For starters, legendary quarterback John Elway (who's currently sporting some silver streaks) was a sprightly young 38-year-old who led the city in celebrating the team's second Super Bowl in as many years.
(Courtesy Denver Public Library/Rocky Mountain News/Ken Papaleo)
The Orange and Blue still played in Mile High Stadium -- very much an old-school facility that started its life in 1948 as a baseball and football stadium. It had only 34,000 seats when the Broncos came into being in 1960, but was expanded over the years until it was demolished after the 2000 season. 
(AP Photo/David Zalubowski)
The old stadium site is now a parking lot for Sports Authority Field. 
Downtown Transformed
Just north of Mile High, renovations were underway at the Denver Tramway Company Powerhouse building -- now home to REI. At the time, there was little else on the west side of the Platte River in downtown, with the exception of stalwarts My Brother's Bar and Paris On The Platte (may it rest in peace). From 1968 until the late 1990s, the building housed the Forney Museum of Transportation. Here's what the site looked like in 1999: 
(Courtesy Denter Public Library/Thomas Noel)
Across the Platte, construction crews were putting the finishing touches on the Pepsi Center. Before it opened in October 1999, the Nuggets and Avalanche played at McNichols Sports Arena. That building was razed in 2000 to make way for the new Broncos stadium.
A light rail stop away, Union Station was still a bit of a train wreck (so to speak). Downtown was still in the middle of a decades-long effort to bring it back from a low-point in the 1980s. Commons Park, to Union Station's west, opened in 1999. The same year, construction started on the Millennium Bridge that connected the new park to the 16th Street Mall. But much of the area was still empty when this photo was taken in 2006:
(Courtesy Denver Public Library/Rocky Mountain News/Barry Gutierrez)
Trains And Planes
It wasn't until 2014 that a newly renovated Union Station would be reopened to the public and once again become the city's transportation hub. It's also easier now to get to more places from Denver than ever before. You could go 80 different places from the Denver International Airport in 1999. Today, there's about 166 destinations.
DIA had 2.88 million passengers in January 1999 versus over 4 million forecasted this month, an airport spokesman says. The planes must be fuller these days too -- there were 40,896 flights in Jan. 1999 and 42,757 this month.
It was trickier to get around town for visitors in 1999. The only light rail line then went from Five Points to I-25 and Broadway.
(Courtesy Denver Public Library/Thomas Noel) 
That November, voters approved funding for the T-REX project that expanded light rail, I-25, and I-225. Another transportation project, FastTracks, followed a half-decade later. RTD now operates six light rail lines, with four more light- and commuter-rail lines set to open this year.
Did those projects help ease traffic congestion? It certainly doesn't feel like it some days. But, to be fair, there are far more drivers on the road now than there were 17 years ago.  The metro area has seen explosive growth in the last 17 years; Denver alone has more than 100,000 residents more than it did in 1999: 
Houses cost a whole lot less back then, too. In April 1999, the average price for a single-family home in the metro area was just $218,242-- about $310,000 in 2015 dollars. By last year, the average sale price was $404,893.
Cheers To Denver's Brewing Forefathers
With Denver's growth, the number of breweries in the city has skyrocketed. Back in 1999, there were only about 10 breweries around Denver, says Steve Kurowski, marketing director of the Colorado Brewers Guild. Now there's at least 62.
The Wynkoop, Denver's first microbrewery, had already been around for a decade by time 1999 rolled around. And its most famous co-founder was still leading the company. In just a few years, John Hickenlooper would be the mayor of Denver -- and in the governor's office by the end of the decade.
(Courtesy Breckenridge-Wynkoop)
Most veteran breweries, like Great Divide, Breckenridge, Rock Bottom and the Chophouse are still around in one form or another. Others, like Broadway Brewing, now only exist in boozy memories.
Tunes And Theater
Red Rocks was a big destination for touring bands in 1999, just as it is now. Big shows that year included Robert Plant and Jimmy Page of Led Zeppelin fame, Tori Amos, Matchbox 20 ... and Hanson. The pop trio was still at the height of its teenage-heartthrob fame, a moment captured in this must-read show diary from a fan who tried to wait in line for four days:
We explored the empty amphitheater, went on stage, begged numerous security guards to let us sleep there, etc. We even snuck backstage! It was so neat, because we kept thinking to ourselves, "Hanson will be walking around in HERE in 4 days"... then we started kissing the walls and touching everything possible...
South Park had been on the air for just two years in 1999. That year, the show's co-creators Trey Parker and Matt Stone produced their first feature-length film.
Critics mostly liked it, though many called it "nasty" too. Roger Ebert gave it two and a half stars, and admitted that it was funny:
I laughed. I did not always feel proud of myself while I was laughing, however. The movie is like a depraved extension of "Kids Say the Darnedest Things,'' in which little children repeat what they've heard and we cringe because we know what the words really mean. No target is too low, no attitude too mean or hurtful, no image too unthinkable. After making "South Park: Bigger, Longer and Uncut,'' its creators, Trey Parker and Matt Stone, had better move on. They've taken "South Park'' as far as it can go, and beyond.
Seventeen years later, creators Parker and Stone are both still making the show. In fact, the show was renewed last year -- it'll be on television until at least 2019. 
Back in 1999, Star Wars fans eagerly awaited the release of George Lucas' first prequel. Fort Collins native Jake Lloyd, then 10 years old, became known around the world as Anakin Skywalker, young Darth Vader. As if fame's spotlight wasn't tough enough, the film got terrible reviews and Lloyd was rumored to be known as "Mannequin Skywalker." Last year, 26-year-old Lloyd was arrested after leading cops on a high speed chase. 
Lynx Come Back To Colorado
It wasn't a Denver story per se, but 1999 was the year Colorado began reintroducing lynx to the state. Before then, no one had seen a Lynx in Colorado since 1973. Even before that sightings were rare, and happened mainly in mountainous areas of the state, says the Colorado Department of Parks and Wildlife.
But during that first year, it wasn't certain that the cats would thrive in their new habitat. 
"I'm not against the lynx reintroduction, but I am against an inefficient reintroduction that kills animals,'' Marc Bekoff, a CU professor of animal behavior, told the Rocky Mountain News after two Lynx died in March of that year. 
By 2005, kittens were being born in the state and lynx were expanding throughout the high country.
Buzz Builds For Legal Marijuana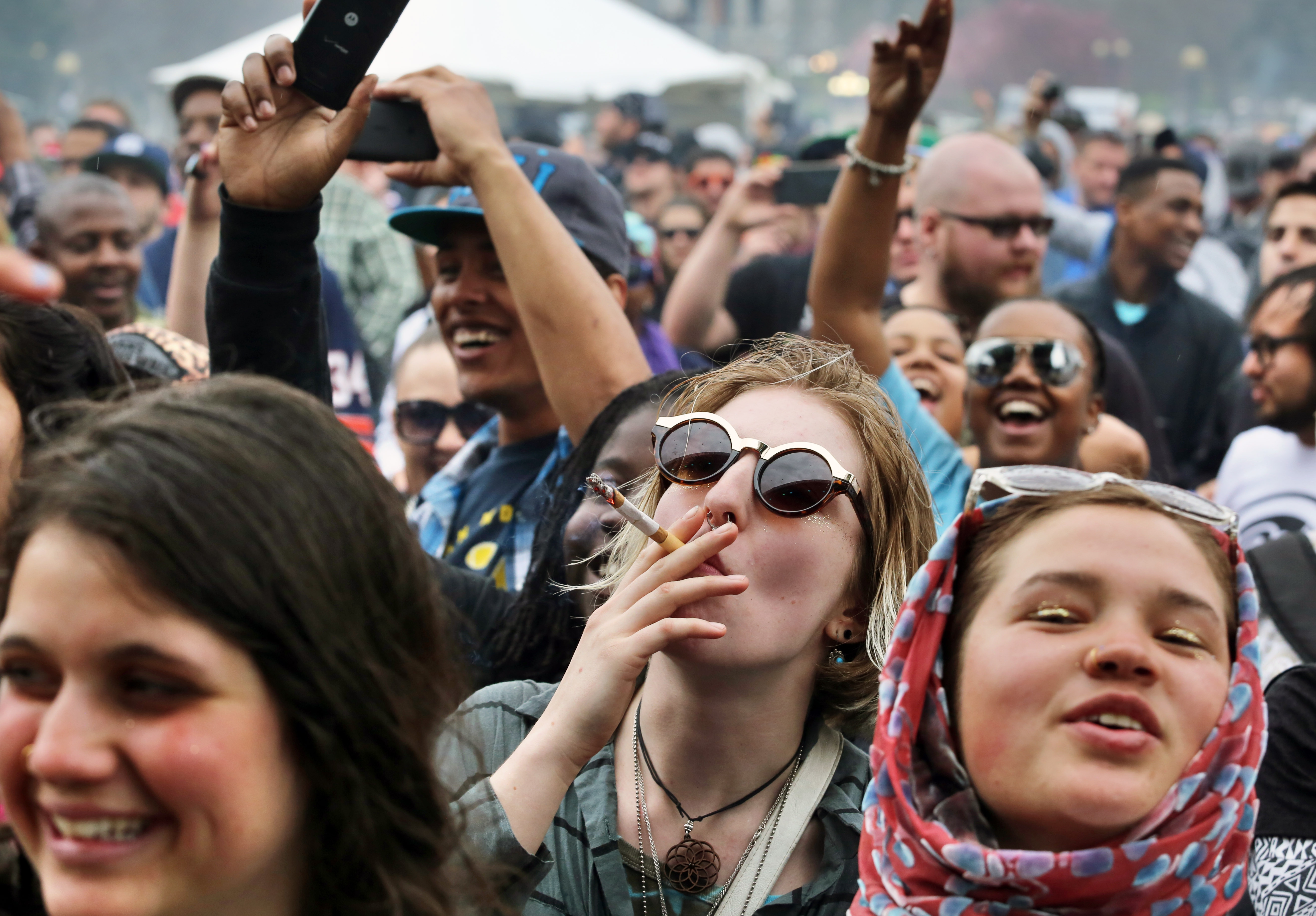 The folks above are probably too young to remember it, as they toke away, but there was in fact a time when marijuana shops didn't dominate Federal, Colfax and Broadway. Back in 1999, not even medicinal marijuana was legal yet. But the seeds for making it so were planted that year, with a ballot measure legalizing the drug ultimately passing in 2000. Recreational pot wouldn't be legalized until 12 years later, again by a popular vote. Now of course, the weed biz plays into Denver's draw as a tourist spot, helps line state coffers, and irritates our neighboring states.
Countdown To Sunday
That was then. Now, after Peyton Manning knocked off arch-rival Tom Brady last week (for the last time?), the Broncos have a chance to create another milestone in the city's history. But if the Denver has to wait another 17 years to win the big game, we might have a new stock show complex and stretch of interstate to talk about. And unless driverless cars save the day, probably the same old traffic jams too.
What do you remember about Denver in 1999? Leave a comment below.
You care.
You want to know what is really going on these days, especially in Colorado. We can help you keep up.  The Lookout is a free, daily email newsletter with news and happenings from all over Colorado. Sign up here and we will see you in the morning!