Colorado And The Olympics: Wrestler Adeline Gray Loses Chance For Gold
Updated Aug. 18, 11:30 a.m. -- Ahead of the Rio games, we told you about Colorado's Olympians to watch. Here's how they are performing so far. Check back for updates.
Adeline Gray, wrestler
Denver's Adeline Gray lost her chance for gold Aug. 18 in her quarterfinal match in Olympic Wrestling. The Denver Post reports that Gray fell to Vasilisa Marzaliuk of Belarus, 4-1.
Gray might have the chance to wrestle for a bronze medal depending on the results of the semifinals. That's likely not the result she had in mind earlier this month when she told Colorado Matters, "I would love to have some of those highlight sponsors like Visa and Wheaties and some of those Olympic sponsors step up and support me because I think that I'm doing something special out here on the wrestling mat for not just female wrestlers and for wrestling in general, but for women in sports."
Gray, who graduated from Bear Creek High School in Lakewood, now lives in Colorado Springs. You can follow her on Twitter @AdelineGray.
Jenny Simpson, runner
CU grad and former Monument resident Jenny Simpson earned a bronze in the 1,500 meters Aug. 16, becoming the first United States woman's runner to medal in the event.
"The medal is incredible," she told the Colorado Springs Gazette. "To be the first American medal winner is something I have not allowed myself to think about, until now."
This is her third Olympics and her first medal. After she crossed the finish line and was draped with the Stars and Stripes, the emotions of the moment caught up with her. As photographers turned their lenses her way she sobbed openly.
Follow Simpson on Twitter @trackjenny.
Sarah Hammer, cycling
 (AP Photo/Patrick Semansky)Hammer, who lives in Colorado Springs, earned a silver medal on Aug. 16 in the woman's omnium cycling competition, making it her fourth Olympic silver. 
"I'm so, so excited," Hammer told the Colorado Springs Gazette. "Of course you always want to take a medal but when you're talking about two days and six events, absolutely anything can happen. I'm so thankful that everything went into play."
The 32-year-old's birthday is Thursday, and she told The Gazette this is likely her last Olympics. 
"I still absolutely love racing my bike," she said. "Am I going to go another four years? Probably not."
Follow Hammer on Twitter @SarahHammer. 
Boris Berian, runner
(AP Photo/David J. Phillip)Berian, a Colorado Springs native, came in eighth in the 800-meter track final on Monday.
"It would have been a lot of fun to see him on that podium, but we're still super proud of him," Berian's high school cross country coach told the Colorado Springs Gazette. 
His road to Rio was a rocky one. Berian was forced to leave Adams State University in Alamosa because of poor grades, the New York Times reports. He then started training at night and working days at McDonald's. 
Follow Berian on Twitter @borisgump800. 
Emma Coburn, steeplechaser
(AP Photo)
CU Boulder's Coburn, who led the final race in the early stages, took bronze and became the first woman from the U.S. to win an Olympic medal in the 3,000 meter steeplechase.
Kenya-born Ruth Jebet, who represents Bahrain, opened a huge gap halfway through and didn't look back to win gold in in the second fastest time ever.
A world record was on the cards at the Olympic Stadium on Monday until the final few meters when Jebet slowed. She crossed in 8 minutes 59.75 seconds, less than a second off the world mark of Russia's Gulnara Galkina.
Jebet now holds two of the three fastest times ever over the barriers.
Kenya's Hyvin Kiyeng Jepkemoi, the world champion, claimed the silver medal but was over seven seconds behind Jebet.
Coburn is originally from Crested Butte. You can follow her @emmajcoburn on Twitter and @emmacoburn on Instagram.
Mallory Pugh, soccer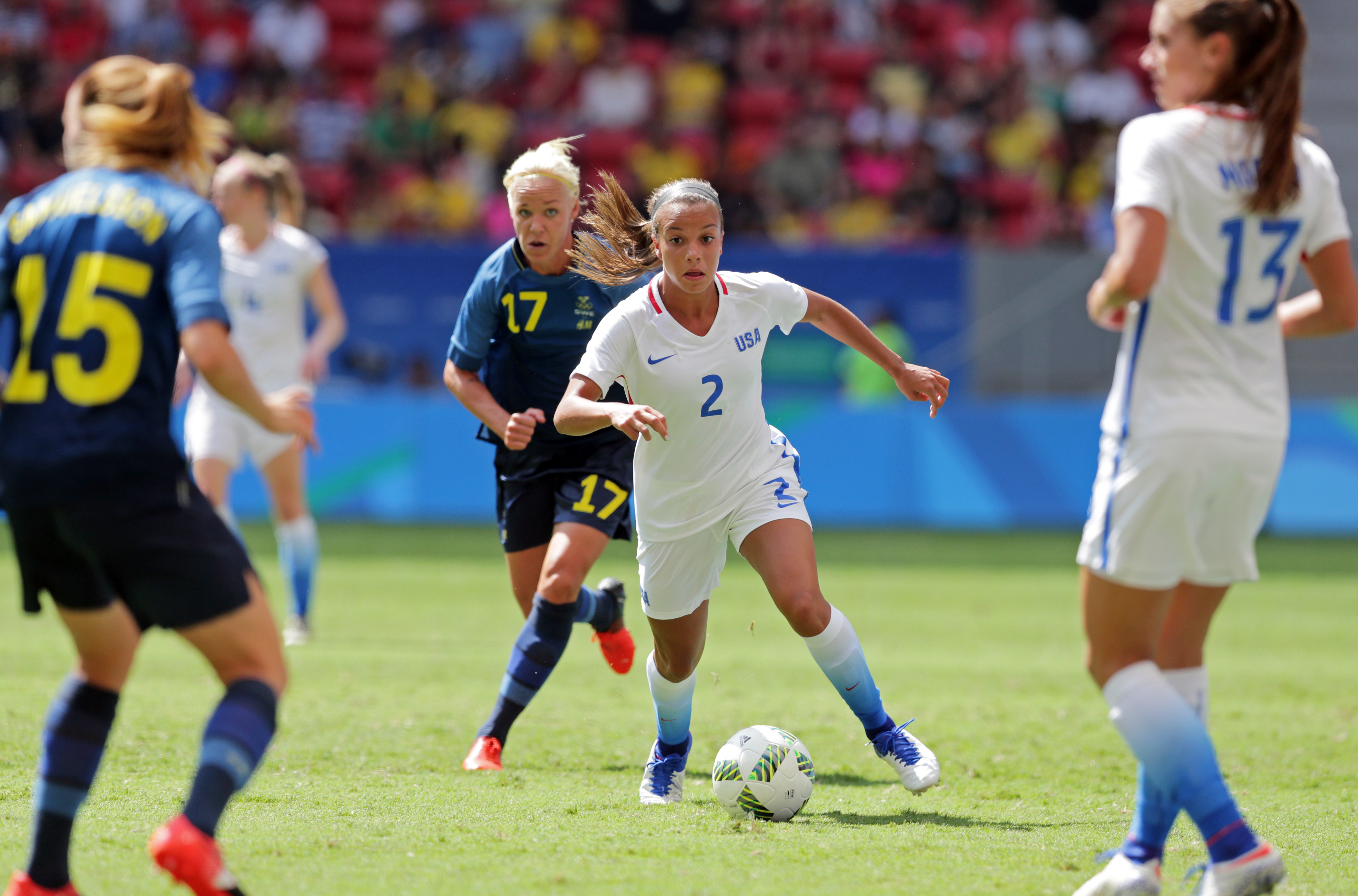 The teenage phenom from Highlands Ranch scored against Colombia on Tuesday, making her the youngest American to score a goal in the Olympics. The U.S. women's team tied Colombia 2-2.
But Sweden bounced the Americans from the tournament on Friday, 4-3 on penalty kicks. Pugh was taken off the field after hurting her leg.
In July, Pugh told Colorado Matters she was a little nervous heading into the games because of the long shadows cast by predecessors on Team USA like Mia Hamm and Brandi Chastain. "There's a legacy that we, as younger players, need to fulfill. For me, I'm going to try the best I can to follow in their footsteps," Pugh said. 
You can follow her on Twitter @MalPugh.
Missy Franklin, swimmer
The Aurora native finished her second Olympics with just one medal, a disappointment after her huge success in London in 2012.
Franklin finished last in her Rio debut on Monday, the 200m freestyle.  She was benched in the 4x200m freestyle relay on Wednesday, but she'll get a gold medal because she swam in the preliminaries. On Thursday, she came in seventh in the 200m backstroke semifinals. 
"I wish I had an excuse, but I don't," Franklin told USA Today after her final race. 
But she added that she's not done with the sport just yet. "I have so much more left to give to this sport, to my fans, to the people that have been supporting me," she said.
She's @missyfranklin on Twitter.
Mara Abbott, cyclist
Boulder's Abbott just missed the podium in the women's road race on Sunday, coming in fourth. "I rode that race to the absolute best of my ability, and I didn't leave anything out there," she told a reporter.
Abbott's teammate, 43-year-old Kristin Armstrong, credited the Coloradan's upbeat attitude with providing needed motivation. Armstrong won the gold in the cycling time trial race on Wednesday.
"About 5k to go, my coach said 'All right, here we go. It's up to you what color medal you want,' " Armstrong told USA Today. "I thought, I have to give it everything for my team. I have to give it everything for Mara."
Abbot tweets @cosunshinemka.
Taylor Phinney, cyclist
The Boulder cyclist pulled out of last weekend's road race with 38 miles to go, saving his strength for the time trial race on Wednesday. But he finished 22nd in that race, more than five minutes off the pace. 
Phinney had medal hopes, but is recovering from a broken leg two years ago. 
Not what I expected today, but humbled by this experience. I feel reinvigorated for the future and full of love for my people. #Rio2016

— Taylor Phinney (@taylorphinney) August 10, 2016
Follow Phinney on Twitter @taylorphinney. 
David Higgins, shooter
Air Force Academy cadet David Higgins came in 40th in qualifying round of the 50m prone rifle competition. He did not make the finals.
But he told the Colorado Springs Gazette he hopes to make the 2020 games in Tokyo.
You care.
You want to know what is really going on these days, especially in Colorado. We can help you keep up.  The Lookout is a free, daily email newsletter with news and happenings from all over Colorado. Sign up here and we will see you in the morning!