Globeville Elyria-Swansea Isn't Interested In Gentrification. They Want Change On Their Terms
When parts of Denver suddenly become desirable, developers and people with higher incomes move in. That usually means people with lower incomes are pushed out.
Residents in northeast Denver don't want that to be their story.
"Almost the entire neighborhood is at risk of displacement," said Nola Miguel, the director of the Globeville Elyria-Swansea Coalition, a group of residents fighting the negative impacts of gentrification.   
Globeville and Elyria-Swansea are some of Denver's oldest neighborhoods — with industrial roots that predate the 1900s. Early immigrant settlers worked in smelters, the stockyards and railroads. There aren't a lot of sidewalks here and the single-family houses are small and older. The community is mostly Latino and incomes are much lower than Denver's average.
But the area is about to drastically change. The city's planned massive redevelopment includes a rebuild of the National Western Complex, Brighton Boulevard and several new light rail stations. There's also the state's $1.2 billion project to expand and sink I-70.
Combine these major projects with affordable property prices and a proximity to downtown, and the neighborhoods are a likely target for gentrification. Miguel said the speculative real estate market has already displaced people who "want to come back" to the neighborhood.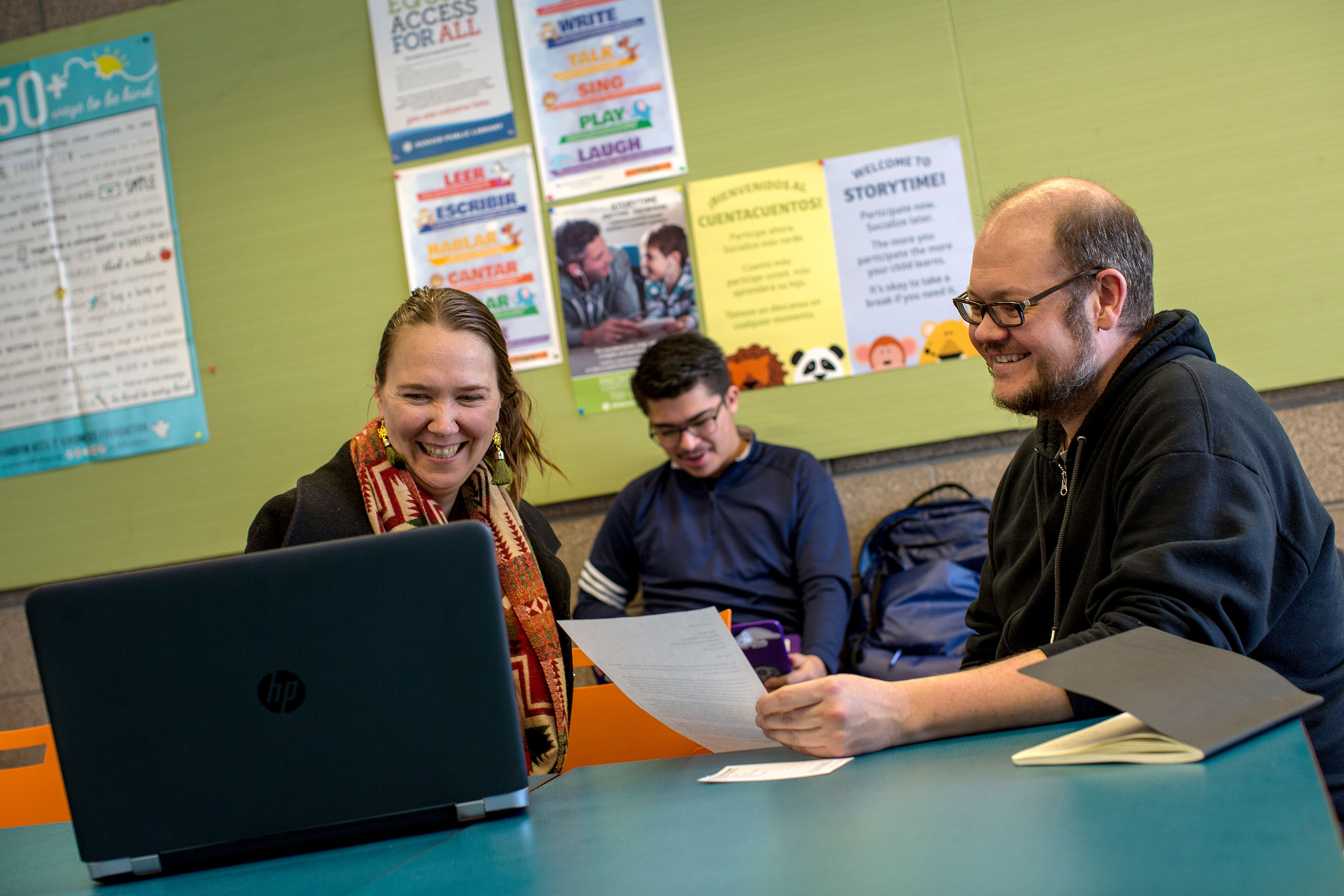 "It's not that they moved to a better place or a nicer community or a big house or something," Miguel said of those who have left. "They're usually in worse off circumstances. A lot of people have moved into like, low-quality trailer type situations."
There's mistrust of development in the GES community, Miguel said. The mid-century construction of I-70 left the neighborhood divided and polluted. It was labeled a Superfund site by the Environmental Protection Agency because of  those early smelters.
The Urban Land Conservancy, a nonprofit that buys and develops property in underserved areas, has a six-acre development at 48th and Race streets, next to Elyria Park. The industrial site was purchased in part with a loan from the city, after the area was targeted for its need of affordable housing.
The community wants affordable housing, but what they don't want, Miguel said, is "a prepackaged development." The neighborhood is afraid that if it doesn't speak up now, more development will cause more harm. And that if this project isn't done right, it will just cause displacement.
"How can we change these patterns of discrimination, segregation, redlining, all of these things that have happened in the past?" Miguel said. "They're not just going to change without the real impacted neighbors being involved in a meaningful way."
The coalition has gone to all of the developer's community meetings about the project. But to be heard, Miguel said they had to host their own. The group wanted the developers to make commitments to the community.
"And let's hear your responses in a public place," Miguel said.
Representatives from the Urban Land Conservancy and Columbia Ventures, the firm leading the development, came to the coalition's forum. There, a "Community Benefits Agreement" with Elyria-Swansea residents was read aloud by the coalition.
The agreement asked for a number of things, like more affordable units big enough for families. They want preference for apartments and retail space to go to locals and already established business owners. They want more say in the project's direction.     
Then they asked the developers to sign it. Both Columbia Ventures and Urban Land Conservancy responded they'd be willing to — once the details are negotiated.
The coalition and the community's voice have already prompted changes to the first phase of the project. Originally it was 100 units, now it's 150. They'll be affordable, which means rent is 30 percent of the tenant's total income. Some units will be very affordable. About a third will be available to those making at or below 30 percent of the average median income. That means a three-bedroom would cost about $700 a month.     
Erin Clark of the Urban Land Conservancy said the group is trying to listen to the specific needs of this community.
"We're doing what we can with this project, to meet as many objectives as we can, but we can't meet everything," she said.
Once the affordable apartments are built, next comes the market-rate ones. Columbia's agreement with ULC is to keep just over half of the total apartments affordable. That means they could build 149 more and lease them for whatever the market will bear. Beyond that, any more affordable units that Columbia does build would be for those making at or below 80 percent of the average median income. That would $1,350 a month for a one-bedroom.  
The Globeville Elyria-Swansea Coalition is really worried about that next phase. Clark understands, but pointed out it's those market-rate apartments that help pay for the affordable ones.
"Part of the tension I think has been, yes, we as ULC intervene in the marketplace but we're not immune to market forces," Clark said.
The coalition's 2016 door-to-door survey found that renters are especially at risk for displacement. There are usually three or more adults to a house, with two or more children. And most renters didn't have a signed lease, which makes evictions easier.    
In Elyria-Swansea, 46 percent of renters spend more than a third of their total income on housing. Some landlords are cashing in on the gentrification with higher rents or by selling to developers or new higher income residents. The average price of a single-family home has gone up nearly 200 percent in the last 10 years.
To try and mitigate involuntary displacement, the coalition started a community land trust to buy land and create affordable homes and apartments. It's funded by a $2 million grant from the Colorado Department of Transportation that came as part of the disruption of the I-70 project.
Yadira Sanchez, a single mom with three kids, has lived in the Globeville Elyria-Swansea area for more than 15 years. Her family owns a restaurant and bakery, and Sanchez is afraid business will suffer with I-70's expansion. The GES Coalition member said it's depressing.
"Other people see this as their work zone and their project. And this is our happy place, which is not very happy anymore," Sanchez said.
The coalition knows this is a big fight. Denver did a study on gentrification in the city. Its first finding? There's no single solution for, "a city to benefit from neighborhood revitalization while avoiding involuntary displacement."       
There are days when Sanchez wonders if sticking around is worth it. She then thinks about the community and what it means to her. The culture here makes her feel like she belongs, and she doesn't want that to go away.
"Why does better mean move? Why does better mean it's not for you?" Sanchez said. "Why is it not for the people in this community already? Like, why? Why can't it be?"
She realizes Globeville Elyria-Swansea will soon look very different, and that there's no stopping that. What Sanchez and the coalition are fighting for, she said, is what that future will look like.
You care.
You want to know what is really going on these days, especially in Colorado. We can help you keep up.  The Lookout is a free, daily email newsletter with news and happenings from all over Colorado. Sign up here and we will see you in the morning!