Guns, Hate And Mental Health: Where Do They Intersect? And How Should We Move Forward?
Hundreds of questions swirl around after a mass shooting. Many of them start with the word "should."
Should the United States pass stricter gun control laws? Should the country improve its mental health system? Should more people be armed with guns? How should we address extremism?
"So many people have been killed or hurt or injured from these shootings," said Olivia Lien of Littleton. A friend of Lien's was at the Century 16 multiplex in Aurora on July 20, 2012.
"I really wish that we could just wave a magic wand and fix it all. We can't."
Colorado Public Radio sat down with Colorado experts — an emergency physician, a gun-rights activist, a Democratic state senator, a Republican prosecutor and a mental health activist — in a forum to discuss guns, mental health and where they intersect.
Here are select moments from the conversation, which was moderated by Colorado Matters host Ryan Warner.
---
'It's really important to emphasize that individuals with any mental health conditions are more likely to be victims of violence than to perpetrate violence.'
Emmy Betz is an emergency physician at the University of Colorado School of Medicine, where her research focuses on preventing suicide by gun.
"Seventy-six percent of firearm deaths in Colorado are suicides," Betz said. We need to be talking about those."
In the conversation, Betz discussed mental health stigmas; extreme risk protection orders (so-called 'Red Flag' laws), which allow judges to temporarily confiscate guns from those who pose an imminent risk; and hospitals' ability to combat mental illness.
The question is, does the United States have a gun epidemic?
From a medical perspective, Betz thinks we do. She sees it as an advantage to look at the issue this way since it allows it to be addressed as a public health problem.
"The National Institute of Health, which funds medically related research, is allowed to fund firearm-related research," Betz said. "It's still a small pot relative to what else they fund. But the CDC is basically still silenced.
"I'm not advocating for federal funding for political activities, but we cannot solve this problem without science."
---
'We have laws on the books for guns, but those laws don't have any teeth in them. They don't act as a deterrent.'
George Brauchler is the Republican district attorney who prosecuted the Aurora theater shooter. And, after the Columbine shootings, he prosecuted two men who sold guns to those shooters.
He serves the 18th Judicial District, which includes Arapahoe County.
Brauchler commended Colorado's system for gun background checks, citing the 318 denials due to mental health flags. But he denounced how the law is enforced when someone who should be denied gets their hands on a gun.
"Go into a gun show, go to a gun store and lie about your background to try and get a handgun," Brauchler said. "It's a misdemeanor and it rarely ever gets prosecuted, largely because of volume and resources at the lower level."
"The laws certainly don't punish those people who keep testing the system and trying to find a way to get a gun."
---
'Is there a magic formula to find these people? Because they seem to be different every time.'
Gun-rights activist Laura Carno is the executive director of FASTER, a program that offers firearm and medical training to teachers and other school staff. She is from Elbert County, east of Denver.
"No armed staff wants to have to deploy their firearm and stop something," Carno said. "We're all about prevention."
Carno repeatedly noted that not all shooters fall into a single profile or demographic. That could be, she said, because guns haven't changed, instead, "it's people who have changed."
"We're a different civilization than we were in the 1950s or 1960s," Carno said.
"Look at the isolation of people because we do so much of our communicating with our thumbs, on social media, or online. I think we need to look at those bigger questions. We're living different types of lives today than we have in decades past."
---
'What we've seen recently is an increase of people using weapons to demonstrate their hatred.'
Aurora Democratic state Sen. Rhonda Fields sponsored a ban on high-capacity gun magazines in 2013 — part of a package of reforms approved by lawmakers after the Aurora theater shooting.
Hate, white nationalism and racism, which have played a role in several shootings, aren't new phenomena, Fields pointed out.
"What we're seeing and hearing, I don't think represents the values of what America is about."
The conversation turned political when Fields was asked if she thought President Donald Trump has contributed to the country's civil discourse.
"I believe the nation is taking its cue from Number 45," she said. "And it's apparent there's very few consequences associated with hate speech."
The senator emphasized gun education and prevention, especially as it relates to kids and schools. She was adamant about where she believes the problem begins.
"I think we have too many guns," Fields said. "I think that's what's wrong with Americans, and I think they have access to too many guns. And when you have access to that many guns, not everyone is using a gun in a responsible manner."
---
'Demonizing individuals who have a mental illness does not help. We have enough difficulty encouraging individuals, especially men, to access health care as it is.'
Moe Keller is the director of advocacy for Mental Health Colorado, which works toward prevention and treatment of mental health and substance abuse disorders. She's also a former Democratic state legislator.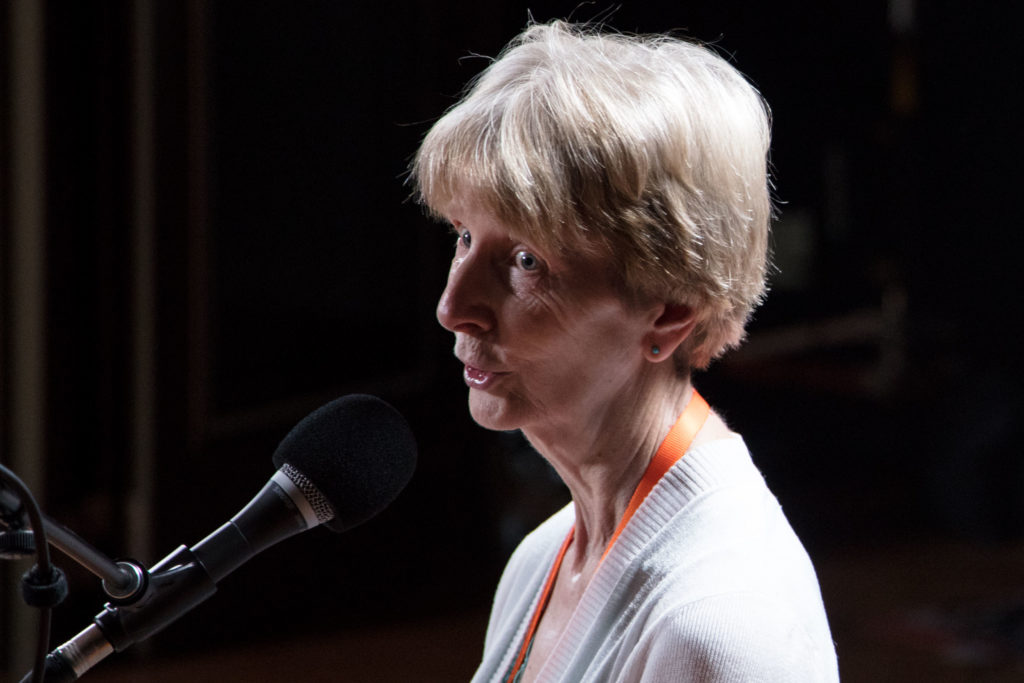 Keller suggested the stigmas surrounding mental health are becoming more distorted and more destructive.
"People who have anxiety, depression or other mental health conditions — the majority of people do very well. That should be the face of mental health that we have in our communities and neighborhoods."
The idea of community was a key point for Keller. It was also a big part of her approach to addressing the issue.
"In our neighborhoods, we all have several individuals that we probably all know who have some mental health condition," Keller said. "And so we can construct community supports to make those individuals feel more included instead of being excluded."
"I think we'll make more positive change as we work at the local level and get everyone together to trust and know each other."
We want to hear from you: What do you think of what you've read and heard? Tweet your thoughts to @ColoradoMatters.
You care.
You want to know what is really going on these days, especially in Colorado. We can help you keep up.  The Lookout is a free, daily email newsletter with news and happenings from all over Colorado. Sign up here and we will see you in the morning!