Cory Gardner, De'Von Bailey, Looking Down On The Maroon Bells, And More Photos Of The Week
Republican Sen. Cory Gardner toured downtown Arvada Tuesday afternoon to speak to business owners as part of his outreach effort across Colorado during the August recess. Above, he speaks to Denver Beer Co. co-founder Charlie Berger. Other stops have included Cañon City, Lakewood, Gunnison, Aurora and Westcliffe to name a few. His staff hasn't sought much publicity for the events, but never the less, about two dozen activists stood outside (but never entered) the businesses Gardner visited in order to question him about gun control and health care.
A group of five Denverites hoping to pin a "historic landmark" status on Tom's Diner on Denver's East Colfax Avenue withdrew their application Thursday. Owner Tom Messina, above, planned to close the restaurant regardless. Some locals wanted to keep the building, an example of car-inspired Americana architecture known as Googie.
Outside of the Colorado Springs Police Dept. operations center on Tue., Aug. 13, Rev. Promise Lee speaks at a press conference calling for an independent investigation into the death of De'Von Bailey, who was killed by Colorado Springs police officers.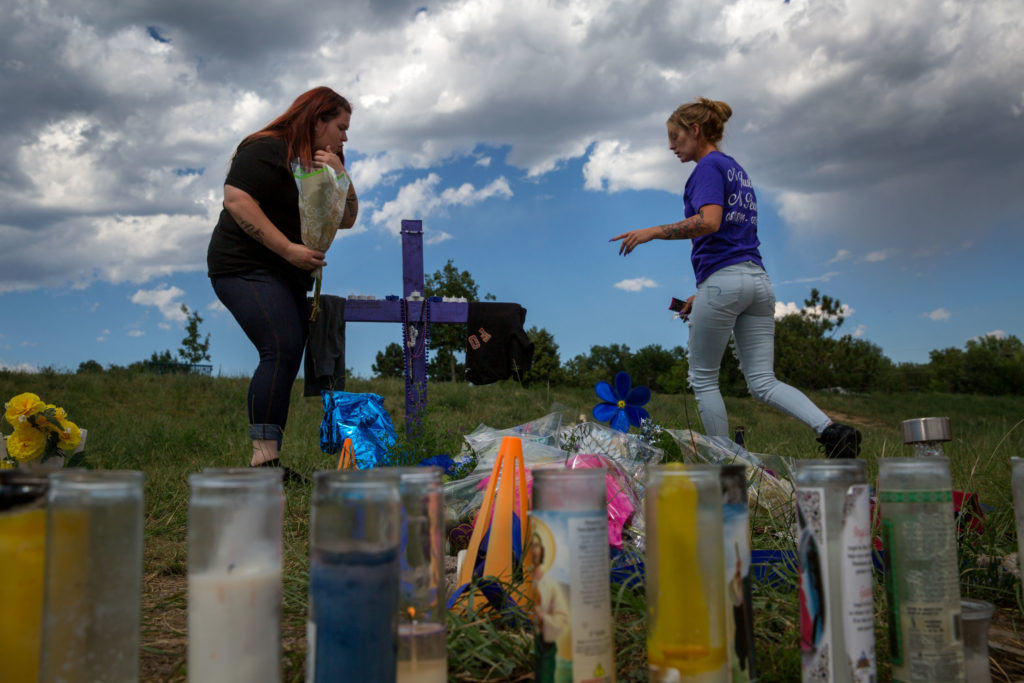 Nicole Lempereur, in black, and Michele Sidie, both of Colorado Springs, visit the street memorial to De'Von Bailey on Aug. 15 on Preuss Road where he was shot by city police Aug. 3. Police released bodycam video of the shooting Aug. 15.
After a string of mass shootings in California, Texas and Ohio, and just a few days before Colorado Springs police released body camera video of the De'Von Bailey shooting, Colorado Matters convened a group of experts and public figures to discuss guns, mental health and where they intersect. Among those we spoke with, above, was George Brauchler, the Republican district attorney who prosecuted the Aurora theater shooter. 
Two-and-a-half years after giving birth to a curious, red-headed son named Sebi, artist Brigid McAuliffe has just started to emerge from what she calls "the cocoon." She admits there were moments where she wondered, "Will I ever do anything again?"
It was a doubt she overcame in her two weeks in Paonia, a tiny, former coal town in western Colorado that's made a name for itself in recent years as a haven for artists and counter-culture types. She was an artist in residence in the Elsewhere Studios program. Her son is seen above with his babysitter.
Above, the artists whose careers are tied to Denver's Spark Gallery, which celebrates its 40th anniversary in August. From left with samples of their work: painter and Spark founding member Margaret Neumann, long-time Spark member Sally Elliott, sculptor and Spark co-founder Andrew Libertone, Spark original member Jerry Johnson and Spark president and artist Mark Brasuell.
Shakey Graves plays the Indie 102.3 performance studio, Aug. 14, 2019, ahead of a show at Red Rocks.
Lisa Raville is the executive director of the Harm Reduction Action Center, Denver's needle exchange program. She has seen meth's rise and wants to inform users of its risks.
In 2017, fatal meth overdoses exceeded heroin for the first time in a decade, according to data from the Colorado Department of Public Health and Environment. All opioid overdose deaths combined, including fentanyl, heroin and prescription pills, still outnumber meth.
Some heroin users are actually switching to meth, "because they don't think that you can overdose on stimulants, and you can absolutely overdose on stimulants," Raville said.
Ben Chavez gives a guy a ride in his Cadillac around the Twin Lakes block of Denver where he lived as a kid. Kevin J. Beaty photographed Chavez ahead of a scheduled Aug. 25 cruise down Federal Boulevard, with events starting at 1 p.m. at Columbus Park (better known to Chavez and other locals as La Raza Park) with Aztec dancing and a blessing. Scheduled speakers include Colorado poet laureate Bobby LeFebre and local elected officials. Denver Police Chief Paul Pazen has also been invited to speak.
About 10 years ago, Denver Art Museum director Christoph Heinrich stood atop of the museum's North Building roof patio and felt a pang of guilt. The castle-like space, designed by architect Gio Ponti, never fully achieved its intended vision. That rooftop, with all its excellent views and square footage, was never turned into the accessible space Ponti imagined. So he and his colleagues set out on an ambitious capital campaign. A decade and $150 million later, they brought outsiders into the new North Building — now called the Martin Building — for the first time. That's him in the photo above.
Two climbers on the summit of North Maroon Peak, one of the two iconic Maroon Bells outside of Aspen, on Tuesday, Aug. 13, 2019. The photo was taken from the gunner's door of a Blackhawk helicopter used by the Colorado Army National Guard's high altitude aviation training site — HAATS — flying over the Elk Range.
While visiting Judy Fox-Perry at her Thompson Divide ranch Wednesday, Aug. 14, I was looking for a way to reflect how long the family has been working the land — for many generations. The license plates were a useful metaphor. Look and listen in the coming weeks for our Washington D.C. reporter Caitlin Kim's story on the fight over oil and gas leasing on the Thompson Divide (and more photos).