Colorado Ballet Hopes This Year's 'Nutcracker' Is The Last Held Together By Duct Tape And Glue
It's Nutcracker season and all through the house, Colorado Ballet dancers are worried about wearing their costumes of mouse.
The wardrobe manager is doing repairs all the time, from small tasks like snaps and tears to splotches of age-old grime. Thirty years of dancers have worn out these threads, a look at the Sugar Plum Fairy bodice fills them with dread.
Colorado Ballet's Nutcracker sets and costumes are falling apart, they hope to replace them before someone says something tart.
"From my experience, those costumes have had so much sweat on them that they are now more cardboard than they are fabric," principal dancer Francisco Estevez said of the Nutcracker Prince tops. "Some of them have been retired just due to the amount of sweat that's caked onto them."
"The Nutcracker" is a big seller for the ballet. In 2018, it brought in nearly $3 million in ticket sales — an all-time high for any Colorado Ballet production — and the ballet company said it's on track to match or exceed that this year. That's why it's so crucial for the company to keep the production in tip-top shape.
And so, this season will be the final curtain call for their current costumes and sets.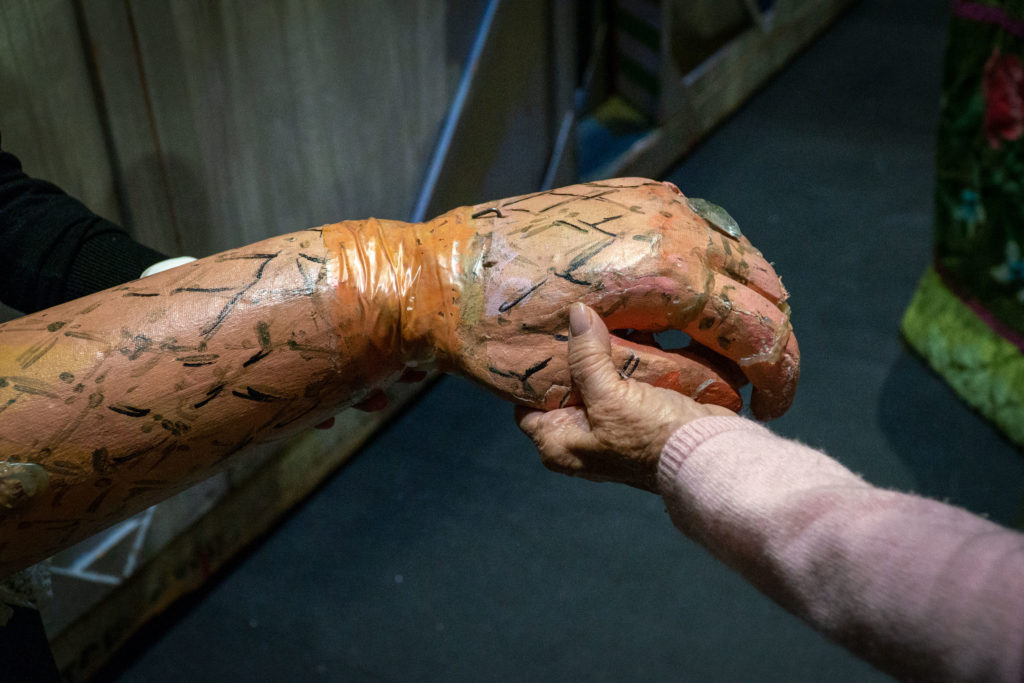 "They're manageable, obviously, and it's bittersweet looking at them and knowing this is the last time," artistic director Gil Boggs said. "But before it disintegrates on us, we need to move on."
During a student matinee show, a different costume emergency arose. As one dancer changed from his Party Scene getup into his mouse costume, the zipper broke.
Luckily, Shirin Lankarani, Colorado Ballet's wardrobe and shoe manager & costume designer, was nearby.
"We put the safety pins [in to] keep it on," Lankarani said of the quick fix to get the dancer on stage for the ballet's Battle Scene.
Most of the dancers playing mice also perform in the Party Scene. The costume change "must be very quick and sometimes this happens," Lankarani said as she pointed to another mouse costume with a hat that ripped open at the seams and another with broken elastic. 
The costumes are so bad that the dancers must wear goggles to keep debris out of their eyes from the disintegrating mouse heads that cover their faces.
The costumes are second hand to the ballet. They were originally created in 1986 for the San Francisco Ballet and later acquired by Colorado Ballet in 2005. Maintenance and repair is a production in it's own right. Lankarani has to start her repairs in the summer to get all of the costumes ready for the holiday season run.
"Some of the costumes... need so much repair, you say I cannot do it anymore," she said. 
On top of that, there's the constant battle of keeping them smelling fresh. 
"We put Febreeze in the dressing room and some dancers do it themselves," she said. "Some costumes are so bad, we bring them here and, overnight, we do the vodka and ready for the next day."
Yep, vodka. 
Lankarani and her team use a spray bottle to spritz the particularly pungent costumes with vodka. The sets and props are in even worse condition.
The Nutcracker doll is supposed to fall apart during the ballet, but not quite as much as it has in the last several years. In a fundraising video, one dancer tells a tale of a limb detaching and catapulting across the stage, which triggered a contagion of laughter mid-performance.
Because it was custom built to break in this certain way, it means the crew can't run out to the nearest craft store to replace the battered prop. So instead, globs of glue, which can only be seen up close, keep it intact.
Stephanie Wolf/CPR News
Colorado Ballet's "Mother Ginger" costume has seen better days.
Stephanie Wolf/CPR News
The "Mother Ginger" dance during a student matinee of Colorado Ballet's "The Nutcracker" on Dec. 5, 2019.
Stephanie Wolf/CPR News
Lankarani shows were a mouse costume busted open at the seams during a student matinee of "The Nutcracker" on Dec. 5, 2019.
Stephanie Wolf/CPR News
Colorado Ballet's wardrobe & shoe manager & costume designer, Shirin Lankarani, backstage at the Ellie Caulkins Opera House in Denver on Dec. 5, 2019.
The appendages of the Mother Ginger costume, as well as the calvary costumes from the Battle Scene, are held together by duct tape. 
The production crew repairs the sets with Tear Mender, "a glue type stuff that you put on there and you patch it with either duvetyn or muslin or something like that," technical director Randy Mitchell said as he pointed to their handiwork on the backside of a backdrop. 
Another trick up their sleeve is the lighting.
"When you have a blemish, a tear or something that needs a fix, you can always change the way you light something so it doesn't show as much until you can repair it permanently," he said.
As bad as the gear is, the only thing more eye-opening is the check they'll have to write to replace them. The new sets, costumes and props come to a hefty price tag of $2.5 million. 
The ballet says it's already raised about a million of that, which includes some reserves the ballet has put aside for the last few years, according to the ballet's managing director of advancement, Adam Sexton. It also launched a crowdfunding campaign in November.
It's an expensive endeavor for a number of reasons.
First, there's the design cost. They aren't just replicating their current costumes and sets, and therefore have to hire designers and pay them their fees.
Then there's the fact that the nearly 300 costumes for the ballet will be mostly handmade. Every bit of tulle and every gem you'll see on that Sugar Plum Fairy tutu will be hand-stitched. Plus the sets will be hand-painted. They'll hire multiple shops to do this laborious work. 
"Then once we get them, we have to do an extra week of tech in the theater," artistic director Gil Boggs said. 
They'll need that additional week to get used to the new sets, props and costumes, which includes understanding how to light them. 
"So that's an added cost there," Boggs said.
Another added cost is acquiring a new climate-controlled storage facility to stash it all in. Boggs said they used to have one, but had to give it up during the recession. 
Ticket revenue from all of the ballet's various productions — including the immensely popular "Nutcracker" — is typically about 50 to 55 percent of the company's total revenue for the year. That money helps cover basic expenses, things like dancer and staff salaries. So a project to replace the ailing threads for their big moneymaker falls outside of Colorado Ballet's annual operating budget.
Colorado Ballet recently announced that Thomas Boyd will design the new sets and Holly Hynes will design the new costumes. 
Boyd, a former professional dancer, has developed scenic designs for companies like Houston Ballet, San Francisco Ballet, National Ballet of China, Queensland Ballet and National Ballet of Estonia. 
Hynes, who will be in Denver this December, was the director of costumes for New York City Ballet for more than 20 years and has designed Nutcracker costumes for professional ballet companies in Kansas City and Charlotte.
Stephanie Wolf/CPR News
Colorado Ballet corps de ballet member Bryce Lee dances the role of Fritz during a Dec. 7, 2019 performance of Colorado Ballet's "The Nutcracker" as the Ellie Caulkins Opera House in Denver.
Stephanie Wolf/CPR News
Gregory K. Gonzales as Uncle Drosselmeyer opening a Dec. 7, 2019 performance of Colorado Ballet's "The Nutcracker" as the Ellie Caulkins Opera House in Denver.
Stephanie Wolf/CPR News
Colorado Ballet artists dance "Waltz of the Flowers" during a student matinee performance of "The Nutcracker."
"It's almost like I'm going on an archeological dig to come into Colorado to see it performed, see the dancers and really see the choreography up close so that I know what they're expected to do in their costumes," she said. 
She's also looking forward to holding the costumes "in my hands, which will tell me a lot."
It will help her understand how to make costumes that will survive several more decades. Because a massive challenge that comes with "Nutcracker" costumes is that, unlike other ballets that are performed maybe every few years or a one-and-done situation, this holiday staple comes back every year and the costumes must endure.  
"Every time that you put a stitch in to take something in or open the seam to let something out, that is wear and tear on the costumes," Hynes explained. "The perspiration from the dancer, the stage lights are hard on the costumes, makeup is terrible on costumes, we've already got all these different elements that will take its toll."
The dancers know exactly where Hynes is coming from and, while there's some nostalgia over these decades-old costumes, they're ready to say goodbye to a Sugar Plum tutu that has become less Sugar Plum-y.
You care.
You want to know what is really going on these days, especially in Colorado. We can help you keep up.  The Lookout is a free, daily email newsletter with news and happenings from all over Colorado. Sign up here and we will see you in the morning!