Colorado Coronavirus Updates For March 20: Closures, Testing, Cases And More
This post collects all of our reporting and updates on the coronavirus in Colorado for Friday, March 20, 2020. You can find our live blog of updates for the weekend here. Our original play-by-play of reporting continues below.
---
8:59 p.m. — Goodnight live blog
May you and your furry business associates have a lovely weekend.
8:08 p.m. — Rocky Mountain National Park closes
Rocky Mountain National Park has closed to visitors effective immediately on Friday.
The decision comes hours after the mayor of Estes Park asked the national park to close to help reduce the amount of visitors coming to the area during the COVID-19 outbreak.
As of Thursday, Rocky Mountain had closed its visitor's centers and campsites but not the entire park.
There is one confirmed case of COVID-19 in Larimer County.
— Alex Scoville
7:06 p.m. — The mayor of Vail has COVID-19
Vail Mayor Dave Chapin has tested positive for COVID-19, the disease caused by the new coronavirus.
"You've heard the message from public health experts near and far: the COVID-19 virus has no borders or boundaries. I can now attest to that personally: I have tested positive and am in isolation," Chapin wrote in a statement.
Chaplin said he is in isolation and does not require hospitalization.
Vail and Eagle County have been hot spots for the new coronavirus. Eagle County has the second-most cases of any Colorado county (behind Denver), and a number of cases in Mexico have been linked to travel from Vail.
Earlier this week, the leader of Vail Health pleaded for more serious community action in order to stem the spread of the disease, saying the actual number of cases in the region was "more likely hundreds if not thousands."
— Alex Scoville
5:59 p.m. — Denver Health gets an in-house coronavirus test
The hospital obtained the FDA-approved testing equipment Thursday night. It is believed to be the first hospital to have such capacity.
In-house testing means patients can get results in 24 hours — rather than up to five days, which has been the turnaround at private and state labs that are inundated with samples. It also makes work safer for frontline medical professionals.
Read the full story on Denverite.
5:12 p.m. — Take a look at the latest drive-up test site
More photos and full story here.
4:47 p.m. — USA Swimming asks the USOPC to delay to the Tokyo Olympics
In a letter, USA Swimming CEO Tim Hinchey III called "for the postponement of the Olympic Games Tokyo 2020 by one year."
While the U.S. Olympic and Paralympic Committee has made moves to close training centers, including the one in Colorado Springs, the 2020 Summer Olympics have not been called off or postponed.
"As this global pandemic has grown, we have watched our athletes' worlds be turned upside down and watched them struggle to find ways to continue to prepare and train – many for the biggest competitive opportunity of their lives," Hinchey wrote. "Our world class swimmers are always willing to race anyone, anytime and anywhere; however, pressing forward amidst the global health crisis this summer is not the answer."
The Games are set to begin on July 20.
— Alex Scoville
4:32 p.m. — Unemployment applications continue to rise
This week the Colorado labor department has seen 25,000 claims, 99,000 calls to their call center and 114,000 attempts to access their website.
That comes as Gov. Jared Polis released a new executive order on Friday trying to remove the obstacles to unemployment amid a widespread economic shutdown.
The order will:
Extend the maximum duration of unemployment benefits from 26 weeks to 39 weeks for each person. It's unclear whether this will apply to people who are already receiving unemployment payments.
Waive the requirement that people continue searching for work while collecting benefits.
Eliminate the one-week "waiting period" for people to start accruing benefits.
— Andy Kenney
4:24 p.m. — There are 86 new cases of COVID-19 in Colorado
State health officials reported 86 new confirmed cases of the new coronavirus on Friday, bringing Colorado's total to 363.
The state tested more than 700 people since the last update was released.
Of those cases, 44 people are hospitalized.
Officials also confirmed a fourth death due to COVID-19 that was first reported by hospital officials on Thursday. The 79-year-old woman from Crowley County had died and then tested positive for the disease.
Denver and Eagle counties still lead the number of cases with 67 and 61, respectively.
— Alex Scoville
4:17 p.m. — Denver looks different today
Hart Van Denburg/CPR News
A sign above East Colfax Avenue in Denver urges people to wash their hands during the coronavirus outbreak, Friday, March 20, 2020. This state Capitol is in the background.
Hart Van Denburg/CPR News
Haircuts, tattoos, massages and manicures are all the latest victims of the coronavirus. The Colorado Department of Public Health and Environment ordered them closed until April 30 during the coronavirus outbreak. This tattoo business is on East Colfax in Denver.
Hart Van Denburg/CPR News
There were few pedestrians out on South Broadway in Denver on Friday, March 20, 2020, during the coronavirus outbreak. Normally busy Metropolitan Coffee was closed.
Hart Van Denburg/CPR News
An Americano poses for a portrait at the Mutiny Coffee window on South Broadway on Friday March 20, 2020.
Hart Van Denburg/CPR News
Town Center mall in Aurora was still open, but most stores there were closed on Friday March 20, 2020 during the coronavirus outbreak.
Hart Van Denburg/CPR News
Park Meadows mall in the south metro was still open, but most stores there were closed on Friday March 20, 2020 during the coronavirus outbreak.
Hart Van Denburg/CPR News
Park Meadows mall in the south metro was still open, but most stores there were closed on Friday March 20, 2020 during the coronavirus outbreak.
3:56 p.m. — Emergency physician expects rise in suicide rate, urges safe firearms storage
As we noted in yesterday's live blog, gun sales are up significantly in Colorado. That worries Dr. Emmy Betz, an emergency physician at the University of Colorado Anschutz Medical Campus and the co-founder of the Colorado Firearm Safety Coalition.
The combination of fear, financial stress and newly purchased guns all under the same roof is not a good one, Betz said.
"This is not about gun control; this is about safety when people are going through tough times," she told Colorado Matters host Ryan Warner. "Which, I think we all are right now."
While some deaths could be mistakes, Betz said, she's particularly worried about teenagers. Some 40 percent of suicides among that population are by firearm, she said.
"As parents we don't want to think our kids would ever do that, but kids do," she said. "They're grappling with big emotions just being teenagers, and then the added stresses we are going through right now -- I really worry about how that's going to weigh on these youth who might feel more isolated."
She's worried about an increase in the overall suicide rate, and urges gun owners to take steps to secure them in a lockbox or offsite. And she urged would-be first-time gun owners to think twice and not buy one.
"Especially if you don't know how to use it," she said.
— Nathaniel Minor
3:32 p.m. — 39 Grand Princess cruise passengers return to Colorado
After waiting in quarantine on military bases after their cruise ship docked in California weeks ago, 39 Coloradans are coming back home — with an abundance of precaution.
The Grand Princess cruise passengers will be landing at DIA shortly on private charter planes. They'll hop straight into private vehicles and will not enter the terminal.
Only asymptomatic passengers are allowed to return home. There are two other Coloradans from the ship who are still symptomatic and in federal quarantine.
— Alex Scoville
2:41 p.m. — Already stumped on what to stream? Here are some recommendations by celebrity birthdays
There are a couple of famous birthdays coming up tomorrow, March 21. Here's what two members of CPR's digital team think you should watch from their filmography — though we didn't always agree.
Matthew Broderick (58)
Jim Hill: It might seem obvious, but the only Broderick you need is the escapism of "Ferris Bueller's Day Off" (duh)
Alex Scoville: Ok, but "Election" ...
Rosie O'Donnell (58)
JH: Will baseball start-up on time? In its absence there's no shortage of baseball movies and "A League Of Their Own" is a classic
AS: Meg Ryan rom-coms always have the best actors livening things up on the sidelines. Carrie Fisher in "When Harry Met Sally," Parker Posey in "You've Got Mail" and Rosie in "Sleepless In Seattle"
Gary Oldman (62)
JH: Oldman is delicious, and so, so, quotable as the villainous Zorg in the "The Fifth Element"
AS: Yeah, no objections here. Let the blue lady sing!
Jim's Pick: Timothy Dalton (74)
What if a famous golden age swashbuckling actor was also a Nazi? What if Timothy Dalton was playing up such a rumor in as the bad guy in "The Rocketeer"?
Alex's Pick: Santino Fontana (38)
No movies I can recommend from this Broadway star (though parents will recognize his voice behind Hans from "Frozen"), but he is so frickin' good (though not little kid-friendly) in the first season of "Crazy Ex-Girlfriend." And he won a Tony for leading the musical adaptation of "Tootsie" for a reason.
1:19 p.m. — A-Basin lays off all 430 seasonal employees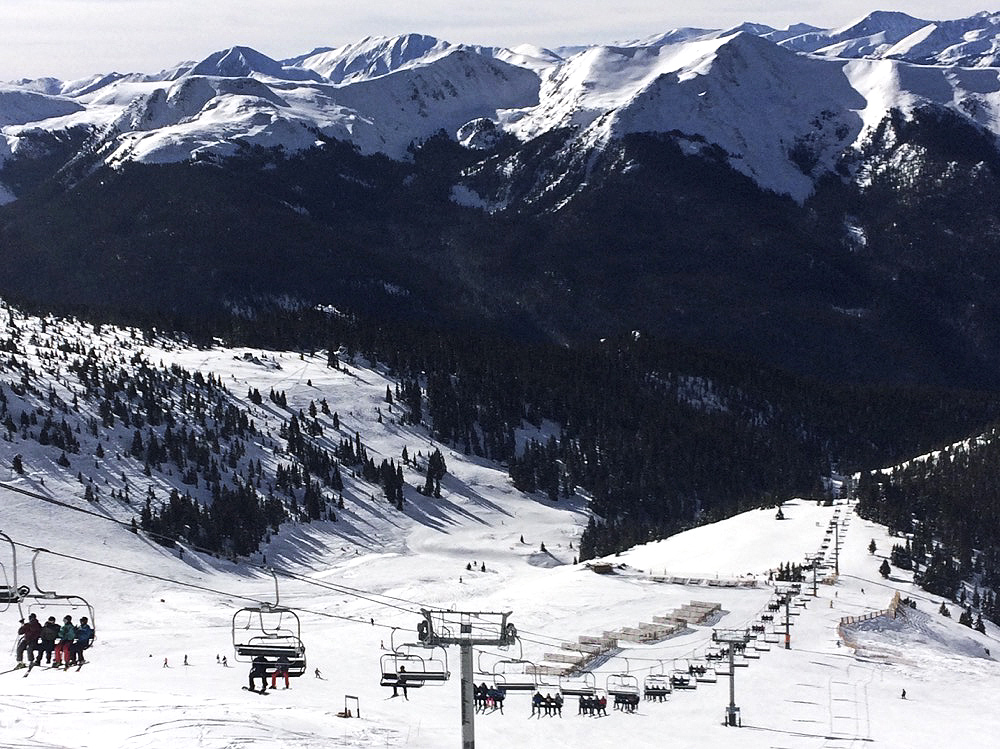 Arapahoe Basin ski resort announced Friday that it would lay off all 430 of its season employees, both full- and part-time, effective April 1.
"There is no clear indication of when the ski area will re-open. It seems likely that we are still weeks away. While we have every intention of re-opening The Basin, we have no idea when that will be," COO Alan Henceroth wrote in a statement.
Also starting April 1, full-time year-round workers will go down to 3/4 of their time.
Employees who are laid off will receive two-weeks pay and their accrued PTO. Workers who had health insurance through A-Basin will have their premiums paid through June.
— Alex Scoville
12:31 p.m. — You've got a date with a baby rhino
Just look at the face! Join the Denver Zoo online at 2 p.m. MDT for what is sure to be your moment of joy today. Go to facebook.com/DenverZoo.
12:11 p.m. — Polis wants Colorado to be ready for its post-coronavirus economic recovery
The governor hopes to avoid the need for 'shelter-in-place' orders that other states have implemented to slow the spread of COVID-19. Rather than require, he asks that Coloradans voluntarily to comply with advice guarding against congregating in large groups.
Polis noted the effect of social distancing and closures on small businesses — again acknowledging that it will get worse before it gets better — and announced an emergency economic council that will focus on stabilization, brainstorming and advising his administration in his remarks at the Capitol earlier today.
Former Denver Mayor, and current private sector investor, Federico Peña will lead the advisory council.
— Jim Hill
11:00 a.m. — Out at DIA, sanitize before you fly (and other ways they're trying to flatten the curve)
Denver International Airport says it's put a bunch of new procedures in place to combat the coronavirus outbreak spreading across the friendly skies.
On the keep-it-cleaner front: Stepped-up frequency and intensity of disinfecting bathrooms (and disabling air hand dryers) and trains to the gates, sanitary wipes in jet bridges so passengers can wipe down their plane seats, and hand sanitizer stations including for TSA workers
The security checkpoint lanes have been modified to provide more space between passengers. Signs are posted to remind passengers to space out six feet from one another, and food concessions are being asked to adopt a grab-and-go model and limit seating in areas where tables are close together.
— Ryan Warner
10:10 a.m. — That masked man in Summit County
— Hart Van Denburg
10:05 a.m. — A new $45.8B federal aid package isn't the only thing Colorado's congressional delegation is working on
Republican Rep. Scott Tipton has introduced a bill to improve federal response in mass emergencies, particularly for the elderly and the homeless. During a telephone town hall Thursday night, he said he introduced a bill to require the Department of Housing and Urban Development to share data with the Department of Health and Human Services to find potential COVID-19 hotspots.
"Protecting the most vulnerable has been and continues to be a top priority for our nation, and this bill will continue to improve the speed of which we're able to deliver care and information to them," Tipton said.
He also joined with Colorado's two senators and Colorado Attorney General Phil Weiser to ask Denver-based broadcasters and satellite companies to help provide residents in the southwest part of the state access to in-state programming during the outbreak. Democratic Sen. Michael Bennet said local news isn't a "mere convenience" but a "critical matter of public health and wellbeing for Coloradans who need the ability to keep up with rapidly developing circumstances related to the pandemic."
And to help manufacturing businesses in Colorado, Republican Sen. Cory Gardner has introduced a bill to strengthen federal support for Manufacturing Extension Partnership centers. Many of these centers, which provide a network of specialists to help the country's small manufacturing companies, are losing fees and access to public matching funds as businesses cut back costs during this economic crisis. 
Gardner said Colorado's MEP has provided help and insight to state manufactures for years.  
"All four corners of Colorado will benefit from their continued success and the relief contained in this bill will help strengthen our manufacturing base," he said.
The bipartisan bill would exempt MEPs from federal cost-sharing requirements for a year and commit $146 million in public funds to make up for lost private funds.
Meanwhile, Democratic Rep. Diana DeGette urged President Trump to "use all the powers afforded to him" by the Defense Production Act and increase production of medical equipment and supplies, like masks. Trump invoked the Act earlier this week, and said today that he put the act "into gear."
— Caitlin Kim
8:52 a.m. — Here's the daily White House coronavirus taskforce briefing
The latest update from the Trump administration is expected to start at 9:45 a.m. MDT.
8:29 a.m. — We've got a new tax day
8:08 a.m. — Gov. Polis to speak at 10:45 a.m.
UPDATED: Polis will speak from the state Capitol to provide an update on how the state is responding to the coronavirus. CPR News will carry his remarks live. Find a signal near you or ask your smart speaker to "Play CPR News."
— Jim Hill
7:57 a.m. — Blood banks: 'We're at a critical situation'
Blood donations have fallen off as fears of coronavirus have spread throughout Colorado. Jerrod Milton, SVP of Professional and Support Services at Children's Hospital Colorado, pointed out they're "very concerned about the region's blood supply, really nationally, we're concerned about the state of our blood supply, and doing everything we can to get people to make and can keep donation appointments."
Milton said Children's is watching for symptoms of COVID-19 and that they "certainly screen people and do our routine testing before we're even asking them to donate." There's also a lot of testing that follows in the blood bank as safety is there number one concern.
They've also changed some of their procedures in light of social distancing by moving their donation chairs farther apart and keeping all shared surfaces disinfected.
"I think the risk is relatively low and we do not know whether the virus is transmitted through the blood," he said. "We think it is a respiratory disease, respiratory, airborne-type transmission. And so I think those worries should be on the lower end."
Blood donation centers around Colorado include Children's, the UC Health Garth Englund center and Vitalant among others.
— Megan Verlee, Jim Hill
7:07 a.m. — Tempted by all that fresh snow? Please be careful out there
After Thursday's snowstorm, avalanche danger is considerable in the Colorado high country. Ethan Greene, director of Colorado's Avalanche Information Center, said people should especially be prepared if they're planning on backcountry recreation over the weekend. 
"The big difference right now is that with the ski areas closed, there are not avalanche control teams out there patrolling the area so those are backcountry slopes," he said. "The same sort of avalanche conditions that you find generally in the backcountry you may find on slopes that look like ski areas most of the time."
Although coronavirus has closed ski resorts, certain peaks at Breckenridge and Keystone resorts are technically open for uphill access but "we are not encouraging the activity at our resorts for a number of safety concerns," said spokeswoman Loryn Roberson.
— Alison Borden, Hayley Sanchez
6:43 a.m. — Hey, there was a lot of snow to help us in our social distancing yesterday
6:27 a.m. — BTW, haircuts, massages, manicures and tattoos are all out for now
The new order from the state health department bars those and other personal services — and it extends the statewide restaurant, gym, and theater closures to April 30 as well. The idea is to encourage social distancing and slow the spread of the new coronavirus.
A separate order from Gov. Jared Polis bars elective surgeries and other non-emergency medical procedures. He said it is necessary to reserve medical equipment and supplies in order to combat the pandemic. That order exempts rural and critical access hospitals.
— Andrea Dukakis
6:15 a.m. — Where cases stand on this Friday
As of Thursday night, there are 277 known positive cases of COVID-19 in Colorado across 22 counties. A third death, one that was connected to the first, was announced in El Paso County as well.
Thirty-eight are hospitalized and 2,952 people have been tested.
You care.
You want to know what is really going on these days, especially in Colorado. We can help you keep up.  The Lookout is a free, daily email newsletter with news and happenings from all over Colorado. Sign up here and we will see you in the morning!