Colorado Coronavirus Updates For April 25 And 26: Closures, Testing, Cases And More
This post collects all of our reporting and updates on the coronavirus in Colorado for the weekend of April 25 and 26, 2020. You can find the Monday live blog here. Our original play-by-play of reporting continues below.
---
Sunday
6:30 p.m. — Colorado's 'Safer-at-Home' rules released, but health officials are still worried about a surge
Gov. Jared Polis released guidance on Sunday for reopening, just before the statewide stay-at-home order lifts on Monday.
Under the next phase of Colorado's COVID-19 response, billed as "Safer At Home" by Polis, retail businesses can reopen with curbside pickup on Monday, April 27. As of now, retail shops will then be allowed to reopen their doors to customers on Friday, May 1, with strict precautions.
Also on May 1, personal services like salons can open, as long as they follow strict social distancing guidelines, and on May 4, commercial businesses can open with up to 50 percent of employees working in-person. 
The 'Safer at Home' executive order also states that elective medical, dental or veterinary services can resume on April 27 — but Colorado health leaders and medical providers are worried how the state's limited supply of protective gear will hold up as it moves to allow postponed medical care.
While the order allows some businesses and services across the state are allowed to begin reopening, Gov. Polis has stressed that depending on the county, each person will have a different reality for what life will look like for the next weeks or month. Some counties plan to stick with statewide guidelines while others have extended their own stay-at-home order.
— Francie Swidler
4:06 p.m. — Updated Colorado coronavirus numbers
There have been 13,441 confirmed cases of COVID-19 in Colorado as of yesterday, according to new data provided by the Colorado Department of Public Health and Environment.
There have been 2,438 people hospitalized and 680 deaths connected to COVID-19.
At least 63, 274 people have been tested for the coronavirus.
A note about the coronavirus data: CPR News tracks and graphs the "reported by date" data provided by the state of Colorado. This data lags by 24 hours or more, is subject to revision and in some instances, cases take time for the state to confirm, so some prior counts may change. You can learn more about the challenges the state faces with the data in this report.
— Dave Burdick
3:52 p.m. — Dairy producer temporarily closes plant due to coronavirus cases
Leprino Foods shut down a Fort Morgan plant after a "high number of positive results" of coronavirus, according to director of communications Kimberly DeVigil.
An exact number of cases is unavailable at this time, and the closure is for five days beginning Sunday.
During the closure, the company said it will conduct deep cleanings.  Employees that were scheduled to work will still be paid, and employees over the age of 65 will remain out of the workforce with pay until further notice.
About 350 people work at the plant and testing for all of them began April 19. The goal is to complete all of that testing by Monday. Before the closure, the company had required temperature checks before entering the facility, DeVigil said.
— Taylor Allen
2:44 p.m. — People pack into trailhead lots
— Hart Van Denburg
8:46 a.m. — Colorado National Guard tests 900 residents, staff at long-term care facilities
Under orders from Gov. Jared Polis, the Colorado National Guard teamed with the state health department to test more nearly 900 residents and staff at long-term care facilities in Colorado. 
About 70 Guard members from the Chemical, Biological, Radiological, Nuclear and high-yield explosive Enhanced Response Force Package, based at Buckley Air Force Base in Aurora, conducted the tests. 
Those tests found 20 positive cases in facilities in Colorado Springs, Broomfield and Thornton.
"Colorado's citizen warriors will continue to work with these and other senior living facilities to protect this vulnerable population and to stop the spread of the virus within these communities," said the Adjutant General of Colorado U.S. Air Force Maj. Gen. Mike Loh said in a statement.
More than 420 Colorado National Guard members are currently mobilized for the COVID-19 response. And over 275 members are helping to shelter people in Denver experiencing homelessness.
About 50 Soldiers are assisting the state and U.S. Army Corps of Engineers to convert the Colorado Convention Center in Denver and the Ranch Events Complex in Loveland into medical shelters. 
— Alison Borden
8:22 a.m. — Interior Secretary plans to start reopening national parks
Secretary of the Interior David Bernhardt said Saturday night that President Donald Trump directed him to reopen the National Park System.

Trump recently unveiled guidelines to assist state and local officials in reopening their economies and getting people back to work. In a statement, Bernhardt said, "In accordance with this guidance and in coordination with governors across the country, the Department of the Interior and the National Park Service are working to reopen the American people's national parks as rapidly as possible."
There are 500 million acres of public lands overseen by the Department of the Interior. In Colorado, the Rocky Mountain National Park closed March 20 in response to the novel coronavirus outbreak.
— Alison Borden
---
Saturday
4:25 p.m. — The latest coronavirus numbers
There have been 12,968 known cases of COVID-19 in Colorado, as of yesterday, according to the state's daily data release.
Today's data show 672 people have died of the virus in Colorado. That's two fewer than were reported yesterday, because the state revised its past data to remove duplicates.
To date, 2,410 people have been hospitalized, though some have been released.
In terms of testing, the numbers don't include all negative tests, but we know that at least 59,791 people have been tested in the state.
A note about the coronavirus data: CPR News tracks and graphs the "reported by date" data provided by the state of Colorado. This data lags by 24 hours or more, is subject to revision and in some instances, cases take time for the state to confirm, so some prior counts may change. You can learn more about the challenges the state faces with the data in this report.
2:50 p.m. — Drive-through testing underway in Weld County
The state is now conducting drive-through testing in Weld County, one of the Colorado places hardest hit by the coronavirus.
The testing is for anyone showing symptoms of COVID-19, like fever, coughing or shortness of breath. No doctor's note is necessary.
The testing, staffed by the Colorado National Guard and the state health department, began Friday at Island Grove Park, 501 N 14th Ave. in Greeley. It runs from 10 a.m. each day through Tuesday and will end each day after 300 samples have been collected. There is also a walk up lane for individuals who do not have cars.
Weld County has the highest rate of infection of any county in the state. With 82 deaths reported through Friday, it also has among the state's highest death rates among counties with more than 100,000 residents.
— Chuck Murphy
2:09 p.m. — The Greeley Stampede, a nearly $30 million event, is cancelled
The 99th annual Greeley Stampede has been cancelled due to the novel coronavirus, according to a statement on the organization's website today.
The Stampede is a 12-day festival that had been scheduled to start June 24, 2020. It normally includes rodeos, a demolition derby, a carnival and more. Instead, organizers say they will offer refunds to ticket holders "or a credit for 2021 events." 
According to BizWest, the event had a nearly $30 million economic impact on the city in 2019.
— Rachel Estabrook
12:15 p.m. — A-Basin CEO: A possible re-opening is still 'at least a few weeks away'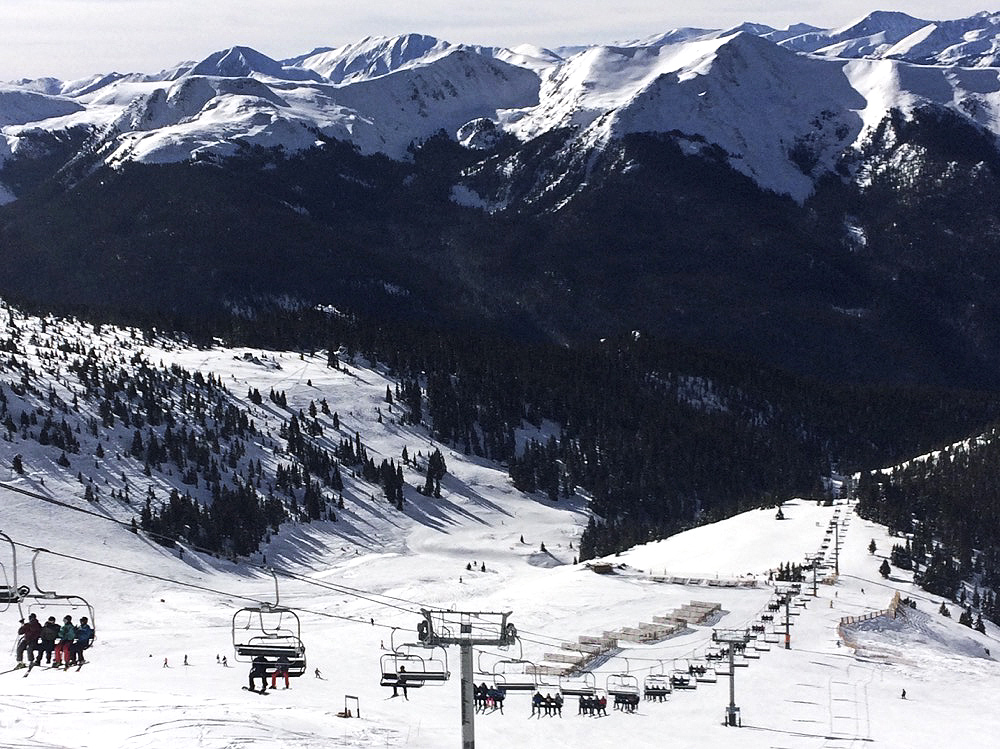 Arapahoe Basin, with a base elevation of 10,520 feet, prides itself on opening early in the season and staying that way as long as it can — July or August in some years.
And that's why many skiers have been crossing their fingers that A-Basin might just re-open this season after the state's stay-at-home order expires.
"We do have plans to re-open if conditions allow," chief operating officer Alan Henceroth told the Denver Post Friday, boosting those hopes.
Henceroth threw some cold water on those dreams in a blog post Saturday, though.
"I am concerned a few of you may be getting the wrong message. A re-opening will not be happening soon," he wrote.
Hospitalization and fatality rates need to keep falling, he said. And people need to get comfortable traveling by car again, while also maintaining social distancing.
The ski area will try to reopen "when conditions are right," he wrote. "That time is at least a few weeks away. We are working on plans of HOW to open. There is still no plan for WHEN to open."
Meanwhile, the Aspen Skiing Company is also keeping its options open too, the Post reports.
— Nathaniel Minor
11:10 a.m. — Few new infections found in first round of nursing home testing
The state said 20 new cases of COVID-19 were found after tests on 900 residents of nursing homes by members of the Colorado National Guard supported by the Colorado State Patrol and state health department.
Nursing homes and other facilities caring for the elderly have been the site of hundreds of deaths during the coronavirus outbreak.
The National Guard was brought in to test residents and staff at three of the state's largest nursing homes that had not yet been identified as having outbreaks.
"Having this information early has provided much-needed time for these facilities to react quickly in implementing appropriate infection prevention practices to limit the further spread of infection," according to a release from the state health department.
Gov. Jared Polis said Friday that controlling the spread of the virus in homes serving the elderly has become a priority for the state.
— Chuck Murphy
10:55 a.m. — Eagle County's first order after state restrictions looks a lot like the state's order
Eagle County was the first jurisdiction in the state to gain independence from the state's "stay-at-home" order, but the county's first set of new rules make limited changes to state restrictions.
The big difference is that starting Monday, non-essential businesses can re-open in Eagle County, with restrictions. If they open to the public, they can't have more than 10 people inside, including employees, at any one time.
If they don't open to the public, they can have more than 10 employees present, but no more than can comfortably stay six-feet away from each other while doing their jobs.
Bars and restaurants remain closed except for take-out orders.
The state plans to re-open non-essential businesses with similar restrictions, but not for another week, on May 4.
Additionally, businesses in the heavily tourist-dependent county are not allowed to do anything that encourages non-residents to violate the still-existing prohibition on travel into Eagle County.
The full Eagle County order can be found here.
— Chuck Murphy
8:18 a.m. — Life might change for you starting on Monday, depending where you live
Happy Saturday. Normally Saturday is important because it marks the weekend. Today it's important because the countdown is on to Monday, when some Coloradans will see their lives start to creep back towards "normal." Other Coloradans won't see much change at all.
Gov. Jared Polis plans to release more information tomorrow about what the next phase of the state's restrictions on public life look like. Generally, we know Colorado is going from "stay at home" to "safer at home," which means businesses will slowly start to open back up, though Polis would still very much like you to maintain social distancing and wear a mask in public for the foreseeable future.
"I think the first thing that Coloradans can expect to see this Monday is curbside pickup for retail businesses," Polis said yesterday. Also, elective medical procedures will be allowed again, and real estate showings can start with protections.
But many counties — including Denver, Boulder, Jefferson, Adams and Arapahoe in the metro area — will continue stricter stay-at-home rules. Read much more about that here.
— Rachel Estabrook
You care.
You want to know what is really going on these days, especially in Colorado. We can help you keep up.  The Lookout is a free, daily email newsletter with news and happenings from all over Colorado. Sign up here and we will see you in the morning!