Colorado Coronavirus Updates For April 28: Reopenings, Testing, Cases And More
This post collects all of our reporting and updates on the coronavirus in Colorado for Tuesday, April 28, 2020. You can find the latest reporting for Wednesday here. Our original play-by-play continues below.
---
6:12 p.m. — Community COVID-19 testing is coming to La Plata County
Centura–Mercy Regional Medical Center is now providing seven-day-a-week community COVID-19 testing to La Plata County residents.
Testing will begin immediately and will last for as long as is needed. Any community member experiencing known COVID-19 symptoms can call 970-764-1790 to speak to a Centura Health Physicians Group medical professional to receive a testing order.
Testing will take place at Centura's Centers for Occupational Medicine clinic at 810 3rd St., Suite 202, in Durango. Hours are below:
9 a.m. to 2 p.m. Monday - Friday
9 a.m. to 12 p.m. Saturday and Sunday
Same-day, walk-in testing will be available with an order from the medical provider. The community COVID-19 testing program is open to all residents of La Plata County.
— Francie Swidler and Ryan Warner
5:12 p.m. — 23 Denver businesses have been cited for not following the stay-at-home order
The city's stay-at-home enforcement team continues to issue citations to businesses violating Denver's stay-at-home order, which is now in place through May 8 despite the state's order expiring this week.
As of Tuesday, the enforcement team has issued 23 citations to businesses across the city. Last week, it busted Sancho's Broken Arrow on Colfax after rumors swirled that it was operating as a speakeasy (the owner denies it).
Yikes.
Denverite has the full list of businesses who got in trouble with their parents (the city government).
— Francie Swidler and Denverite
4:26 p.m. — The latest Colorado coronavirus numbers
New Colorado coronavirus numbers released on Tuesday show:
14,316 known positive cases (an increase of 446 from the previous day's report)
2,571 have been hospitalized at some point due to the virus. Currently, 784 people are hospitalized.
149 outbreaks at long-term care facilities, meatpacking plants, prisons and other places in the state (an increase of 6 from the previous day's report)
736 deaths (an increase of 41 from the previous day's report)
67,094 people in Colorado have been tested for COVID-19
A note about the coronavirus data: CPR News tracks and graphs the "reported by date" data provided by the state of Colorado. This data lags by 24 hours or more, is subject to revision and in some instances, cases take time for the state to confirm, so some prior counts may change. You can learn more about the challenges the state faces with the data in this report.
3:26 p.m. — Colorado's Dragon Boat Festival canceled due to COVID-19
The decision was made to prioritize the health, safety and welfare of the community, organizers said Tuesday.
"It is clear that the most responsible course of action is to cancel this year's summer festival," the announcement reads. "This decision was not made lightly. We hope to bring our annual celebration of Asian and Asian American heritage back in 2021."
The event was scheduled for July 25 and 26 at Sloan's Lake Park. The festival has been running for nearly 20 years and celebrates Asian culture and heritage with colorful boat races, live performances, food and crafts.
It is the largest dragon boat festival in the United States.
— Hayley Sanchez
3:05 p.m. — Reminder that 'Safer at Home' means you still need to recreate close to home
Unless you live within 10 miles from the mountains, you're going to need to continue your recreational activities in your own neighborhood.
Article H of Gov. Polis' statewide Safer at Home' public health order, which went into effect Monday, April 27, instructs Coloradans to recreate only in their own communities.
"Travel for recreational purposes should be limited to your own community like your county of residence or traveling no more than about 10 miles," the order says.
That means you'll have to stay put or stay within 10 miles of whatever your 'put' is, for a bit longer. You can do it!
Here's a bit of a refresher on what else is included in the order.
— Francie Swidler
2:06 p.m. — Public drive-thru coronavirus testing in Denver
There was a steady stream of cars Tuesday morning at the Fifth Street Garage on Denver's Auraria Campus, where King Soopers and the Colorado State Emergency Operations Center collaborated for free COVID-19 drive-thru testing.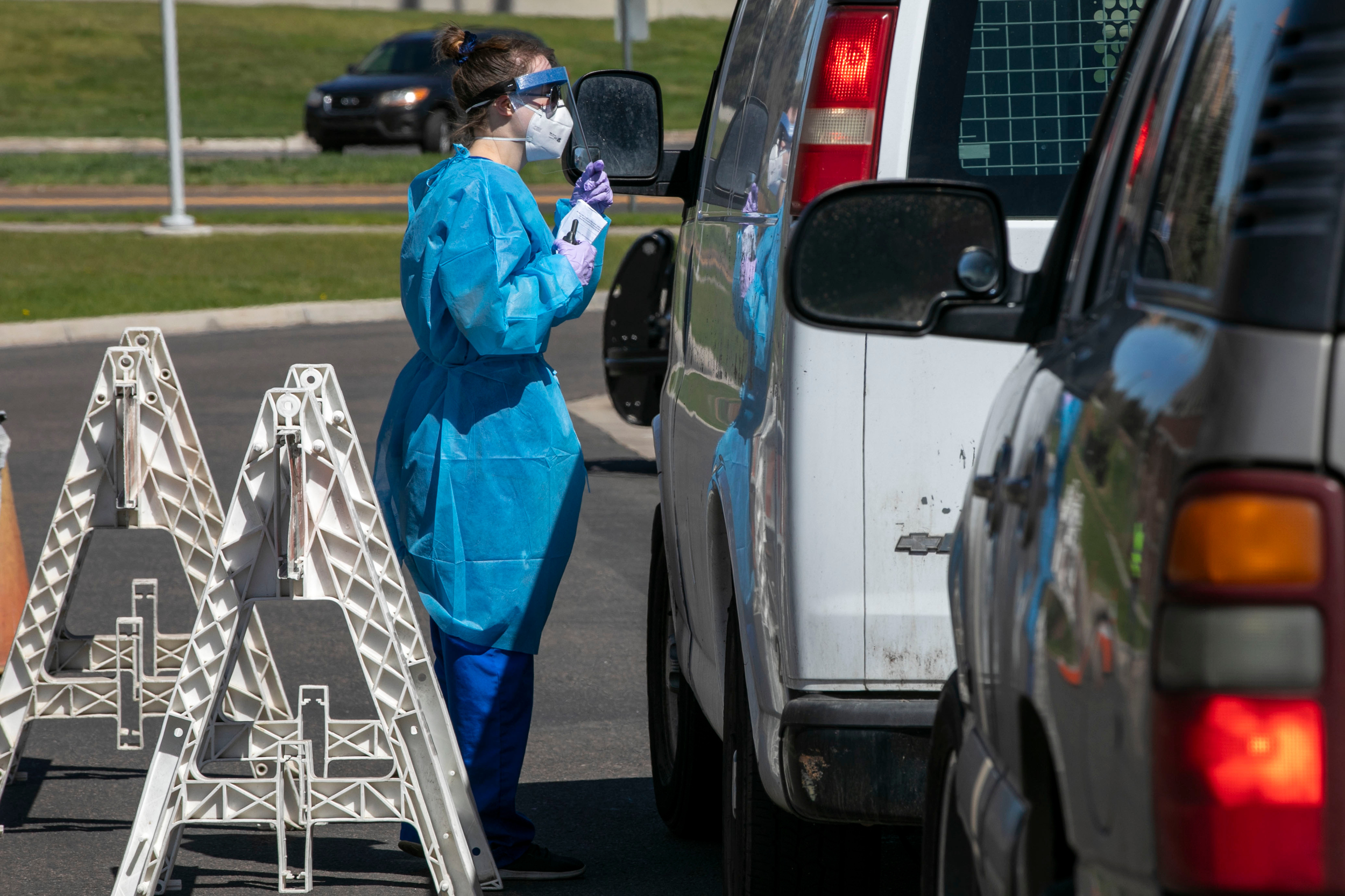 Hart Van Denburg/CPR News
Front-line health care workers check in people for drive-through coronavirus tests at the Auraria Campus in Denver on Tuesday, April 28, 2020. The mobile facility is partnership between King Soopers and the Colorado State Emergency Operations Center.
Hart Van Denburg/CPR News
Front-line health care workers check in people for drive-through coronavirus tests at the Auraria Campus in Denver on Tuesday, April 28, 2020. The mobile facility is partnership between King Soopers and the Colorado State Emergency Operations Center.
Hart Van Denburg/CPR News
Front-line health care workers check in people for drive-through coronavirus tests at the Auraria Campus in Denver on Tuesday, April 28, 2020. The mobile facility is partnership between King Soopers and the Colorado State Emergency Operations Center.
Hart Van Denburg/CPR News
Front-line health care workers check in people for drive-through coronavirus tests at the Auraria Campus in Denver on Tuesday, April 28, 2020. The mobile facility is partnership between King Soopers and the Colorado State Emergency Operations Center.
The pop-up facility runs today and tomorrow (Wednesday, April 29), 10 a.m. to 4 p.m. While the service is free, anyone seeking a test has to register and complete a CDC-approved virtual screening tool. The facility is equipped to handle 250 tests each of the two days. Test results take about 48 hours.
Go to krogerhealth.com/covidtesting for more information or call 1-888-852-2567.
— Hart Van Denburg
1:48 p.m. — 'Safer La Plata' public health order issued for La Plata County
Due to increases in COVID-19 in the region, La Plata County will follow other Front Range counties and delay their reopening until May 8.
The new order will go into effect on April 29.
"While La Plata County has demonstrated a downward trend in new cases, we still see substantial increases in cases just to our south inn San Juan County, New Mexico", said San Juan Basin Public Health executive director Liane Jollon in a released statement. "Our residents travel frequently for work and essential goods and services to New Mexico. The virus doesn't know boundaries, so it is critical that our local businesses and workplaces are both well-informed and capable of practicing good infection control as we take small steps to re-open," Jollon said.
On May 8, in-story retail and non-critical businesses can resume on-premise services. There will also be some limited personal services (salons, dog groomers, massage and personal trainers). Businesses will have to follow strict social distancing and self-certify to the county they understand and are following the rules to be allowed open.
— Jim Hill
1:04 p.m. — Hey parents!
If memory serves us, "Build a blanket fort" is one of many amazing ideas that can help keep your kids entertained, and maybe save your sanity, with our Big Fun Button. Have your kids try it out today. (Big Fun Button en español)
— Jim Hill
12:20 p.m. — Colorado gets $10.3 million from US Dept. of Health and Human Services for COVID-19 response
Colorado has received $10.3 million from the U.S. Department of Health and Human Services for epidemiological work and lab testing in response to the COVID-19 pandemic, according to a statement from the state health department.
The funding comes as the state looks to ramp up testing. Currently, labs in the state have capacity for roughly 2,000 tests a day, but the health department is aiming to do 10,000 tests daily. To date, efforts in Colorado and nationally have faced a series of challenges, including obtaining needed supplies of vital items like test kits, swabs, and reagents.
The money comes as part of the Coronavirus Aid, Relief, and Economic Security (CARES) Act. It provides assistance to state and large city health departments, and tribal governments, navigating the impact of the COVID-19 disaster. It is part of the CDC's existing Epidemiology and Laboratory Capacity for Prevention and Control of Emerging Infectious Diseases cooperative agreement.
"This is fantastic," Rachel Herlihy, the state's epidemiologist said. "We have our work ahead of us to slow the spread of COVID-19, and this additional funding will allow us to bolster our testing, case investigation, contact tracing, and outbreak investigation work at a critical time."
The state got this funding last week. The CDC will provide further guidance this week on spending. The money is generally for a two-year period and is intended to meet several goals including to enhance case investigation, contact tracing, and outbreak response, especially in high-risk settings and among at-risk populations and improve surveillance and reporting.
CDPHE staff expects to have plans in place for how to best optimize the funding within the next few weeks. The department says to stay up-to-date go to covid19.colorado.gov.
— John Daley
10:00 a.m. — Need a notary? Emergency notarization rules extended until May 30
The rules that allow Coloradans to access notary services without in-person contact have been extended by the Colorado Secretary of State until May 30.
The original rules were created in March after the governor's executive order which temporarily suspended the personal appearance requirement for notaries due to the risk of the coronavirus.
"Remote notarization has ensured business and personal transactions can continue to take place in the midst of the coronavirus pandemic," said Secretary of State Jena Griswold in a released statement. "With social distancing guidelines still in place, we are extending remote notarization to help protect Coloradans' health."
You can read the original notice of the temp rules below.
— Jim Hill
9:41 a.m. — Trust us, you could use a mid-morning music break
NPR's Tiny Desk Concerts are working remotely, just like the rest of us. Since there's no office and tiny desk they can kick it at, they're turning the impromptu shows over to the homes of the artists.
Today's Tiny Desk (Home) Concert is Rodrigo y Gabriela and it is MAGNIFICENT.
— Jim Hill
9:00 a.m. — Denver dips into TABOR reserves
On Monday, Denver City Council unanimously approved taking $17 million out of its Taxpayer's Bill of Rights Reserve money to help with shelter costs and medical supplies during the outbreak.
The city has $35 million left in its TABOR reserves for this year, according to council documents, and will have to replenish the fund in 2021, said Julie Smith, a spokeswoman with the Denver Department of Finance. Denver has spent about $22 million on its response to the coronavirus.
— David Sachs
8:37 a.m. — A roundup of a few cities who have adopted mandatory mask orders
Several Colorado towns are ordering people to wear face masks now that the statewide stay-at-home order has partially lifted in favor of the new safer-at-home order.
Aspen City Council approved a public health order Monday that requires face masks to be worn inside businesses and outdoors where 6 feet of distance can't be guaranteed.
"I see far too many people not wearing masks in the grocery stores," councilmember Rachel Richards, and City Market employee, told The Aspen Daily News. "It starts to feel silly that you are doing it but half of your customers aren't."
Glenwood Springs also extended its own order for people to wear masks outside the home. Everyone in Wheat Ridge must wear a mask when going into essential businesses like grocery stores. Boulder is also considering a similar public health order.
— Natalia Navarro
8:02 a.m. — Polis on masks and people of color
While health officials urge everyone to wear a mask when out in public, the state acknowledges that for people of color, wearing face masks can put them at risk of racist assumptions. At his press conference Monday, Gov. Polis said no one should have to be afraid of wearing a mask.
"We need to show complete social acceptance of anybody who's making the right choice to wear that mask," he said. "Because they are doing it for your sake, for their sake, and the sake of our community."
The Colorado Office of Health Equity released information explaining the potential dangers of wearing a face mask for black and brown communities. They say people should not "be treated with fear or like a criminal for doing their part to protect the community."
— Claire Cleveland
7:47 a.m. — About state testing...
State health officials say supply chain problems for testing goods are behind the low testing rates for COVID-19 among Coloradans.
Dr. Jill Hunsaker Ryan is the head of the Colorado Department of Public Health and Environment. She told CPR's Colorado Matters that the state is short on swabs and other materials needed to make the tests.
"The other curious thing about this novel virus is that there's asymptomatic transmission," Hunsaker Ryan said. "People can be infected, can be contagious and they have no idea that they have COVID-19 and they're transmitting it, so of course that also hampers our disease containment measures."
Officials say in absence of widespread testing, strict social distancing will help limit the spread of the coronavirus.
— Ryan Warner, Andrew Villegas
7:29 a.m. — Pitkin County extends stay-at-home order through May 8
Public health officials say the extension will give them more time to prepare for preventing a surge of COVID-19 after the county moves to a "safer-at-home" order. On Thursday, the Pitkin County Board of Health plans to discuss proper protocols for businesses during that next phase.
Read Pitkin County's extended public order.
— Corey H. Jones
7:07 a.m. — 64% of Coloradans support a policy of staying home to slow the spread
A new survey finds Coloradans are largely on board with staying at home to prevent the spread of the coronavirus — despite the broad economic impact.
The polls, taken in mid-April and conducted by Healthier Colorado and the Colorado Health Foundation, found that more than 60 percent of Coloradans back a policy of staying at home to slow the spread of coronavirus.
Even though the majority of those polled backed the state's response, there was a split along political lines: those who leaned Democratic favored staying at home over reopening the economy, while those who identified as Republican favored opening up the state.
— John Daley
6:31 a.m. — Here we go, day 2 of safer-at-home
Parts of Colorado began allowing elective surgeries and other activities after Gov. Polis eased some restrictions aimed at stopping the spread of the coronavirus. However, the Denver area remained under strict stay-home orders.
Polis thanked residents on Monday from the state Capitol for adhering to the stay-at-home order that expired on Sunday, saying it had slowed the growth of new coronavirus cases, produced declining virus-related hospitalizations and allowed the state to build hospital bed capacity, recruit health workers and seek medical equipment.
As the new safer-at-home order gets rolling, Polis asks Coloradans to help enforce the safety standards. Health departments and local law enforcement can't monitor businesses every day to make sure they are following the rules.
"If you see establishments that are not taking the proper precautions and are disobeying the public health order and violating the laws of the state of Colorado, putting you and others at risk, report them the local public health agency and the attorney general's office," he said.
The governor again cautioned that some safety standards are just part of the new way of life and if any surge in cases appears, restrictions will be re-imposed. And he warned that any municipality that relaxes statewide guidance without state permission will be breaking the law.
— Alison Borden, Associated Press
You care.
You want to know what is really going on these days, especially in Colorado. We can help you keep up.  The Lookout is a free, daily email newsletter with news and happenings from all over Colorado. Sign up here and we will see you in the morning!